Dividend investing is becoming more and more popular among investors. The idea behind it is pretty simple: you buy dividend stocks, reinvest them and watch your money grow!
Thanks to compound interest, your money grows exponentially.
M1 Finance is a new, commission free brokerage that dividend investors are flocking to. This is because the automation features and dividend reinvestment make it an ideal platform for passive income investors. 
But here's a question we get all the time, what happens with dividends on M1 Finance?
Here's the short answer:
All dividends in M1 Finance are held in cash in your account until the value reaches $10. Once your total amount of dividends reaches $10 in your account, M1 Finance automatically reinvests them into your pie. This money is invested across your entire portfolio.
This allows you to build wealth through the power of compounding, and without selling the actual shares themselves.
Taxes With Dividends
How about those pesky taxes on your dividend income? Here's how taxes work with M1 Finance.
Investors who earn dividends in their M1 account will receive tax form 1099-DIV for all dividends paid. This is going to be sent to you electronically via email, or you can retrieve your important documents from the app or website.
This form usually comes around February and will be required to report on your income taxes.
Dividends are taxed as ordinary income unless they are qualified.
Qualified Dividends from U.S. companies can qualify to be taxed at the long term capital gains tax rates.
Earned vs Paid Dividends 
When using the M1 Finance app, you may notice that you have both earned dividends and paid dividends. So, what exactly is the difference between these two?
All earned dividends within M1 Finance will show up under market gains in your portfolio. These are the total dividends that you have earned over the life of your portfolio, not necessarily the total you have received.
The paid dividends are the amount of dividends you have actually received in cash. Paid dividends show up under each security in your activity feed.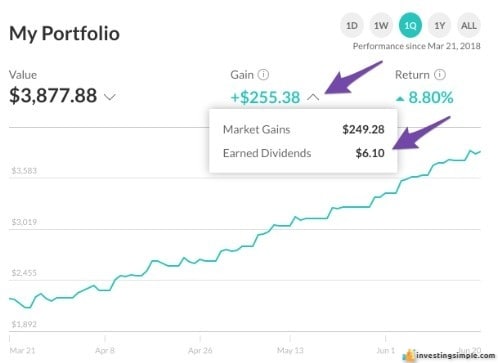 Still a little confused? Don't worry, keep reading. To understand earned vs paid dividends, we must focus on two important dates; the ex-dividend date and the payable date.
Ex-Dividend Date
This is the date by which you must own the stock to receive the dividend.
It is often 1 day before the date of record. Ex-dividend simply means: if you purchase the stock on this date you are NOT entitled to the most recent dividend. On the date of record (1 day after the ex-dividend date) the company will record everyone who is entitled to receive a dividend.
Payable Date
This is the date you actually receive payment for the dividend.
The payable date is typically around one month after the ex-dividend date and payable date. If you sell the stock after the date of record, but before the payable date then you are still entitled to a dividend payment.
So, within your M1 Finance portfolio you may see a different number as far as earned versus paid dividends. That is because you may have earned the dividend already, based on the ex-dividend date, but you haven't been paid yet.
Best Free Stock Promotions
Does M1 Finance Offer A DRIP?
Most dividend investors are familiar with a DRIP, or a dividend reinvestment plan.
With a DRIP, the dividends received are used to purchase more shares of the issuing stock. This, again, allows you to earn compound interest. Over time, the dividends you earn allow you to earn more dividends.
Most brokerages out there charge a fee for a DRIP. M1 Finance is completely free.
While M1 Finance does offer reinvestment of dividends, it is a little bit different.
If a dividend payment pushes your cash balance in your portfolio above $10, the cash is returned to your portfolio. This cash will be used to purchase whatever you are underweight in.
For example, let's say you built a pie with 50% Boeing stock and 50% General Electric stock.
Fast forward one month and you are now 55% Boeing and 45% General Electric due to the differing performance.
If Boeing pays a dividend and that dividend pushes your account above $10, that money would be allocated into General Electric stock to rebalance your portfolio and return it to a 50/50 split.
We call this a Portfolio Level DRIP as opposed to a Stock Level DRIP. 
If you earned a dividend from Boeing or General Electric with a stock level DRIP, the entire dividend would go back into the issuing stock only. With M1 Finance, it is invested across the entire portfolio.
What Is M1 Finance? 
M1 Finance offers a full-service platform where you can save, borrow, and invest your money.
It is a one-stop-shop where you can plan your financial life. The best part is it is 100% free to use. 
M1 Finance was launched in 2016 and is an online robo advisor and brokerage hybrid for everyday people who want to invest in stocks or exchange-traded funds (ETFs).
This cutting edge brokerage combines features of a traditional brokerage account with a modern robo advisor.
First, you select your investments and your allocations.
Then, you automate the entire portfolio! All you do is add money.
M1 Finance has become the go-to app for the modern-day passive investor. The array of features offered also make this a great platform for passive dividend investing. 
M1 Finance Features
Smart Rebalancing & Fractional Shares
The M1 Finance robo-advisor will make sure that every last penny is invested and is helping to earn you returns through the use of fractional shares.
You can purchase as little as 1/10,000th of a share on the platform.
As money is added or removed from the portfolio, M1 Finance will attempt to rebalance the portfolio. This is accomplished by buying or selling whatever you are overweight/underweight in. A well balanced portfolio ensures that you have the appropriate risk/reward profile!
Margin Investing & Borrowing
With M1 Borrow, you can borrow up to 35% of the value of your portfolio.
You can then use the money you borrow to make investments on margin. You will not have to speak to any loan officers, go through and credit checks, or even deal with loan denials when you borrow with M1 Finance. 
Expert Portfolios (Pies)
If you are a beginner investor and you don't want to build your portfolio from scratch, M1 Finance has a variety of expert portfolios or "pies" available. They have over two dozen portfolios to choose from!
This includes underlying stock and bond allocations, hedge fund followers, and even target-date retirement funds. Most brokerages would charge a fee for these portfolios. However, M1 Finance does not! 
Check Out The Expert Portfolios Here!
Hybrid Robo/Brokerage Platform
M1 Finance is truly a hybrid platform because you can choose your investments or simply automatically invest in one of the prebuilt M1 portfolios.
However, the platform only offers one trading window per day, unless you pay for M1 Plus which gives you two. So, it is not an ideal place to do day trading. It is mostly intended for long term investors who are looking to automate their investing.
FDIC-Insured Checking Account
Through M1 Spend, you can have your FDIC-insured checking account.
These checking accounts are directly integrated into the M1 app, so they are incredibly convenient to use. You can even invest money without waiting for a three day ACH bank transfer.
Through M1 Plus, the premium debit card, you can also earn cash back! 
Does M1 Finance Charge Any Fees?
The biggest benefit of the M1 platform is it is free to use.
There are no commissions or monthly fees for investing with the M1 platform. All you have to do is have a $100 minimum to open an account ($500 for retirement accounts).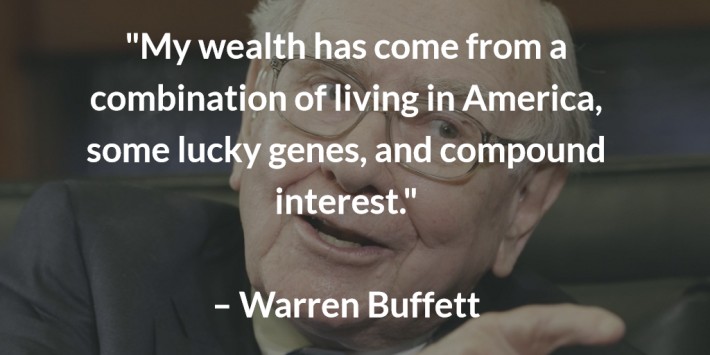 Earning Compound Interest By Reinvesting Dividends
"Compound interest is the 8th wonder of the world." – Albert Einstein
Dividends offer a return of capital to the shareholder without having to sell the stock.
This allows the investor to reinvest dividends and grow their account using compound interest. Compounding is the ability to reinvest capital (dividends, interest, capital gains) to generate additional earnings over time.
Think about it like this:
You invest $1,000 into Company A and they announce a 5% dividend at the end of the year, thus you earn $50 in dividends.

You then reinvest the $50 in dividends and buy more shares. Now you have $1,050 worth of Company A.

Next year, they announce another dividend at 5%.

You now receive $52.50 in dividends and you reinvest them back into Company A.

You now have $1,102.50 worth of Company A stock.
If you followed this strategy and reinvested your dividends for 20 years, your $1,000 investment would be worth $2,653.
If you did not reinvest your dividends, your $1,000 investment would be worth $2,000.
($1,000 worth of stock + $50/yr in dividends for 20 years = $2,000)
This is why compounding is such a powerful tool in the investment world. It allows you to build interest upon interest and can result in fortunes being built. We have found that M1 Finance is truly an ideal platform for dividend investors.