M1 Finance is a popular commission-free online investing platform. It was built to help investors put together and manage a custom portfolio. You create your portfolio from scratch or choose from 80 pre-built options. Then, M1 utilizes its proprietary trading system to automate all of your trading activity. You'll never have to input or execute any trades manually.
M1's target customers have longer-term goals for their investments. They can be saving up for their child's education, for a down payment on a home, or even to build up a solid emergency fund. They may have had experience with using other traditional online brokerages to invest in stocks and ETFs.
M1 was made for these potential investors as a lower-cost alternative due to its free offerings. They also allow investors to have a large amount of control over the contents of their portfolio.
About M1 Finance
M1's Pie Based Dashboard
M1 has created a unique structure to organize your portfolio called Pies. A Pie is a group of securities. Pies can be used to organize your portfolio and your investment strategy.
In the Pie's interactive dashboard, you can choose from over 6,000 stocks and funds to build your own custom investment plan. Or select from one of 80 pre-built Expert Pies designed to meet different financial goals or investment objectives.
What's more, you also have the opportunity to make several Pies, each with its own theme or strategy, and then combine them together in your main portfolio Pie.
You can place manual buy or sell orders on the portfolio, individual pies, or individual slices. These are a lot of options that could be overwhelming unless you're a seasoned investor.
However, after you create your Pie-based portfolio, you can choose to utilize M1's proprietary trading system to automate all of your trading activity. You'll never have to input or execute any trades manually, which is a plus for new investors.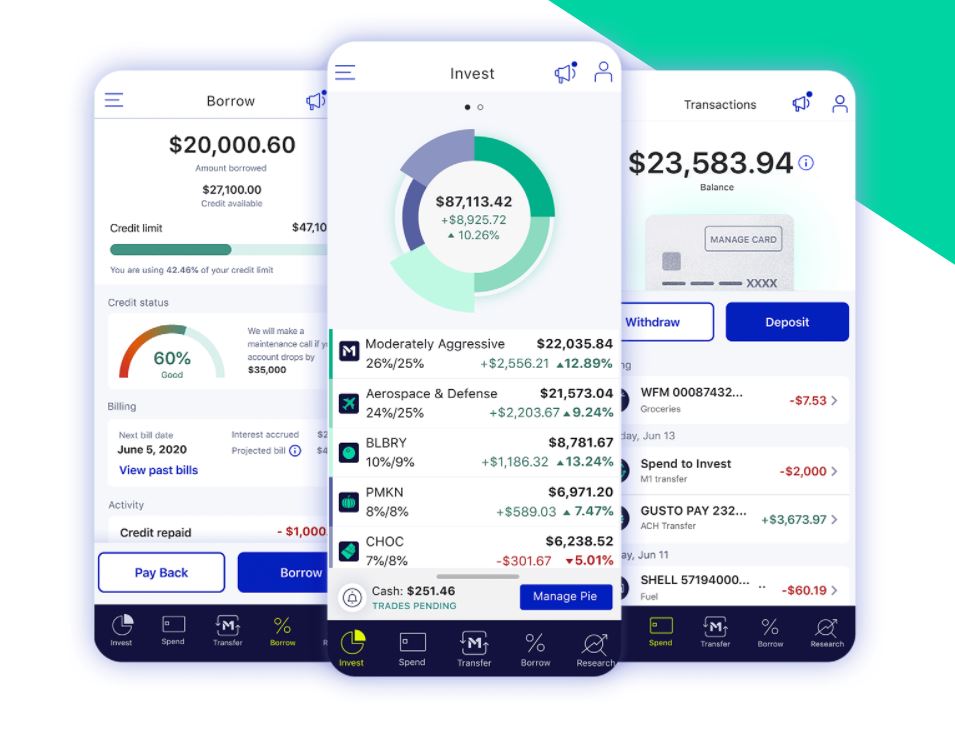 Types Of M1 Brokerage Accounts
M1 Finance has a solid list of account types. The basic brokerage plan is fee-free and gives investors an easy to understand chart to track their portfolio. The premium plan, M1 Plus, has perks including cash back on qualified purchases used with their debit card and a generous 1% APY checking account. You can open a traditional or Roth IRA, or rollover a current IRA or 401K account. It comes as no surprise M1 is one of the most popular investing platforms out there today.
Auto-invest is the most frequently used option by M1 users. With auto-invest on, any time your cash balance meets or exceeds $25, M1 will automatically invest into your portfolio. To select this option within the app, turn auto-invest on and set your minimum cash balance to $0.
M1 requires a minimum of $100 to open an individual or joint brokerage account.
Individual Brokerage Accounts - An account used to buy and sell stocks, bonds, exchange traded funds, and other types of investments.
Joint Brokerage Accounts - An account used to establish equal ownership. Joint accounts are typically common for couples, parents and their children (over 18 years old), and adults caring for aging parents.
 M1 Basic
Low cost: Zero transaction or commission fees. No charge for setting up an account, but you will need a minimum of $100 to start trading.
View your portfolio easily: M1 uses an investment template to show the breakdown of your investment portfolio clearly in the form of pie charts.
Create your own unique portfolio or choose from 80 pre-built options
Base interest rate for line of credit is 3.5%
One trading window per day
M1 Plus
This premium level carries a $125 annual fee, and offers the following:
1% APY checking account: Earn 25x the national average APY for a checking account. That means you'll earn the same in 2 weeks as you would in an entire year with a big bank.
1% cash back: Earn 1% cash back on qualifying debit card purchases.
2% loans through M1 Borrow: Get a 1.5% reduction on the base rate of M1 Borrow, which is a line of credit.
An added afternoon trade window: Invest in the morning or the afternoon, or both when you have more than $25,000 in your investment portfolio.
Smart Transfers: Set up a system of automated transfers and optimize your money across your spending, your investing, and your borrowing at M1.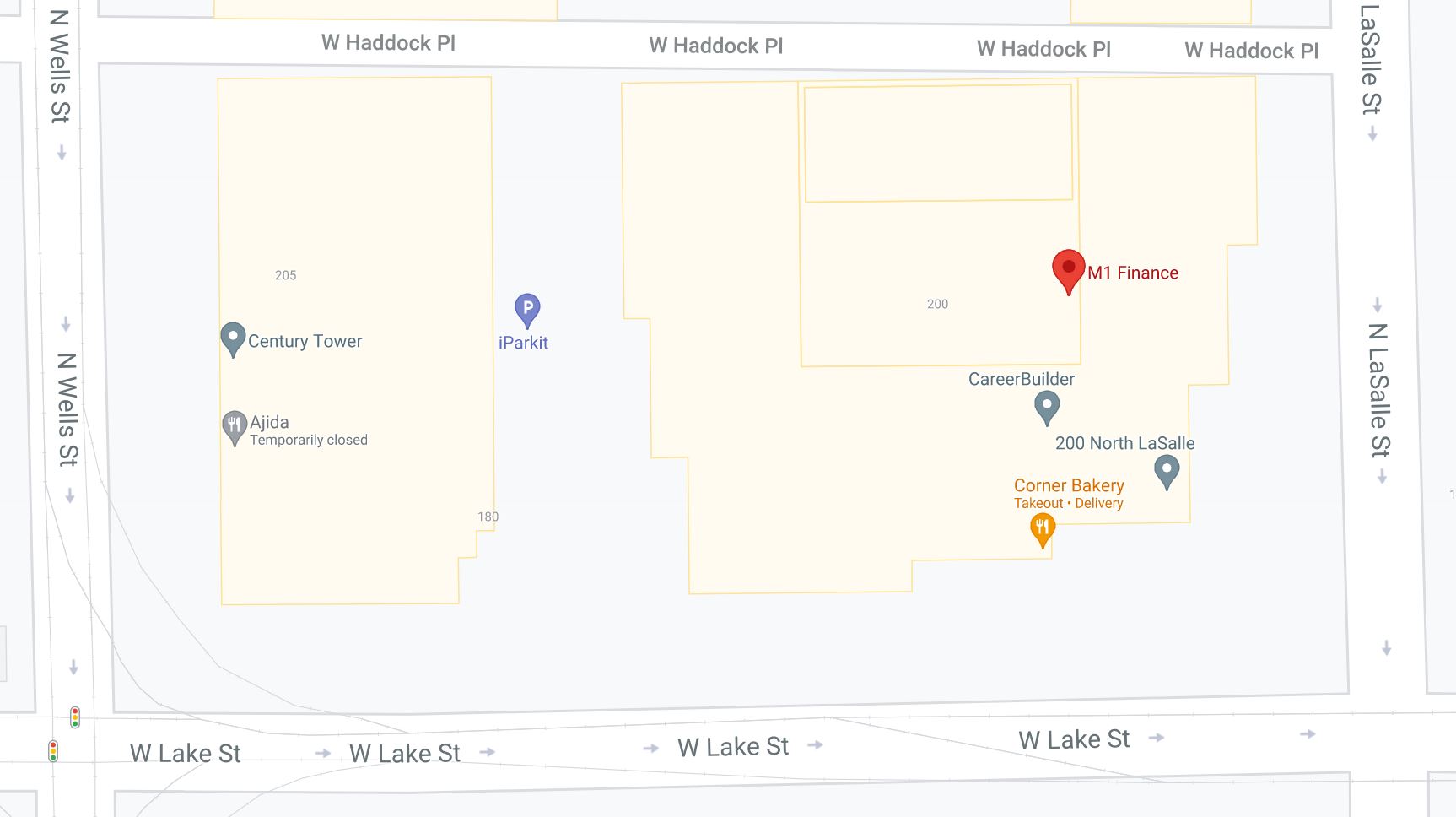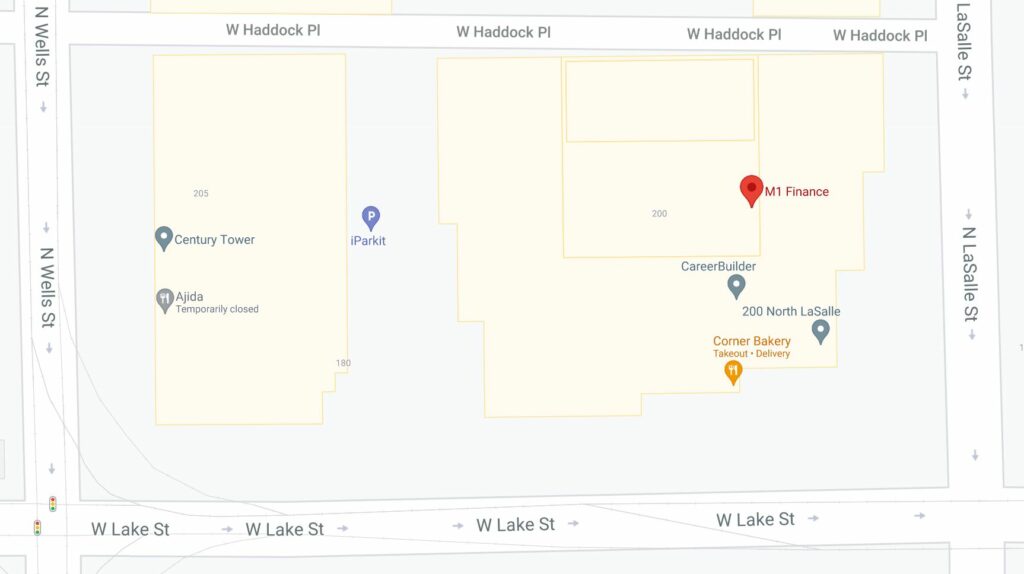 Where is M1 Finance Located?
The M1 platform is a U.S. based company headquartered at 200 N LaSalle St., Suite 800, Chicago, IL 60601.
If you have questions about your new M1 account, there is an extensive Help Center, or you can submit a request through their online messaging system. According to the M1 website, the client support team is available from 9am-5pm ET on days when the U.S. stock market is open, and they will respond to your request within one business day.
Conclusion
Founded in April, 2015, the Chicago-based online investing app M1 Finance is growing more and more popular due to its automated investing system, low-cost accounts and unique Pie structured portfolio options. Beginners can join and select the basic account, then move on for more bells and whistles with M1 Plus.
Best Free Stock Promotion