For many investors, security is of the utmost concern for cryptocurrency. Unlike other investments which offer various forms of insurance, crypto is not regulated by a central authority. Because of this, cryptocurrency investors will not benefit from SIPC or FDIC insurance.
With this in mind, it certainly makes sense that security is one of the first questions individuals ask about various crypto platforms.
With the increased popularity of cryptocurrency, numerous platforms have come into existence in the last few years. So which one is best? Two things that many investors look for in a crypto platform is where it is based and whether or not it has ever been hacked. Coinbase often comes to mind as it is a US based company and offers a highly secure platform. But there is another platform that provides excellent security: Gemini.
In this article, we provide a complete Gemini review. Is it the safest crypto platform? What other features does Gemini offer? Continue reading to learn more about Gemini.
Gemini: Highlights
Secure platform that has never been hacked
Available in all US States
33 Cryptocurrencies available in the US
Earn up to 7.4% interest with Gemini Earn
Gemini Credit Card coming soon
Access to a digital wallet
Separate platform, Gemini ActiveTrader, for more active investors
Access to both mobile and desktop version
Gemini does charge members trading fees
Security

Availability of Cryptocurrencies

Fees

Account Features and Benefits
Gemini Review Summary
Gemini is a cryptocurrency trading platform that offers account holders competitive benefits like Gemini Earn and Gemini Pay.
For more advanced users, Gemini also features an advanced platform called Gemini ActiveTrader.
One of the key benefits of Gemini is the security of the platform.
Pros
Available in all US States
More cryptocurrencies available than some competitors
Highly secure platform
What is Gemini?
Gemini is a cryptocurrency platform that allows members to buy, sell, and store crypto. The company was built with security in mind. It is one of the few platforms that has never been hacked. This is highly important as it builds trust with those searching for a secure platform. They even insure assets stored in their platform.
In addition to trading crypto, Gemini offers members access to a free digital wallet: Gemini Wallet. The platform also provides account holders access to up to 7.4% interest on various holdings with Gemini Earn.
Gemini was created in 2014 by Cameron Winklevoss and Tyler Winklevoss, who were also involved in the creation of Facebook. The platform is based in New York, which appeals to many investors as it is one of the few cryptocurrency exchanges that is regulated in the United States.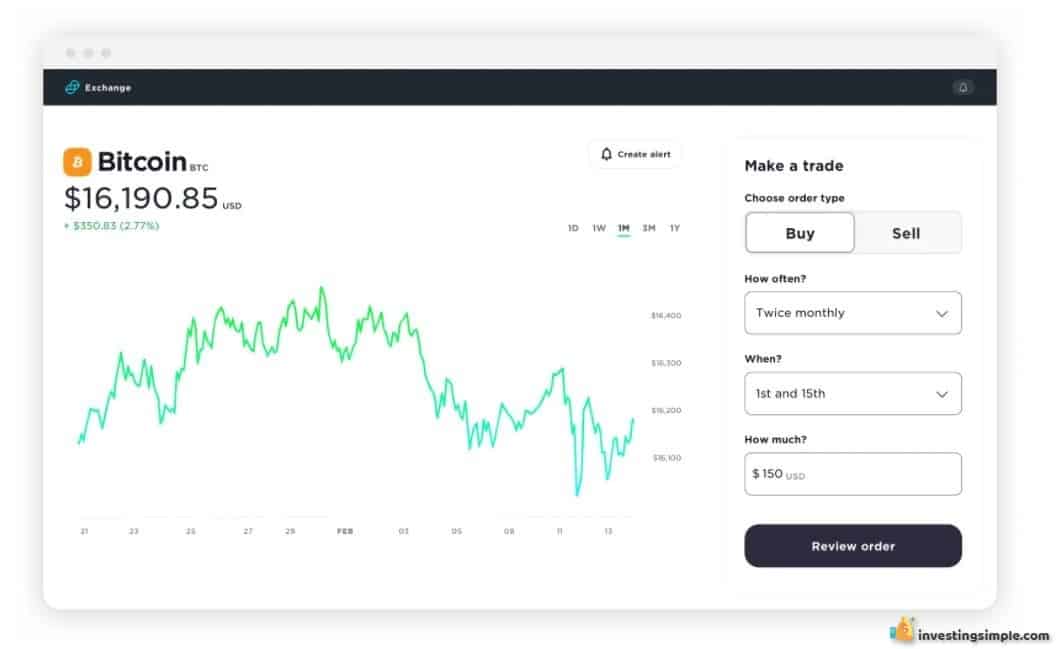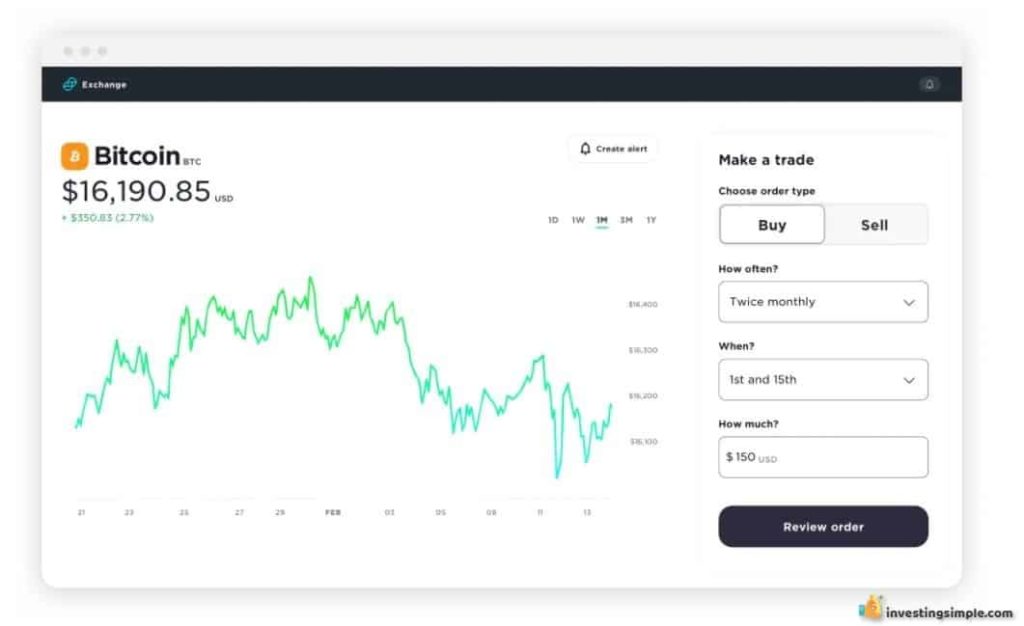 What is Cryptocurrency?
Cryptocurrency, also known as crypto, is a digital currency that can be used for various transactions. Some companies, such as Microsoft and AT&T, currently allow individuals to make payments using Bitcoin.
Rather than being issued and secured by a central authority, cryptocurrency is secured by cryptography and is managed on a decentralized network which uses blockchain technology. This appeals to many as this technology makes crypto nearly impossible to counterfeit. Cryptocurrency is secured through an online ledger, which is managed across a host of computers.
Gemini Features
Gemini offers account holders a number of benefits in addition to trading cryptocurrency. Some of the key benefits are availability of coins, Gemini Earn, and Gemini ActiveTrader.
Cryptocurrencies Available
One of the main challenges with cryptocurrency is finding a platform that supports trading of the cryptos that you are looking for. Some platforms, like Robinhood or Webull, are extremely limited in the number of cryptocurrencies that are supported.
With Gemini, they currently support trading with 33 cryptocurrencies. They also have an additional 27 cryptos with pricing information.
Another benefit of Gemini is the ability to trade from crypto to crypto. This means that rather than selling a position for cash and then purchasing a new crypto, you can simply swap one coin for another. The benefit here is the ability to avoid transaction fees as swapping cryptos does not have any fees.
They have about 20 trading pairs. For example, you could swap Bitcoin for Ethereum. Some cryptos are not able to be swapped. Click the link to learn more about Gemini trading pairs.
Gemini Fees
Gemini Fees are higher than some of their competitors and can be a little confusing.
Linking a bank account and depositing money through your bank is free, but transactions made with a debit card incur a 3.49% fee.
Trading fees for Gemini ActiveTrader are different from Gemini and are detailed later on.
Gemini Earn
Like a bank, Gemini offers users the ability to earn interest on their holdings. However, there is one key difference. With Gemini, members can earn up to 7.4% APY while traditional banks offer less than a percent.
While in the app, members can select the "Earn" option on the bottom menu. This will open a new view that allows a member to select how much of a certain holding to start earning interest on. For example, you could select to transfer $1,000 worth of Bitcoin to Gemini Earn.
As soon as you confirm the transfer, you will start earning interest. Interest rates vary by cryptocurrency. For example, Bitcoin offers 2.05% while Dai offers 7.4%. You can see all the interest rates that Gemini offers on the Gemini Earn page.
There is no minimum time frame required with Gemini Earn. Members can transfer their balance plus interest back to their trading account at any time. Interest is accrued daily. There are also no account minimums or transfer fees with Gemini Earn.


Gemini Pay
One of the great features offered to account holders is Gemini Pay. Members can use their cryptocurrency to make everyday transactions with over 30,000 retail locations across the US. Using Gemini Pay has zero fees and offers users private and secure transactions.
Spending your cryptocurrency with Gemini Pay is easy.
Select the products of your choice at a given retailer and choose "Gemini Pay" from the app.
Select your payment method: 

bitcoin

, Gemini dollar (GUSD), 

ether

, 

litecoin

, 

zcash

, or 

bitcoin cash

.
Choose the retailer you are purchasing from.
Finally, bring the items you want to purchase to the register and scan the code in the app.
Gemini Dollar (GUSD) is the native stablecoin to Gemini. The coin is backed by USD and it is actually FDIC insured up to $250,000. It offers account holders a 1:1 ratio to the US dollar. Converting to GUSD also features zero fees. Using GUSD with Gemini Pay may be better than other cryptocurrencies that experience extreme volatility.
Gemini ActiveTrader
The Gemini platform is incredibly simple and friendly to beginners. New investors will find the interface to be easy-to-understand and quick to navigate. Experienced investors may search for something a little more advanced.
In the settings profile, members can enable the ActiveTrader UI. The ActiveTrader platform features advanced charting, additional trading pairs, and extra order types. Note: Gemini ActiveTrader is not available on your mobile device. It is supported on the desktop version only. 
The available order types on ActiveTrader are the following:
Market
Limit
Limit: Immediate-or-Cancel (IOC)
Limit: Fill-Or-Kill (FOK)
Limit: Maker-or-Cancel (MOC)
Limit: Auction-Only Limit (AO)
Limit: Indication of Interest (IOI)
Stop-Limit
Gemini ActiveTrader also has a different fee structure than Gemini. ActiveTrader utilizes a maker/taker fee structure. For orders under $500,000, the maker fee is 0.15% and the taker fee is 0.25%. Learn more about ActiveTrader's fee structure.
Gemini Credit Card
While not currently available, Gemini is offering a waitlist for their new credit card. The card will feature 3% in rewards for every purchase. The rewards can be in any cryptocurrency on the platform. Gemini's card will also feature zero annual fees.
Gemini Wallet
For account holders that do not have a cold wallet or don't want to use one, Gemini offers a digital wallet for free. Assets held in their hot wallet are insured against hacking and employee fraud. The majority of the assets are held in cold storage.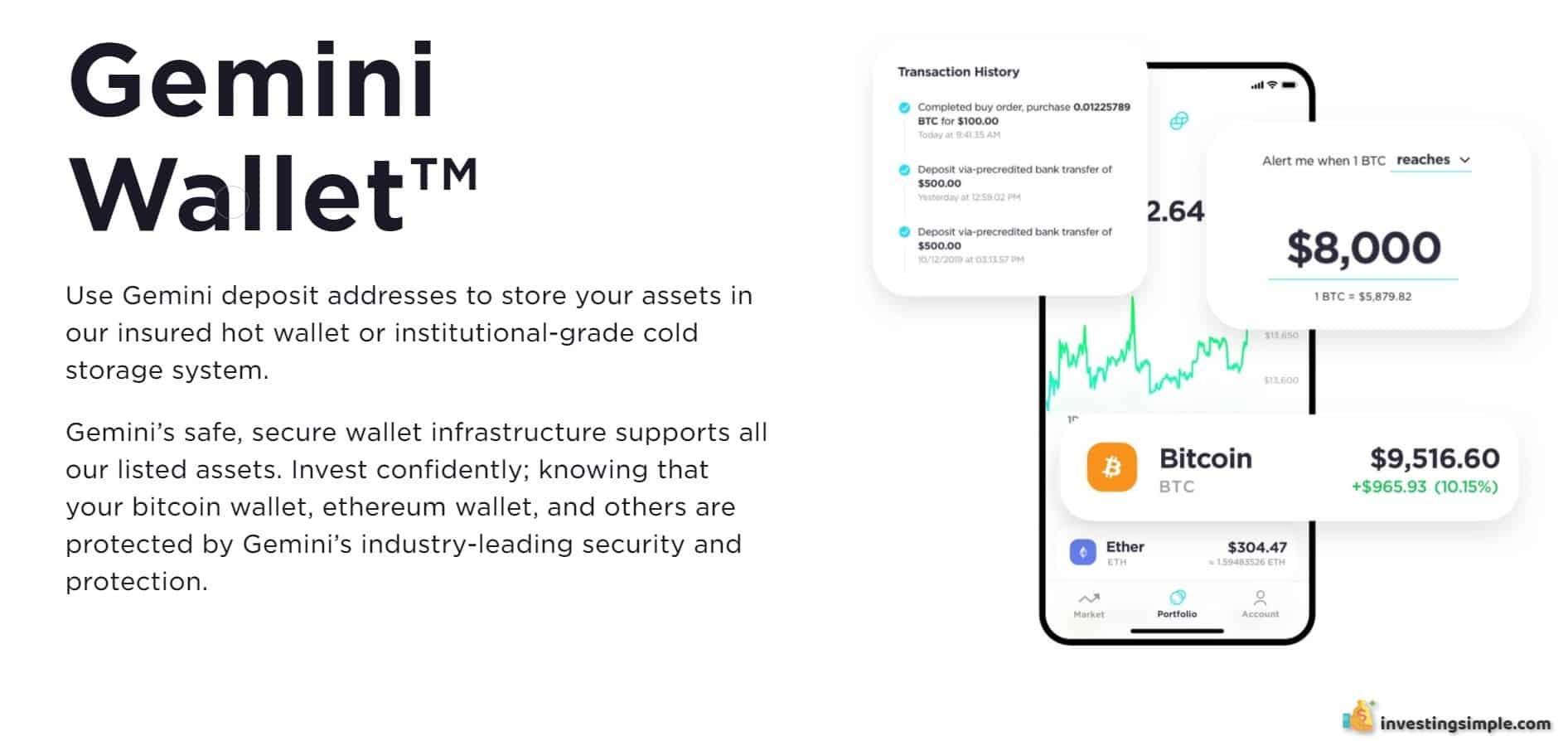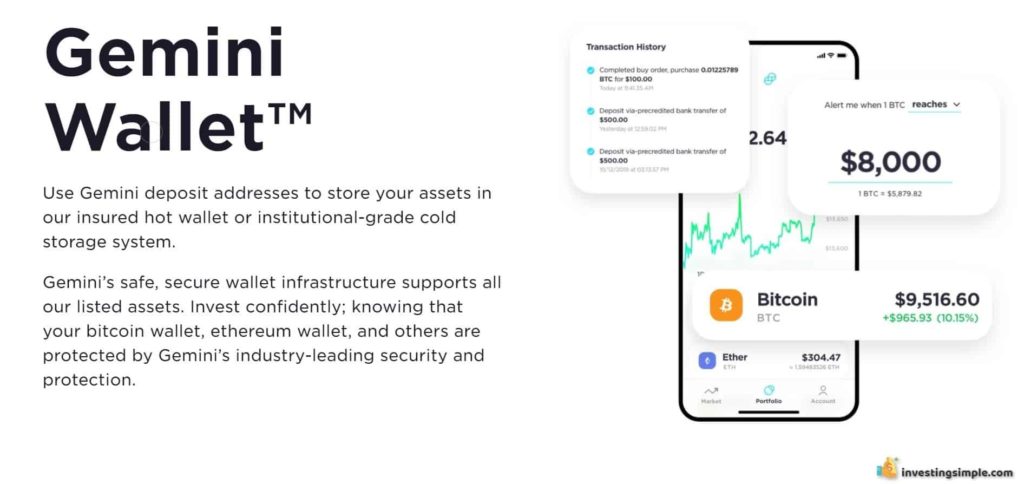 Trading and Transferring Coins
Trading and transferring coins is easy with Gemini and takes a matter of milliseconds.
To make a trade with Gemini, you will first select "Buy" or "Sell." Next, you will determine the frequency of the order, either a one-time order or recurring. Finally, you will select the amount you would like to buy or sell and press/click "Review Order." On the review screen, you will see the order details as well as the fee that will be charged.
Transferring coins can be done by selecting "Transfer." On the transfer view, you can select to withdraw either fiat currency or crypto. By selecting cryptocurrency, you will be able to transfer your coins to another wallet by pasting in the address.
In addition to buying and selling, members can also set up recurring purchases that will execute automatically. This is a great feature for those looking to invest in cryptocurrency more passively and consistently. Users are also able to create price alerts.
Is Gemini Safe To Use?
Gemini is one of the leading cryptocurrency platforms when it comes to security. Based in New York with insurance against employee fraud and hacking, investors can feel safe with Gemini.
Gemini is also one of the few platforms that has never been hacked. This is actually highly important as many other platforms have experienced hacking firsthand.
Gemini Review: Final Thoughts
Gemini is a cryptocurrency trading platform that offers members a number of benefits and features. Some of the most popular features include Gemini Pay, a way to transact using crypto; Gemini Earn, a way to earn interest on your holdings; and Gemini ActiveTrader, a separate platform designed specifically for experienced traders.
The platform's simple user interface and features provide members a great place for cryptocurrency trading.
Gemini could be right for you if the above mentioned features interest you. The security and transparency offered by Gemini make it a top choice for many investors.
Best crypto Promotions