Looking to boost your income with a side hustle?
Whether you need to pay off debt, save for a vacation, or simply increase your disposable income, there are various easy and flexible ways to make $100 a day.
In this article, we will explore five simple side hustles that can help you achieve that goal.
Don't forget to grab your free stock worth up to $200 from Robinhood today!
Let's dive in!
About the Author
Ryan Scribner is the author of From Side Hustle To Main Hustle To Millionaire - a practical guidebook on launching your own side hustle. He is recognized as a Top 100 Money Expert by GoBankingRates.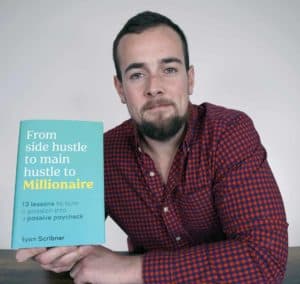 Ryan runs a successful YouTube channel focused on money and investing, which he started in 2016. He also owns a portfolio of digital business, all earning passive recurring revenues.
Now, Ryan teaches others how to create additional income streams.
1. Delivery Driver
Joining a delivery service like Uber Eats or DoorDash can be an effective way to earn $100 a day.
As a delivery driver, you'll pick up food or other items from local restaurants or stores and bring them to customers' doorsteps. The flexibility of choosing your own hours and the high demand for delivery services make this a popular and lucrative side hustle.
Sign up, complete the necessary onboarding process, and start earning money with each delivery.
2. Online Tutoring
If you excel in a particular subject, online tutoring can be a rewarding and profitable side hustle. Many students and adult learners seek personalized help in various subjects.
Platforms like Tutor.com, VIPKid, or Wyzant connect tutors with those in need of assistance. Set your availability, determine your rates, and conduct virtual tutoring sessions from the comfort of your own home.
With a few hours of tutoring each day, you can easily reach your $100 daily target.
3. Pet Sitting or Dog Walking
If you love animals, pet sitting or dog walking can be an enjoyable and lucrative side hustle.
Many pet owners need someone to care for their pets while they're away or give their dogs some exercise during the day. Create a profile on platforms like Rover or Care.com, or spread the word in your neighborhood to find clients.
With just a few pet-sitting appointments or regular dog-walking sessions, you can easily earn $100 per day while spending time with furry companions.
4. Renting Out Equipment
If you have tools or equipment that are in demand, renting them out can be a simple and profitable side hustle. Construction tools, camping gear, photography equipment, or even party supplies are all examples of items that people may need for a short period.
List your equipment on platforms like Zilok, Fat Llama, or your local classified ads, and set a rental fee. Ensure your items are in good condition and establish clear rental terms to attract customers and earn your desired income.
5. Virtual Assistant
Becoming a virtual assistant allows you to provide administrative support to busy professionals from the comfort of your own home.
Many entrepreneurs, executives, or small business owners need help with tasks like email management, scheduling, research, and data entry.
Utilize platforms like Upwork, Freelancer.com, or offer your services through your own website. Build a strong online presence, highlight your skills and experience, and establish a competitive rate.
With a few clients, you can easily reach your $100 daily goal.