Earning an extra $10,000 per month through a side hustle can significantly improve your financial situation and open doors to new opportunities.
However, it is important to distinguish between revenue and profit when evaluating potential side hustle opportunities.
Revenue represents the total amount of money generated, while profit reflects the actual income after deducting expenses.
In this article, we will explore five effective ways to generate $10,000 a month with a side hustle, emphasizing the importance of considering profitability.
Don't forget to grab your free stock worth up to $200 from Robinhood today!
About the Author
Ryan Scribner is the author of From Side Hustle To Main Hustle To Millionaire - a practical guidebook on launching your own side hustle. He is recognized as a Top 100 Money Expert by GoBankingRates.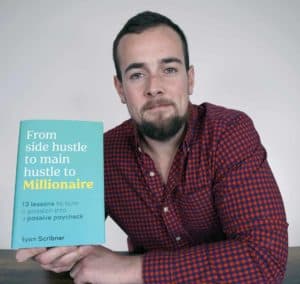 Ryan runs a successful YouTube channel focused on money and investing, which he started in 2016. He also owns a portfolio of digital business, all earning passive recurring revenues.
Now, Ryan teaches others how to create additional income streams.
1. Freelancing with Specialized Skills
If you possess specialized skills, such as graphic design, web development, content writing, or digital marketing, freelancing can be a lucrative side hustle.
By leveraging online platforms and actively marketing your services, you can attract clients willing to pay a premium for your expertise. Remember to calculate your expenses, including taxes and any necessary software or equipment, to determine the profitability of each project.
2. E-commerce and Dropshipping
The e-commerce industry continues to thrive, and starting an online store or engaging in dropshipping can be a profitable venture. With platforms like Shopify or WooCommerce, you can set up your own online store and sell products directly to consumers without the need for inventory.
However, it's essential to carefully research product selection, pricing strategies, and marketing techniques to ensure a healthy profit margin. Consider factors such as product sourcing costs, shipping fees, and advertising expenses to accurately evaluate the profitability of your e-commerce venture.
3. Digital Products and Online Courses
Creating and selling digital products, such as e-books, online courses, or templates, can be a highly scalable and profitable side hustle. Once you develop the product, the costs associated with producing and delivering it are minimal.
Marketplaces like Amazon Kindle Direct Publishing or Udemy offer platforms to reach a wide audience and monetize your expertise. Focus on niches with high demand and provide exceptional value to attract customers and generate sustainable profits.
4. Real Estate Investing
Real estate investing can be a lucrative side hustle with the potential for substantial returns. Explore various options such as rental properties, Airbnb hosting, or real estate crowdfunding.
It is crucial to thoroughly research the market, analyze potential rental yields, and consider all associated costs, including maintenance, property management, and taxes.
5. Online Consulting or Coaching
If you have valuable industry knowledge or expertise, offering online consulting or coaching services can generate substantial profits. Many individuals and businesses are willing to pay for personalized guidance and mentorship.
Determine your target market, develop a strong online presence, and market your services effectively. Calculate your time commitment, operational costs, and the value you provide to ensure that your consulting or coaching side hustle is both profitable and sustainable.