Looking for a way to boost your income with a side hustle?
With a little creativity and effort, it's possible to earn $200 per day by exploring various opportunities.
In this article, we will discuss five simple side hustles that can help you achieve that goal.
Don't forget to grab your free stock worth up to $200 from Robinhood today!
About the Author
Ryan Scribner is the author of From Side Hustle To Main Hustle To Millionaire - a practical guidebook on launching your own side hustle. He is recognized as a Top 100 Money Expert by GoBankingRates.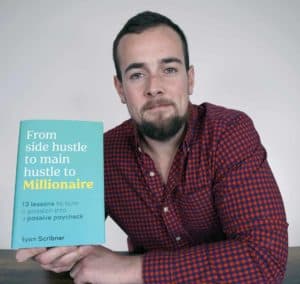 Ryan runs a successful YouTube channel focused on money and investing, which he started in 2016. He also owns a portfolio of digital business, all earning passive recurring revenues.
Now, Ryan teaches others how to create additional income streams.
1. Start a Dog Poop Scoop Business
While it may not be the most glamorous job, starting a dog poop scoop business can be a profitable venture.
Many pet owners struggle with keeping their yards clean, making this a valuable service. Invest in some basic equipment, such as gloves, shovels, and waste bags, and market your services to local pet owners.
By charging a reasonable fee per visit, you can quickly accumulate clients and reach your target earnings of $200 per day.
2. Offer a Lawn Care Service
If you enjoy spending time outdoors and have basic gardening skills, starting a lawn care service can be a lucrative side hustle.
Offer services such as mowing lawns, trimming hedges, and maintaining gardens. Invest in quality equipment, create a professional image, and promote your services through word-of-mouth, flyers, and online platforms.
With consistent marketing and exceptional service, you can secure regular clients and reach your daily income goal.
3. Create a No-Face YouTube Channel
YouTube is a popular platform for content creators, and a unique niche can help you stand out.
Creating a "no-face" YouTube channel, where you narrate stories, provide commentary, or share knowledge without showing your face, can be an interesting side hustle.
Choose a topic you're passionate about, such as history, mysteries, or personal development, and create engaging content. Monetize your channel through ads, brand sponsorships, and affiliate marketing to generate income.
With consistent effort and quality content, you can accumulate a significant number of subscribers and earn $200 per day.
4. Sell Digital Products on Etsy
If you have artistic or design skills, selling digital products on Etsy can be a lucrative side hustle. Create unique digital assets such as printables, graphic templates, or custom designs and list them on your Etsy shop.
With Etsy's large user base, you can attract customers from around the world. Invest time in creating high-quality products, optimizing your shop's visibility, and promoting your offerings on social media.
By consistently delivering value and building a loyal customer base, you can achieve your income target of $200 per day.
5. Affiliate Blogging
Blogging is a popular side hustle, and by incorporating affiliate marketing, you can turn it into a profitable venture.
Choose a niche you're knowledgeable and passionate about, create valuable content, and include affiliate links to relevant products or services. As your blog grows in traffic and popularity, you can earn commissions for each sale or referral generated through your affiliate links.
Focus on providing helpful information, building trust with your audience, and optimizing your blog for search engines to maximize your earning potential.