2018 Tax Cuts and Jobs Act: What Has Changed?
At Investing Simple, we are not tax professionals. We recommend contacting a tax professional for more information on anything discussed in this article.
Last year congress passed the Tax Cuts and Jobs Act (2017) which made significant changes to the tax code. As of the time we are writing this article these changes are in effect from 2018 to 2025. Many of these changes will impact taxpayers across all income levels and households. Knowing the specific changes to the law and how it may affect you could help save you money when you file your taxes.
Key Changes
Tax bracket income limits and rates have been adjusted
The standard deduction has significantly increased, but personal and dependent exemptions have been eliminated
Less people will itemize their deductions on Schedule A due to the increase in the standard deduction
Tax Brackets
There are still 7 tax brackets, but the rates have been reduced to the following:


What Has Changed?
1. Increased Standard Deduction: The new tax law has increased the standard deduction for all filers. The standard deduction is simply the portion of your income that is not subject to taxation. Rather than having everyone itemize deductions, the standard deduction is in place to simplify the process. This increase in the standard deduction means that less people will be itemizing deductions.

2. Personal and Dependent Exemptions Eliminated: In prior tax years taxpayers could deduct up to $4,050 for yourself and each dependent living in your household. The new tax law has eliminated all personal and dependent exemptions for 2018.

3. Child Tax Credit Increased: In prior years taxpayers could receive a tax credit up to $1,000 for each dependent child in their household. This deduction has been increased to $2,000 per qualifying child. The income level phase out has been increased as well, allowing more people to take advantage of this.

4. Investment Advisory Fee Deduction Eliminated: Prior to the new tax law being passed, investors could deduct fees paid to investment advisors as an itemized deduction that must exceed 2% of their income. This deduction was for fees paid for investment management of non retirement accounts. This deduction has been eliminated.

5. Unreimbursed Employee Expenses Deduction Eliminated: Prior to 2018 employees could deduct unreimbursed expenses related to their job on Schedule A if it exceeded 2% of their adjusted gross income (AGI). This included travel expenses, meals and entertainment expenses. As of 2018, this deduction has been eliminated.

Here are some additional changes made to specific deductions for 2018...

[table id=11 /]

*Miscellaneous Itemized Expenses includes tax prep fees, work expenses that were not reimbursed (travel, meals, entertainment, parking), job search expenses and investment advisory fee expenses
Qualified Business Income Deduction/Section 199A Deduction
As of 2018, there is now a qualified business income deduction offered to business entities that are not C Corporations. This deduction applies to S Corps, LLCs, Partnerships, as well as sole proprietors on Schedule C. This deduction is specified for non trade or service type businesses. This means that it is supposed to benefit businesses that sell products rather than services. To understand more about this deduction and how it may impact your business read this article here.
Corporate Tax Rate
The Tax Cuts and Jobs Act (2017) also made significant changes to corporate tax laws as well. The act cut the federal corporate tax rate down from 35% to 21% for C Corporations.
The new law has put the US Corporate Tax Rate in line with other OECD (Organization for Economic Cooperation and Development) member nations. The statutory tax rate, considering State corporate tax rates as well, shows how the US compares to other OECD nations.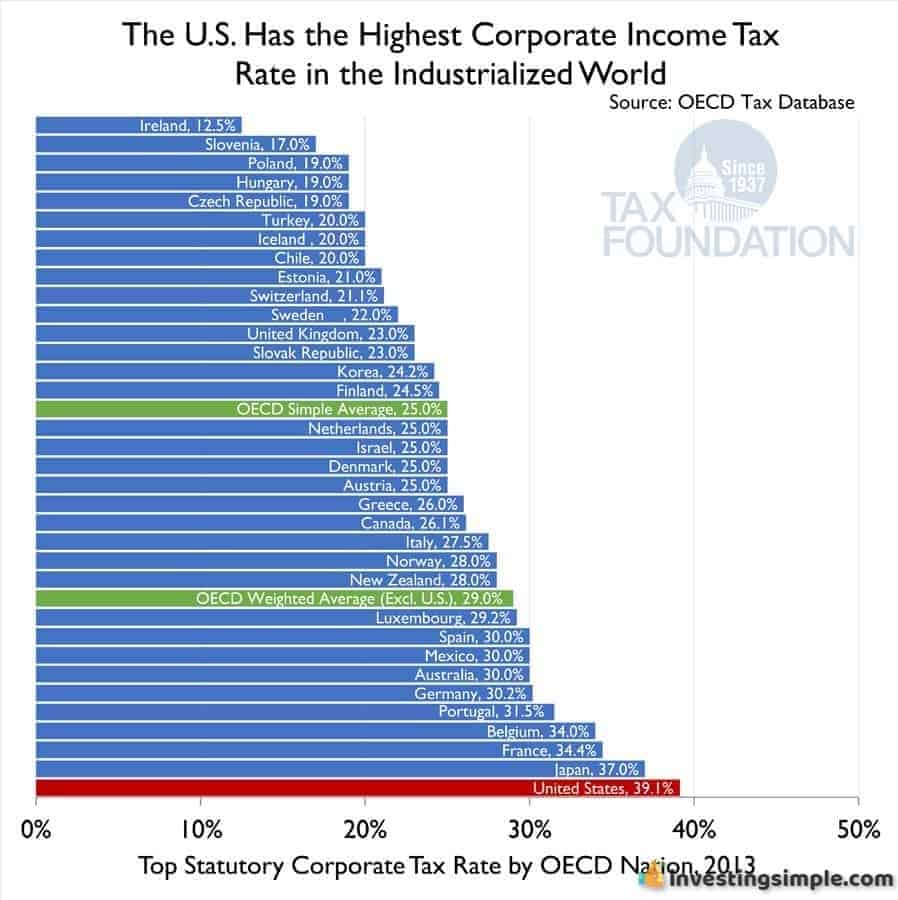 Up until this change, the United States had the highest Corporate Income Tax Rate in the industrialized world. This created an incentive for companies to move overseas to lessen the tax burden. Now, at 21% it is far more reasonable and in line with other OCED member nations. This should attract more businesses back to the United States.
The Bottom Line
Investing Simple is affiliated with TurboTax.
To understand how the changes to the tax law may have an impact on your situation you should first look at your tax return from the previous year. One of the biggest changes is the doubling of the standard deduction, meaning less people will itemize their deductions on Schedule A. To see if you will itemize in 2018, see what your total itemized deductions were for the previous year. If they are under $24,000 (married filing joint) or $12,000 (single) then you will not itemize in 2018.
If your itemized deductions come close to the standard deduction limits then you may want to further research the specific changes to each deduction. This will ensure you are eligible to take all the specific deductions you are entitled to.
If you do not itemize your deductions then you will still want to see how changes to each deduction and the tax rates themselves will impact your situation. The new tax law has resulted in lower marginal tax brackets for many tax payers, however certain income levels will see an increase in their marginal rate. As always, you may want to consult a tax advisor for specific questions or concerns about your personal tax situation.
If you are looking to prep and file your own taxes, TurboTax has an excellent platform for this.