The world is full of opportunity today. You have the ability to make money while in bed, sitting on your phone, or even while you are asleep. This opportunity is made available by something called the internet.
Before we jump into six ways you can make $100,000 or more online, I need to tell you, how much you make is fully dependent on you and how much work and time you're willing to put in.
If you are only willing to put in a few hours of effort, you won't make a penny!
Each of these methods will take months if not a year or more to build a six figure income source, but it is possible. I know someone who is making at least $100,000 a year doing each of the following things and I will share each one as an example.
1. YouTube Channel
One of the coolest ways to make money is to start a YouTube channel. Once your channel becomes established, you can run ads on your videos and collect a check every single month!
You will need to continue to post new content in order to keep the views coming in, but if you enjoy doing this it can be a great way to earn passive income. Take Financial Education for example. He uploads a daily stock market commentary video and typically gets 10,000 to 20,000 views per video.
In a recent video, he shares just how much money he is making on YouTube!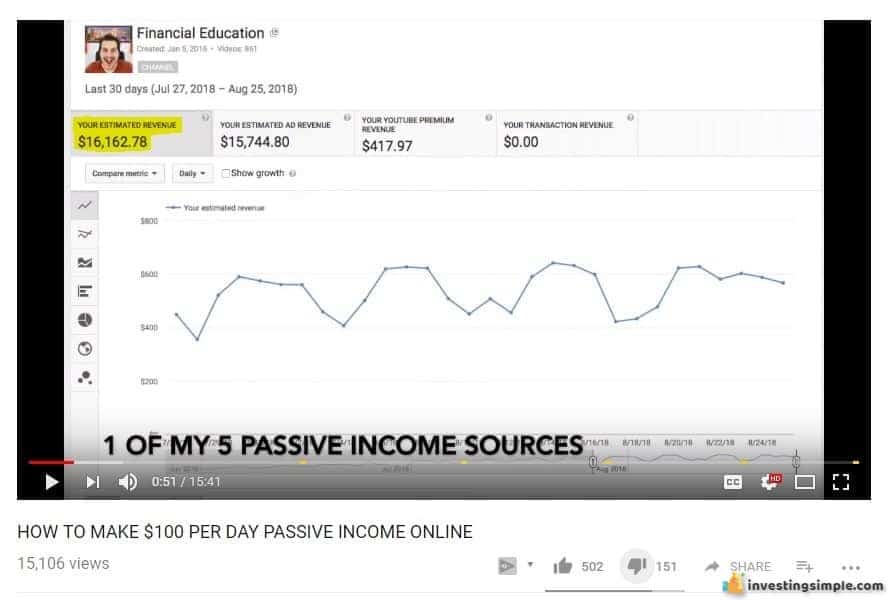 Now, don't be fooled by this seemingly easy way to make money. This takes a lot of effort. Jeremy started his YouTube channel over two years ago in January of 2016. Since then, he has posted over 850 videos!
Here is one of his earliest videos explaining what a checking account is.
In order to be successful on YouTube, you need to be extremely patient and see the bigger picture! You also need to improve your content and quality with time, otherwise people will lose interest in your videos.
Personally, I know about a dozen people who are making over $100,000 a year with a YouTube channel. While it is difficult, it is not impossible!
2. Personal Coaching/Consulting
Coaching and consulting is a huge business opportunity. Often times, people need a second opinion to break past a certain barrier in their personal or professional life.
Take my friend Jake Woodard for example. He spent years learning about personal development and working on himself mentally, physically and spiritually. Now, he has a six figure coaching business online. He helps people through one on one coaching and speaks at events all over the world.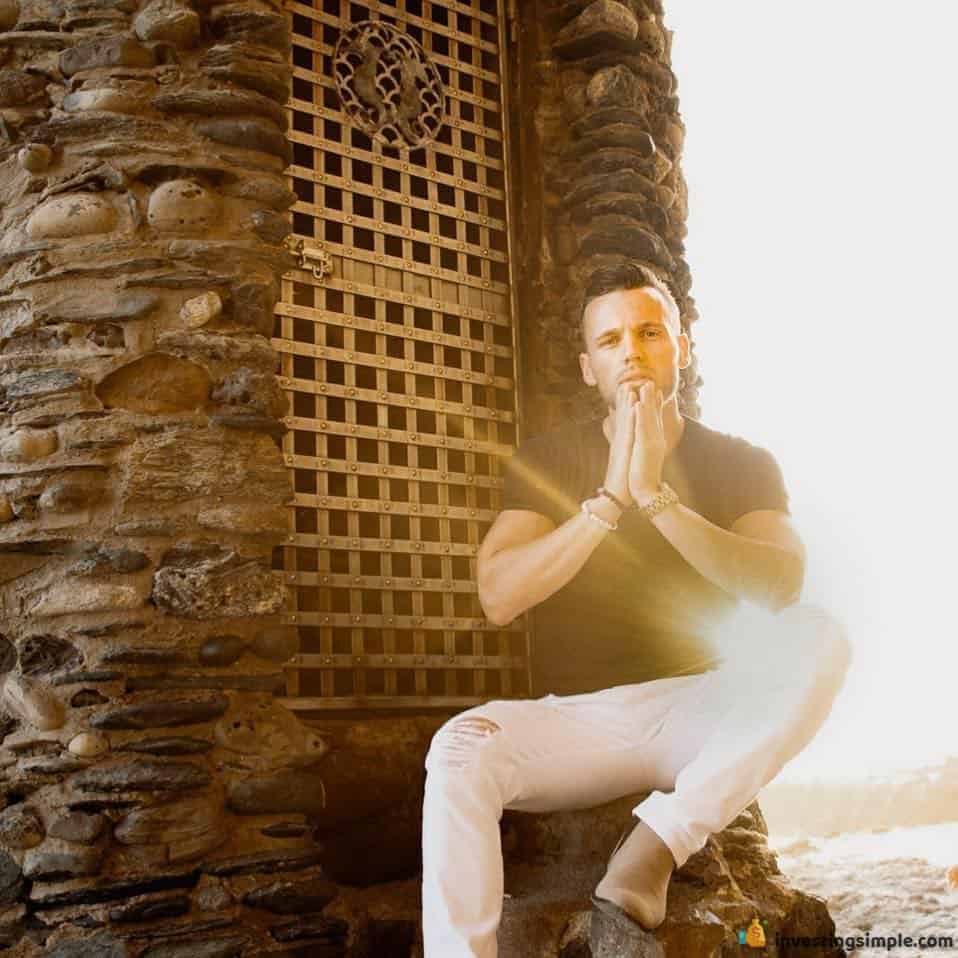 Once you have established credibility in your field, take on a few clients pro bono. This means that you will be doing it for free, in exchange for a testimonial of course! Once you have real results and proof of your work, you can take on paid clients.
Jake Woodard spends a lot of time building out his social media presence, and you will need to do this too! Most of his clients find out about him from one of his powerful videos being shared around on Facebook.
3. Affiliate Marketing
Affiliate marketing is a very simple business. You simply refer a sale to someone and earn a commission in the process!
The idea here is you market someone else's product for them and earn a commission on each sale you are able to provide for the original seller. This works best when you have a large audience of some sort on social media. This could be a blog, a YouTube channel or even an Instagram account.
One of the best ways to do this is with Amazon Affiliate Links. In this video, Ryan Scribner will teach you how to make passive income with these links.
Every time someone clicks on the product and buys it, you get paid a commission.
There are countless affiliate opportunities out there. The key here is to become the authority in your niche and then reach out to the biggest companies serving these customers. Many of these companies will pay you for referrals!
So, just how much money can you make with affiliate marketing? Let's take ODi Productions for example. He makes over $100,000 a month with affiliate marketing! He dropped out of his dream school UCLA with a 3.5 GPA in order to pursue entrepreneurship full time and create an online business.
Now, he owns his dream car and lives in his dream apartment thanks to affiliate marketing. He states that it took him a little over two years to build out his business.
Here is a video where he explains more.
https://www.youtube.com/watch?v=roQ8hIVuEb8&t=1s
Click here for our beginner's guide on affiliate marketing.
4. Social Media Marketing
Investing Simple is affiliated with Online CEOs by Josue Pena.
Use what you do every day to your advantage. There are so many businesses getting left behind because they don't know how to use social media. If you are able to help businesses with their social media and get them more customers, they will pay you massive sums of money.
Take Josue Pena for example, he has a social media marketing agency that does close to $100,000 per month in revenue. It took Josue months to learn the ins and outs of social media, but now clients all over the world pay him for his expertise.
Here is a video that talks about his social media marketing agency.
Click here for a free Instagram training guide by Josue Pena!
Become an expert on Instagram and other social media platforms, then go look around where you live for local businesses you think could use some help. Take over their social media, and get them more customers while earning a monthly retainer in return.
Once you become too busy, hire an employee or outsource the work to someone overseas! This business is very easy to scale.
5. Blogging
Blogging can be a fun creative outlet that can turn into a side hustle though affiliate marketing and selling ad space. One example of this is Good Financial Cents. Jeff Rose started this blog over 10 years ago, but in one month alone he made over $100,000!
Check out this video Jeff Rose did talking about that.
You can start a blog for next to nothing. In fact, some sites will allow you to start a blog for free! Take the Investing Simple blog for example. We pay about $50 a year for hosting and a domain name. The main investment here is your time!
If you want to learn more about starting a blog, here is a guide I recommend that talks about how to get your blog started with under $100 and in 24 hours!
6. Selling An Online Course
Ready to demonstrate how to write the perfect resume? Knit a sweater? Read tarot cards? Buy a car? Balance a checkbook?
If you're an expert (or willing to do the footwork and become an expert) on any topic, you can create an online course to teach others your skills.
Setting up the curriculum requires a time commitment, as does marketing your course, but once it's up and running, you'll earn passive income based on the number of students.

Ryan Scribner offers a free course all about building a successful online course or membership site. You can enroll here!
This is one of the best ways to make passive income. Once the course is completed, you just collect the payments! Hosting sites like Teachable will handle the rest. There are countless examples of people who are making $100,000 or more with an online course.
Take Tai Lopez for example. In this video, Tanner J. Fox estimates that he does close to $90,000,000 a year in revenue from his online courses and coaching!
Thanks to the internet, there are now hundreds of ways to make money online. In my opinion, these are the most profitable ways of making money online today. The number one thing you have to remember is that this is going to require a lot of time and patience. Nobody on this list became an overnight six figure earner. Stick to one idea and commit to your success as an online entrepreneur!