Money can be a fickle thing. The more we have, the more we spend. Between recent stimulus checks and potential tax returns, many people have or will soon have an extra sum of money. So what should we do with it? And how do we ensure that it doesn't become lost in frivolous spending?
Paying bills, decreasing high-interest debt, and investing for tomorrow are 3 great ways to use a stimulus check or tax refund.
This article is sponsored by Acorns.
Bills, High-Interest Debt, and Investing
Without a plan for funds, people often find themselves spending money on things they didn't intend on buying. 
When a new (and often large) sum of money hits your bank account, it might be your first instinct to spend it without a plan.  However, it's in your best interest to focus spending on late or upcoming bills like rent or utilities, paying down high-interest debt like credit cards, and using anything left over to invest for the future. Like they say, the best day to start investing was yesterday. The second best day is today. 
Bills and other debt can be a lot to manage, and for many, this means investing is pushed off to the side. Not to mention the fact that investing is a complex world of its own.
That's where Acorns comes in. Their easy to use app makes investing simple and stress-free.  It's perfect for passive and new investors because you can sign up in minutes, and start investing your spare change into diversified, expertly built portfolios. 
What is Acorns?
Acorns is a savings and investing app that helps people save for their future automatically. In addition to an individual investment account, Acorns also offers a retirement account, a checking account, and an UGMA/UTMA account for kids with Acorns Early.
Founded in 2012, Acorns has continued to grow in popularity. Over  9 million people have saved and invested using the app to save for their long term money goals. The company focuses on micro-investing or the concept of consistent small deposits into an investment account over time and robo-investing or using algorithms to direct investments without human supervision.
Acorns also has a great educational resource, Acorns Grow, developed through a partnership with CNBC. Money is often a taboo topic of discussion, which leaves many confused about the best way to manage it. Acorns Grow provides readers with a free resource on the app to easily learn about money and ways to save and invest for the future.
Learn more by reading our full Acorns Investing review.
How does Acorns Work?
If you've heard of Acorns, you're probably familiar with Round-Ups®, or the basic concept  that every time you make a purchase, Acorns rounds up  that purchase to the nearest dollar and invest the difference into a diversified portfolio. For example, say you buy a  coffee for $4.22. Acorns will round that purchase to $5.00 and take the difference and invest it. In this case, $0.78 ($5.00 - $4.22) would automatically be invested into a portfolio designed by experts.
How many purchases do you make in a week? If you only ever bought a coffee each morning for $4.22 and invested the other $0.78 cents each day, you would build up just over $300 at the end of the year with a 10% rate. Now factor in all of your weekly purchases and the number grows much higher. You can link all your credit cards with Acorns so you maximize your money's time in the market.
Like other investing platforms, Acorns also allows you to set up Recurring Investments, so you can just set it and forget it, and your money will automatically be invested into a diversified portfolio. You can also make one-time deposits into your account whenever you feel like it  - like when the stimulus check hits or you receive your tax refund.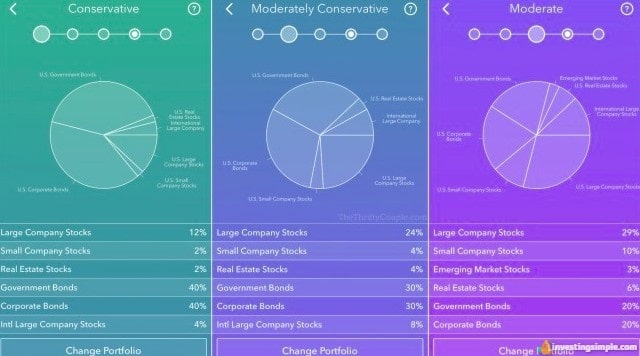 Where does Acorns Invest my Money?
Within the platform, Acorns will suggest a portfolio for you based on your age, risk tolerance, goals, monthly income, and a few other factors. This portfolio will be a combination of 4-6 exchange traded funds (ETFs) chosen by a  team of financial experts that ensures strong diversification across multiple sectors and industries.
Customers can also opt to choose their own portfolio. Acorns has built 5 investment options that range in their risk level. For many passive or novice investors, this is a great option as Acorns has done the heavy lifting. After creating an account and selecting a portfolio, members can watch their account grow without any additional effort on their part.
The key benefit of a diversified portfolio made up of ETFs is that they typically will not experience the same volatility as individual stocks. This helps investors diversify their investments and weather market ups and downs.
What is an ETF?
An ETF is an exchange traded fund. Simply stated, an ETF is a basket of various assets such as stocks or bonds. Rather than purchasing a number of individual stocks or bonds, investors can purchase shares of an ETF to track an underlying asset or index.
An ETF is created by a fund provider, who examines the market and creates a bundle of assets. They then take this new group of assets and assign it a ticker symbol. Investors are then able to purchase shares of the ETF. While investors do not own the underlying asset itself, they do own shares of the ETF and can still enjoy the benefits of growth and dividend payments.
What is Acorns Earn?
Acorns has a free, brand-new feature that allows you to earn bonus investments when you shop with over 12,000 different brands.  
Partnering brands set an amount or a percentage of your purchase price directly into your Acorns Invest account when you spend with them. Acorns Earn rewards are typically invested in your Invest account between 60 and 120 days after you make a purchase with one of their partners.
You can also receive contributions in your Acorns Invest account when you invite friends or family members to sign up with Acorns. 
How to Get Started with Acorns
Acorns offers 3 different account tiers: Lite, Personal, and Family, which cost $1, $3, and $5 per month respectively.
With Acorns Lite, you have access to an investment account with Round-Ups®  and Recurring Investments. The Acorns Personal account adds on to the Lite account and gives you access to your very own retirement account (Acorns Later) and  Acorns Spend, a checking account. The Acorns Family account offers all of the above, plus Acorns Early!
After setting up your account, you can begin investing with as little as $5. So if your stimulus check or tax refund went to bills or other debts, you can still set up an Acorns account today to begin investing in your future. Setting up an account is incredibly simple and just takes minutes.
Create an Acorns account today!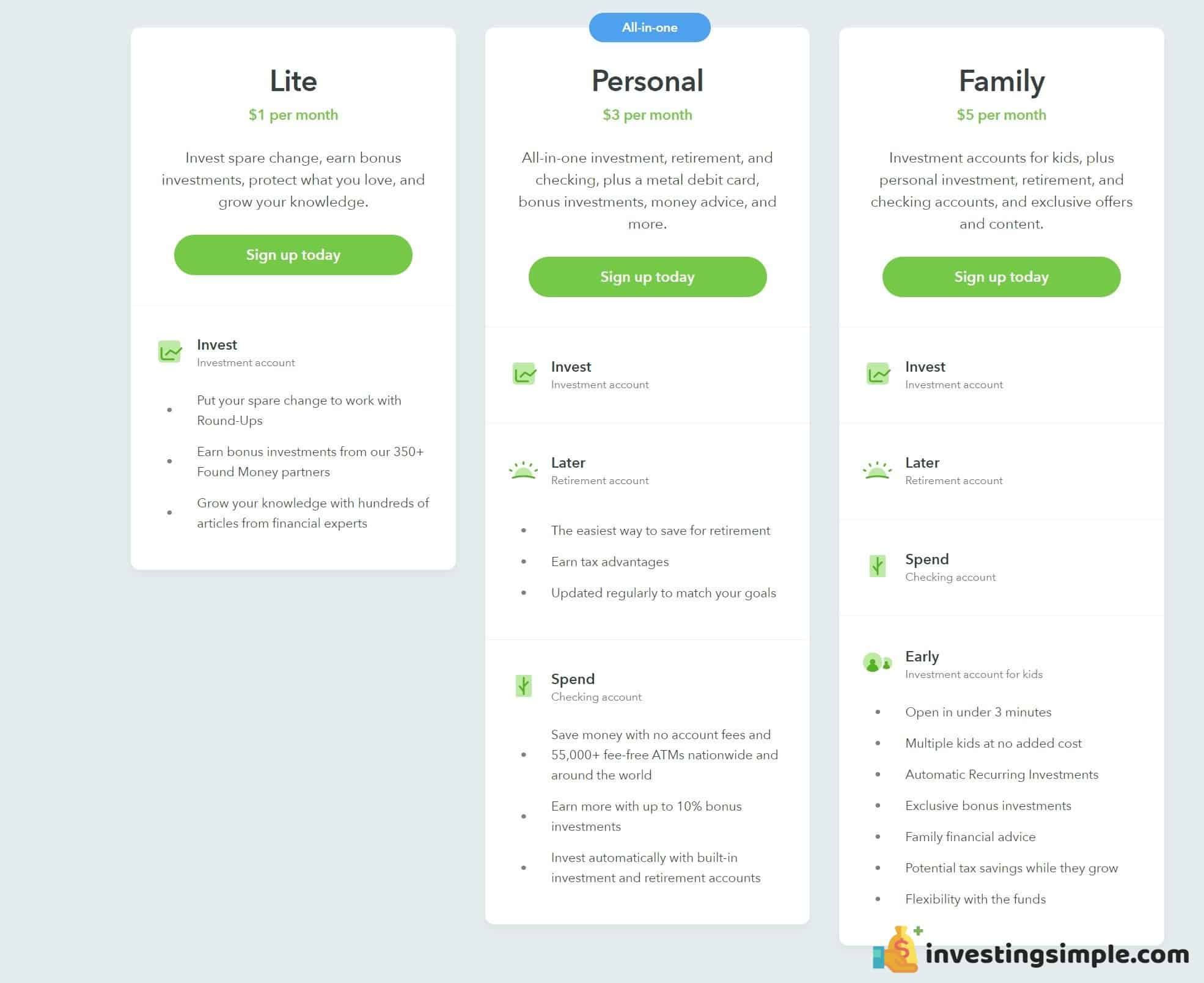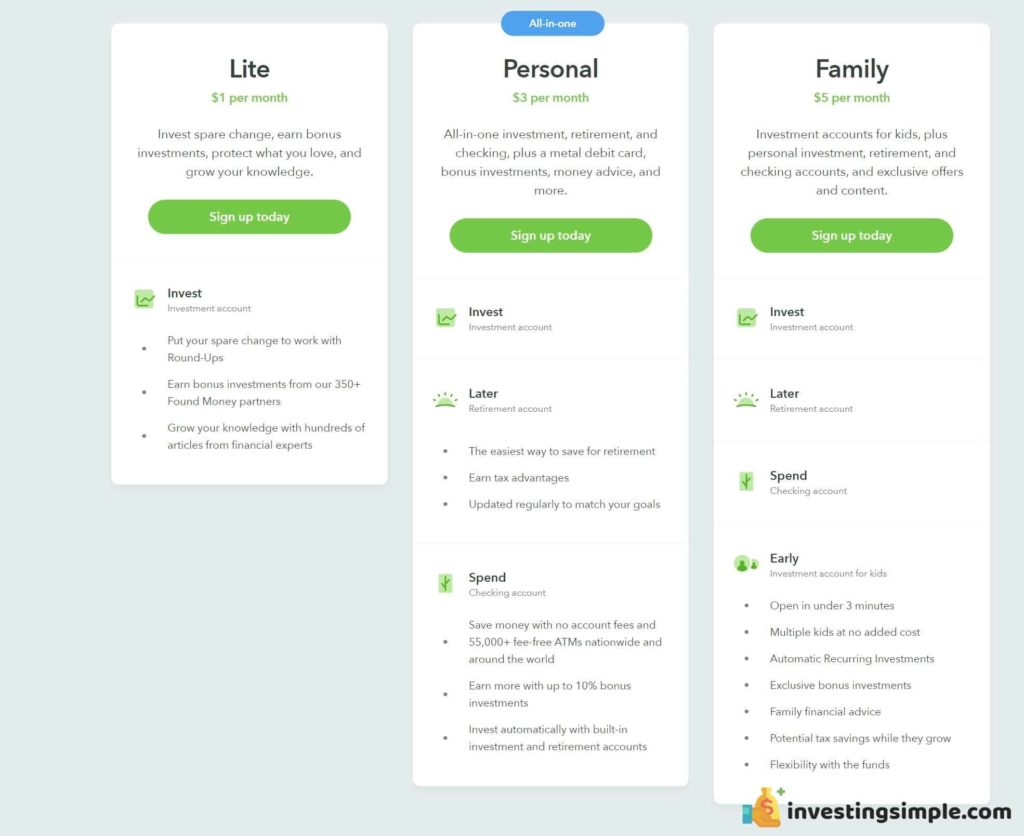 What is Acorns Early?
Acorns Early is a great way to start saving for the kids you love. Children have a longer time horizon for their money to take advantage of what Albert Einstein referred to as the eighth wonder of the world, the power of compounding. Investing a portion of your stimulus check, tax refund, or paycheck automatically into your child's future can give that money more time in the market and a better chance to grow long term than having it sit in a simple savings or checking account. 
Acorns Early allows parents to open a UGMA/UTMA account for their kid(s). As opposed to a 529 plan that can only be used for educational expenses, UGMA/UTMA accounts are super flexible and can be used for anything that the child needs/wants such as technology, summer camps, education, a wedding, a new business, etc. 
With Acorns Early other family and friends can also contribute to your child's account on birthdays or other events, via the feature "Early Gifts." So if your best friends don't know what to get your child for their birthday, you can easily share a link and they can invest in your child's future! They don't even need to be an Acorns customer. Fun fact: investing just $100 a month for 18 years with a 7% annual return can grow into $45,000! Setting up an Early account today is an easy, smart step in giving your child a leg up in life. Plus, you can enjoy potential tax advantages as you invest. 
Sign up for an Acorns Family account today!
3 Ways to Use Your Stimulus or Tax Return Money: Final Thoughts
COVID-19 has left many behind on their bills or with unplanned debt. To ensure your stimulus check and/or tax refund is used well, take a moment to plan how the funds will be used. Being late or behind on bills can be crippling. With a large sum of money like a stimulus check or a tax refund, people are given an opportunity to catch up. It is also a great opportunity to pay down high-interest debt. With any money leftover, investing the rest can be a wise decision.
But for many, investing is confusing and time-intensive. With Acorns, discover  how simple, rewarding, education and even fun investing is! Investing does not have to be difficult. By creating an Acorns account, you can start investing in the background of life,  and enjoy all the benefits of compounding, goal setting, and bonus rewards when you shop. Take control of your future now with Acorns.