We all know we should have a budget, and in the best of all worlds, it would be easy (and painless) to stick to it.
We'd have all our day-to-day expenses covered, while simultaneously socking money away for things on our larger wish list, like a down payment on a house, a new vehicle, paying off student loans, or taking that fantastic vacation you've always dreamed of.
But for most of us, making a budget and living within its parameters is cause for middle-of-the-night panic. There is a myriad of apps out there looking to help people with this money-saving problem. We will be comparing two, known as Digit and Acorns.
Digit vs. Acorns: The Basics
Digit is an automatic saving and investing platform. The service uses machine learning to identify how much you can afford to save and invest every day. Users can also set goals, pay credit cards, and earn bonuses for continued use.
Acorns is a close competitor with Digit in the automatic saving and investing space. The difference is that Acorn can round up each of your purchases and invest that change each day. You can also choose to contribute additional funds on top of that.
Digit vs. Acorns: Summary
Digit and Acorns both specialize in daily, automatic saving and investing
Acorns allows users to invest passively by rounding up purchases to the nearest dollar
Digit uses machine learning to recognize savings opportunities
There are no individual stocks on Acorns or Digit, just pre-approved ETFs
Acorns users must pay for a monthly subscription ranging from $1 to $5
Digit currently costs $5 per month
Both Digit and Acorns offer individual and retirement accounts like IRAs
Neither service has account minimums or separate fees
Each company has web and mobile access
Both platforms are best for passive investors who don't want to think too much about savings
What Is Digit?
The app Digit will come to the rescue by automatically directing funds to savings and investing for your end goals. It takes the decision-making out of your hands by doing the math for you and allocating that money only when you can afford to do so.
Signing up for Digit is as easy as 1-2-3:
Go onto Digit and connect your bank account. You won't even need to share your checking or routing number.
Digit analyzes your spending and automatically moves money from your checking account to your Digit account only when you can afford it.
You're done! You don't have to keep a minimum amount in Digit, and you can withdraw your money anytime.
Digit calculates when it's ok to save towards your unlimited goals without breaking your budget. Other features include:
Pay Off A Credit Card: Digit will save for and pay off your credit card debt over time.
.1 Percent Savings Bonus: Digit will pay you .1% for saving every 3 months.
Unlimited Withdrawals: You can get your money when you want it.
Low Balance Protection: Automatic transfers to your checking account.
No Account Minimums: You can leave as little as you want in Digit.
Your money is tightly protected by Digit. It uses state-of-the-art security measures. Digit encrypts and securely stores all your personal info. All funds held within Digit are FDIC insured up to a balance of $250,000.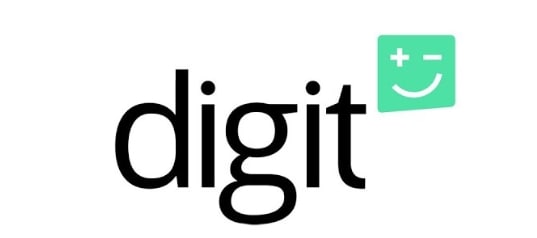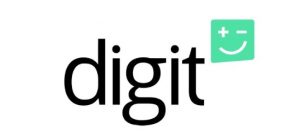 How Much Does Digit Cost?
One of the bottom-line questions is, of course, how much does the service cost?
A monthly subscription costs $5, and you can cancel anytime. It's also easy to access, with an iPhone and Android app.
Digit differs vastly from recurring bank savings transfers. It doesn't require you to come up with a fixed amount to transfer every month. Instead, it stays flexible and funnels money towards your goals when you can, while still living within your budget. Digit studies what you do regularly with your money, then determines when and how much is safe to save based on your spending habits.
You don't need to set up a savings account. When you sign up for Digit, you get your own account which will hold any Digit savings until withdrawn.
You'll still have access to your Digit account. You can withdraw from Digit year-round and as many times as you want per month.
Digit Savings Bonuses
There are perks, including savings bonuses. When you save with Digit for three consecutive months, a 1 percent annualized Savings Bonus will be your reward. Your savings bonus is automatically deposited in your Digit account.
It's up to you to set savings goals, however, for whatever you desire. If you can't decide, Digit will make suggestions for you. Then – and this is important – plug in the amount you'd like to eventually save and a goal you're aiming for to reach this goal. Digit will then start setting money aside for your goal.
You're not locked into your Digit savings account. You can move your savings to your checking account as often as you like.
Digit Pay
Digit Pay lets you make automatic payments to any major credit card company with money held in your Digit account.
You'll likely have no problem accessing Digit since it supports more than 2,500 banks and credit unions within the United States. Although only available in the U.S. currently, expansions are underway.
Overall, Digit is a helpful, user-friendly tool that takes the complications out of saving money. It's similar to having a personal money management advisor at your fingertips, always giving you good advice.
Digit Investing
Digit crafts a personalized ETF portfolio for you based on your goals and risk tolerance. Funds will automatically be invested as they become available.
At Digit, you can invest with a standard brokerage account or use a tax-advantaged retirement account like an IRA. The growth of these accounts is tracked and shows the progress made toward your financial goals.
Digit Pros:
Automatically saves and invests the correct amount for you
Only $5 per month
Help you pay credit cards seamlessly
Digit Cons:
Limited investment options
No research or other data tools
Automation reduces manual capabilities for users
What Is Acorns?
Then there's Acorns, an online robo advisor that allows you to start your investment portfolio with pennies – literally – and you don't even need to change your spending habits. In fact, when you spend, you're actually investing, because the platform rounds up your purchases to the next dollar, then funnels it into your Acorns portfolio.
It's that easy. You can join for a monthly fee of $1 for Acorns Core, the central platform, and they will waive that fee if you're a college student with virtually zero income.
You sign on with Acorns Core's Invest the Change app and forget about it. Once your round-ups total $5, the money is withdrawn from your linked checking account and invested, where it will gain momentum, letting you reinvest your dividends until you have a substantial portfolio. There are no minimums and zero commission fees.
Acorns Investments
You don't have to sweat over where your investments are made. More than 150 experts will keep an eye on it all for you.
Acorns Core stows those extra coins into investments diversified across more than 7,000 stocks and bonds, automatically rebalanced with market fluctuations up and down.
You speed up the process by making one-time investments at any time.  If you're super organized, you can set weekly or monthly transfers from your bank account into your Acorns investments.
Acorns will tailor your portfolio to match your risk tolerance and even your short and long-term financial goals.
Maybe you like to take risks. Or perhaps you have a more conservative approach. Whatever your personality dictates, Acorns will create a unique portfolio just for you, based on your risk tolerance. Just answer some short, simple questions about your lifestyle and financial goals, and a mix of Exchange Traded Funds (ETFs) will become your starter portfolio.
Other Acorns Features
There are also different ways to bulk up your account. Acorns Earn has a long list of retail partners that will earmark an extra 5 to 10 percent of your transaction in cash back to your Acorns brokerage account. They include Nike, Apple, Airbnb, Macy's, DirectTV, Walmart, and a whole bunch more.
You can also sign up for Acorns Spend, a debit card for a checking account with Acorns built-in. The account has no minimum balance requirement, no overdraft fees, and unlimited free or fee-reimbursed ATMs nationwide.
Already thinking about retirement? Acorns Later are Individual Retirement Accounts (IRAs) both traditional and Roth. Acorns experts will recommend an IRA for you based on your goals, employment, and income, then keep you posted on how it's doing. IRAs allow you to save money without all the tax implications of other investments.
Acorns are investing backed by experts, taking micro-investing to a whole new level, at costs so low you will never feel the pinch.
Acorns Pros:
Simple and intuitive for new investors
Automates savings and investing
Very low-cost option
Acorns Cons:
Limited investment options available
No research or analytics tools
Lack of control for more active investors
Digit vs. Acorns: The Verdict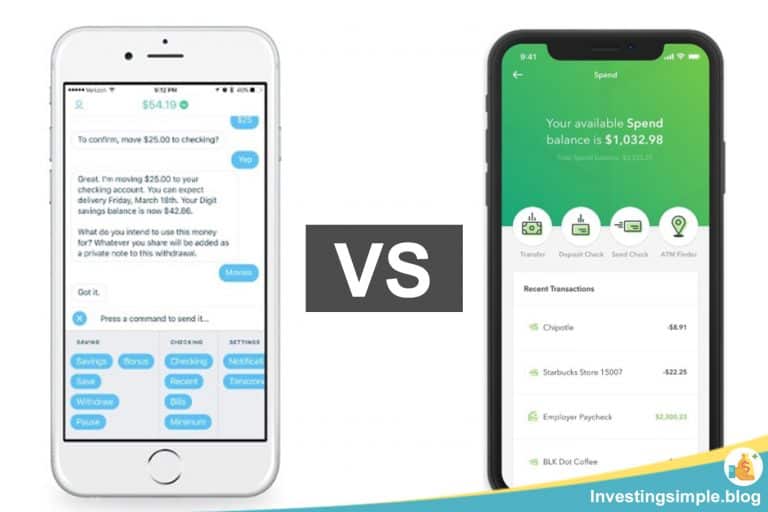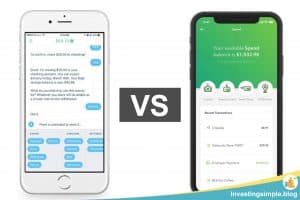 Overall, both Acorns and Digit offer a useful service for someone looking to save and invest their money. Both are great options for beginners that have trouble sticking to a savings schedule. These services turn investing on autopilot and can help push you towards your goals.
While similar, the main difference between Acorns and Digit is in the way money is pulled in. Acorns does so by rounding up purchases and Digit uses machine learning to understand how much you can afford.
Outside of that, Acorns does seem to have a wider array of features and capabilities, leading it to become a much larger company. Feel free to try out both services for yourself. They're very low cost and you can withdraw your money at any time.
Best Free Stock Promotions
Check out our other reviews: