AcreTrader is an investment platform letting investors buy shares in farmland. This is a real estate asset class that has been under-represented; it can be a hidden gem for many.
AcreTrader uses the crowdfunding model. By pulling together smaller amounts of investment funds from larger groups of people they can give everyday folks the chance to invest in larger deals. Back in the day, farmland investing was limited to those with huge bank accounts similar to other types of real estate.
Creators of today's platforms wanted to open the playing field to investors who had more limited access to investment funds but still wanted to get in the game.
AcreTrader, founded in Arkansas, got into crowdfunding just two years ago. To date, they have closed on a total of 8 properties including farms producing corn, soybeans, and pecans.
Keep in mind that on average, farmland has a speedy rate of growth in value compared to other properties like office complexes or apartment buildings. As the world population goes up steadily, so will the demand for farms to produce crops of all different varieties. This makes farmland a smart long-term investment, generating reliable returns in the long run for stakeholders.
What Fees Does AcreTrader Charge?
One of the good reasons to pursue real estate deals is that they are passive investments. This means you can stay out of daily operations and let other people manage the costs, from the heavy equipment necessary to grow and harvest crops to the expenses like seed and soil management.
Project managers start working before deals are even drawn up. They have substantial knowledge and experience in farmland. This experience includes managing finances to cover expenses to bring investors as much profit as possible. But it doesn't end there. They have a thorough understanding of how to run everything from smaller family farms to large commercial sites.
These management services come at a cost.
Think about it. Let's say you bought a house with three separate units to generate rental income. Someone has to be in charge of repairs, collecting rent, and dealing with complaints from tenants. So, you would either need to do the work yourself or hire a property manager.
AcreTrader has a team of property managers doing the work for you.
They charge all investors an annual property management fee ranging from 0.75% to 1% per year, based on the scope of the project.
When compared to many other real estate crowdfunding platforms, this is on the lower side of the spectrum. Other platforms can charge upwards of 5% and some will also take a portion of the profits in what is called a carry. Acretrader does not do this and the 1% fee is all you will be paying.
How Much Will I Make As An Investor?
This depends on the dollar amount of your investment. According to AcreTrader's site, minimum investments range from $5,000 to $50,000. 
The annual average investment returns to stakeholders will be between 9% and 11%. This is considered excellent when compared to other real estate investments.
Your profits as an investor will come from two sources:
Earning income paid in rent by the farmers who use the land
The increase in value of the farmland when it is eventually sold
Depending on the deal structure, you may also have the chance to participate in crop profits from the farms you invest in.
Keep in mind that you need to think of farmland investing a long-term deal. It could, and will likely, take five or more years to be completed. Therefore, you can't rely on this type of real estate investment if you're looking for a steady monthly income stream.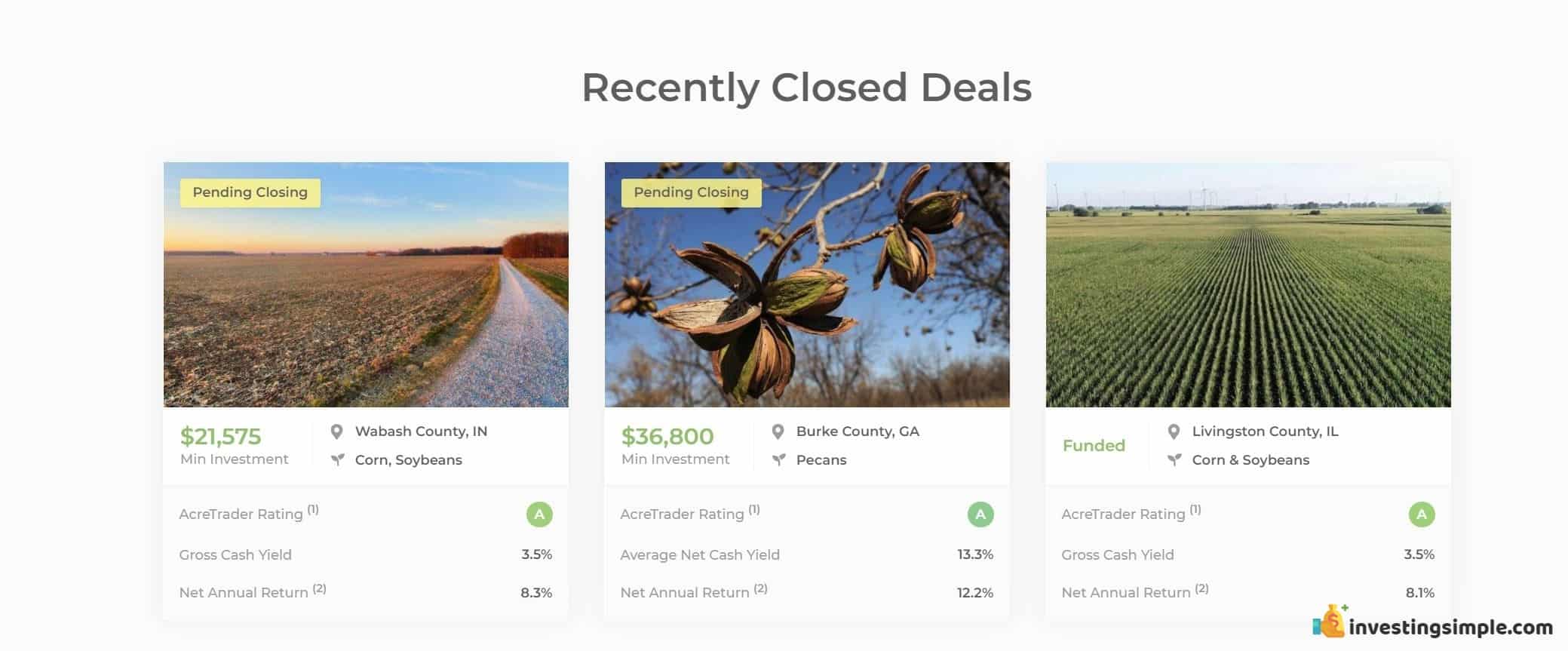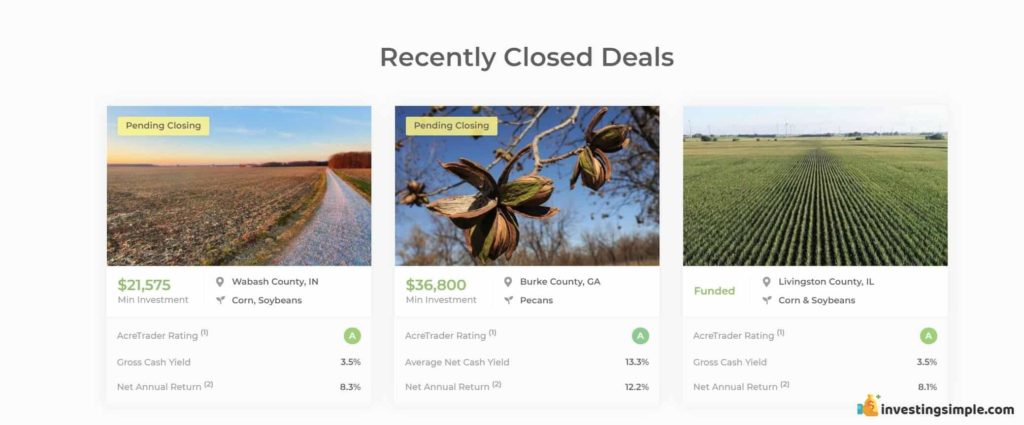 Accredited Investors Only
At this time, in order to buy into AcreTrader projects, you must be an accredited investor.
These investors meet strict requirements that let them buy into projects the general public could not afford.
Criteria to be accredited include:
Earned income of more than $200,000 (or $300,000 together with a spouse) in each of the last two years
Reasonably expect to earn the same for the current year
Or, have a net worth of more than $1 million, either individually or together with a spouse. This excludes the value of a primary residence
Clearly, this greatly limits who is allowed to invest in AcreTrader projects, but this could change at any time.
Conclusion
AcreTrader has found a niche in a real estate class that has not been tapped into fully. The farm projects are run by teams of experts from finance to daily operations. This expertise will cost you an amount ranging from 0.75% to 1% per year, based on the size of your investment. It is well worth your time to take a look at investing in real estate, and farmland is a new and impressive asset class.
Best Real Estate Platforms (Accredited Only)