*Investing Simple is affiliated with Fundrise and we may earn commissions if you click on a Fundrise link*
Mark Twain famously said "Buy land. They're not making it anymore." However, in many cases, it's not that simple.
Getting into real estate investing can be tricky for the majority of investors out there. Aside from the capital that is typically required, the process itself can be extensive. There's the challenge of locating a property, finding and managing a tenant, and dealing with repairs. 
Thankfully, the emergence of online real estate platforms and crowdfunding have made the process a bit easier for the average investor.
While there are many real estate crowdfunding platforms, this article provides a complete AcreTrader review. AcreTrader focuses on a specific type of real estate: farmland. If you are interested or want to learn more about farmland as an investment, then you've come to the right place. Let's dive in!
Pricing & Fees

Minimum Investment

Operating History

Investment Selection

Asset Diversification
Summary
AcreTrader is a farmland investing platform for accredited investors. The AcreTrader platform is relatively easy to use and comes with a variety of useful features for its members. From researching individual farmland to education, white papers, and expected returns, investors can gain an understanding of the investment landscape offered on AcreTrader. 
AcreTrader is a good system that still has a few hoops it will have to jump through in order to become truly great. If you are an accredited investor and would like to invest in farmland, then AcreTrade may be a great platform for you.
Cons
Only available to accredited investors

Newer company with a limited history 

Higher minimum investment at $10,000
AcreTrader Review: Summary
AcreTrader is a crowdfunded real estate investing platform for accredited investors who would like to invest in farmland

Investors using AcreTrader purchase shares of farmland real estate, which is then leased out to individual farmers or farming companies

Investors may earn a return on their investment through dividends (rent payments) and/or capital appreciation (land appreciation)

The minimum investment for AcreTrader starts at $10,000, though the minimum depends on each property

Acretrader carefully vets each deal on the platform in order to bring only the best investment opportunities to the investors

It also has a rating system for each investment so you can see all the risks involved
Best Real Estate Platforms
What Is AcreTrader?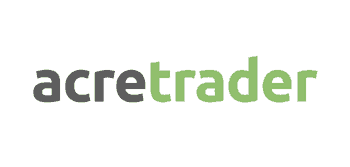 The AcreTrader platform gives investors the opportunity to purchase plots of farmland and earn returns via rents from the land and appreciation of the land itself. AcreTrader's team handles all the paperwork, lease agreements, and leg work for you.
Instead of having to buy farmland and work it to earn a return, you can passively invest with AcreTrader. This is much easier than owning the farm yourself. On AcreTrader, you can buy a small share of a farm and receive distributions proportionate to your ownership.
Carter Malloy founded this unique company back in 2018. While he had a background in financial services, he got the idea for AcreTrader from growing up on his family's farm.
Their team brings a wide array of experience to the table with expertise ranging from agriculture to financial services.
Since they have only been around since 2018, the operating history is limited. Potential investors should keep this in mind.
How Does AcreTrader Work?
AcreTrader aims to earn returns for investors in two ways.
Capital appreciation from the increase in the value of the land.

Dividends via rent payments from the farmers. 
AcreTrader investments are considered long-term with a holding period of 3 - 5 years. Some farmland investments AcreTrader have holding periods of 5 - 10 years. 
The company is highly selective about which land assets it chooses to be on its platform. The website indicates that the company approves less than 1% of the opportunities that it researches.
The minimum to invest with AcreTrader is $10,000, though it can vary from deal to deal. Some of the properties require that you invest in at least an acre or more and this can bring some property minimums up to $50,000. 
Once you are invested, you don't need to worry about the logistics or administration of the farm. AcreTrader Management will take care of the day-to-day and administrative tasks.
However, in order to take advantage of anything on the AcreTrader platform, you must be an accredited investor. Though the company does plan to add the ability for non-accredited investors to participate in the future. 
If you are not an accredited investor, here are some options for you!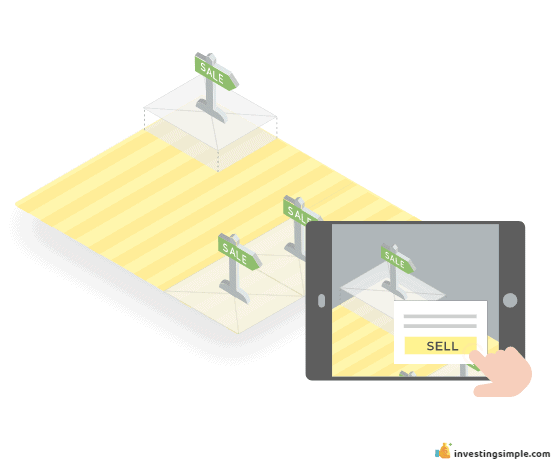 Is AcreTrader Safe?
AcreTrader offers what seems to be a safe investment platform. Keep in mind the operating history of AcreTrader is limited. 
The founder and CEO is also the largest shareholder on the platform, which gives him personal reasons to have the investor's best interest at heart. 
In addition to this, while your funds are in escrow they go through North Capital Private Securities Corporation, which is a member of FINRA and SIPC. 
The entity that holds the farmland shares is separate from AcreTrader as well, this means that should AcreTrader go out of business your money will be safe. 
Of course with investments, there are no guarantees when it comes to safety and you may still operate at a loss. Even though these assets are low-risk compared to many alternative investments, it does not mean that there is no risk involved. 
Farmland is susceptible to unique risks such as natural disasters or poor weather, which can have a dramatic impact on a farm's profits. 
AcreTrader holds an A+ rating with the Better Business Bureau as of April  2022.
Why Invest In Farmland?
Farmland is a strong asset class that has proven its ability to deliver consistent returns over time.
In general, farming is considered less cyclical than other asset classes. Typically during a recession, farm production stays consistent as people still require food to live. This makes farmland less sensitive to economic cycles. 
You can also consider the fact that farmland has been increasing in value in recent years because of the rising need for food and fiber across the globe. The United States has also made an effort in recent years to increase the amount of domestic farming. 
Historic farmland returns have outpaced the S&P 500 while taking on less volatility. Farmland also acts as a hedge against inflation and is a limited resource as the U.S. population increases and the amount of farmland decreases. This can potentially be a great way to diversify your investment portfolio.
AcreTrader Marketplace
One of the reasons AcreTrader stands out as a real estate investing platform is the ability to easily view and research potential investment opportunities. Their crowdfunding portal provides an easy way to sift through deals and evaluate whether they make sense for you. 
As a general rule of thumb, you should not invest in crowdfunded real estate unless you have a time horizon of 5 years or more! Just because it is easy to invest, doesn't mean you should take this decision lightly.
The marketplace also makes it much easier to make decisions regarding the properties you want to invest in. You can view all the details and fees associated with each parcel before you make your investment. 
The platform typically lists 1-2 new farms each week. After signing up for an account, you will be able to create notifications that alert you when a new farm is listed.
AcreTrader Ratings
The company also goes one step further to provide its users with a rating on each of its offerings in order to give them a better idea of what they are getting. 
Its ratings range from A to D with A as the best and D being the worst. This rating involves a points system where points signify a negative with the property. In other words, the more points a property has, the worse the farm will be rated. 
The rating system gives AcreTrader investors the ability to scrutinize each individual property and find the best investment. 
There are several factors that determine the point allocation.
AcreTrader Point Rating Categories
History Of Flooding: Points will accrue if the property has experienced floods in the last 10 years that have damaged 10% or more of their crops. 
Direct Operations Planned: This attribute determines if any of the investment capital is used for day-to-day tasks.
No Current Tenant: The property has a current vacancy.
No Direct Access To Maintained Roadway: Poor access to the farmland will make getting supplies and product delivery more difficult. 
Water Access Problems: Issues with a consistent water supply could result in less crop yield for the farmland. 
Nearest Crop Delivery Point Over 50 Miles: If the nearest crop delivery location is further than 50 miles away, it is considered a negative aspect of the property. 
Improvements Planned During Holding Period: If there are planned improvements, this could result in a more profitable farm. 
Soil Quality: AcreTrader has a focus on soil sustainability and prioritizes farms that have higher quality soil.
Debt Involved In Transaction: If debt is involved with a transaction, it could be riskier than a cash transaction depending on the circumstances. 
High Loan To Value Of Debt: The loan to value ratio is the ratio of the amount of debt taken out for a transaction to the current market value of the property. A high LTV ratio is riskier for the lender. 
Non-Farming Leases Or Income In Place: There may be other industries renting the land such as energy or crop storage. 
Non-Farming Assets Valued As Part Of The Transaction: There may be other assets on the land that increase the value of the property. 
Low Activity Land Sale Market: A point is given if there have not been land sales exceeding $100,000 within 100 miles of the property in the last 10 years.

AcreTrader Fees
Though it is free to sign up for AcreTrader and view the company's offerings, when you make an investment, there will be fees. 
There is a 0.75% asset management fee on the AcreTrader platform. This asset management fee is on an annual basis. Compared to other crowdfunding platforms out there, this is actually quite reasonable.
Additionally, there is also a closing fee with each of the investments that you make, although it varies based on each deal. The average sits around 2% of your total investment amount for that property. 
Since AcreTrader does offer services for farm owners as well, it is important to note that the company does take a 5% fee when the underlying property is sold. This occurs as the company acts as the real estate brokerage in the transaction and takes part in the typical real estate commission. This does not affect its investors as the owner of the property will be paying this fee.
The 5% fee for farm owners is how AcreTrader makes the majority of its money.
While many other platforms will also take a performance or incentive fee, AcreTrader does not. This means that all of the upside goes to the investors and there is no cap on return potential.
How Does AcreTrader Find Deals?
AcreTrader takes a three-step approach to evaluate the farms it invests in:
Primary Stage - "Sanity Check"
In the "Sanity Check" phase, AcreTrader looks at the prices associated with the farm, the potential problems with it, and the probability that the farm will pass the second and third stages of valuation.
Secondary Stage - "Documentation and Verification"
This stage is used in verifying the initial data associated with the farm while also doing extensive research on the property. In this step, AcreTrader uses software analysis, mapping verifications, financial modeling, and AT scores to properly assess the farm from a future cash flow standpoint.
Final Stage - "Ground Check"
This stage mainly focuses on the "context" of the property. Looking at external factors such as the area that the land is located in and the people who live there are the main variables in this step of valuation. AcreTrader breaks this stage down into 6 main parts: area diligence, manager calls, tenant calls, comparable sales, government database data, and on-ground visits.
What Are the Anticipated Returns?
Over the past 20 years, US farmlands have posted an 11.5% average annual return making it a top-performing real estate class. This would make an investment of $10,000 in 1990 worth $199,700 today according to a calculator on AcreTrader's site.
AcreTrader's return goal is set for 7% to 9% annually with a 3% to 5% dividend yield.
Can I Sell My Investment Early?
AcreTrader acts as a real estate investment platform for buying farmland. These investments are not liquid and since they are private transactions, it may be hard for clients to find a buyer when they want to sell.
Each investment will have a stated time horizon. At the end of the designated time period, the land will be sold and investors will receive a return of principal. After a holding period of one year, investors who wish may sell their shares in a private sale off the platform. However, AcreTrader is currently exploring offering a secondary marketplace where investors can sell their shares to one another on the platform.
AcreTrader Customer Support
AcreTrader has a FAQ section on its website and also a comprehensive learning center. They also have a telephone line and email on their "contact us" page.
Taxes and AcreTrader Investments
Every year, cash distributions are paid out in December and tax documentation is provided by February of the following year.
Each deal on the platform is set up as a partnership which means as an investor you'll be issued a K-1 with your share of any profits and losses. You'll be able to report these on your personal tax return and claim any relevant income or deduction.
AcreTrader Review: Final Thoughts
AcreTrader has built its system with the goal of making it easier to invest in farmland. This investment platform is very easy to use and comes with a lot of great features for its members. The research tools available make it very easy for accredited investors to perform due diligence on potential investments. 
You can also rest easy knowing that AcreTrader turns down the majority of submissions for farmland for sale. Less than 1% of the deals that come across its plate end up on the site.
Unfortunately, they're currently available to accredited investors only, though they have mentioned opening the platform up to all investors in the future. Other crowdfunding platforms like Fundrise allow anyone to invest whether they are accredited or not. 
All in all, AcreTrader is a unique platform that offers investors the chance to invest in farmland. If farmland interests you, then check out the platform by clicking the link below.