Real estate has historically been considered one of the top alternative investments to stocks.
During a recent 44-year period, commercial real estate outperformed the S&P 500, with annual average returns of 9.29% to 6.86%.
But did you know that farmland outperformed both stocks and commercial real estate during the same time span?
Farmland had an average annual total of 10.23%. Over 20 or 30 years, that 1% to 3% additional return can really add up!
Investing in farmland isn't nearly as difficult as it once was. Farmland real estate crowdfunding platforms have sprung up in recent years that enable accredited investors to participate in farmland investing with as little as $15k.
Two of the biggest names in farmland crowdfunding are AcreTrader and FarmTogether.
Each will provide a combination of an annual distribution of income from property rents and, ultimately, capital appreciation on the sale of the land.
If you want to add farmland to your portfolio, either of these crowdfunding platforms is worth a look.
So, let's dive in and compare AcreTrader vs FarmTogether.
About FarmTogether

FarmTogether is a farmland investment manager that allows qualified individuals to invest in institutional-quality  farmland opportunities in prime growing regions across the US.
FarmTogether provides access to farmland through a variety of channels, including crowdfunded farmland offerings, 1031 Exchanges, sole ownership bespoke offerings, and their more recent Sustainable Farmland Fund.
Through their all-in-one digital platform, investors can browse carefully vetted farmland investments, review due diligence materials, and sign legal documents, seamlessly online.
FarmTogether began operations in 2017 and today, they serve more than 1,000 clients invested in more than 40 properties in eight  states covering 14 crop types. Total assets under management across all FarmTogether products are in excess of $170. The company is not rated by the Better Business Bureau, nor does it have a profile with the agency.
About AcreTrader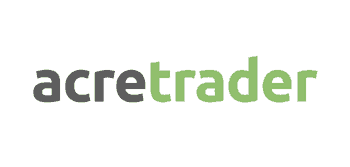 AcreTrader is based in Fayetteville, Arkansas, and was launched in 2017.
It was founded by a group of individuals who already had extensive experience with investing in farmland and wanted to extend the opportunity to other investors. AcreTrader is a real estate crowdfunding platform, but one specializing in productive farmland.
This is unlike most real estate crowdfunding platforms, that focus on commercial real estate investing.
AcreTrader enables investors to add farmland to their portfolios, even without any previous experience in the farming industry. AcreTrader handles all the investment and management details, limiting your involvement directly to investing. Best of all, you can participate in farm properties offered on the platform with just a few thousand dollars.
This eliminates the need to invest six or seven figures for acquiring and managing an active farm. You can hold your farm investments in your portfolio, much the same as you do with stocks and bonds.
AcreTrader functions as an online farmland marketplace, were farmers come to raise capital to run their farms. To do so, they sell the land itself, then rent it back from AcreTrader. This enables farmers to get the funds they need, and investors to participate in what has historically been a very lucrative investment opportunity.
AcreTrader has a Better Business Bureau rating of A+, the highest rating the agency issues based on a scale of A+ to F.
Accredited Investor Requirement
One factor to be aware of with both AcreTrader and FarmTogether is that investing with either requires you to be an accredited investor. That means you'll need to prove either an annual income of at least $200,000 (or $300,000 jointly with your spouse) in the most recent two years, plus a reasonable expectation of the same income level in the current year, or a minimum net worth of at least $1 million, not including the value of your principal residence.
You can also become an accredited investor by becoming someone who holds a valid Series 7, 65 or 82 license.
Accredited investor status is required with farmland crowdfunding because it has unique risks, and a long time horizon that will not be suitable to smaller investors.
Investments Offered
AcreTrader
All investments offered on the platform are in specific farm properties.
Unlike the majority of real estate crowdfunding platforms, AcreTrader does not provide funds or real estate investment trusts. That will give you the ability to select the individual property deals you want to invest in. But it will require a larger investment of capital to diversify your holdings.
Each investment has its own parameters for minimum initial investment, projected annual and overall income, and expenses. This owes to the fact that every farm property invested in is unique.
And because farmland doesn't change hands as quickly as other types of real estate, the number of available deals will be limited.
FarmTogether
Through each of its investment products, FarmTogether brings investors a range of diverse opportunities, across deal structures, crops , and geographies. 
Their crowdfunded investments are very similar to those offered by AcreTrader. Investments will typically be structured as interests in a special purpose entity (typically an LLC) that directly owns the farmland. Investors are then the ultimate beneficial owners of the farmland itself.
A day-to-day operator chosen by FarmTogether will be responsible for oversight, reporting, and overall management of the LLC operation. You can hold investments as an individual, LLC, limited partnership, or trust.
You can also hold FarmTogether investments in a self-directed IRA (SDIRA), through their fully integrated partnerships with IRA providers, including Alto IRA. As is typical with alternative investments, like farmland, you cannot hold interests in FarmTogether through traditional IRA custodians.
For investors looking to purchase a farm outright, their sole ownership bespoke offerings provide investors with complete control over the capital structure and risk-return profile. FarmTogether can accommodate 1031 exchanges in farmland through both their crowdfunded and bespoke products. 
FarmTogether's Sustainable Farmland Fund provides accredited and institutional investors with access to a diversified portfolio of institutional-grade farmland through a single allocation.
Unlike the crowdfunded & bespoke products which enable a pick-and-choose approach when selecting properties, locations, and crop types to invest in, FarmTogether's Sustainable Farmalnd Fund is geared towards investors who prefer diversified exposure to farmland via a more hands-off approach.
Investment Methodology
AcreTrader
AcreTrader is an online marketplace where investors can review and invest in a variety of potential farm offerings. Based on the current price of farmland, the required minimum investments of between $20,000 and $35,000 will enable investors to purchase between one and four acres of farmland per deal.
The company employs a comprehensive due diligence process. It's so intense that only between 1% and 5% of all farmland deals introduced to the company are accepted for investment purposes.
As an investor, you'll fund that your account after opening it. That will provide the funds available to invest in the deals of your choice when they are made officially available on the platform. Though you'll make a preliminary commitment of funds to each specific deal, your money will be returned if the deal does not close.
Farmland investments offered on the platform are managed by a combination of AcreTrader's staff and several leading land management companies that they partner with. That means your investment will have professional management, even if you know nothing at all about farming.
FarmTogether
Much like AcreTrader, FarmTogether's farmland investments can generate income from two directions – net income via rental payments and farming operations and capital appreciation upon the sale of the land, assuming the land increases in value. 
FarmTogether also has a stringent due diligence process, in which only about 1% of the deals presented to them are accepted. 
Their investment team begins with a global macro view, taking into account climate change, water availability, structural regional trends, regulatory landscapes, and long-term trends in agricultural yields. Next, they look into the end markets for the farm products they target, analyzing supply, demand, consumer preferences, and new product development to arrive at a long-term view on price and valuation trends.
They then apply their proprietary technology and investment expertise to zero in on the best investment opportunities in their target geographies and crops. Then, each property must pass a 120-point checklist evaluating soil, leaf, water, capital improvements, title, local legislation, depth of the supporting farming ecosystem, cost of inputs, farmworker wages, and other factors. 
They also look for more specialized farm opportunities with value-add potential, such as organic or new varietals. For example, they often target permanent crops in California and the Pacific Northwest, including tree nuts and citrus.
You must be a registered user to see FarmTopgether's fee structure, which varies per deal. However, it is free to create an account. Deals are typically structured to include a one-time fee, a project basis fee, and  an annual management fee. The company indicates it uses best practices to keep its fees on the low end of the industry scale.
Early redemption option. FarmTogether currently has no capability for early redemptions for its crowdfunded offerings. However, the Fund offers withdrawals on a quarterly basis following a two-year lock-up period.
Pros & Cons
AcreTrader
Pros:
Investments are available in farms nationwide, providing greater diversification.
Average annual returns of between 8% and 10%, though some deals project returns in double digits.
Invest in farmland, even without any experience in farming.
Low annual servicing fee.
Available to non-US citizens who are also US residents.
Cons:
Requires accredited investor status, which will exclude small and most medium-size investors.
Minimum investment ranges from $10,000 to as much as $35,000, though this is unlikely to be a problem for accredited investors.
Holding periods ranging from three years to 20 years, making investments highly illiquid.
High entry (2%) and exit (5%) fees.
Only one farm investment currently available on the platform.
FarmTogether
Pros:
The platform specializes in both row and permanent crops, which includes specialty crops like tree nuts and citrus, in prime growing areas with optimal soil, water, and weather conditions.
FarmTogether offers a variety of investment channels, including crowdfunded farmland offerings, 1031 Exchanges, sole ownership bespoke offerings, and the Sustainable Farmland Fund.
Their crowdfunded product starts at a low minimum of $15k.
FarmTogether does have the potential to offer investors a portfolio of interests in several farms through the Sustainable Farmland Fund
The company is committed to funding sustainable and prosperous farming, incorporating high-tech and sustainable approaches to both increase and preserve their yields.
Cons:
The company does not disclose general fee levels associated with investments except to registered users, but it is free to create an account. Their fee structure is designed to be at the lower end of the industry average.

Investments are illiquid, as there is currently no secondary market for early redemptions.
AcreTrader vs FarmTogether: Which is the Better Farmland Crowdfunding Platform?
With so much uncertainty in the financial markets right now – high asset valuations, rising interest rates and persistent inflation – there's never been a better time than now to consider expanding your portfolio to include alternative investments.
Historically, farmland has had  one of the strongest performances among alternative assets. . This is not only because of its historically stable investment returns,  but also because its performance has been  uncorrelated with the financial markets. That is, farmland has the potential to continue to provide positive returns, even if the financial markets are in a prolonged downturn. This is hardly surprising, since global demand for food doesn't ebb and flow with the economy or the financial markets.
But which is the better farmland crowdfunding platform between the two, AcreTrader or FarmTogether?
Overall, if you want to add farmland to your portfolio, you can't go wrong with either of these platforms.