While you may not have stayed at an Airbnb yet, you have no doubt heard all the hype about it! Airbnb is a marketplace where guests can book stays in people's homes, from condos to chalets, rather than through hotel chains.
Airbnb has come a long way since its inception in 2008, when two San Francisco roommates realized they were short on cash to pay the rent.
One of the roommates had an epiphany: why not rent space in their loft for overnight B&B-style stays, including use of an air mattress and complimentary breakfast? The friend agreed with the idea and the rest is history. Airbnb is now a multi-billion-dollar industry giving traditional hotels a run for their money.
Flash forward to today, when there are more than 650,000 hosts and around six million listings.
There are tons of benefits to the clever lodging strategy, including better locations for travelers, personal touches from hosts, and in many cases, cheaper accommodations.
But most importantly for all of you, it's an exceptional way to make additional money. You should consider this if you're looking for a side hustle, and I will help you get started by running you through the basics here.
Getting Started With Airbnb
Before we go through the process step-by-step, I want to encourage you to be creative when you brainstorm the perks of your space. It doesn't have to be a beachside cottage or a skiing lodge; it can be near a large city, an arts district, college, museum, or any other place where people gather. Include photos in your listing of these popular places.
They very first step for getting started is signing up for an Airbnb account here.
Your space doesn't need to be filled with pricey antiques or decorated with items from Crate & Barrel, but it does have to be clean, comfortable, and look like the pictures in your listing.
I've written a free Airbnb e-book that will help you with many of the nuts and bolts of hosting.
My Experience (I took a test run with Airbnb)
In order to find out firsthand what it's like to be a host, I tested it out myself last August by renting out a spare bedroom in my home. Over the course of a month, I pocketed nearly $1,000, which far exceeded my initial expectations of a few hundred bucks.
Although my housing situation has changed, and I pulled down the listing, I will be listing a new space on my property as soon as renovations are completed. In fact, I am redoing this space with the goal of opening it as an Airbnb.
My run as a host was a huge success. I found all my guests to be respectful of my home, tidy and even fun to converse with. Many asked for recommendations about local restaurants and shopping, and I put together a list of places they would probably enjoy. For travelers coming from out of the area, these resources are very much appreciated.
All in all, after my test run, I highly recommend being an Airbnb host.
How Much Can You Make?
You may have an idea in your mind about how much your space could bring in on a nightly (or multi-night) basis.
Maybe you just put a brand-new Sealy mattress in the guest bedroom, or painted the walls, or put out fresh flowers. Perhaps you plan to include morning coffee and muffins. These are all good ideas!
But the most accurate and simple way to see how much you can make is by using the Airbnb earnings calculator. They will give you an estimate of your earnings potential based on the location, number of guests and type of space you have to offer.
For example, we punched in a Private Room in Cleveland, Ohio for up to 4 guests!
Based on similar listings in the area, Airbnb told us we could earn $1,257 per month as an estimate.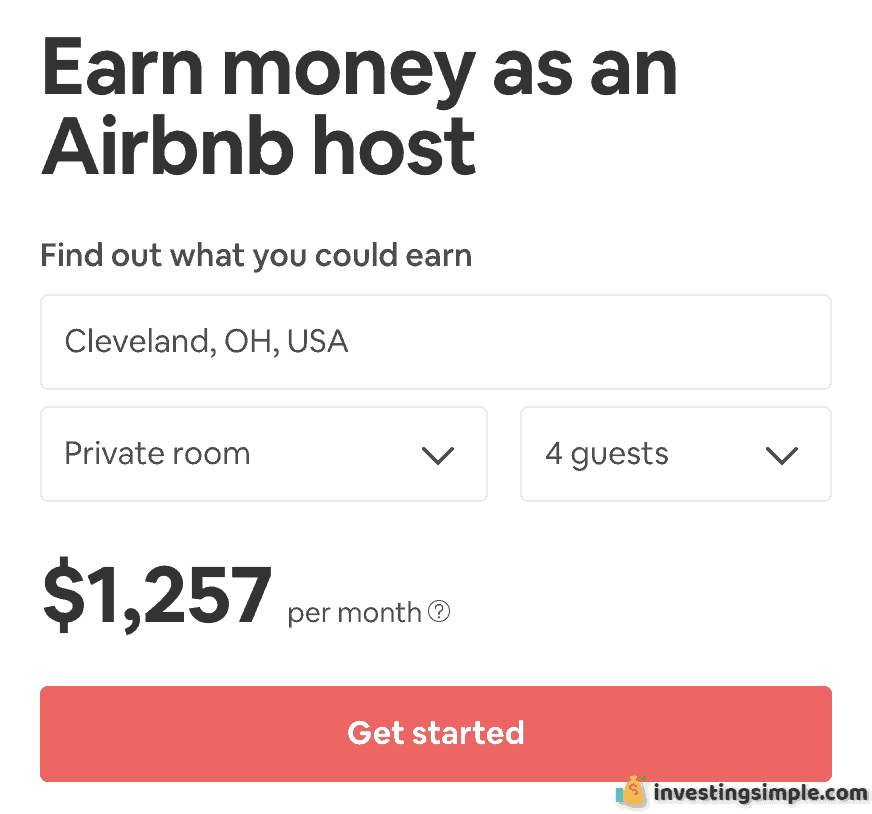 What Types of Spaces Can You List?
There's a wide variety of types of spaces you can list on Airbnb as a short term rental. No, you can't list your kitchen nook or broom closet, but you can offer these options:
The Entire Place: This means your guests will have the space all to themselves. The setting can range from a condo or apartment in a building, an entire house, or an in-law apartment attached to a house. Guests with large numbers of people frequently choose this option and split up the cost.
Private Room: In this type of listing, guests have a private room to sleep in, but other rooms, such as the bathroom, kitchen or living room, might be shared with other people. A private room is the type of listing I did back in August. My guests had privacy in the master bedroom, as well as a private bathroom, but the kitchen and living room were available to all guests.
Shared Room: Similar to a hostel, this scenario provides a bedroom for several people at one time. Based on the size or number of beds, you set the limit for how many people can use the room at one time.
As you can see, you don't need a dedicated private space to list on Airbnb. If you're comfortable having other people in your house, you can simply list one of your bedrooms. During the month I was an Airbnb host, I had 15 different groups of guests in my house, and had absolutely no issues whatsoever.
How To List Your Space
First off, decide how many people can comfortably fit in your space.
Guests will be disappointed to discover that your space is smaller than expected. Spell out exactly how many people can sleep in the room(s) including beds and pull-outs or futons.
Now, let's walk you through what you need to do to list your space. You will need an Airbnb account, so click here to sign up right away.
You will need to include a clear photo of yourself and the co-host (if there is one), to get your account verified. Remember, guests are less likely to book a new listing if it is not verified! Along with your headshot, you need to provide a photo ID and link your phone number.
Airbnb takes these verification steps for hosts and guests to maintain a safe environment. While it is not required to verify with ID, it is highly recommended that way your guests will trust you.
Getting verified is a quick and easy step to becoming a great Airbnb host.
How To Price Your Listing
This is crucial to your success. While you might be tempted to shoot for the moon, the best way to maximize your bookings is to charge less than your competition to bring in more guests. Another option is to just let Airbnb set the price for you based on the demand in your local area. This is referred to as Smart Pricing.
With Smart Pricing, Airbnb changes the price of your listing based on local demand. You simply put in a minimum and maximum price you would like to charge and they do the rest!
I highly recommend starting off with a lower price and increasing it over time in order to get great reviews and fast-track your way to "Superhost" status (more on this below).
Pro Tip: Pay attention to any local events that may be happening to help attract guests. For example, if you live near a concert venue, you could jack up your price if a popular band is coming to town.
You may also want to consider tacking on a cleaning fee, which can be a creative way to earn a little extra, without making your nightly rate higher. For example, $69 a night + $10 cleaning fee would be $79 + Airbnb fees. One of the best parts is that guests pay most of the fees to Airbnb (more on this below).
Lastly, consider offering discounts for weekly or monthly rates to encourage longer term stays. You could also discount prices for repeat customers! Airbnb has built in functionality that allows you to offer discounted weekly or monthly rates.
Setting Guest Requirements
What type of guests are you looking to attract?
Most of us aren't looking for rowdy, loud people! There are a few ways to set requirements for your guests if you want to screen people before they book your space. One way is that you could make sure potential guests have provided ID before booking.
However, in my experience, you should really allow instant booking if you want to maximize your occupancy.
It's a good idea to make sure they have been reviewed positively before they can book instantly. They are checking your reviews; you would be wise to do the same for potential guests.
If you are nervous, you can opt to only allow guests to book that have already been reviewed. Or, you can turn off instant book to manually review each person requesting a booking.
What are Airbnb's rules for parties and events at listings?
Airbnb has prohibited hosts or guests from creating a nuisance that disturbs the surrounding community. Hosts and guests can live up to this standard by making sure they clearly align on expectations for events at listings. The policy prohibits:
Any party or event that is not authorized by the host
All open-invite parties and events (ex: parties without a fixed guest list)
Large parties and events in multi-family complexes, like apartment buildings and condos
If a party is causing a ruckus impacting neighbors and complaints are received, warnings may be issued. If complaints persist or are particularly severe, individual listings or accounts may be suspended or removed.
Any type of unauthorized party— meaning, a party that violates House Rules and happens without the knowledge and consent of the host — is prohibited in all listings.
Remember, YOU set the house rules! You can set the expectations for guests on what is and is not acceptable.
Booking Calendar
Always remember, you're the one in control of when you want to host guests. It's your choice!
While you might be tempted to leave your availability wide open, remember there's a certain amount of work between guests, such as washing linens and scrubbing the bathroom sink.
However, I had same-day bookings to maximize my earnings. Yes, I had to somewhat scramble to get the room ready again, but it worked for me.
If you want to skip a weekend or an entire week, it's an easy step to put black-out dates on the calendar. You can also set a minimum night's stay if you don't want to host people for just one night. Keep in mind, in my experience, these are the most common bookings and they were great for positive reviews.
Check-In Instructions
Clear instructions that give your guests a hassle-free experience are paramount! Once you have created your listing, you should set up your check-in instructions. Be as specific as possible, and use photos whenever possible. Your instructions should include:
Where to park vehicles
Tell them where the entrance is (many homes have both front and side doors)
Where to place their shoes when entering
Explain how to find their bedroom and bathroom
Whether this is a private or shared space booking.
As far as the key to the door, I would highly recommend a realtor lock box or a digital lock. The advantage of the digital lock is you can change the code every once in a while, to keep your place safe and secure.
Pro Tip: Great check-in instructions mean less nuisance phone calls and messages!
Sign up to be an Airbnb host here!
Standard Operating Procedures (A Must!)
Sure, it will take a little while to get your groove down, but definitely try to write down Standard Operating Procedures as you go.
These should include exactly what tasks need to be completed between guests, such as cleaning the bathroom and washing kitchen utensils that were used. The idea is to make turn-overs go as smoothly as possible and also be time efficient.
You may get used to the routine if you're doing it all yourself, but if you ever decide to hire a cleaner or manager, a list of those SOPs will be an essential time-saver.
Here's what my SOPs looked like:
Make sure the key is back in the realtor lockbox
Clean the bathroom toilet, sink and shower
Check the trash bins in the bedroom and the bathroom
Change the toilet paper if needed, or fold it over so they know the bathroom was cleaned
Place all bathroom towels in the hall and put new towels out
Strip the bed and place the sheets with the towels
Replace the sheets with my spare set (already clean!) and make bed
Put out new snacks and waters
Vacuum
Wash towels and linens for next guest
Following this procedure ensures that nothing is forgotten, and you complete your turnover process as efficiently as possible!
Superhost Status
 One of the first goals I recommend to new hosts is to achieve Superhost status.
Lots of guests will book exclusively with Superhosts. I did this in less than a month, and I will show you exactly how in my free e-book.
Superhosts earn a visible badge next to their listing, and while they are held to more strict requirements, it's well worth the effort.
Here's how to become a Superhost:
You will need 10 Trips, or 3 that exceeded a total of 100 nights
A 90% response rate or higher
You need a 1% cancellation rate or lower
A 4.8 overall rating or higher
You don't need to apply to become a Superhost. If you meet the program requirements on the quarterly assessment date, you'll qualify for Superhost status. Quarterly assessments begin on January 1st, April 1st, July 1st, and October 1st, every year.
Airbnb will notify you of your Superhost status at the end of each assessment period.
Note: Only primary hosts are eligible to attain Superhost status.
This may sound complicated or difficult, but it in my experience it all boils down to offering an exceptional experience, communicating with your guests, making check-in simple, and not cancelling bookings.
Don't plan on resting on your laurels; once you become a Superhost, you have to keep up the hard work as Airbnb will check up on you 4 times per year. Besides, you want to switch things up for your returning guests!
Additional Tips
 I encourage you to be creative when you're putting together your initial listing.
Here are a few ideas:
Photography
Hire a professional photographer and stage the photos for your listing.
Too many people take blurry, shadowy pictures of a sagging couch and refer to it as a bed. You want to show all the rooms, including outdoor areas like a deck or front porch. Take a few minutes to browse through Superhost listings to see what makes them attract the attention of potential guests.
Pro Tip: To make it easier for every host to have beautiful photographs, Airbnb is growing a network of photographers around the world. Professional photography is available in many places, but it isn't yet available everywhere or at all times. Go online to Airbnb.com to check if there are photographers in your area.
House Rules (Printed)
Provide a written list of house instructions, including how to access WIFI, or if there are quiet hours you ask them to respect.
For example, you may wish to set a quiet time around 10 p.m.
Think about how to minimize wear and tear on your home.
For example, I found it very helpful to place a shoe rack just inside the front door with a sign asking guests to remove their shoes.
Guest Book
Place a guest book in a conspicuous place. Your guests will find it fun to peruse the book and see where other people have travelled from to stay with you. Plus, in the guest book, you can ask your guests to give honest reviews. You need to know if something isn't convenient or up to snuff! Then do your best to remediate anything listed.
You should also decorate the room(s) uniquely. You can do this seasonally by putting out fresh flowers in the spring, a wreath at the holidays, or sunny décor in warm months.
Keep it simple! Decorative objects can add character to the space, but the more stuff you have in the room(s), the greater surface area you need to clean. Plus, it just feels messy. Keeping the setting inviting but not overly-cluttered also gives guests plenty of space for their own items.
Small snacks like water bottles and crackers are something all your guests will appreciate and remember.
Consider setting out phone charges for various cell phones. This is something many travelers forget to pack.
Make morning coffee available in the kitchen, alongside a note they are free to help themselves. Don't forget to leave directions for the coffee machine and mugs out.
Essential Amenities
Essential amenities are the basic items that a guest expects in order to have a comfortable stay. These include:
Toilet paper
Soap (for hands and body)
One towel per guest
One pillow per guest
Linens for each guest bed
However, I encourage you to go further than the basics.
You can put out a variety of toiletries ranging from shaving cream to deodorant to body lotion. Think about the items you use when getting ready for the day, and supply those to your guests. You don't need to purchase jumbo sized products. In fact, most people prefer travel-sized toiletries that haven't been used previously by other people.
Sign up to be an Airbnb host here!
Insurance
Airbnb's Host Protection Insurance program provides primary liability coverage for up to $1,000,000 USD per occurrence in the event of a third-party claim of bodily injury or property damage related to an Airbnb stay.
You may also want to talk to your insurance provider about adding an extra layer of protection for a short-term rental from your own renter's or homeowner's insurance company.
Remember, insurance costs can be used as write-offs against your earnings from Airbnb.
All the info that passes hands during the hosting process is guaranteed to stay secure. Airbnb continuously verifies personal profiles and listings, maintains a smart messaging system so hosts and guests can communicate with certainty, and manages a trusted platform to collect and transfer payments.
Airbnb Taxes
Disclaimer: Please note than I am not a tax advisor. You should contact a tax professional for specific details.
Certain areas do require collection of local tourism taxes. Airbnb will help you set this up through the app to automatically collect.
If you live in the US, Airbnb may send you a form 1099-K if you receive 200 transactions (reservations) or earn more than $20,000.
Always remember to keep track of all your expenses (including dates and receipts for goods or services) since these can be used to offset earnings from being a host.
My advice is be legitimate with your business, and always be honest about your income and earnings.
Listing/Booking Fees
Guests pay a service fee to Airbnb in addition to the cost of your listing.
This is typically less than 13% of the listing subtotal.
You can also tack on cleaning fees to cover the cost of your time and cleaning products. You may also want to charge an extra guest fee when a reservation includes more guests. For example, if you have a one-bedroom apartment with a double bed, your expected occupancy might be two people. But if you have a pull-out couch in the living room, you might allow up to four guests, with an extra guest fee for each of the other two people.
A typical extra guest fee might range from $10 to $12.
Not all hosts choose to add this fee, but it can be a way of covering the costs associated with higher occupancy, like increased usage of utilities and supplies like toilet paper and soap, or additional cleanup.
The host service fee is typically 3%. This covers merchant fees for credit card payment processing.
As you can see, guests pay the majority of the fees on Airbnb, which is a plus if you're planning to be a host.
Landlord/HOA Permission/Local Laws
 If you're a renter, keep in mind that most landlords do not allow subletting, so ask permission before you put any time and effort into becoming a host.
Also, check with your Home Owner's Association before listing your space. Although rare, some cities have placed bans on short-term rentals. You might need to purchase a permit to operate a short-term rental.
As a courtesy, you might wish to let your neighbors know you've become a host. This will explain why people are going in and out of your house and using the driveway.
Safety
Being a host of a place to stay comes with certain responsibilities.
Here are some tips you should keep in mind:
Be Smart About Interactions
Always pay and communicate on Airbnb. Use Airbnb's messaging system to get to know your guests and share expectations about the trip or your space.
Read profiles and reviews of your potential guests, and look for verified phone numbers, connected social networks, and references. If potential guests don't have any profile verifications, you can ask them to complete some.
Trust your intuition: If you don't feel right about a reservation, don't accept it.
If you do not book through Airbnb, you are not covered by their insurance policy! You are also not covered by their payment protection if you accept payments outside of Airbnb. The only time you should communicate outside of the app is if your guest calls you on the phone.
All messaging should be done within the app so Airbnb has access to a communication log if anything bad happens.
Write out a House Rules Manual
Completing your House Rules helps guests know what to expect. Include anything you'd like people to know before they book—for example, whether (or where) smoking is allowed, whether certain areas are off-limits, your WIFI password, or if guests should take off their shoes before coming inside.
You can't get mad when someone does something you never asked them not to do. However, if you have clear house rules and guests are in violation, you have a leg to stand on.
During my hosting experience, people were very respectful of my house rules.
Set Requirements for your Listing
You can require guests to complete certain verifications before they book, such as Verified ID.
Adding a security deposit to your listing can also help protect you in the event of an accident, like spilled wine on a rug.
Keep in mind, these requirements will result in fewer bookings, but you want to feel safe and comfortable with your new Airbnb business.
Respect your Guests' Privacy
In the same way you would expect guests to respect boundaries (such as not venturing into areas of your home/apartment that aren't included in the listing), you need to give them a sense of privacy. Remember, they may document everything in the guest book and your rating will be affected if you interfere with their stay.
It's not necessary to check in with them repeatedly during their stay, but if they have a request do your best to take care of it.
Final Thoughts
Airbnb is an exciting way to make additional side income from your unused space.
It also allows you to capitalize on any local tourism demand in your area. No longer are people limited to dingy hotels and motels. There is now a massive network of cute and quirky listings in private residences to choose from.
At the end of the day, one of the best ways to learn about Airbnb is just to try it out yourself. You may find that you love it, or you may not!
It is definitely not passive income, but for those who want to put in a little work and learn some hospitality basics, it could be a great opportunity.
I hope you will find becoming an Airbnb host as rewarding – and profitable – as I've found it to be.
Happy Hosting!
Don't forget to grab your free stock worth up to $200 from Robinhood today!