It's common for people to shop around for car insurance. Rates are constantly changing, and better deals are usually up for grabs! This is also typically true for banks. With ever changing interest rates, credit card benefits, and other offerings, shopping around for a great bank could save you money.
In the past, ATMs and physical locations were a must for banks. A bank like BBVA would not have been possible across the entire nation. Today however, with online banking accessible from your phone, BBVA is worth a look.
So, is BBVA bank a good choice? In this article, we provide a complete BBVA bank review. We will cover relevant fees and interest rates and the pros and cons of using their services.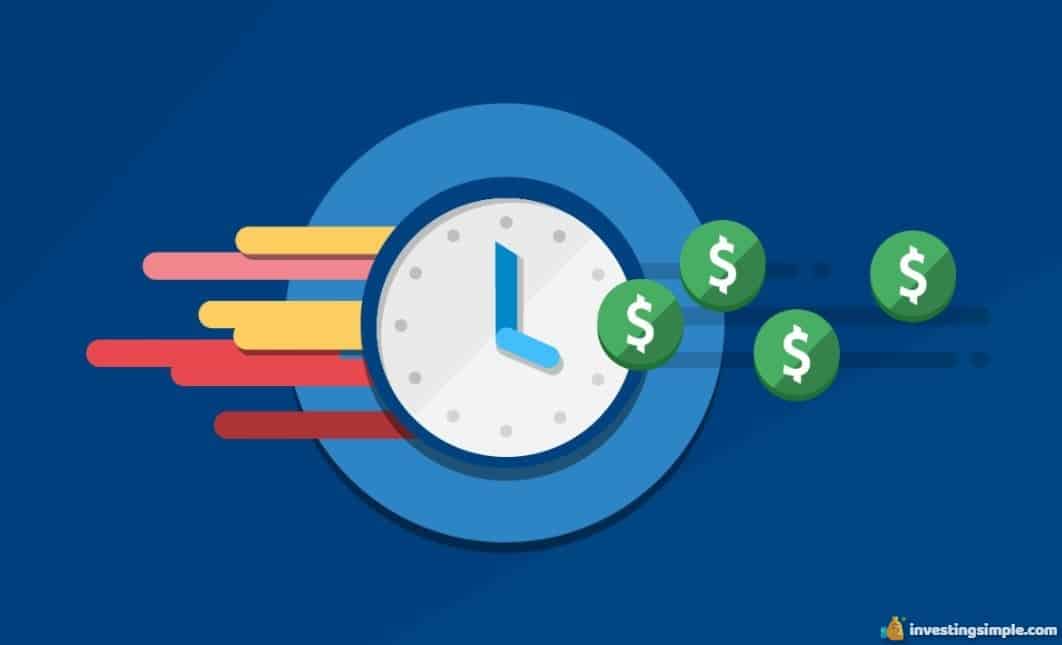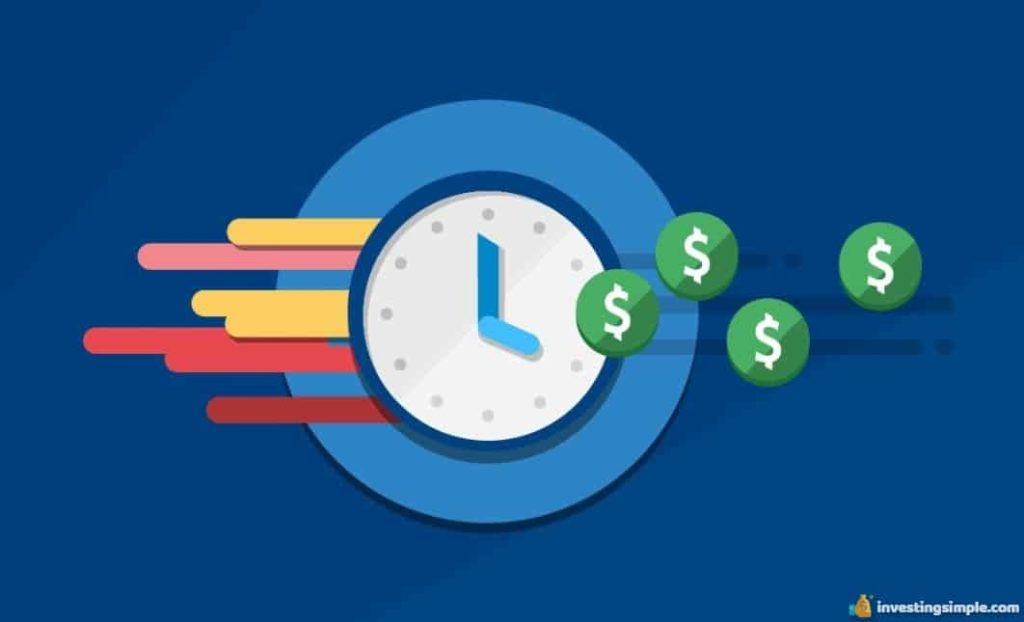 BBVA Bank Review: Highlights
Premium and Regular Checking Account
Low Interest Rates for Savings Account
Transparent Fee Structure
Access to MMAs, CDs, and IRAs
Low APYs for CDs and MMAs
PNC Financial is set to acquire BBVA in mid 2021
BBVA Bank Review Summary
Checkings

Savings

Fees

CDs

MMAs

Credit Cards

Banking Experience
BBVA Bank Review Summary
BBVA is a complete banking solution that offers clients checking and savings accounts, CDs, MMAs, IRAs, credit cards, and loan.
While the APY % for the various accounts are low, members like BBVA for the banking experience. There are also a number of fees associated with the various accounts, though they can all be waived.
BBVA is currently being acquired by PNC Financial, which could alter rates and other benefits offered currently.
Pros
4 Credit Card Options
Cash Back rewards with Debit Card
Banking Experience
Cons
Low Interest Rates for Savings Accounts
Low Interest Rate for CDs and MMAs
What is BBVA Bank?
BBVA Bank is based in Birmingham, Alabama. The company was founded in 1964 and was actually named Central Bank. In the early 90s, the bank changed its name to Compass. In 2007, Compass became a wholly-owned subsidiary of Banco Bilbao Vizcaya Argentaria (BBVA), the second largest bank in Spain. With this change, the company was rebranded and named BBVA.
BBVA is a complete banking solution with access to checking and savings accounts, credit cards, CDs, MMAs, IRAs, and various loans. They currently have about 649 banks across the US. While you may not be near a BBVA bank, you can also bank with them with a full online banking experience.
In November of 2020, PNC Financial announced the acquisition of BBVA, which is set for mid 2021. For current BBVA clients, this could mean changes to fees, interest rates, benefits, and other offerings from BBVA. This acquisition would help PNC become the 5th largest bank in the US.
Checking Account
BBVA offers clients 2 options when it comes to a checking account. Both types require a $25 deposit to open an account. They also feature no ATM fees at over 64,000 locations. Account holders can also earn cash back with their debit card. Within the app, clients can browse through various merchants with cash back opportunities. After making a qualifying purchase, members can enjoy cash back rewards.


The first checking account has no monthly or maintenance fees. They do charge $3 a month for paper statements, though you can opt for paperless statements and avoid that fee.
The second option, or the Premium Checking Account has the same benefits as the other account with a few extras. First, account holders can earn 0.10% APY. Second, individuals can receive up to 2 rebates each month for ATM fees at non BBVA ATMs. These added benefits come with a monthly price tag of $19, though this fee can be waived by having a minimum average daily balance of $4,000.
Savings Account
Clients can choose between two options for a savings account with BBVA: Online Savings or BBVA Savings. The differences between the two accounts are minimal.
Both accounts require a $25 deposit to open the account. They also both offer low APYs; individuals can certainly find better interest rates at other banking institutions. Both accounts offer 0.01% APY, which is low compared to other banks like Discover, Ally, or CIT.
The Online Savings account has no fees but is limited to four transactions or transfers per month.
The BBVA Savings account charges $15 per quarter, but that can be waived with a $500 minimum daily balance or by setting up a recurring monthly transfer of at least $25 from a BBVA checking account.
Credit Cards
BBVA currently offers members 4 credit cards: BBVA Rewards Card, BBVA Clearpoints, Select, and Optimizer. Each of the cards are only Available in Alabama, Florida, Texas, Arizona, Colorado, California, and New Mexico.
The benefits of each card is listed below in the table.
* BBVA Rewards card holders earn unlimited 1.5% Cash Back on all purchases and can earn an additional unlimited 0.5% Cash Back with $1,000 in monthly direct deposits to a BBVA deposit account.
**ClearPoints allows members to choose how they want to earn up to 3% and 2% unlimited Cash Back in categories they select each quarter. They will also earn 1% unlimited Cash Back on all other purchases.
***Select allows members to earn up to 4% unlimited Cash Back on Entertainment, 3% unlimited Cash Back on Dining, 2% unlimited Cash Back on Travel and 1% Cash Back on all other purchases.
The Optimizer Card is designed for individuals needing to build or start credit. It functions like any other credit card though its credit line is based upon the amount in the savings account.
Certificate of Deposits (CDs)
BBVA offers members a variety of CD options. They range between 11 and 36 month terms, though they each offer 0.05% APY. The interest rates BBVA offers currently are not very competitive. Individuals can find better rates elsewhere.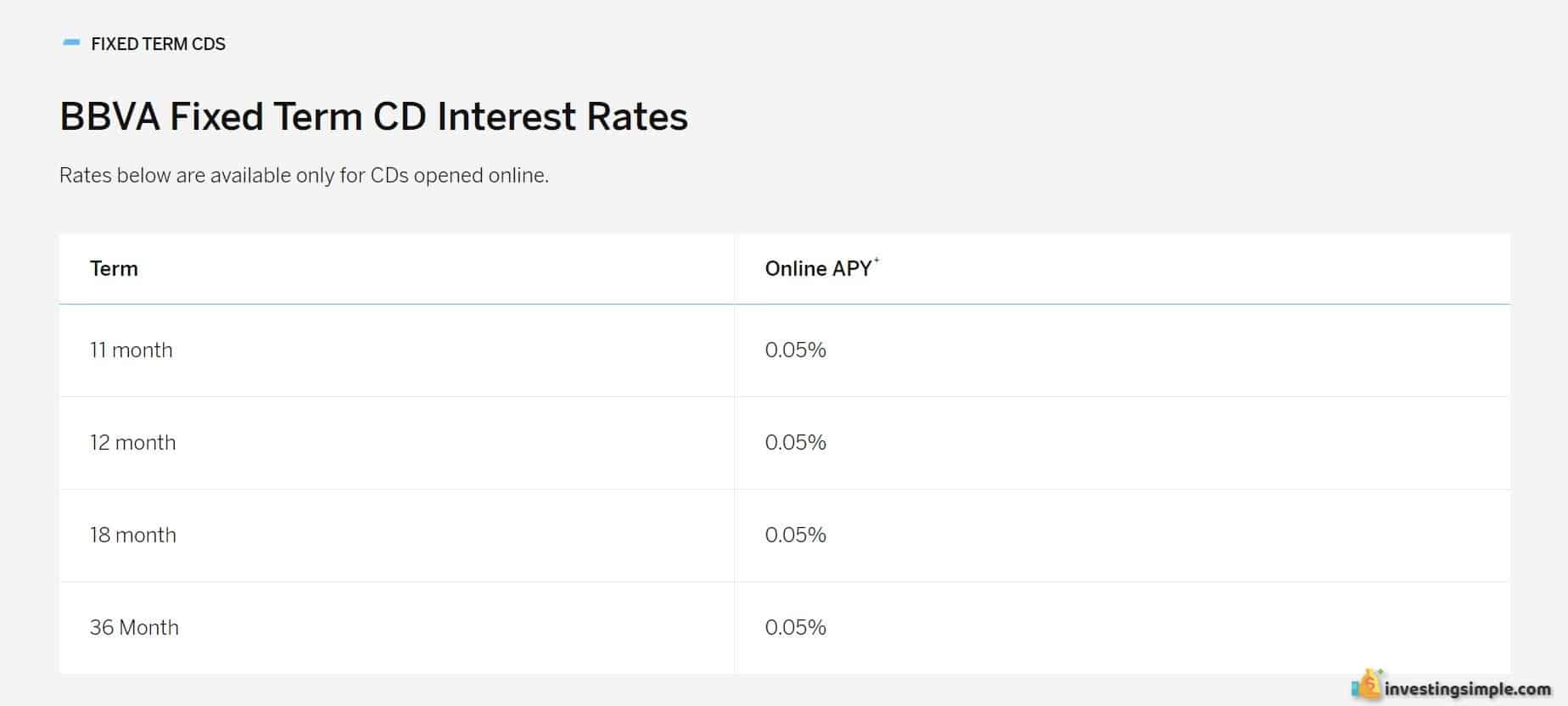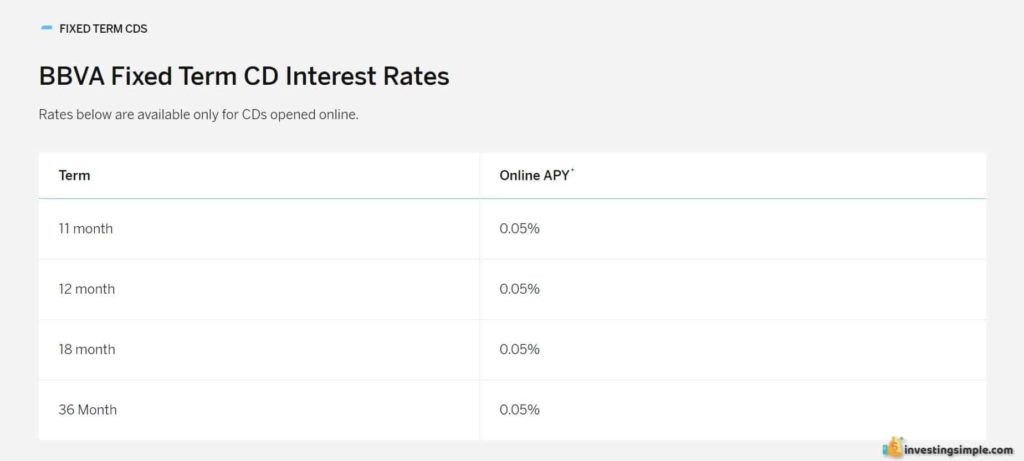 What is a Certificate of Deposit? (CD)
A CD is a type of savings investment that is offered by banks and credit unions. An individual agrees to deposit a certain amount of money for a specified period of time. In return, they receive an interest rate premium. Many people utilize CDs to lock in an interest rate.
When the term expires, the individual would receive their deposit back with the agreed upon interest earned.
Let's look at an example. Suppose a bank offers a 12 month CD with a $1,000 minimum. The CD has a 0.30% APY. At the end of the 12 months, the individual will receive $1,003 (This is the deposit of $1,000 plus the $3 of interest earned). If the individual were to withdraw the funds early, they would incur a penalty as specified by the banking institution.
Why would someone choose a CD instead of stocks? A CD comes with a guaranteed rate of return. Investing in the stock market can be volatile. With a CD, there is no guessing what will happen.
Money Market Account (MMA)
BBVA's MMA requires a $25 deposit to open the account. In the first three months, users will earn 0.10% APY. At the end of the 3 months, rates fall and become less competitive. The new APY % will depend on the account balance and the location you are based.
The account does have a $15 monthly fee but that can be waived by maintaining a minimum daily balance for each month of $10,000 or more or by setting up an automatic, recurring monthly transfer of $25 or more from a BBVA checking account to your BBVA Money Market account.


What is a Money Market Account? (MMA)
A Money Market Account is a savings tool offered by most banks and credit unions. They typically feature higher interest rates than other savings accounts as they come with more restrictions. An MMA also sometimes comes with a debit card or checkbook (CIT Bank MMAs do not. With CIT Bank, members can perform account transfers or access their money through Zelle or Apple pay).
The Federal Reserve limits the number of transfers and transactions to six per month with an MMA. An MMA could be a good option for you if you are comfortable with six or less transactions per month. It is important to shop around for the best MMA as interest rates can vary significantly among banks.
BBVA Bank Security
Banking with BBVA is secure. They are FDIC insured up to $250,000. BBVA offers members access to the ClearBenefits program, which costs $4 a month. This gives users identity theft insurance and restoration.
Users can also opt in to receive online and mobile alerts for banking and credit card activity. Members can also opt out of receiving paper statements, which helps increase security (also saves members $3 a month).
BBVA Bank Review: Final Thoughts
BBVA bank is a complete banking solution with access to various accounts and savings tools. While the interest rates the bank offers are fairly low, people like BBVA for the banking experience they receive.
Current clients or those that are interested in becoming a member of BBVA should be aware that the PNC merger could alter current offerings, including fees, interest rates, and account types.
Best Bank Promotions