One of the best investments a parent can make for their child's future is opening a custodial brokerage account. It's a solid option to build wealth for them when they become adults.
Sure, you can spend your money on birthday and holiday gifts your child will temporarily enjoy, then get bored with. But custodial accounts continue to rise in value, unlike toys kids outgrow.
Back in the day, generous relatives might open a traditional savings account for a child's future college education. But the money would sit idly, collecting low interest and only rising in value when deposits were made.
Flash forward to today, when better options are readily available. Unlike a savings account, brokerage custodial accounts can benefit from the wealth-generating potential of the stock market.
If you have kids that you would like to start setting money aside for, whether it's for a first car or college expenses, and are looking for a tax-advantageous, easy, low-cost way to do it, you should consider a custodial account.
While there are so many to choose from, here are the 10 we like best.
Best Free Stock Promotions
What Is A Custodial Brokerage Account?
This type of account lets an adult, such as a parent, grandparent, or family friend invest money on behalf of the child. This means that while the child owns the assets contained in the account, the adult makes all of the investment decisions.
Today's brokerage platforms help adults invest on behalf of the minor and build a diverse portfolio in a wide array of assets, including a combination of stocks, mutual funds, bonds and ETFs.
Keep in mind that all assets in a custodial account are considered irrevocable gifts and are held in the child's name. You will not have the power to change the child who benefits from the account once it is set up.
The account must be transferred to the minor when he or she reaches age 18 or 21. Depending on the state you live in, this age can be up to 25.
Your goal is most likely to provide financing for college tuition or other higher education costs. But keep in mind that once this account is transferred, the young adult can use the money in any way they choose, such as a new car or home.
At that point, you've relinquished control of investing decisions.
1. M1 Finance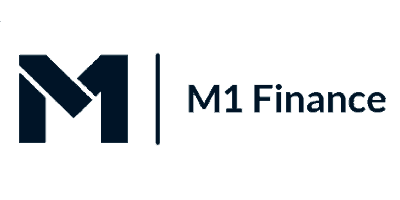 M1 Finance is one of the most popular modern-day investing apps, and for good reason. The platform makes it easy to build and maintain a well-balanced and diversified portfolio through the use of "investment pies".
Instead of buying individual shares of stock and needing to manually balance your portfolio, you're able to set a target allocation for your portfolio and M1 handles the rest. So if you want your child's portfolio to consist of 10% of 10 different stocks you're able to set this up once and let it run on autopilot as you contribute more.
Your investment pie can consist of a variety of stocks and ETFs. However, the platform does not support more speculative assets like crypto or options.
Additionally, there are no commissions or fees associated with your M1 Finance custodial account.
Currently, only M1 Plus users are able to take advantage of the M1 Finance custodial account. This subscription comes at a cost of $125 per year and includes a variety of other benefits.
2. Firstrade

Firstrade's custodial account doesn't have contribution limits, custodian income limits or minimum deposit requirements. You can withdraw the money for any purpose without time restrictions, as long as it is for the benefit of the minor.
You can invest in stocks, bonds, mutual funds and ETFs.
Accounts are held under the minor's name and social security number and there can only be one custodian per account.
Here's our full review of Firstrade.
Most brokers have a selection of no-transaction-fee mutual funds, but then charge from $5 to $49.99 for buying or selling shares of funds not on that list. A standout Firstrade feature is that they do not charge trading fees on any of the thousands of mutual funds it has on offer.
 While Firstrade offers a well-organized website, user-friendly tools and quality research, the broker lacks the depth to compete with the larger full-service brokers. That said, investors looking for a low-cost, well balanced, all round easy-to-use broker may find Firstrade a great fit.
3. Acorns

Acorns is a brokerage/robo-advisor that offers an investment account, a retirement account, and a checking account that invests your spare change. It's a way to make good use of all those loose coins rattling around in your car or getting dusty on your dresser.
Acorns has launched a fourth type of account: a custodial account called Acorns Early. Acorns Early works like your Acorns Invest and Later accounts: you can invest as little as $5 into a diversified portfolio of exchange-traded funds (ETFs).
You don't necessarily need to be a relative; you can open an account for any child you'd like to invest for. All you need is their legal name, date of birth, and Social Security number.
There isn't an option to sign up for just the Acorns Early account — to open an account, you have to sign up for the Acorns Family plan. You might want to open an Acorns Early account if you are already an Acorns member, or you want access to Acorns' investment, retirement, and checking accounts. If you aren't interested in the other features of Acorns, you might not want to open an Acorns Early account.
You can learn more about Acorns in our full review.
You will also gain access to financial literacy content that helps you talk with your child about money.
All Acorns Early customers are placed into an aggressive portfolio because of the age of the beneficiary. Given the child's young age, there's an opportunity to accept more risk in exchange for seeking a greater potential reward over time.
Joining the Acorns Family plan costs $5 per month for most families.
4. Charles Schwab
Schwab offers a great way for you to take smaller steps when you open a custodial account. With Schwab Stock Slices, you can launch a custodial account for as little as $5. You read that right: you can buy fractional shares in any of America's leading companies in the S&P 500 starting at $5.
You can also give your Stock Slices recipient a tangible certificate showing the companies they own. After the custodial account has been opened and funded, and you've purchased the fractional shares, you can download and print an announcement.
Schwab also has a way to help make learning about investing fun and exciting via an interactive guide. It explains all about investing and why it's important for overall financial health. Once your custodial account is set up, you can download and print the New Stock Owner's Guide.
It is written in language that older kids will understand, and is an activity you can do together. Who knows, you might also learn something in the process!
You will also have access to research and information to help you choose stocks, bonds, CDs, mutual funds, and more, or you can select a single-portfolio solution. It's an easy process to open an account, and there is no account minimum to open a custodial account. Plus, there's no account maintenance fee.
As an added benefit, Schwab investment professionals are available to answer your questions.
5. TradeStation
If you decide to open a custodial account with TradeStation, take into account that it is best suited for active, experienced traders. While it offers an enormous menu of products, it can be confusing for people new to the world of investing. There are educational resources for utilizing the platform, but it lacks fundamental research on particular markets.
Another reason why TS is best for active traders is there's an inactivity fee: TradeStation charges an annual inactivity fee of $50 for accounts that don't maintain an average end-of-month balance of $2,000 or execute at least five trades during the 12-month period following the date when the account was first opened.
TradeStation is a high-quality trading platform offering commission-free stock, ETF, and options trades. They have advanced charting and technical analysis tools, and a large library of resources including articles, videos, and real-time tutorials to help you learn how to use the platform and manage your custodial account.
You can read our full review of TradeStation here.
6. Stash
Stash is one of the stand-outs among micro-investing apps.
It's a popular platform. In just a few short years since it was launched, more than 3 million people have joined the crowd of Stash members.
Micro-investing lets you buy fractional shares of stock and ETFs. This means you get a slice of the stock rather than one whole stock.
Stash offers fractional shares so you can invest in thousands of stocks and ETFs with as little as $1.
You choose the amount you can afford to open the account.
Stash makes it easy and affordable to invest for children.
Stash offers custodial accounts through its Stash+ subscription plan. This is their premium plan and comes at a cost of $9 per month.
Stash+ is recommended for families, debit card spenders, and people who want access to educational materials via market insights. It includes a personal brokerage account, banking with a stock back card that earns double stock back into your account, budgeting, personalized advice, a Roth IRA or Traditional IRA retirement account, the custodial investment accounts for kids, an exclusive monthly market insights report, and $10,000 of life insurance coverage through Avibra.
Once you join Stash+, they will help walk you through the process of setting up your custodial account.
You can also set up automatic contributions.
7. Vanguard
Vanguard charges a $20 annual fee on custodial accounts. If the account is set up as a mutual fund-only account, the fee is assessed against each Vanguard mutual fund in the account.
Vanguard custodial accounts offer you:
A broad lineup of Vanguard mutual funds
Among the lowest expense ratios in the industry
No enrollment, transfer, or advisor fees
Custom scheduling to electronically move money between your bank account or other Vanguard accounts and your custodial account
8. TD Ameritrade
The good news is that there are no extra fees at TD Ameritrade for a custodial account that wouldn't apply to their standard account.
This means custodial accounts don't have any account opening or maintenance fees at TD Ameritrade, but all of the standard account trading fees still apply here.
A custodial account with TD Ameritrade doesn't come with any extra fees, but just make sure you've thought everything through since this account's simple structure doesn't allow for any modifications after setup.
9. Fidelity
In its history of nearly 75 years in the investment and financial advice arena, Fidelity continues to dominate the market, rolling out new services continuously.
 When you open a custodial account, you can buy a slice, which is a fraction of a share, then see how it performs.
As a fractional share investor, you can choose from among 7,000 US stocks and ETFs, and you can buy and sell through the mobile app.
Fidelity offers:
Guidance and education: To help you make the most out of your financial life with easy-to-use tools and the latest insights from a team of specialists.
Straightforward pricing: $0 commissions on stocks, ETFs, and options trades plus zero account fees, zero minimums to invest, and zero expense ratio mutual funds.
Broad choice of investments: A full range of investments, including stocks, options, mutual funds, bonds, CDs, and fractional shares.
10. E*TRADE
With E*TRADE, you can set up a custodial account in the same way you would a standard brokerage investing and trading account letting you buy and sell stocks, ETFs, mutual funds, options, bonds, and more.
You can also open an E*TRADE retirement account for children under 18 with earned income and benefit from tax-deferred potential earnings. You can choose a Roth or Traditional IRA and build a portfolio from a wide range of investment choices, or consider an automated advisory solution with Core Portfolios.
What Are The Advantages of A Custodial Account?
There are significant tax benefits that you will want to consider. These accounts let you keep investing money on behalf of a child, without you holding legal ownership of those assets. That is a huge benefit for income tax purposes.
Unearned income in a custodial account will be taxed to the child rather than to the adult overseeing the account. Most children, of course, have little or no earned income. This places them in a much lower tax bracket than the adult. The result? Lower tax bills or even no tax liability at all.
Here's a breakdown: You can take advantage of the annual federal gift tax exclusion and incur no gift tax for contributions up to $15,000 per person annually, or $30,000 for married couples filing jointly.
What's more, investment income, including other capital gains, is taxed under special rates. The first $2,200 in earnings is tax-free. Amounts over the $2,200 threshold are taxed at the new rates (based on estate and trust rates).
So, there are many clear benefits to investing via a custodial account.
What Are The Disadvantages Of Custodial Accounts?
While there are many advantages to custodial accounts, there are a few disadvantages to be aware of.
A custodial account will impact the child's eligibility for financial aid for college or other tuition. This is because assets in the account are treated as if they belong to the child. That can have a much larger negative impact on the amount of financial aid that the child receives than if the money were held in a parent's brokerage account.
Keep in mind that a full 20% of the assets in the custodial account will be counted when the child applies for financial aid for college or other higher education.
Also remember that while you oversee investments and manage the account, all the money belongs to your child. That means you can't take out money for your own use after you've contributed it.
There is a rule that lets withdraw money from a custodial account before your child reaches adulthood, but you can only do this if it directly benefits the child.
For example, you could use the money for necessary school supplies or even for braces. However, any money you take out may also create taxable gains for your child. Plus, you are lowering the value of the portfolio, losing out on longer term growth.
Best Brokerages For Custodial Accounts: Final Thoughts
Opening a custodial account for the child in your life is a huge step towards building up their sound financial future.
You would be wise to take advantage of the tax advantages, and smart investing will only make the balance grow.
What's more, custodial accounts are an excellent way to teach youngsters the basics of investing, and it can be a way for you to bond as you both learn more.
Online brokerage platforms must adhere to the same restrictions, but each offers its own list of specialties that you should consider before taking the first step and opening a custodial account.
Don't forget to grab your free stock worth up to $200 from Robinhood today!