Best Investing Books For Beginners
This article is a guest post from the blog Stoj Finance.
This list will provide you with some of the most popular and highly regarded investment books of all time. They will provide you with knowledge that will help you to invest with confidence. You will learn how Warren Buffett achieved average annual returns of 20.9% versus 9.9% for the market over a 50 year period. You will also learn how Benjamin Graham was able to achieve returns of 14.7% annually versus 12.2% for the market as a whole from 1936-1956 and much more.
Many of these books are dated. However, their principles and strategies remain relevant today. I have personally read all the books listed. I would not allow myself to provide you with a book recommendation without personally evaluating and assessing each book and the value contained within. We will begin with my favorite book, by Benjamin Graham.
Book #1: The Intelligent Investor: The Definitive Book On Value Investing
Author: Benjamin Graham

The Intelligent Investor is widely regarded as one of the best investing books of all time. Despite its original 1949 publish date, the information contained within is still relevant today. To quote Warren Buffett, it is "By far the best book on investing ever written." This book covers areas of investing including: The past century of stock market history, general portfolio policies to follow, how you should interpret market fluctuations and much more. It provided me with the knowledge needed to independently select stocks with confidence.
Value Investing Approach
As the name of the book would suggest, Graham employed a value investing approach. He pursued stocks which he believed were worth more than their current market quotation would suggest. Essentially, he would buy stocks trading at $0.50 that he believed had an intrinsic value of $1.00. This strategy awarded him with above average returns over his career (as discussed below), while providing safety of principle for himself and his clients.
Benjamin Graham, the author, was an extraordinary person. He attended Colombia Business School on a scholarship. (Colombia Business School currently holds the #7 position worldwide for its MBA program). Graham graduated from Colombia as the salutatorian of the class at the young age of 20. 
As mentioned previously, he gained at least 14.7% annually for his clients versus 12.2% for the overall stock market. This became known as one of the best long-term track records in history. Warren Buffett, one of Graham's most successful students, originally developed his investment philosophy around the principles Graham advised. Here is a resource for more information about how to invest like Graham.
Grab a copy of The Intelligent Investor here!
Book #2: The Warren Buffett Way
Author: Robert G. Hagstrom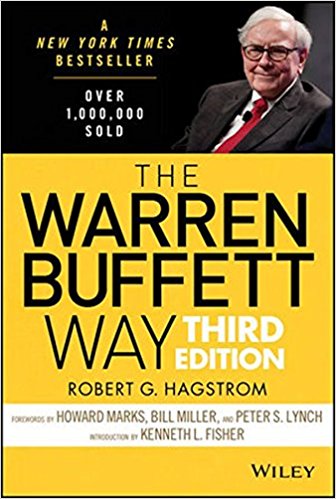 The Warren Buffett Way provides an insight into Buffett's investment techniques and practices. It is a great read and if you would like to learn more about Warren Buffett and his investment methodology, there is no better place to look. Originally published in 1994, it contains updated accounts to ensure the contents remain relevant today.
Containing forewords from some of the greatest investors of all time, this is an essential book for new investors. That list includes Howard Marks, co-founder of Oaktree Capital Management (a global asset management firm with over US$122 billion in assets under management) and Peter Lynch, former mutual fund manager and philanthropist who averaged returns of 29.2% annually between 1977 and 1990. 
Legendary Track Record
The Warren Buffet Way is a comprehensive investment resource and Hagstrom has provided us with an in-depth insight into Buffett's investment career. It details how he was able to turn $100 in 1957 into a personal net worth of over $80 billion today. Buffett is known for his impressive record of returns throughout his investment career. From 1964-2017, his holding company, Berkshire Hathaway, achieved average annual returns of 20.9%. Versus 9.9% (including dividends) for the S&P 500.
Hagstrom has provided us with an in-depth insight into some of Buffett's largest and most significant investments and their outcomes. Companies such Coca-Cola and The Washington Post are included. Hagstrom has also explored less common areas of investing, including behavioral finance and the mathematics of focus investing.
The Warren Buffett Way will give you an insight into the techniques and strategies employed by one of the most successful stock market investors of all time. 
The author, Robert G. Hagstrom, is the chief investment strategist and managing director for Legg Mason Investment Counsel. He has also authored other investment books including "Investing: The Last Liberal Art" and "The Essential Buffett: Timeless Principles for the New Economy." This is a great buy for value investors and belongs on every serious investors shelf at home.
Grab a copy of The Warren Buffett Way here!
Book #3: Common Stocks And Uncommon Profits
Author: Phillip A. Fisher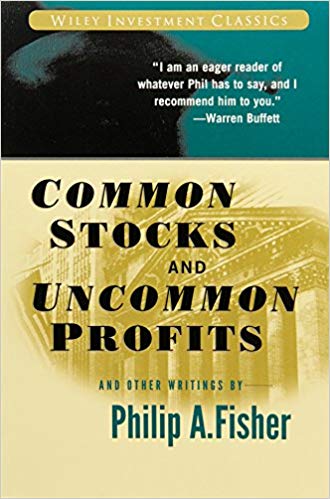 Common Stocks and Uncommon Profits, originally published in 1958 and much like The Intelligent Investor, is a comprehensive investment resource. This book is a more compact guide on stock market investments. It contains topics including Fisher's illustrious "scuttlebutt" strategy, what stocks to buy, when to buy and when to sell. The book also outlines how to apply Fisher's ideas to suit your own needs.
Common Stocks and Uncommon Profits is by no means a simple guide to stock market investment. More advanced stock selection strategies are explored within this text. This book alone has provided me with the knowledge needed to begin investing in the stock market employing a growth stock approach, which will be explored further below. 
Fisher's Investment Philosophy
Fisher's investment philosophy was quite different to Graham's. Fisher took what I call a growth stock approach. He purchased companies with a strong likelihood of increasing their earnings in the future. Consequentially, increasing their market quotation. Typically, "growth stocks" pay minimal if any dividend.
Fisher's "scuttlebutt" strategy was based on the belief that every piece of information about a company should be exploited. This is to provide you with the highest level of knowledge about a stock before making a purchase.
Fisher would go to great lengths to learn more about a company before making an investment. He is known to have contacted current and former employees, suppliers and even top-level management of the company under consideration. To quote Fisher: "When it comes to selecting growth stocks, the rewards for proper action are so huge and the penalty for poor judgement is so great that is it hard to see why anyone would want to select a growth stock on the basis of superficial knowledge." Now, a little bit about Fisher.
As featured on the back cover of the book, Phillip A. Fisher started his career as a securities analyst in 1928. He later founded Fisher & Company, an investment counseling business in 1931. He is known as one of the pioneers of modern investment theory. Fisher is reported to have made his clients extraordinary investment gains over his career and managed the company's affairs until his retirement in 1999 at the age of 91.
Grab a copy of Common Stocks And Uncommon Profits here!
Book #4: Unshakeable: Your Financial Freedom Playbook
Author: Tony Robbins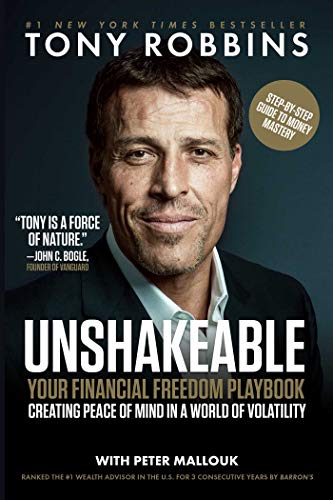 Unshakeable, published on February 28, 2017, is one of my favorite personal finance books. Not only is it a New York Times best seller, 100% of the profits from the book are donated by Tony Robbins to Feeding America.
The stock market is not the primary focus of this book, however there are certainly chapters directed towards stock market investment. Tony will teach you how to properly allocate your assets, explain why index funds are preferable over managed funds and teach you how to navigate through crashes and corrections in the market.
This is more than just a finance book. You will also learn how human behavior and psychology can negatively affect your investment returns, as well as how to combat those innate vulnerabilities that have been hardwired in all of us as humans. Seen on the back cover of Unshakeable: "No matter your salary, your stage of life or when you started, this book will provide the tools to help you achieve your financial goals more rapidly than you ever thought possible."
Tony is an American author, entrepreneur, philanthropist and life coach. He is known for his infomercials, seminars and self-help books including Unlimited Power and MONEY: Master the Game. He is the founder of several companies that earn approximately $6 billion in annual sales. If you are looking for a book that encompasses more than just the field of investing, but the financial industry, this is a must buy.
Grab a copy of Unshakeable here!
- Jasper Levi Stojanovski
https://www.stojfinance.com