Betterment Savings Account Review 2019
Investors have thousands of options when deciding where to put their money. Online savings account to provide a high-interest alternative to the traditional bank account.
As savvy savers know, every dollar counts. Betterment is a roboadvisor that is providing users with an opportunity to sign up for a new savings account called Betterment Cash Reserve. In this article, we will review Betterment Cash Reserve, a new savings account earning a high APY, check the rate here.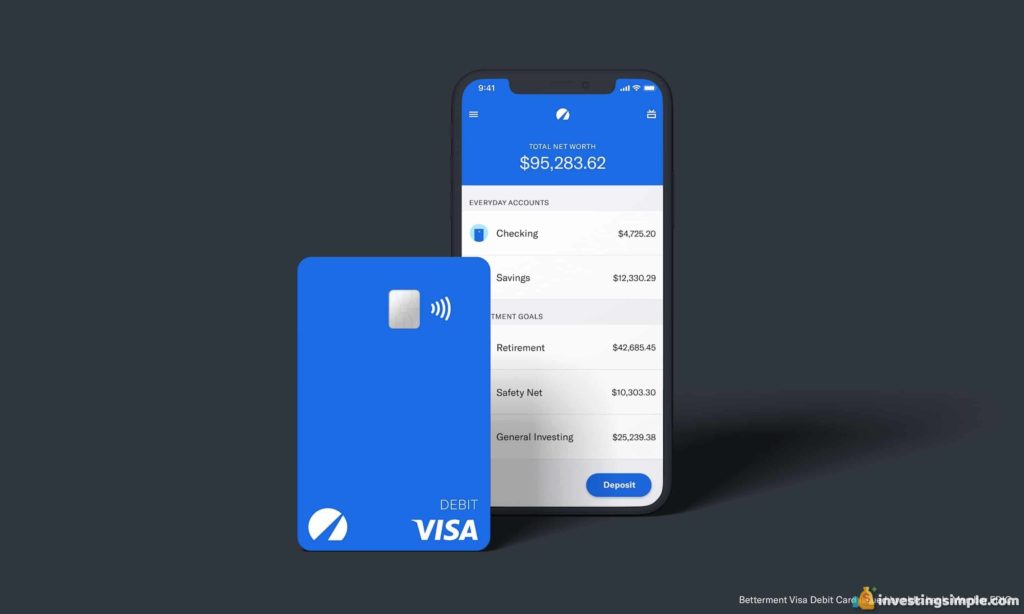 Summary: Betterment Cash Reserve Online Savings Account
| wdt_ID | Betterment Everyday Savings Summary |
| --- | --- |
| 1 | The roboadvisor Betterment has launched an FDIC insured savings account called Betterment Everyday. |
| 2 | |
| 3 | Later this year, a checking account will accompany this as well. |
| 4 | This savings account has FDIC insurance up to $1,000,000 which is higher than most savings accounts that have insurance up to $250,000. |
| 5 | Betterment Everyday Savings will allow you to earn up to 2.69% APY |
| 6 | There is no minimum balance, but the minimum to open an account is $10 |
| 7 | There are zero fees associated with this account |
| 8 | You have unlimited monthly transfers, compared to most online bank accounts that have a limit of 6 per month |
| 9 | |
What Is Betterment?
Betterment is an online financial advisor where you can invest, save, and plan for your financial goals. Investors can choose from a variety of portfolios based on your risk and goals. With Betterment, you have a one-stop-shop for your financial life.
Depending on your plan, you can have access to financial advisors, including CFP® professionals. Investors also have access to tax-loss harvesting tools, advice packages, and Betterment Cash Reserve savings accounts. Check out our full review of Betterment here.

Betterment Cash Reserve Savings Account
Betterment Cash Reserve Savings is now offering one of the highest interest rates on savings accounts in the banking industry. These savings accounts are available now. Checking accounts will be released later in the year, which will come with a debit card.
Betterment's Smart Saver platform will be transitioned to Betterment Cash Reserve within 30 days of the launch. All existing Smart Saver users will be automatically switched over to the Betterment Cash Reserve platform.
Betterment Cash Reserve Savings Account (Available Now)
One of the highest rates in the country
FDIC-insured up to $1,000,000
No minimum balance
No fees on balances
Unlimited withdrawals (compared to a limit of six withdrawals per month with most savings accounts)
Betterment Cash Reserve Checking Account (Coming Soon)
ATM fees reimbursed worldwide
No account or overdraft fees
$0 minimum balance
FDIC insured up to $250,000
Free debit card
Betterment Cash Reserve Features
Cash Analysis
Betterment's cash analysis feature will determine the minimum amount of cash you require in your bank account to fund your ongoing expenses. By analyzing your expenses, the cash analysis will determine if you have too much or too little cash in your bank account.
This way, investors are getting the most out of their money and not letting a large amount of cash sitting idle in a low interest-bearing account. Smart investors put cash in higher interest rate accounts where they can earn reasonable interest and not let their savings rot away from inflation.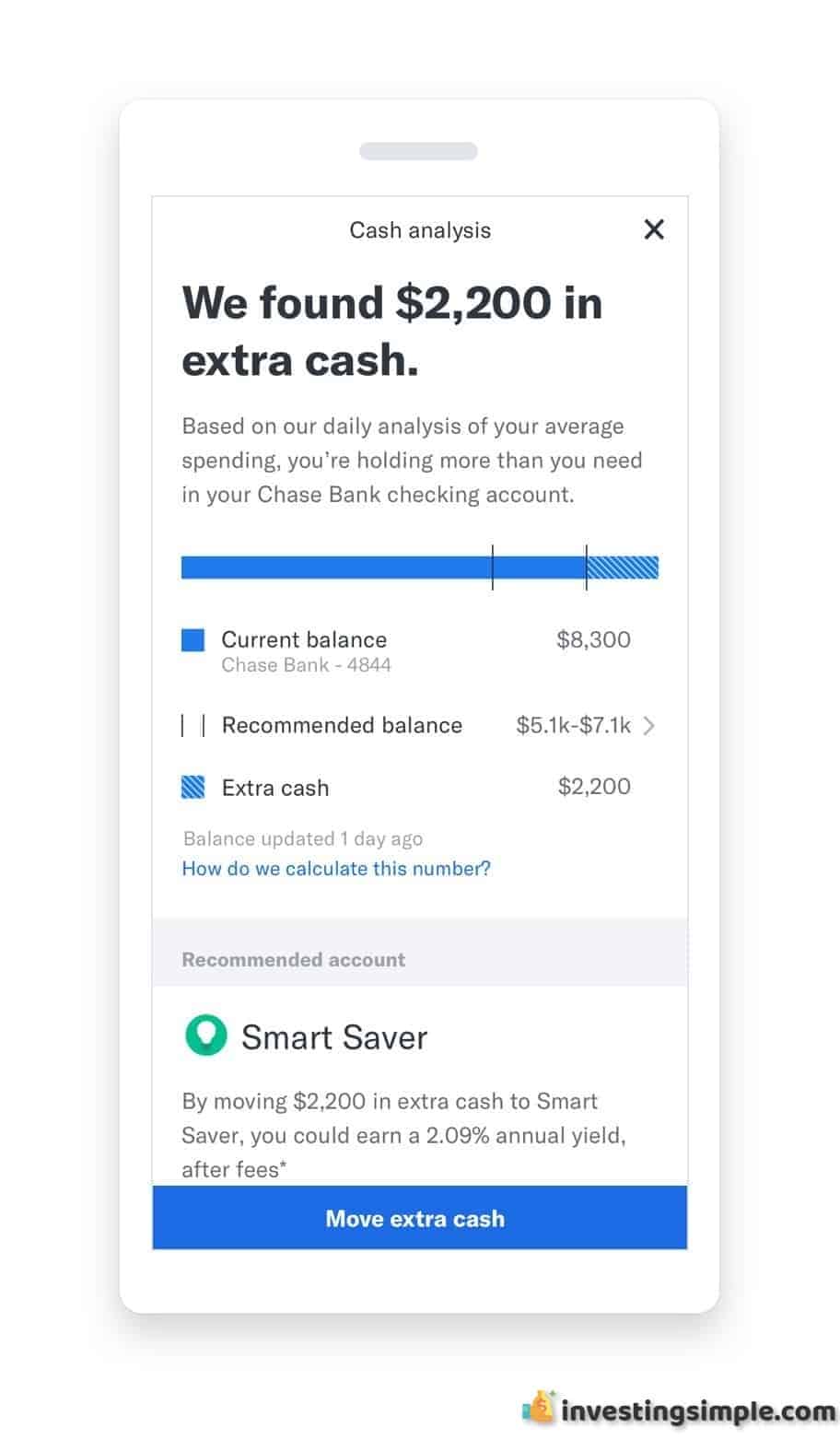 Two Way Sweep
Betterment's two-way sweep works directly with cash analysis. Any excess cash in your account will be sent to your checking account you link with Betterment. If cash analysis sees that you are running low, it will automatically send cash to your bank account to replenish your funds. You can also manually set minimum amounts for your bank account balance.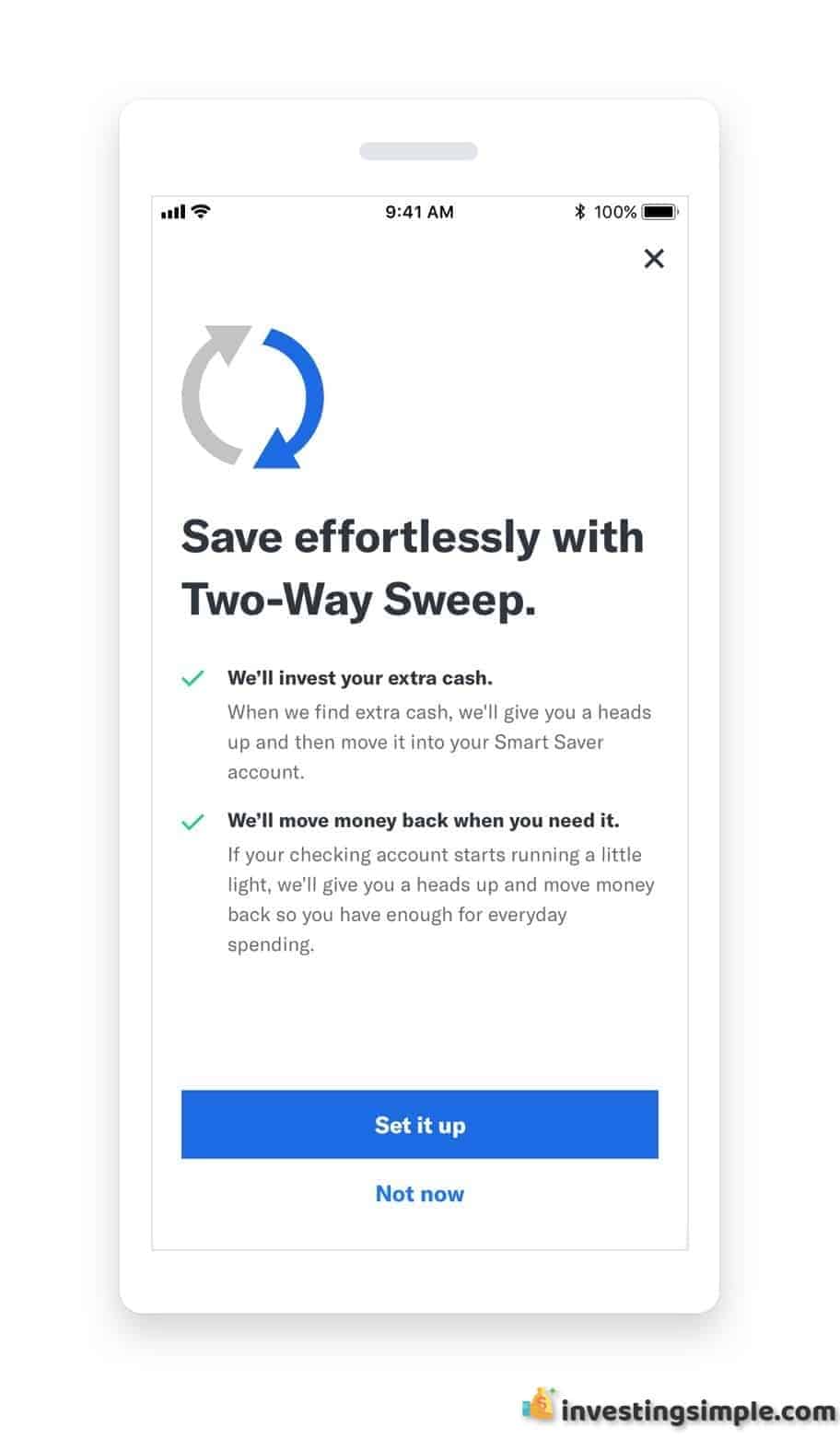 Zero Fees
Betterment Cash Reserve savings and checking accounts have no fees for its users. There are also no overdraft fees or minimum account balances. This means investors are genuinely making the most out of every dollar saved.
Why Use Betterment Cash Reserve Savings?
Everyone always tells us that holding too much cash in our bank account is not the right decision. But why is this? The main reason being inflation.
Inflation will slowly decay your savings each year, it has averaged 1.5% to 2.0% annually over the past 30 years.
This means the purchasing power of our savings is decreasing each year by 1.5% to 2.0%. Our $100 saved today will only buy $98 worth of goods in one year. Over time this can really add up and take a toll on all the hard-earned money we've saved.
Just as compound interest works in our favor, inflation can have a negative compounding effect on our savings. For example, cumulative inflation from 1913 to 2013 was 2,275%. This means prices increased almost 23 times. Yikes…
Investing is the tool we use to combat inflation. If we can earn a return equal to or greater than the inflation rate, then we have won the battle. Unfortunately, interest rates on bank savings accounts have been extremely low for the past few decades. A bank account interest rate at 0.06% has no shot in beating a 2% inflation rate.
Betterment Cash Reserve Savings vs. Betterment Smart Saver
As mentioned earlier, Betterment Cash Reserve will be replacing an older feature called Betterment Smart Saver. There are a few differences between the old Betterment platform called Smart Saver and the new savings platform. The differences include…
It comes with a high APY (check it here)
It's FDIC insured up to $1 million compared to Smart Saver which had no FDIC insurance
Customers will be able to transfer their money between Betterment Cash Reserve Savings and their linked checking account within 1–2 business days instead of 4–5 business days with Smart Saver
Traditional Bank Account Alternatives
Currently, there are few options to obtain a reasonable yield on our cash. Let's review some of the alternative options to a bank savings account.
Online Banks
There are a few online banks that are offering above-average interest rates right now. Many times these accounts will have minimum balance requirements. Ally Bank is an online-only bank that is offering a 2% interest rate on savings account deposits. This is a great offer, and also comes with no account minimums.
Money Market Accounts
Over the past few years, short-term interest rates have risen considerably. As a result, certain money market accounts are now yielding between 1.5% to 2.5%. Be cautious, depending on the fund, you may have a minimum deposit to invest.
CD's (Certificate of Deposit)
CD's have always been an option to park your short-term cash. The one downside is that CD's often have low liquidity, meaning it can be difficult to sell your investment and receive your cash. Currently, most CD's are offering a range of interest rates right now ranging from 2% to 3% depending on their maturity. However, investors should be cautious as CD's can come with early redemption fees for early withdrawals.
As short-term interest rates continue to rise, investors will continue to have a variety of options to stash their short-term cash savings. With bank savings account interest rates being so low right now, Betterment Cash Reserve savings may be an excellent alternative.