With the rise of robo-advisors, it seems that the days of calling up your stock broker to place trades are long gone.
With today's technology, you can take an in-depth online questionnaire and have an investment plan laid out for you in minutes. This is, at least, the goal of robo-advisors like Acorns and Betterment. Both have the average investor in mind and offer a variety of products for reasonable fees. 
Betterment is designed to be a full blown financial management tool that can service accounts ranging from $5 to $1,000,000 or more. They offer both a basic plan and a premium plan that offers direct access to financial advisors.
Acorns is designed for beginners who may have difficulty saving money and investing. You can choose 1 of 5 portfolios to passively invest in based on your risk tolerance.
In this article, we will be comparing the services and offerings of Acorns vs Betterment.
What Is Acorns? 
Have you ever thought that you really need to start saving money, but struggle to be consistent? Have you ever wondered what else you could be doing with the spare change sitting in the cupholders of your car? Then Acorns is for you. 
Acorns is a financial technology company that helps you invest your loose change wisely.
The platform is built on the idea of rounding up your purchases and investing the rest. For example, if you spent $2.50 on a cup of coffee, you could set up Acorns to take that extra $0.50 and invest it.
The theory here is that when you don't have to think about investing it will be easier to do and feel like less of a chore. No willpower required!
With Acorns, you can choose between three different subscription models to invest in the way that makes the most sense for you. This robo-investing platform can be a great tool for people that want to invest a little extra on the side, or for those that are serious about investing for retirement.
The tools and features are geared towards beginners who may have difficulty saving and investing money. They take the guesswork out of picking and choosing investments by offering multiple different prebuilt portfolios that hold low fee index funds.
Acorns Pricing
Acorns has three different payment models; Lite, Personal, and Family. These options are all relatively affordable for new investors and range in price from $1 to $5 per month.
Acorns Lite: Acorns Invest, Acorns Found Money 
Acorns Personal: Acorns Invest, Acorns Found Money, Acorns Later and Acorns Spend
Acorns Family: Acorns Invest, Acorns Found Money, Acorns Later, Acorns Spend, and Acorns Early
Each service tier has its own pricing model and unique features, which we will discuss later on.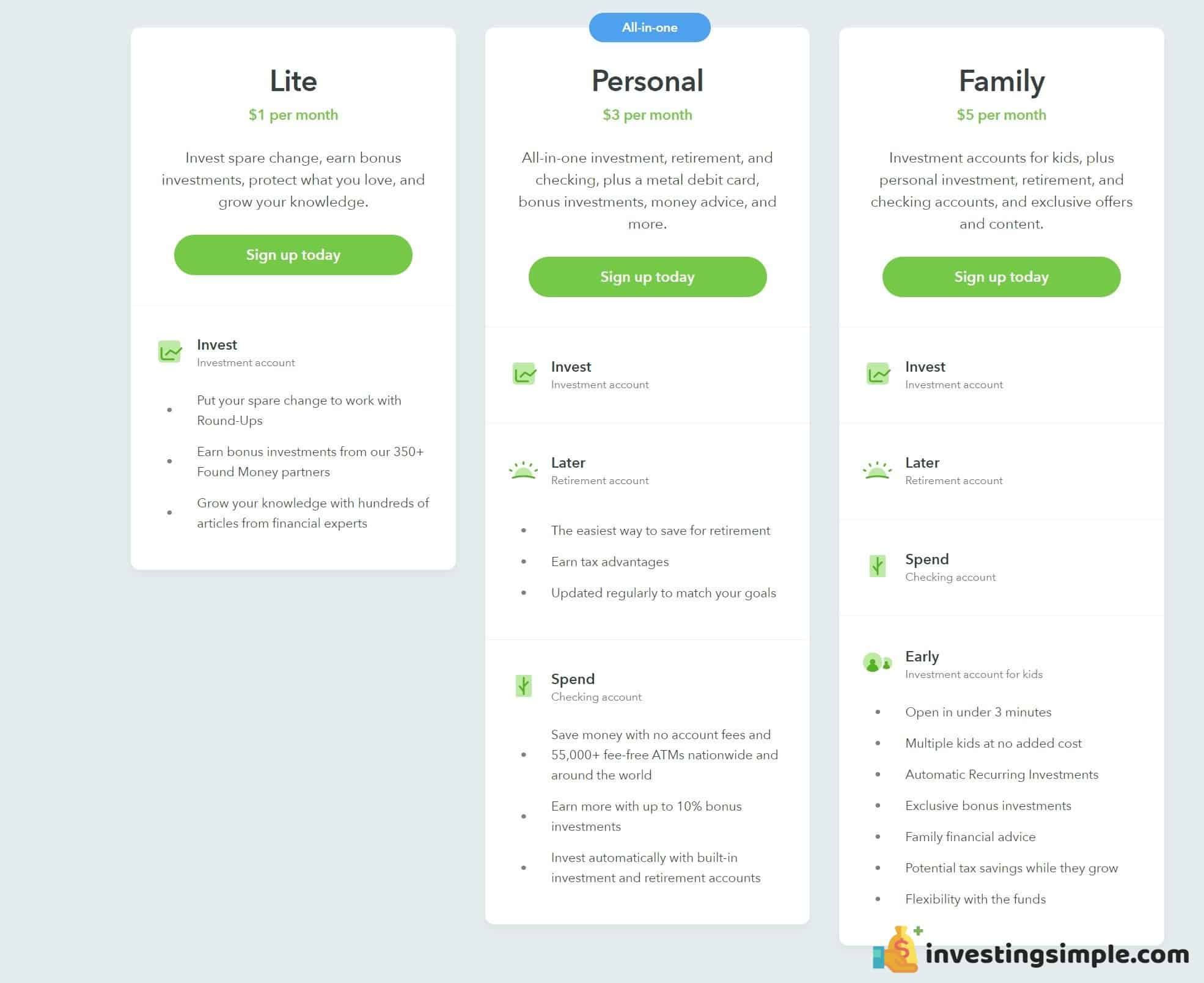 Acorns Lite ($1 Per Month)
At $1 per month you can direct your spare change automatically into an investment portfolio through the feature Acorns Invest and earn cash back through Acorns Found Money.
In addition, you have the opportunity to earn bonus investments from over 350 Found Money partners. You don't have access to the Acorns Spend checking account/debit card or the retirement account. 
Acorns Personal ($3 Per Month)
With Acorns Personal, you can unlock most of the other features that Acorns has to offer in addition to receiving the same benefits as Acorns Lite. At $3 a month, Acorns says this is their most popular subscription.
With this plan, you get the investment account, retirement account and the checking account.
Acorns Family ($5 Per Month)
With this platform, you'll get all of the bells and whistles that Acorns offers to their users. This includes all of the features of the Acorns Personal plan as well as Acorns Early.
With Acorns Early, you can start planning for future generations and investing on their behalf.
Acorns Invest 
Acorns Invest rounds up each of your purchases to the nearest dollar and then invests that extra change into the portfolio that you choose.
For example, let's say you just filled up with gas and the total came to $25.56. That remaining $0.44, before you get to $26.00, is charged to your card and is invested into your chosen portfolio. This is called Round-Ups.
Those Round-Ups are then invested into portfolios ranging from conservative to aggressive with a subsequent breakdowns of large cap stocks, small cap stocks, international stocks, real estate stocks, government bonds, and corporate bonds.
As the market moves and adjusts, Acorns will automatically adjust where your money is allocated so that you can stay balanced to reach your goals. You also have access to financial advice and articles from financial experts so you can make informed financial decisions.
The portfolios offered by Acorns are:
Conservative (all bonds)
Moderately Conservative (mostly bonds, some stocks)
Moderate (more stocks, less bonds)
Moderately Aggressive (mostly stocks)
Aggressive (all stocks)
When it comes to investing in the stock market, bonds are more conservative and stocks are more aggressive. If you want more risk/reward, you go with a more aggressive portfolio. There are no individual stocks with Acorns.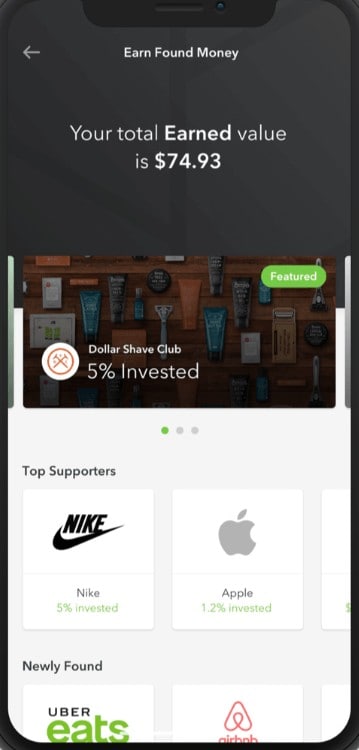 Found Money Partners
Acorns has developed relationships with over 350 brands that will reward you for shopping with them.
These are popular brands that you likely already shop with like Apple, Airbnb, and Walmart.
Similar to cash back, these companies will return some of the money you spend directly into your investment accounts. Through the Acorns app, you will be able to see some of the cash back deals that merchants are offering.
For example, if Dollar Shave Club is offering a 5% investment if you purchase an item from their product line, they will take 5% of your purchase and give it back to you through Round-Ups.
This is cash back directly to your investment portfolio. The money will appear in your account within 60-120 days and you must be sure that when you spend money with Acorns partners, you are using the same card that is linked to your Acorns account. 
Beyond their Found Money Partners, Acorns also offers the ability to earn through gig work. Within the platform, you can access a variety of short-term work opportunities that will allow you to score some extra cash.
Acorns Later/Retirement Accounts
Acorns Later is an IRA (Individual Retirement Account).
Based on your age, goals, risk tolerance, and lifestyle, Acorns will help you pick which IRA (Roth, Traditional, or SEP) is right for you. Acorns then helps you decide on a low-cost portfolio based on the results of your questionnaire and that's it!
There are a few drawbacks to consider however before you jump in with both feet. Unlike Acorns Invest, which rounds up your spare change, contributions to Acorns Later can only be made by one-time or recurring deposits.
There is a one-time minimum deposit of $5 and the monthly fee of $3 that also need to be taken into consideration. Depending on how much money you have in your investment account, $3 per month can be a lot of money.
Consider this, if you have $5,000 in your retirement account, with Acorns Later you will be paying a fee of $36 per year (or 0.72%).
According to Value Penguin, the average expense ratio for robo-advisers is 0.25%. It may not seem like a large difference, but all those fees can really add up over the long run.
As with any robo-adviser, your portfolio will automatically adjust with time as you get closer to your goal retirement age. 
Acorns Spend
Acorns Spend is an online checking account built off Acorns Round-Ups technology. When you purchase something with your debit card, you guessed it, Acorns will round up that purchase to the nearest dollar and invest it for you.
With Acorns Spend, you can do pretty much anything you can do with a normal online bank: use digital direct deposits, mobile check deposits, free bank-to-bank transfers, and unlimited free or fee-reimbursed ATMs nationwide. There is no minimum balance, no account fees, and each account is backed by the FDIC up to $250,000.
Acorns Early
By subscribing to the Acorns Family plan, you'll have access to quickly setting up investment accounts for the next generation. These are custodial accounts that allow you to set aside money for your kids that will be invested and grow over time.
Once your kids are old enough, you can transfer the accounts to them or use the funds to provide their support or education funding. You'll also receive access to the full Acorns financial wellness system to allow you and your family to learn and build good habits together.
One of the keys to investing is starting early and if Acorns can help to build this habit in your kids early on, it may be a very valuable investment.
Pros Of Acorns
Round-Ups make sure that you are investing consistently and dollar cost averaging

Different subscription options for different investors

Cash back options through Found Money partners

Easy, low commitment way to begin investing
Access to custodial accounts for your kids
Fees are very small when you have a large account size
Acorns plants a tree for every new user that signs up!
Cons Of Acorns
Limited investment portfolios

Relatively expensive robo-adviser fees for smaller accounts

Only 5 portfolios to choose from
What Is Betterment?
Betterment is a robo-adviser that allows automated and goal-inspired investments for everyday individuals.
The Betterment platform allows users to invest in portfolios of passive index-tracking equity and fixed-income ETFs. Betterment gives users access to tax advantaged savings accounts such as traditional and Roth IRAs.
One of the main differences between Betterment and Acorns is with Betterment Premium you have unlimited access to human financial planners.
Pricing
Betterment offers two plans called Digital and Premium. Rather than charging a fixed monthly cost, they charge a percentage of assets under management ranging from 0.25% to 0.40% depending on the plan. 
When compared with the typical 1% or more that a financial advisor charges, this tends to be a much more affordable option.
Digital (0.25% Asset Management Fee)
No minimum balance requirement
Personalized financial advice through questionnaire and algorithm
Automatic rebalancing and tax loss harvesting
Support available 5 days a week
Low cost, diversified investment portfolio tailored to you
Premium (0.40% Asset Management Fee)
$100,000 minimum balance requirement
All of the above benefits as well as advice about investments outside of Betterment
Unlimited access to a team of financial professionals you can speak with one on one
Betterment Features

Betterment has several features that make it stand out amongst robo-advisers. This includes a no-fee checking account, high-yield savings, goal-specific portfolios and automated retirement savings.
Goal-Specific Portfolios
Betterment prides itself on helping its users invest toward specific goals.
When you set up your Betterment account, you can specify what goals you are shooting for. Maybe it's a dream house, a tropical vacation, or a lump of cash to pay for your child's education.
Whatever the goal, Betterment can help design the correct portfolio for you. Betterment utilizes ETFs which represent about 12 asset classes set up to match the varying levels of risk tolerance for your specific goals. They use funds from well known companies like Vanguard and BlackRock.
Users can also be more hands on with the 'flexible portfolios' approach which lets them modify the exact amount that is allocated to particular ETFs. 
You can also easily set up separate sub-accounts for each goal to simply keep tabs on your progress and keep your motivation high.
Want to find the best robo-advisor for you?
We put together a free comparison table that analyzes all of the top robo-advisors available today. This guide will help you compare the features and benefits of each side by side.
Get The Guide
Retirement Savings
Betterment recognizes that no two individuals are alike, and therefore no two retirement strategies are alike.
Users complete a brief questionnaire about their age, goals, income, and risk tolerance in order for Betterment to create a personalized plan for each investor. Betterment allows you to open up a brand new Traditional, Roth, or SEP IRA, or roll over an old 401k or an old IRA into a new one. 
One of the best features within long-term savings through Betterment is the ability to project how much you should expect to spend in retirement and set up automatic withdrawals at your desired frequency. While it is free to create a retirement plan through Betterment, be aware that funds are charged a management fee. 
As with other robo-advisers, your account allocations will rebalance each time your portfolio strays from its original goal, making sure your financial hopes and dreams are always on track. When your allocations are rebalanced, the company will also purchase fractional shares so you rest assured that every dollar is invested. 
No-Fee Checking
Like Acorns, Betterment offers a mobile-first checking account, meaning there are no brick and mortar locations that you can access.
Because of that, there is no reason to charge any account fees, so you can utilize Betterment's checking account free of charge. In addition, every ATM or foreign transaction fee that you incur will be reimbursed and each account is insured by the FDIC up to $250,000.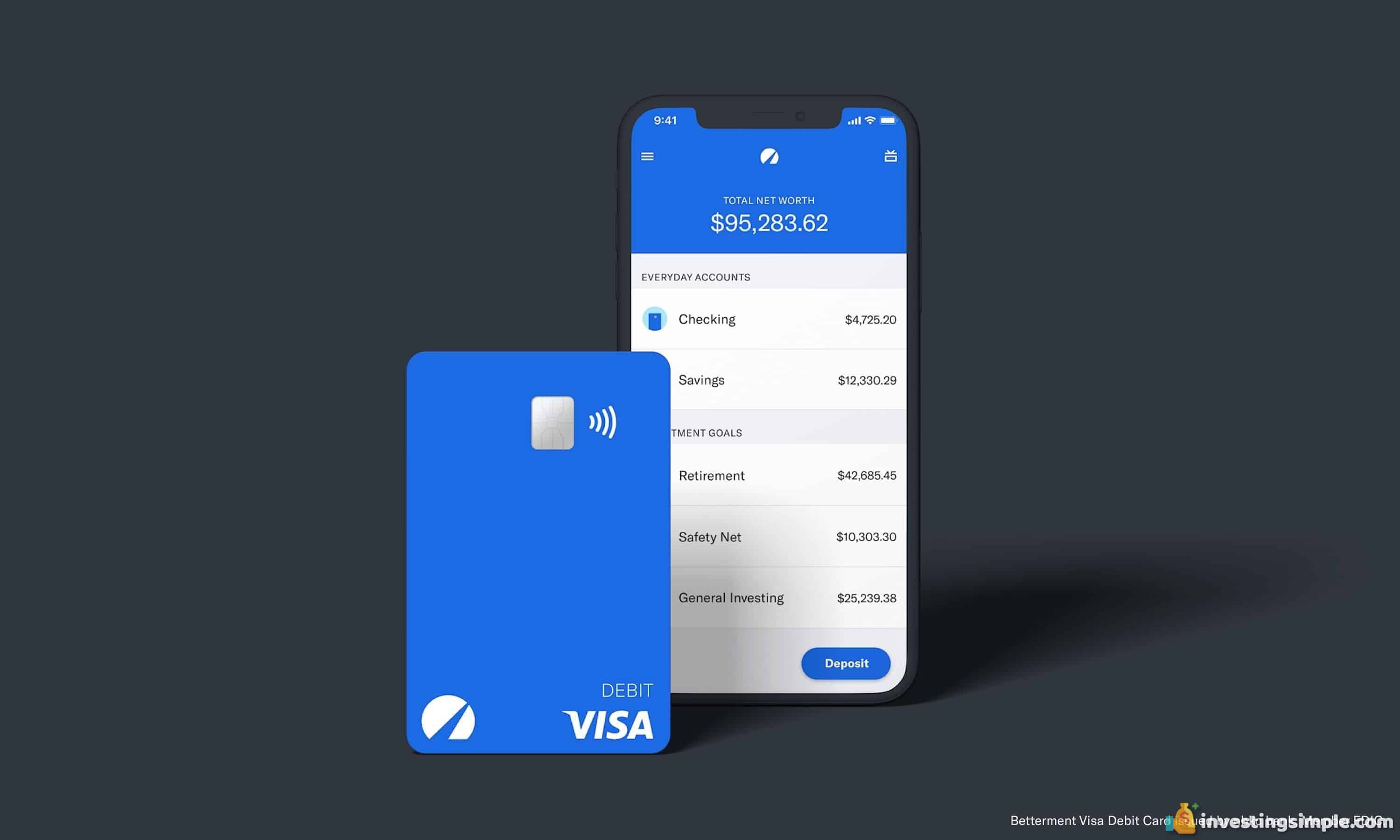 High-Yield Savings
Betterment Cash Reserve is a place for you to store your cash that pays you 6x the interest of the national average savings account.
With Betterment Cash Reserve you can earn a great yield on your cash. This is a great option if you want to hold on to some cash in a very liquid fund, but also want to be earning while you wait to spend or invest your money.
With Betterment, you can transfer and withdraw your money whenever you want and do it without any fees. In addition, you'll also have access to spending insights so you can see exactly where your money is going. 
Pros Of Betterment
Cons Of Betterment
No spare change round up
No rewards program
Do not offer individual stocks
The Verdict: Acorns vs Betterment
Both platforms are attractive options for investors that want to be hands-off when savings in the short or long-term.
While there are very specific tools available to Acorns and not Betterment, and vice versa, both options give investors peace of mind knowing that their funds are being watched over, reallocated, and invested properly based on their set goals. 
At the end of the day, it comes down to the individual features you are looking for. We do prefer the fee structure of Betterment as it is fair to all investors regardless of account size. The Acorns fee structure is higher for those who have a low balance in their account.
If you are merely looking to save extra cash and worry that you might be forgetting to invest consistently, then Acorns is the best app for you with its use of Round-Ups. Acorns will appeal to those who are trying to get started investing, as well as those who struggle to save. However, you may find that it is limited by only offering 5 portfolios. 
If you have more specific goals in mind and are determined to meet them, then Betterment will help you get there. Betterment offers custom-built investment portfolios and access to human financial advisors. Investors who need more assistance in developing a financial plan and who have more to invest may find Betterment a more appealing service. 
The features of Betterment are more advanced and those looking for a full scale platform will likely prefer this. Acorns is designed more for beginners looking to get started with investing.
Best Free Stock Promotions
Keep Reading: