Competition is heating up between different investment platforms on the market. People always on the hunt for the best and most reliable platform to invest their money. But with a number of platforms having similarities, it is quite challenging to decide where to invest.  
Most of us have smartphones, and it is a lot easier to invest your money now due to investing apps. These apps have made it easier than ever before to begin investing in the stock market and growing your money.
In this article, we will compare the similarities and differences between Betterment and Robinhood.
Betterment vs Robinhood: The Basics
Betterment is a low fee robo-advisor that passively manages your money for you. You simply fill out a questionnaire and they build a custom portfolio for you.
Robinhood is a commission-free stock trading app that is popular among millennials. You are in the driver's seat, meaning you pick and choose all of your investments.
Betterment and Robinhood are two very different types of investing platforms.
Betterment offers managed accounts with low fees. It provides prebuilt portfolios that are automatically rebalanced for an annual fee of 0.25% to 0.40%. Robinhood allows self-directed investors to buy and sell individual stocks and ETFs commission free as well as options and cryptocurrencies. 
Robinhood vs Betterment: Summary
What Is Betterment?
Betterment takes the best investing strategies and makes them even better with the proper guidance and smart tax technology. It is a great platform for new investors and beginners who don't know how to manage their investments. Betterment's passive investment strategy helps you to make the most of the financial markets without all the know-how. 
You just have to deposit the money into your account and let the Betterment do the rest of the work. One huge benefit to working with Betterment over a traditional financial advisor is the low minimums. For most financial advisors, you need hundreds of thousands of dollars to work with them. Betterment has a $0 minimum to open an account. 
According to your investment goals, Betterment will build your portfolio. It will help you to decide how much to invest on the initial level and how much for the ongoing basis to reach your target goals. They will also provide you with tools that make the portfolio management process completely passive. 
All you do is set your goals, fund the account and that is it! You can continue contributing money on a weekly or monthly basis if you wish.
Betterment Features
Investment Management
Betterment takes the guesswork out of building a well-diversified investment portfolio. Based on your age, goals, and risk tolerance, they will create a portfolio for you. This consists of low fee index funds that passively invest in the bond and stock market. They use high-quality funds from Vanguard and BlackRock.
They will rebalance your portfolio for you automatically as the markets change and as you get closer to your goals. If you invest with a brokerage like Robinhood, you will not have any rebalancing features to make use of. It will be up to you to build and design a portfolio while making adjustments to allocations over time.
Two Way Sweep
If you take advantage of the cash management features, Betterment offers a great feature called two-way sweep. Essentially, this links your checking account with your Betterment online savings account which has a higher APY. Betterment keeps track of your spending and sweeps your extra cash into your savings account, where you are earning higher interest.
If your checking account balance runs low, Betterment will do the reverse of this and sweep your money from savings back into your checking account. They will send you alerts before initiating a sweep, that way you can cancel it if you do not want to move the money. The advantage here is that the majority of your money will be in your savings account where you are earning higher interest. 
Retirement Planning
Betterment is a great investment platform for retirement with accounts like the Roth IRA.
They offer a variety of different retirement accounts as well as retirement planning tools. You can link your non-Betterment accounts to get a snapshot of your finances all in one place. Beyond that, Betterment collects this data and creates a model for what your retirement will look like. Based on historical returns of the stock and bond market, they create a projection of your retirement income.
These tools allow you to keep track of all of your financial accounts as well as determine whether or not you are on track to meet your retirement goals.
Tax Loss Harvesting
One huge advantage to investing with Betterment is the tax-loss harvesting feature. Betterment will sell a security that has experienced a loss and purchase a similar asset to replace it. This allows you to recognize a capital loss. This loss can be used to offset capital gains from your investments and lower your tax bill.
All Betterment accounts are able to take advantage of this 100% automated feature. 

Betterment Service Tiers
One core difference between Betterment and Robinhood is that Betterment charges an annual asset management fee. This is a percentage of your total investment. Robinhood does not charge an asset management fee or trading commissions. On the other hand, they also do not offer any investment portfolios.
Betterment Digital ($0 To $99,999)
Betterment Premium ($100,000+)
Betterment Premium service requires a minimum of $100,000 invested

Access to financial professionals for guidance on matters like a wedding or having a child

Offer advice on outside investments like real estate, individual stocks, and 401(k)

Annual fee of 0.40%
Financial Planning & Advice Packages
Even if you do not have the Premium plan, you can get personalized financial advice. If you are planning to retire, buy a home, have a baby, or other similar scenarios, Betterment sells advice packages for this.
These advice packages range from $299 to $399. 
Cash Reserve Savings & Checking Accounts
Beyond the investment service, Betterment offers an online savings and checking account. This is a great option if you are looking to make the most of your uninvested cash. Betterment aims to be a one-stop-shop for all of your finances. The investment, checking and savings accounts all integrate together.
You can choose to use them all, or you can use each one as a standalone product. 
Betterment Checking
No account or overdraft fees

No minimum balance limits

FDIC insurance up to $250,000 

Unlimited ATM fee reimbursements
Cash Reserve
High-interest rate savings account

Provide access to cash in 1 or 2 business days

FDIC insurance up to $1M*
No withdrawal limits

No minimum balance or maintenance fee
Betterment Fees
Betterment charges an annual fee of 0.25% for the Digital plan. 
To get personal access to financial professionals, you need to have Betterment Premium. As mentioned before, this plan requires a minimum investment of $100,000. You have unlimited access to CERTIFIED FINANCIAL PLANNERS™ and they will give you guidance on investments outside of Betterment. This plan has an annual fee of 0.40%.
Betterment Pros
Beginner-friendly passive investing

Smart tax technology including tax-loss harvesting

Low fee checking account available 

High yield savings account for an emergency fund

Automatic rebalancing

Betterment uses high-quality index funds from BlackRock and Vanguard
Takes the guesswork out of building and managing a portfolio
Betterment Cons
Limited investment options (just stock and bond ETFs)

No direct indexing

No individual stock trades
What Is Robinhood?
Robinhood has made it a goal to create the most beginner-friendly investing app out there. We would say they have done a great job at this. For complete beginners, this is the easiest brokerage account to get started with. They have invested a lot of money in user experience, so this is a very sleek and easy-to-use app. 
Buying and selling stocks and other assets is simple. After creating an account, here are the steps:
Open the Robinhood app on your smartphone

Search for the stock, crypto, ETF

Click the trade button in the app

Click on buy and choose a market order for immediate execution

Confirm your order and swipe to submit it
It is that easy to buy and sell stocks, ETFs, cryptos, and options with Robinhood! The best part is, it is 100% commission-free. You don't pay any money to Robinhood in order to place trades. Robinhood does make money, just in ways outside of charging commissions to customers.
Robinhood Features
Investments
One of the key differences between Betterment and Robinhood is the investment options. With Betterment, your money is automatically invested in a portfolio of ETFs. These funds hold stocks and bonds. You cannot pick and choose what you invest in.
With Robinhood, you are in the driver's seat. You can pick exactly what you want to invest in. One downside, however, is that Robinhood does not offer any prebuilt portfolios or portfolio guidance. You are on your own, for better or for worse.
With Robinhood, you can trade the following commission-free:
U.S. exchange-listed Stocks and ETFs
Option contracts for the U.S. exchange-listed Stocks and ETFs
Cryptocurrencies (BTC, Ethereum)
ADRs for 250 companies 
Account Types
Cash Account ($0 Minimum)
This is the basic taxable brokerage account. They do not offer retirement accounts, custodial accounts, or other types currently. 
Gold Account ($2,000 Minimum)
Robinhood Gold is the premium offering from Robinhood which costs $5 per month. If you use this service, you can get a margin account where you are investing with borrowed money. You will pay margin interest on the amount you borrow on top of the $5 fee to Robinhood for Gold. This also gives you access to a number of useful features, outlined below. 
Robinhood Cash Management
This brokerage also offers a cash management account. This is a high-yield online savings account.
Fractional Shares
Just like other brokerages, Robinhood has jumped on the bandwagon of offering fractional shares. You can invest in shares of stocks and ETFs on the app in $1 increments instead of purchasing whole shares. This makes them competitive with other apps like M1 Finance.
Robinhood Gold
The basic Robinhood platform is 100% free with no commissions. If you are looking for a bit more, Robinhood Gold might be for you. At a cost of $5 per month, you get the following features:
Larger instant deposits of up to $50,000 (All users get up to $1,000 in instant deposits)
Access to Level II market data (more advanced, shows multiple bids and asks)
Professional Morningstar research reports on 1,700 different stocks
Access to margin trading (see above)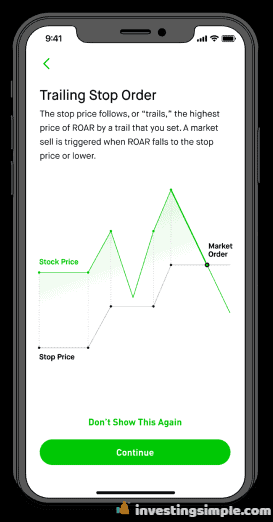 Robinhood Fees
There are no trading commissions whatsoever.
Robinhood charges a standard $75 outgoing account transfer fee, but other brokers may also charge this, so that's not unusual. This is the fee when you transfer your investment to another account. There is no fee for transferring your money to the bank or selling your investments.
Robinhood charges 5$ per month for gold, but it's optional. It provides you with deeper access to the analytics as well as margin.
Robinhood Pros
Free stock, ETF, options, and crypto trading

New users get 1 free stock for signing up
Great app and website trading platforms

Fractional shares offered

Very beginner-friendly
Robinhood Cons
No retirement accounts

No prebuilt portfolios
Betterment vs Robinhood: Summary
At the end of the day, these are two very different platforms. Robinhood is geared towards new investors who want to invest in individual stocks, ETFs options, and cryptocurrencies. Betterment is meant for long-term investors who want a well-diversified portfolio without having to actively manage it.
If you want to place individual stock trades, Robinhood is your best bet. That is because Betterment does not support individual stocks.
If you want to passively invest for the long term, consider Betterment. They have a wide array of tools for long-term, passive investing. Robinhood does not offer prebuilt portfolios, rebalancing, retirement accounts, or anything like that.
You may decide to use both! Robinhood is great for individual stock purchasing and Betterment is great for long-term/retirement investing.
*$1,000,000 in FDIC insurance is a goal and not a guarantee. Betterment uses 4 member banks to hold cash deposits. Each bank covers $250,000 in FDIC insurance, but it is not guaranteed your account will be spread across these 4 banks proportionately.
Best Free Stock Promotions