BuildingBits Review 2019
Investing Simple is affiliated with BuildingBits. This relationship does not influence our opinion of this platform.
BuildingBits is an online crowdfunded real estate investing platform built for the common investor. The platform takes a different approach to the traditional crowdfunded real estate investing model. In this article, we are going to review the BuildingBits platform and identify the strengths and weaknesses when compared to other crowdfunded real estate investing platforms.
What Is BuildingBits?
BuildingBits is an online crowdfunded real estate investing platform. Users can use the online platform to choose from a variety of different real estate investments. BuildingBits offers multiple different real estate investment projects on their platform at once. The investment criteria for the properties is set by BuildingBits with the goal being to offer high quality real estate investments. With the minimum investment of only $500 and not being limited to accredited investors, BuildingBits is available to a wide variety of investors. This is aligned with the mission of BuildingBits which is to be a platform for the common people, not high net worth or accredited investors. 
Click here to learn more about BuildingBits!
How Does BuildingBits Work?
You can choose to invest in a variety of real estate projects within BuildingBits. BuildingBits is different than most other crowdfunded real estate platforms because you invest in individual properties rather than a real estate portfolio. This makes BuildingBits an ideal platform for active investors looking to hand pick real estate projects to invest in. 
Once you have invested in a project and it is fully funded, you will potentially profit from your investment by earning dividends from lease payments or from appreciation of the underlying building once it is sold.
Here are some of the current BuildingBits projects investors can choose from…
AT&T Building - Maplewood, MN
This real estate project is an AT&T retail building located in Maplewood, MN. It is currently in the process of being funded. The projected capitalization rate is 6.1%.
Multifamily Apartment - Portland, OR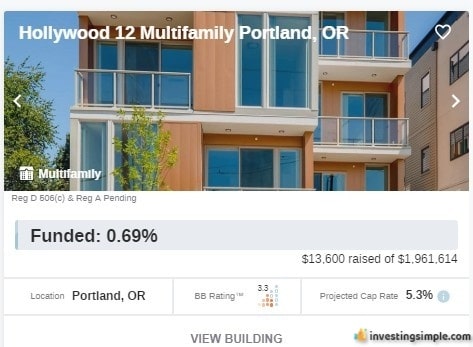 The investment is a multifamily house in Portland, OR. Once fully funded the projected capitalization rate for this project is 5.3%.
Click here to learn more about BuildingBits!
Typically it takes from one day to 3 months to fund a BuildingBits project. It depends whether investors make large contributions or smaller investments in increments. According to BuildingBits the average investment on the platform is $3,500. You will be notified by BuildingBits once your project is fully funded.
BuildingBits Investment Strategy
BuildingBits takes into account the following metrics when analyzing properties...
Capitalization Rate (profitability or return potential)

Location and local market dynamics

Tenant Quality

Lease Term

Building Class and quality

Useful Life
Once BuildingBits has approved a project, they will begin offering investments into the project on the platform. At this point, investors can begin funding the real estate project. It is not until the project is fully funded when you may start receiving dividends. If the building is not fully funded within the set time window, BuildingBits or the seller may terminate the listing agreement. At this point, BuildingBits will distribute all funds out of the escrow account and back to the investors.
BuildingBits Dividends
You will receive an email notification once your building is fully funded and the deal is closed. At this point, you will be eligible to receive any dividends or appreciation from your investment. As with most investments, BuildingBits cannot guarantee dividends. 
What Are Bits?
When you purchase a stake in a BuildingBits real estate project, you are buying shares or "bits" which give you ownership of your specific real estate project. These bits sell in increments of 100. All profit or losses for the project will flow directly to the bit holder.
As the holder of the bits, you will own a piece of an LLC which owns the underlying property. The price of a single bit is $1. Though your bits are tradable public securities, currently there is no secondary market where you can resell your bits. This is important to understand, as investors will not have liquidity once they make a BuildingBits investment. You can, however, sell your bits at any time if you find a buyer. 
BuildingBits vs Traditional REIT
Traditional REITs have been one of the most common methods for investing in real estate over the last 40 years. With recent changes in regulations and advancements in technology, investors can now make more private real estate investments. One of the issues with traditional REITs is that you are subject to the investment managers decisions for which project the REIT takes on. This does not give the individual investor much flexibility in choosing specific investments. The BuildingBits platform, on the other hand, allows you to choose the specific properties you are investing in. In most cases, a REIT would be more suitable for a passive investor. 
BuildingBits Fees
BuildingBits has a relatively complex fee structure. First, an annual asset management fee of 0.75%. Beyond that, they charge an acquisition and exit fee of 1%. That means you pay 1% on the way in and 1% on the way out, for a total of 2%. The asset management fee is lower than many competitors, but the acquisition and exit fees might be a turn off for some investors.
Beyond that, BuildingBits charges an additional fee if there is asset appreciation during that time. If the asset appreciates while you own it, upon the sale of that building BuildingBits collects an additional fee of 1% of that appreciation.
BuildingBits Pros
Choose your own investments in individual real estate projects
Easy to follow online platform for researching properties and making investments
Once you make your selection, the investment is 100% passive
BuildingBits Cons
Once you have invested in a BuildingBits project, there is no secondary market to sell your bits
Higher fees than other real estate investing platforms
Not many projects currently offered on the BuildingBits platform
BuildingBits: The Verdict
Overall, BuildingBits is a unique investment platform that allows you to make personalized real estate investments. Unlike with traditional REITs and other crowdfunded real estate investing platforms, BuildingBits allows you to invest in individual real estate projects. This personalized approach allows the individual investor more flexibility and the freedom to choose the properties within their real estate portfolio.
Overall, it appears that these are the very early days for BuildingBits. We think the platform has a lot of potential, but we would like to see more projects available to invest in.
Click here to learn more about BuildingBits!
If you are are interested in other crowdfunded real estate platforms check out our detailed review on the best crowdfunded real estate platforms.