Starting a side hustle doesn't have to break the bank. With some creative thinking and resourcefulness, there are several low-cost side hustles you can embark on to earn extra income.
In this article, we will explore five of the cheapest side hustles to start, requiring minimal investment while offering potential returns.
Don't forget to grab your free stock worth up to $200 from Robinhood today!
Let's dive in!
About the Author
Ryan Scribner is the author of From Side Hustle To Main Hustle To Millionaire - a practical guidebook on launching your own side hustle. He is recognized as a Top 100 Money Expert by GoBankingRates.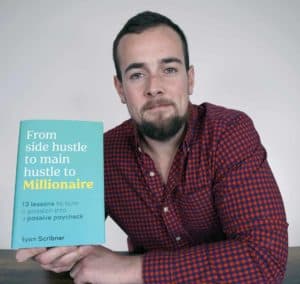 Ryan runs a successful YouTube channel focused on money and investing, which he started in 2016. He also owns a portfolio of digital business, all earning passive recurring revenues.
Now, Ryan teaches others how to create additional income streams.
1. Digital Freelancer
Becoming a digital freelancer is one of the most cost-effective side hustles you can start. All you need is an internet connection and your skills.
Whether you're a writer, graphic designer, programmer, or virtual assistant, there are numerous online platforms like Upwork and Fiverr that connect freelancers with clients.
With little to no upfront costs, you can offer your services remotely and start earning money on your own terms.
2. YouTube Channel
Starting a YouTube channel is an excellent way to share your knowledge, interests, or talents with a global audience.
With just a smartphone and some creativity, you can create engaging video content and upload it to your channel. Find a niche that aligns with your interests or expertise, and as your channel grows, you can monetize it through ads and brand sponsorships.
While it may take time to build an audience, YouTube offers a low-cost and potentially profitable side hustle opportunity.
3. Manage Social Media Accounts
If you have a knack for social media, consider offering your services as a social media manager for influencers or small businesses. Many individuals and organizations struggle to maintain an active and engaging social media presence.
By helping them curate content, schedule posts, and engage with their audience, you can earn a steady income.
Leverage free scheduling tools like Hootsuite or Buffer to keep costs minimal.
4. Moving Service
Offering a moving service can be a simple and cost-effective way to earn extra cash. Help friends, family, and acquaintances with their moves by providing physical labor, such as loading and unloading furniture or transporting belongings.
You can advertise your services locally through word-of-mouth, social media, or online classified platforms. While there may be some incidental expenses like fuel, this side hustle doesn't require any significant upfront investment.
Be sure to look into any local permit requirements, as well as insurance.
5. Lessons
If you have expertise in a particular subject or skill, consider offering lessons as a side hustle. Whether it's music, art, language, or any other topic you're passionate about, there are always people eager to learn.
Advertise your lessons locally or online through platforms like TakeLessons or Craigslist. You can offer in-person or virtual lessons depending on your preference and availability.