In today's world, there are literally thousands of banks to choose from. There are national banks like Chase or Wells Fargo, regional banks like Arvest or Rogue, and online banks like Discover or Ally.
Each bank offers a unique lineup of features, APYs, and account types. Sometimes the vast number of options may be overwhelming or confusing. So what if you could bank with a company that isn't actually a bank? A company that has simplified the banking process down to the core without unnecessary bells and whistles?
This is exactly what Chime has done. Perhaps it's the best solution for you. In this article, we provide a complete Chime review including the pros and cons and how to get started.
Chime Review: Highlights
Up to 0.25% APY on eChecking Account
0.50% APY with Savings Account
Receive paychecks up to two days early
No Account Minimums or Deposits
38,000+ Fee Free ATMs
No Fees
Balance and Transaction Notifications
FDIC Insured up to $250,000
Chime Summary
Fees

Account Types

Simplicity

Credit Cards

App User Interface

Customer Support
Chime Review Summary
Chime is actually not a bank. It is a financial technology company that has created a banking solution that is simple and without any fees!
They offer a simple checking account, savings account, and credit builder account. One of the premier features is no fees and no account minimums.
Getting started with Chime is easy and can be done in just a few minutes.
Pros
Absolutely No Fees
No Credit Checks
Simple and Easy to Use
What is Chime?
Chime is actually not a bank. Rather, it is a financial technology company. The banking services they offer are actually provided by The Bancorp Bank or Stride Bank.
"Our mission is to make financial peace of mind a reality for everyone. We're doing that by changing the way people feel about banking. Chime's business was built on the principle of protecting our members and making managing your money easy. We'll never profit from your misfortune or mistakes and everything we build is focused on improving our member's lives."
Chime is dedicated to offering basic banking functions to customers without complex fee structures or confusing promotional opportunities.
Chime was created in 2013 in California. Since launch, Chime has amassed over 12 million members and strong ratings in both the app store and Google Play.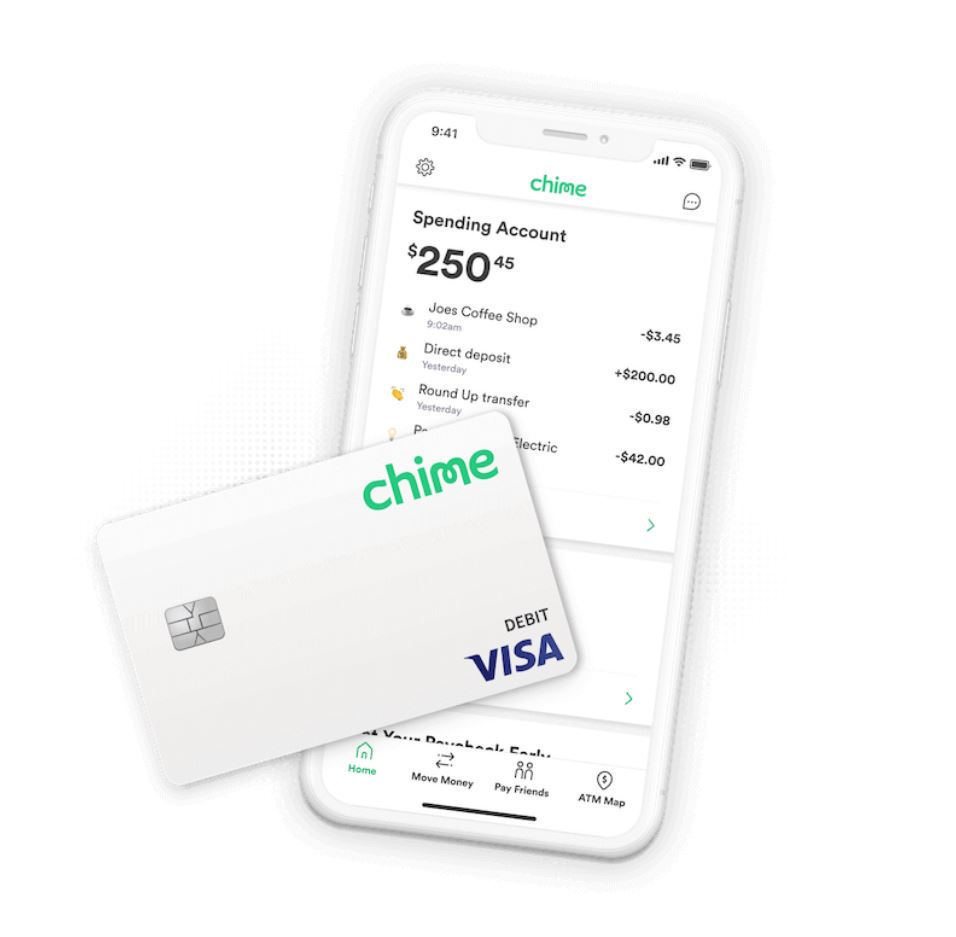 Chime Features
Chime has a simple approach to banking. They offer 3 account types:
Chime Spending Account
Savings Account
Credit Builder Account
Without a complex lineup of offerings, Chime can focus on making these three accounts a true value add for consumers.
Chime Spending Account
The Chime Spending Account is a checking account that comes with a Visa debit card. There are no monthly or maintenance fees. Chime does not require a minimum account balance or minimum opening deposit. And the debit card is accepted anywhere worldwide where a Visa debit card is accepted.
The only fee that a client will experience with Chime is for withdrawing from an ATM that is out of network. With over 38,000 ATMs in their network, most clients will have what they need. The fee for withdrawing at an ATM out of network is $2.50.
Chime Spending Account Features:
The Chime Spending account comes with a few awesome features:
Automatic Savings tool: With this savings tool, every time you swipe your debit card, Chime will automatically round up the purchase to the nearest dollar and transfer that amount into your savings account. (For example, suppose you make a purchase at a retailer for $4.89. Chime will round that purchase to $5.00 and transfer $0.11 into your savings account.) While it may not seem like a lot, saving a few nickels and dimes here and there can translate into a lot by the end of the year. Clients have the ability to turn this feature on and off.
Spot Me: Spot Me is a unique feature that allows clients to be covered up to $200 in overdrafts. Instead of charging you an overdraft fee, Chime will simply deduct that amount from your next deposit to cover the negative balance.
Early Paychecks: For those with direct deposit, you can actually receive the deposit up to two days early.
Free Card Replacement: If your card is lost or stolen, you can quickly disable transactions within the app. Requesting a new card is also free. Free card and no customer service needed!
The Chime Spending Account is designed to be simple. With this in mind, it is important to remember that Chime does not have any physical locations. Thus, for any help, you will need to call their customer support or submit an inquiry by email.
In addition to the features listed above, you can also opt in for daily account balance and transaction notifications.
Savings Account
The Chime Savings account features a 0.50% APY, which is about 10 times the average for other banks. This interest is paid out monthly on the first of the month.
Like the checking account, there are no fees and no account minimums. With the round up feature, clients save automatically and can watch the growth from the app.
Secured Credit Card
The Chime credit builder card is a secured credit card. This means that the available funds are those that you have already transferred into the account. The credit limit is therefore however much you transfer into the account.
When you open an account, you will transfer funds from your Spending Account into your credit builder account. If you transfer $200, then the credit limit is $200. If you transfer more, then the limit will be more.
One of the greatest aspects of this card is that there is no credit check needed to open. It is truly designed to help customers build credit. Without an annual fee or interest, clients can build their credit without any extra payments. The Chime Builder Credit Card features no annual fees, no interest, and no maintenance fees. 
Chime also has a feature called Safer Credit Building. With this option turned on, your balance will be automatically paid on time, every month. Chime then reports these on-time payments to the credit bureaus.


How to Create an Account
Creating an account is quick and easy. Chime will not run your credit or charge you any fees to get started, which is a huge plus! They believe everyone deserves an opportunity to bank and build credit.
Opening an account requires three things:
Social Security number
Valid home address
18+ U.S. Citizen or resident of 50 United States
Opening an account does not require an opening deposit or credit check. 
Chime makes the process of creating an account online easy. Here's how to get started:
Visit member.chime.com/enroll/ and enter your personal info and complete the enrollment form. Opening an online banking account with Chime takes less than 2 minutes.
Once enrollment is completed, we'll send a Chime Visa® Debit Card in the mail to the address you provided. Your new debit card typically arrives in 7-10 business days.
Download our mobile banking app, and log in. You can connect your existing bank account to transfer funds or set up direct deposit. You can also login to online banking at chime.com when you need it.
Is Chime Secure?
Security at Chime is of the utmost importance. Funds held with Chime are FDIC insured up to $250,000. The mobile apps also feature two-factor authentication including fingerprint and face ID.
Chime debit cards are also protected by the Visa Zero Liability Policy, which ensures that cardholders are not responsible for unauthorized charges.


Chime Customer Support
The company does not have any physical locations. However, they do offer a number of customer support options to help you get your questions answered.
They offer both a customer support phone number and customer support email (listed below). Additionally, Chime has an extensive help page with tons of FAQs.
Email: [email protected]
Phone number: (844) 244-6363
Availability: Mon-Fri 6am-10pm CST, Sat-Sun 7am-9pm CST
Chime Review: Final Thoughts
Chime has a unique solution to banking. By removing all fees and account minimums, customers can ensure their money is truly theirs. They also have peace of mind with FDIC insurance and Visa's zero liability policy.
The mobile app is incredibly simple and comes with a few features that customers love. Some of these features include automatic savings with round ups, transaction notifications, Spot Me (overdraft protection up to $200), and early paychecks. Additionally, their mobile app offers a few settings that would typically require a call to customer support.
The one real downside to banking with Chime is that there are no physical locations. For some, this may not actually be a problem.
All in all, Chime has a unique set of offerings and has clearly been popular. With over 12 million clients since launch, and high ratings in the app store, Chime has established itself as a top option for banking.
Best Bank Promotions