There are many reasons why you might want to close an account with an online broker. Maybe you expected more than the platform offered as far as research, technical data or customer service.
Perhaps you have found a different platform that you think will better serve your needs. It's certainly wise to take a look at competing brokerage apps from time to time and see how they compare.
It's your money, after all, and you have the right to move it any time. You can deactivate your Robinhood account in just a couple simple steps in the app itself.
You basically have two options; cash out and close your account, or transfer your stocks and cash elsewhere.
1. Closing Your Robinhood Account
You can deactivate your Robinhood account in the app itself.
If you want to close your positions and withdraw your funds:
Tap the Account (person) icon
Click on Settings
Tap Account Information
Scroll and tap Deactivate Account
Follow the steps to close all your positions and withdraw your outstanding balance
Once your balance is $0.00 and your positions are closed, you will be able to confirm your deactivation request
2. Transferring Your Robinhood Account
Choose where you'd like to transfer your account
Submit a request to that brokerage to have your assets transferred out of Robinhood
If you transfer all of your assets out, Robinhood will automatically close your account for you
Robinhood charges a fee for full account transfers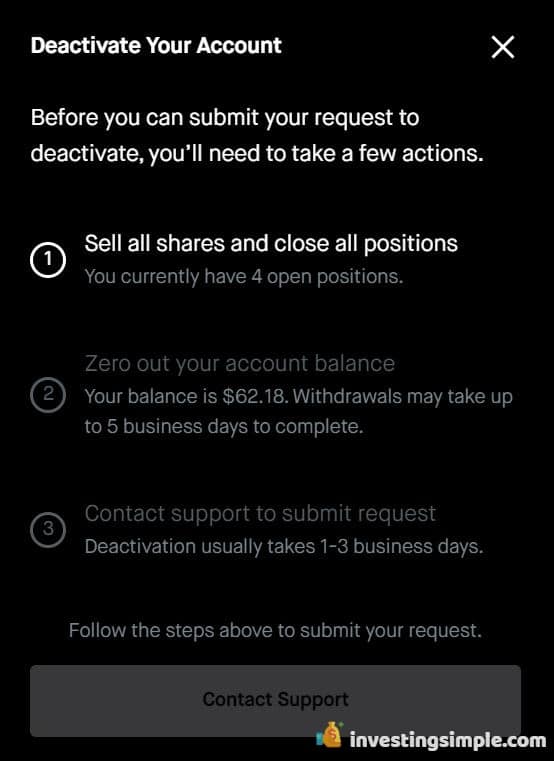 Consider Webull As A New Brokerage
One of the platforms you may wish to consider as your new online brokerage app is Webull.
Webull is a popular commission-free stock and ETF trading platform. Financial pros designed Webull for people who are active traders looking for a more dynamic user experience than many competing free platforms are offering. This platform has features that are valuable for traders including technical indicators, research agency ratings, financial calendars and more.
Webull pros include easy access to margin, research tools and live data, making it an ideal platform for traders. For example, the research and data findings are clear and easy to follow, even for novices to the financial field.
In addition, Webull offers fractional shares just like Robinhood!

It also has a trading simulator that lets you practice your investing skills with paper money rather than actual cash. Not all platforms offer this, and it's a good idea to make use of it. You can learn how much risk you are willing to comfortably take on, handling impulses and even keeping emotion out of the investing process.
Despite the fact that there is so much information and data packed into this app, Webull still maintains an excellent user interface. The app itself has a great design and it is very easy to navigate.
However, remember that Webull was not designed for long-term passive investors. Instead, it is made for people who are actively trading, even day trading.
You can read our full review of Webull here.
Account Information
Keep in mind that you can also view historical account statements, tax documents and trade confirmations in the app after your account has been deactivated.
After your Robinhood account is closed, you'll still be able to retrieve these in the app. Re-downloading the Robinhood app will not reactivate your account.
This is because regulations require Robinhood to preserve certain books and records. According to the Robinhood site, they take the security of all collected data extremely seriously, and don't intend to use this data for anything beyond the fulfillment of its regulatory requirements.
Conclusion
It's just a few simple steps to close your Robinhood account, and you may want to consider transferring your funds to Webull.
The most important thing to keep in mind, however, is that it's in your best interest to keep an investing account at the platform you choose, rather than closing an account and stopping your investing altogether. You won't get rich overnight with any platform, but in the longer term, you will see your money grow.
Best Free Stock Promotions