If you're anything like me, you got a Cricut Machine to get yourself out of a funk.
For me, it was the lockdowns that sent me into a bit of a depression.
However, I ran into a problem a few months after I got started. I had run out of gifts to make, and my house was full of decorations.
So this led me to pursue making money with my Cricut machine. And I've tried a bunch of ideas over the last few years.
I'm gonna be sharing my top 5 Cricut Side Hustles right now - but in two completely different categories that have almost nothing in common.
And even if you don't have a machine, you can still make money with two of the ideas on this list.
Thousands of people have turned 1 Machine into a six figure side hustle. So why not join the club?
With all of the uncertainty out there today, now is the time to take earning income into your own hands.
Don't forget to grab your free stock worth up to $200 from Robinhood today!
Keep on reading, or watch my video on 5 Cricut Side Hustles below.
5. Custom Starbucks Cups
For this first idea, I'd recommend hopping on this trend of personalized Starbucks cups. A lot of people ditched this space during Covid. But now, reusable cups are back in full swing.
And if you find that Starbucks is too competitive, Dunkin Donuts is a great alternative.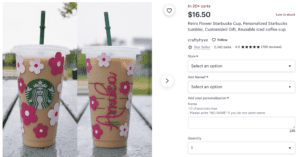 This seller offers personalized cups for $16.50 and they've done 2,307 sales. So that's a total of just over $38,000. There's a lot of money to be made here.
If you buy the 24oz Cold Cups from Starbucks, they will cost around $4.00 each.
Beyond that, your only cost is the vinyl. One roll costs about $7, and you may need a few colors.
But once you have them, you can make dozens of cups with the rolls.
4. Custom Plant Labels
Check out this listing for custom garden stickers. They're charging $5.99 and have done a total of 732 sales.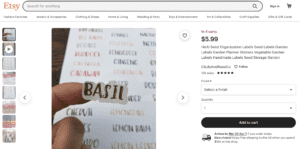 While you will need a printer for this, the sticker paper is pretty cheap. A 12 pack of sheets costs about $7.
If each sticker pack took one sheet, that's $0.59 in material. If the ink and wooden markers cost you another $1, you're still well under $2 in total costs.
3. SVG + Trends
So here's the thing. Cricut is actually a publicly traded company. And in their most recent quarter, they reported a total of 7.9 Million Users.
Of that group, 74% cut a project on their machine in 2022.
So that's a total of 5.8 Million active Cricuters out there - growing by the day.
Well what if you could make money supplying those millions of people with digital downloads?
You can!
SVGs allow you to create cutting patterns, stickers and more. And these are an essential tool used in many designs.
You can hire people on Fiverr or other freelance sites to create these digital files, so there's no design experience required.
But how do you know what SVGs people are searching for? For that, we need to look at Google Trends and Google Auto-suggestions.
How To Find Trending Ideas
You'll need to open an incognito window and navigate to Google.
Then, type in SVG.
After that, you're gonna click before the word, add a space, and start typing the letters of the alphabet.
This will show you what people are searching for, by letter. Jot down a list of ideas for the next step.
I went ahead and did this, and I came up with this list:
Flag Pack SVGs
Dreaming Tree SVG
Ghost SVGs
Kitchen SVGs
Pencil SVGs
Teacher SVGs
So this gives you a list of the types of digital files people are actively searching for.
But you can also use Google Trends to see if this has been happening for a long time or not.
2. SVG + Holidays
The next idea involves jumping on another trend - holidays. They come every year, and the year change means people need fresh designs annually.
If you start early, you can get the "2023 Thanksgiving SVGs" out there for example - before anyone else is even thinking about it.
So get a list of the major holidays, and start planting the seeds for the upcoming ones.
And you could simply ask your designer to create designs that incorporate the year.
1. Custom Spice Labels
Now the last side hustle idea can be a digital or physical one. Because you can sell the actual final product, or a printable version of it.
A lot of people are cooking meals at home these days to save money, and that creates huge demand for Spice Labels.
This seller offers Minimalist spice labels for $16.95 and they've done over 10,000 sales. So this is a six figure idea.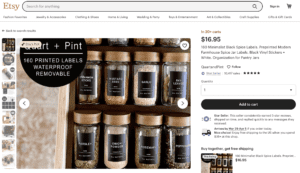 I'd recommend putting your own spin on it, like Modern Spice Labels.
Once you get your designs figured out, you can do a full set to see what your costs are, and to take photos.
Personally, I'd always recommend making anything you are selling first. This will show you the exact process and costs.
But if you wanna do this fully digitally, people also buy printable spice labels on Etsy.
There's tons of organizational labels people are looking for, so this is just the tip of the iceberg.
Conclusion
The biggest thing I have to stress, above all else, is that you - yes you - watching at home, can absolutely do this.
It all starts with 1 machine, or possibly no machine and digital downloads. Early on, it's essential to set achievable goals.
And you can always reinvest profits into more machines or digital designs to sell.
With the millions of people doing this already, there's so many support videos on YouTube. So you can learn as you go.