There is really just one goal when it comes to investing. And that goal is to make money. Investors want to see strong and consistent returns from their investments.
How to actually achieve this though really depends on who you speak to. Most individuals, however, believe in investing in a mix among real estate, stocks, bonds, mutual funds, etc in order to diversify their holdings.
In this article, we are going to highlight the returns an investor can expect to achieve on CrowdStreet, which is a real estate crowdfunding platform.
What is CrowdStreet?
CrowdStreet is a crowdfunding real estate platform focused on commercial real estate. If you are looking for a platform with residential real estate, then CrowdStreet may not be for you.
CrowdStreet is a marketplace that connects investors with developers, or as CrowdStreet calls them, sponsors. These sponsors bring various investment opportunities to CrowdStreet. Each of the deals presented are then carefully vetted. In fact, for every 100 deals brought to CrowdStreet, just 5 make it to the website. Once a deal is listed on the site, investors can then browse and select various investments as they so desire.
The company was launched in 2014 and has since listed 524 different offerings on their site. Since then, 54 have been completely realized. The average IRR since the company's launch has been 17.1%, which has resulted in over $245 million in distributions to investors. CrowdStreet has deals all across the country in more than 250 cities nationwide.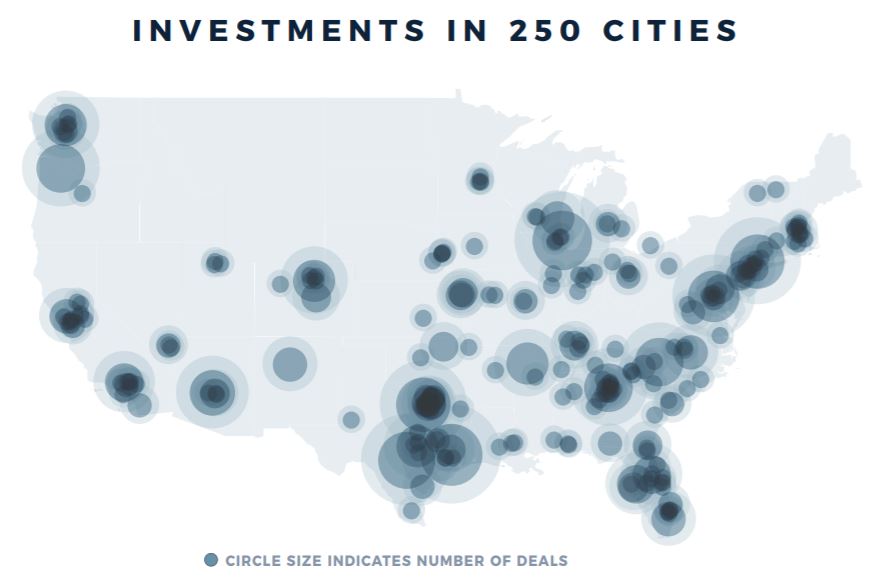 The platform is reserved for accredited investors and requires a minimum investment of $25,000.
To learn more about CrowdStreet, be sure to check out our complete CrowdStreet review.
What is an Accredited Investor?
An accredited investor is a term defined by the SEC. It is a person that has one of the following:
Achieve at least a $1 million net worth
Have a yearly income of over $200,000 if single or over $300,000 if married
Demonstrate significant financial knowledge by passing a regulated exam such as the Series 65 or Series 7
Certain investments are limited to accredited investors. The SEC does this in an attempt to shield the everyday investor from higher risk and large investments.
The investment offerings listed on Crowdstreet are limited to accredited investors. If you are not an accredited investor, be sure to check out other options such as Fundrise or other crowdfunding platforms.
What are the Returns on CrowdStreet?
As previously mentioned, CrowdStreet has established itself with a strong track record. An IRR of 17.1% is highly competitive among various asset classes and investments. However, this is across all of their offerings and deals.
Each of the deals on CrowdStreet have different IRR targets. Once you have an account and begin browsing each deal, you will see the return targets listed for each deal. (CrowdStreet actually allows you to view the deal on their Marketplace before opening an account. But to see specific details about the offerings, you will need an account.)
CrowdStreet offers investors 3 ways to invest:
Funds: Diversify your portfolio quickly with one investment (Higher Minimum investment, typically 3-7 year holding period)
Individual Deals: Pick and choose individuals projects as you see fit ($25,000 minimum, 2-10 year holding period)
Tailored Portfolios: Leverage Crowdstreet's platform to create a tailored investment plan (250,000 minimum investment)

At the time of writing this article, CrowdStreet had 5 deals available for investors. Two of the deals listed were individual investments, while the other 3 were funds. The IRR target for the deals on the site ranged from 14% - 20%. The targeted cash yield ranged from 7% - 16.3%.
Seeing a targeted return may give investors insight into a potential deal, but CrowdStreet's track record certainly gives investors more confidence. With 17.1% IRR since its launch and over $245 million in distributions to investors, CrowdStreet is a competitive option for crowdfunding real estate.
What is the Internal Rate of Return (IRR)?
The Internal Rate of Return (IRR) is a commonly used financial metric that measures the potential profitability of a project. IRR uses the same formula as Net Present Value (NPV). IRR compares future cash flows with the initial investment. It is a quick way to analyze and compare potential projects.
It is important to note that the IRR percentages that are shown on CrowdStreet's website are estimates and may not be fully realized.
CrowdStreet Returns: Conclusion
CrowdStreet is a crowdfunding real estate platform that matches investors and deal sponsors. With a highly rigorous vetting process, investors can be sure the deals listed on the site are the top 5% of offerings that are brought to CrowdStreet.
Each deal or fund that is listed on the website has its targeted IRR and cash yield percentages. Of course, these numbers are just targets and may not be fully realized. However, since its inception, CrowdStreet has had impressive results with a 17.1% IRR and over $245 million in distributions to investors.
If you are interested in getting started with CrowdStreet, be sure to read our full review!
Best Real Estate Investment Apps