Many people talk about the importance of a well-diversified portfolio, which can mean simply owning a variety of stocks. However, another great way to diversify your portfolio is to own various asset classes, such as real estate, stocks, and bonds.
Real estate has a few key positives: it typically does not follow the market and benefits from both monthly cash flow as well as appreciation.
The only problem is owning a residential or commercial real estate property is easier said than done. Purchasing a rental property for example can take months. It can also require additional money throughout the life of the investment for repairs and other maintenance. Compared to buying shares of a company, which can be bought and sold in seconds, real estate can be a much more time-intensive investment.
Perhaps there is a better way.
Crowdstreet is an online real estate investing platform that offers individuals access to high-quality deals. In this article, we provide a complete Crowdstreet review and dive in applicable fees, returns, and other relevant information.
Crowdstreet Review: Highlights
Crowdstreet is an online marketplace for commercial real estate investment opportunities
Platform is reserved for accredited investors only
Commercial real estate deals only
Minimum investment of $25,000
Fees vary by deal but are generally between 0.5% and 2.5%
Investors can invest in individual deals or through a fund
2-10 year holding period
17.1% return since company was founded in 2014
Crowdstreet Review
Minimum Investment

Transparency

Navigation

Fees

Customer Support

Investment Options
Summary
Crowdstreet is an online marketplace for commercial real estate investments. They offers investors a way to participate in large commercial real estate deals.
Crowdstreet carefully combs through investment opportunities and only lists about 5% of the deals they receive. Investors are still encouraged to conduct their own research about each deal.
The platform allows investors to invest on a deal-by-deal basis or through funds. Each of the deals features their own fee structure, targeted returns, and holding periods.
The company's offering are limited to accredited investors and typically feature a minimum investment of $25,000.
Pros
Free to open account
Investors can pick and choose deals they like best
Large selection of investment opportunities
Cons
Limited to accredited investors
No secondary market, investors should be prepared to hold investments for 2-10 years
What is Crowdstreet?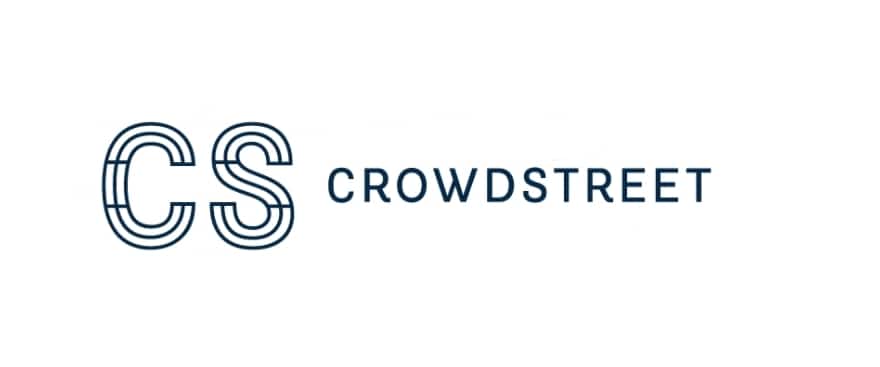 CrowdStreet, launched in 2014, is an online commercial real estate investment platform. Specifically, it is a marketplace that connects investors with sponsors who present various investment opportunities.
The platform offers individuals 3 ways to start investing with them:
Funds: Diversify your portfolio quickly with one investment
Individual Deals: Pick and choose individuals projects as you see fit
Tailored Portfolios: Leverage Crowdstreet's platform to create a tailored investment plan
CrowdStreet is one of the many crowdfunded real estate investing platforms we have come across that allows investors to pick and choose individual projects to invest in.
This platform focuses solely on commercial real estate, meaning there is no residential real estate in the mix. On their site, they claim to review around 400 potential investment opportunities each month. Of those reviewed, less than 5% are accepted.
CrowdStreet is only for accredited investors as none of the current offerings are open to non-accredited investors.
What is an Accredited Investor?
In order to become an accredited investor, you must meet one of three options:
Achieve at least a $1 million net worth
Have a yearly income of over $200,000 if single or over $300,000 if married
Demonstrate significant financial knowledge by passing a regulated exam such as the Series 65 or Series 7
The investment offerings listed on Crowdstreet are limited to accredited investors. If you are not an accredited investor, be sure to check out other options such as Fundrise or other crowdfunding platforms.
How Does it Work?
After signing up with Crowdstreet, you will have access to the deals listed on their website. Each of the offerings listed have been rigorously vetted.
Crowdstreet states on their website that for every 100 opportunities, just 5 make it to the site. The investment opportunities that are listed on their website each come from a various sponsor. Crowdstreet doesn't provide the deals themselves, rather they connect investors with developers.
Each deal is carefully vetted before ever being presented on the site. Crowdstreet performs two evaluations: one of the sponsor, and one on the deal itself.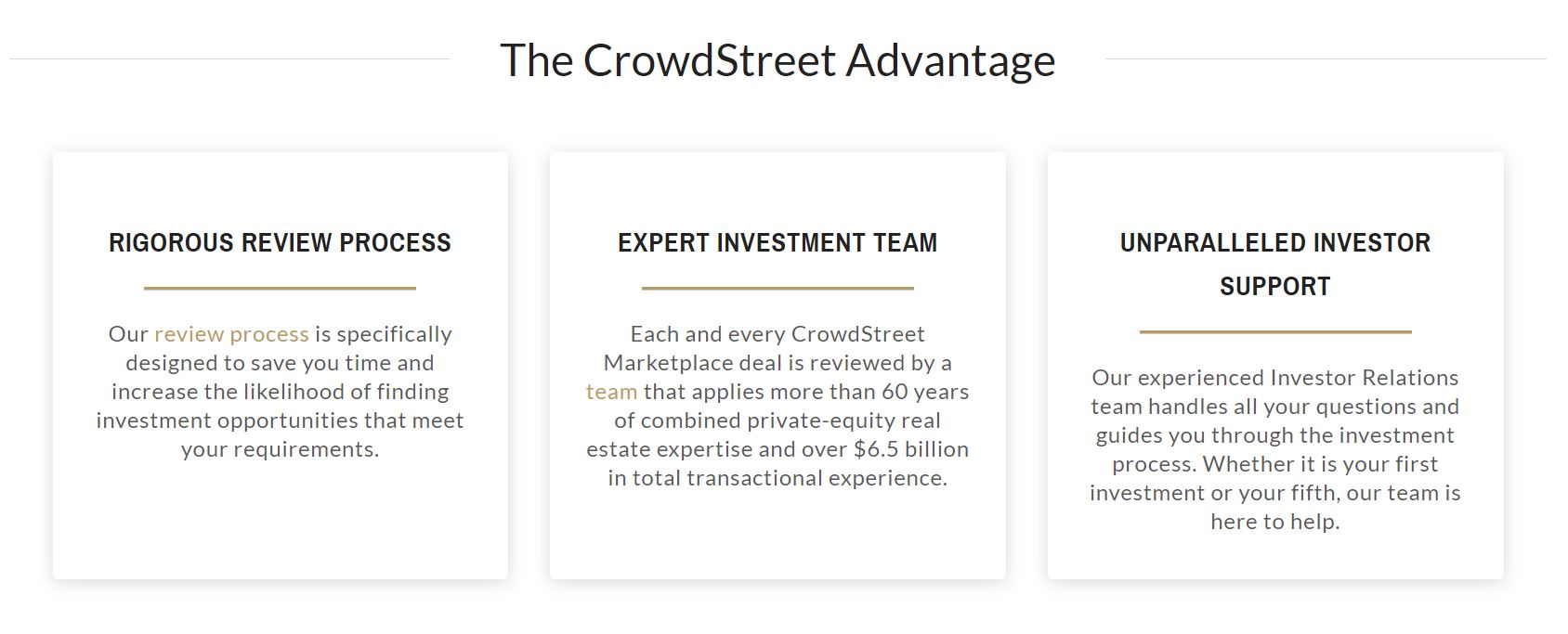 Sponsor Evaluation
For sponsors (those seeking to list an opportunity on Crowdstreet's website), they first undergo a background check. The background check is actually quite extensive. To see all that's included, take a look at Crowdstreet's Background check.
After a successful background check, Crowdstreet also screens the individual's or firm's track record. This is simply to see if the sponsor has had success in this asset class before.
Lastly, a sponsor is designated into one of 4 categories:
Emerging
Seasoned
Tenured
Enterprise
These categories divide sponsors by age, experience, and total portfolio value.
Each deal you see listed on Crowdstreet will display the sponsor's category to help you better understand the partner you'd be working with. They also identify whether or not the sponsor is co-investing on a given deal and whether or not this sponsor has listed an opportunity before.
Deal Evaluation
After successfully evaluating a sponsor, Crowdstreet evaluates the asset itself as well as the documentation of the deal.
Crowdstreet asks four main questions when evaluating a deal:
Is the project within a core competency of the sponsor?
Do the materials demonstrate professionalism and conform to industry standards?
Are the deal assumptions supported by market data?
Does the project match CrowdStreet investor preferences in terms of asset type, projected returns, and location?
They also perform an in depth evaluation on the documentation of the deal to ensure there are no issues or discrepancies relating to the numbers and content between the documents.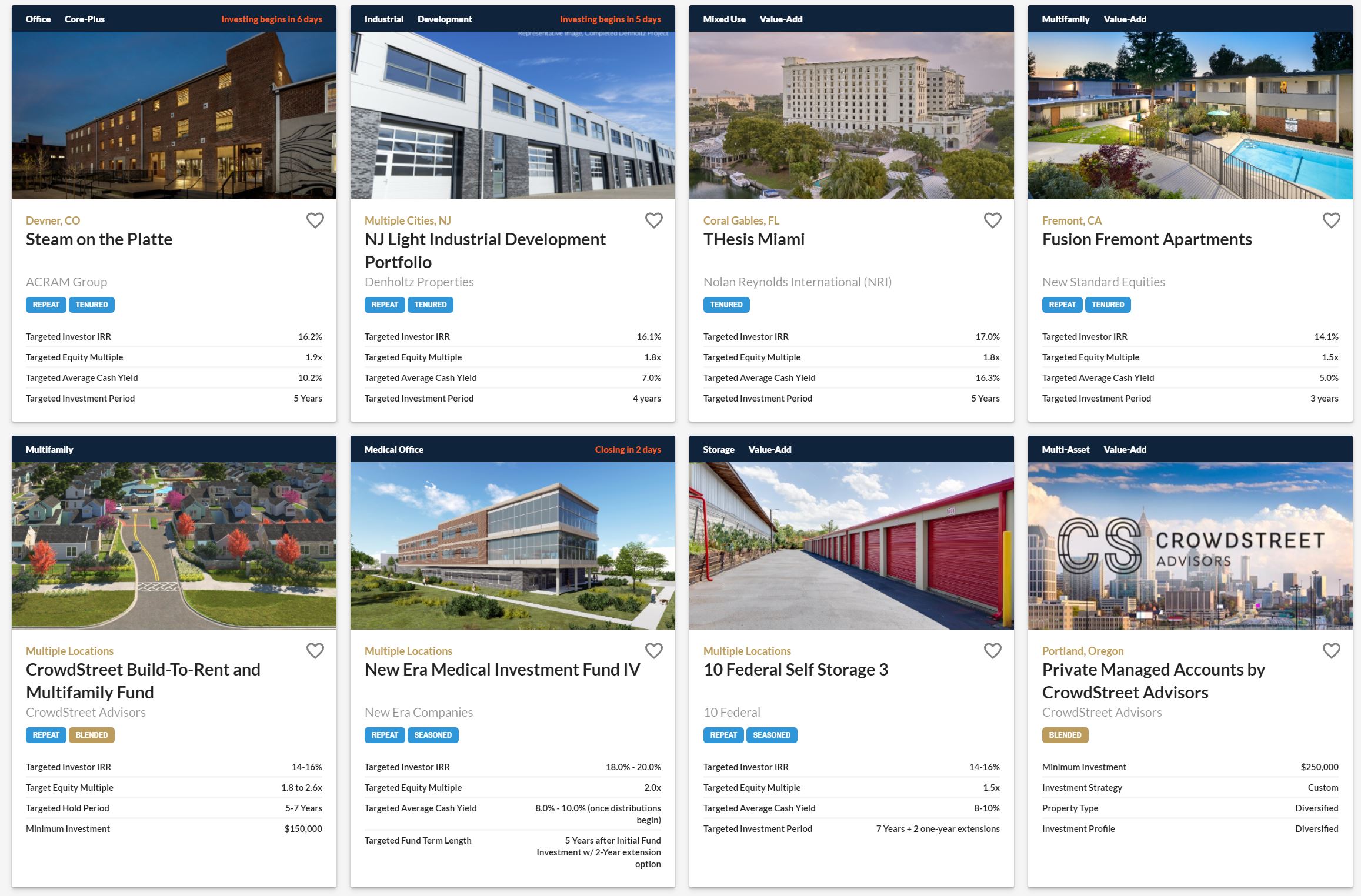 If a sponsor and their deal both pass all evaluations, then the opportunity is listed on their site. Crowdstreet states that just 5% of deals actually make it all the way to the site. However, they still encourage investors to perform their own research and ensure a deal matches their needs and risk levels.
How to Get Started?
In order to get started with Crowdstreet, you will need two things. First, as already mentioned, you will need to be accredited. Second, Crowdstreet does require a minimum investment.
The minimum investment is different based on which method you go with, as they offer a few different investment options.
When investing in an individual deal, the minimum investment is usually $25,000. To participate in one of their funds, the minimum investment can be significantly more. Sometimes up to $250,000.
If you are an accredited investor and you are comfortable with the minimum investment, Crowdstreet could be the option for you. The website is simple to navigate and features a ton of information about each deal.
One of the best features about Crowdstreet is the fact that it's free to create an account and to start browsing deals. They also have live chat and a phone number should you have any questions.
Once you have an account, you can begin browsing the marketplace for deals or funds. The marketplace comes with an ability to filter by deal type, sponsor, rates of return, and more. By clicking on a deal, you will see the applicable fees, minimum investments, holding period, and targeted return. In the marketplace, you will see both individual deals and funds.
Each of the deals listed on the website also come with a webinar. This webinar serves investors to highlight all applicable details of the deal.
If you'd like to create a tailored portfolio, you will have to contact the Crowdstreet team. The tailored portfolio has a minimum account balance of $250,000.
CrowdStreet Returns
When investing through individual deals or funds, you will see that each project has a targeted investor IRR or internal rate of return.
Of the 12 projects available when we did our research, the targeted investor IRR ranged from 15% to 26% based on a number of different factors.
According to the CrowdStreet homepage, since launching in 2014 they have listed 488 different offerings on their site. Since then, 54 have been completely finished. The average IRR since the company's launch has been 17.1%, which has resulted in over 197 million in distributions to investors.
Click here to see updated CrowdStreet returns.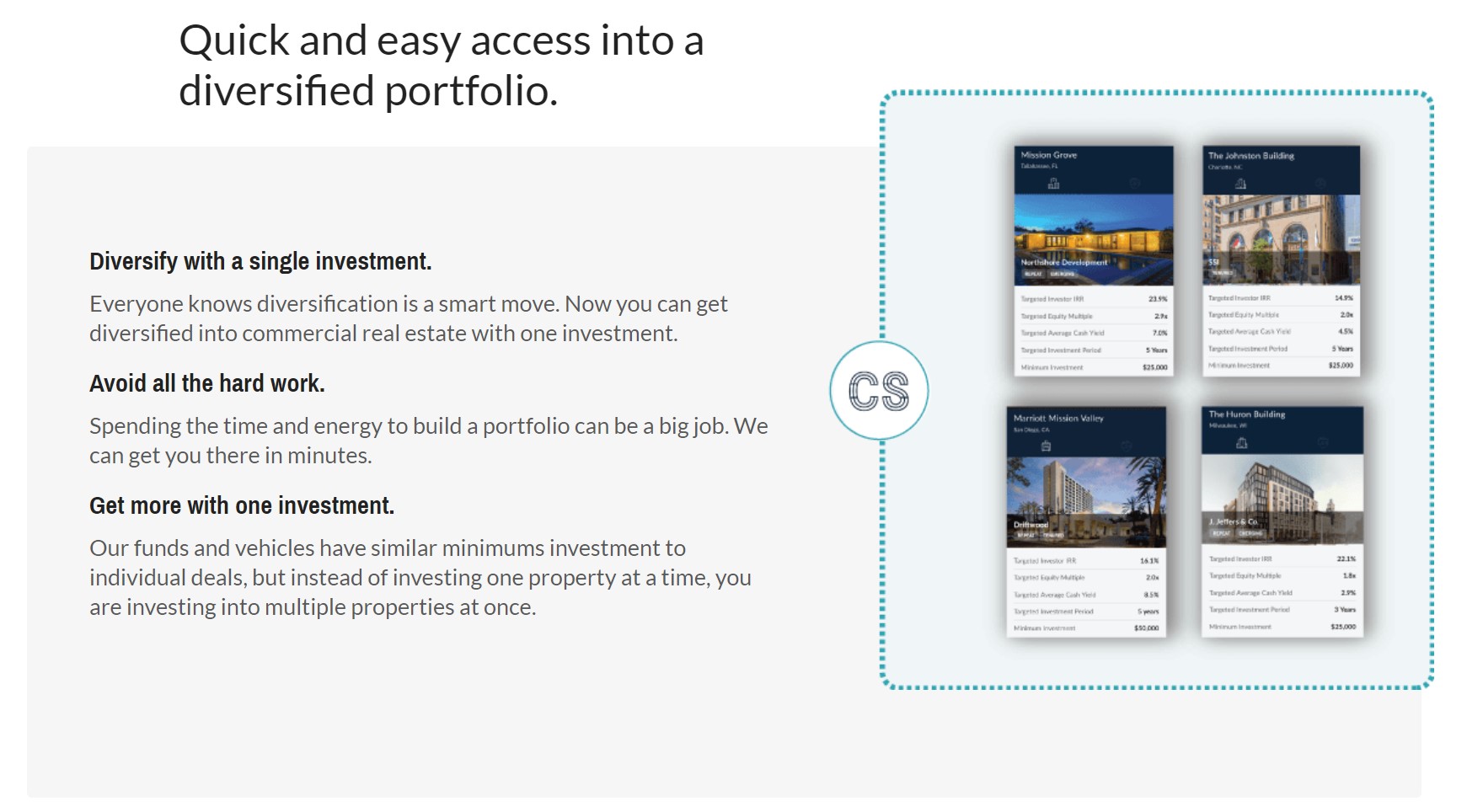 CrowdStreet Fees
The fees for individual projects range based on the project. CrowdStreet does not charge these investors any fees, however most of the deal sponsors will include some costs.
For the CrowdStreet funds, the fee ranges from 0.5 to 2.5%.
These fees go towards administrative costs, platform costs, and acquisition costs.
Holding Period
Like the fees and returns, the holding period will  vary by deal or fund. Currently, some of the deals have holding periods of as little as 2 years and as long as 12 years.
Crowdstreet does not feature a secondary market, so investors should be prepared to hold the investment for its total life.
Crowdstreet Review: Final Thoughts
Crowdstreet is an online marketplace for commercial real estate investments. They offer investors a way to participate in large commercial real estate deals.
After a careful vetting process, Crowdstreet lists various investment deals and funds from a number of sponsors. These deals typically have a targeted return of about 15%. Most of the deals on the platform require a minimum investment of $25,000, though the funds often require more such as $150,000 or more.
Crowdstreet presents investment opportunities in one of three ways: individual deals, funds, or tailored portfolios.
The platform actually allows investors to create an account for free. With a free account, investors are able to browse each of the deals to better understand the offerings. It's also a great way to learn more about the platform and navigate through their offerings.
One of the things investors love about Crowdstreet is the detail offered on each deal. In fact, each deal comes with a webinar that highlights the details of the investment.
Crowdstreet's website is pretty straightforward and easy to navigate. Get started today for free!
Best Free Stock Market Promotions