Individuals are able to invest their money in thousands of unique ways in today's modern world. Over the last few years, hundreds of new investing platforms have come into existence.
These new platforms have made investing highly accessible and far simpler!
In this article, we look at two of these new platforms: CrowdStreet vs DiversyFund. Which of these platforms are best tailored to your needs? Keep reading to learn more!
Crowdstreet vs DiversyFund: The Basics
CrowdStreet is a crowdfunded real estate investing platform that provides investment opportunities in commercial real estate. This platform has a minimum investment of $25,000 and is limited to accredited investors. Once signed up, investors have a chance to browse various deals listed on the site. These deals are highly vetted and represent the top 5% of deals CrowdStreet receives.   
DiversyFund is also a crowdfunded real estate platform, but this company has a unique focus on apartment buildings offered through their Growth REIT. DiversyFund was created in 2014 specifically designed for all investors. With no management fees, a low minimum of $500, and being open to non-accredited investors, this platform is truly designed for the everyday investor.
Summary: CrowdStreet vs DiversyFund
CrowdStreet gives investors direct access to real estate projects through a number of different investment avenues

DiversyFund offers investors access to their Growth REIT

The minimum to invest with CrowdStreet is

$25,000
The minimum investment with DiversyFund is $500

CrowdStreet's fees vary

from 0.50% to 2.5%, while DiversyFund does not charge fees to investors
DiversyFund has a 5 year holding period with no early liquidation
The holding period with CrowdStreet varies by deal but typically ranges from 3-10 years
CrowdStreet also does not offer early liquidation
CrowdStreet is limited to accredited investors
DiversyFund is open to both accredited and non-accredited investors
What Is Crowdstreet?
CrowdStreet is a crowdfunded real estate investment platform. The company focuses on commercial real estate and has a highly rigorous vetting process to ensure investors have access to high-quality deals only.
The company is essentially a marketplace that connects developers, or sponsors, with investors. These sponsors bring deals to Crowdstreet, who then carefully reviews the offerings and determines whether or not the deal is a good fit for the platform. If a deal makes it to the site, then investors can begin funding a project.
Since its launch in 2014, CrowdStreet has listed over 524 commercial real estate investment offerings. Of those 524 offerings, 54 of those have been fully realized. Over $2.25 billion in capital has been raised and over $245 million has been distributed to investors. 
Check out our full Crowdstreet review for more.
Investment Strategy
CrowdStreet allows investors to invest in one of three ways: Individual Deals, Diversified Funds & Vehicles, and Tailored Portfolios. Let's dive in and discuss each of them. 
Individual Deals
Within the CrowdStreet marketplace, investors have the opportunity to browse individual projects. This is a great feature as many real estate investment platforms are limited to funds. 
On the website, members can analyze a number of different options from apartment complexes in college towns to new developments in up-and-coming cities. As an investor, you can do all the research necessary to make you feel comfortable before diving in. 
These individual deals are all unique, meaning the fees, targeted return, and holding period will be different. Regardless of the deal, there is a $25,000 minimum investment.
Since this is obviously quite a lot of hands-on work, the team at CrowdStreet has made it easy with detailed deal documents, sponsor history, and progress tracking. 
Diversified Funds
In addition to being able to select individual deals on your own, you can also choose to invest in a fund. With trained fund managers, you can access a quicker path to diversification, a tried and true strategy, and an average lower per deal upfront investment. 
Within these funds, you can choose between single-sponsor funds or CrowdStreet funds. Single-sponsor means that one real estate firm is leading the charge and will usually focus on that firm's specialty within a certain region or asset type. 
On the other hand, CrowdStreet funds are managed and constructed by CrowdStreet employees and are set up with a variety of locations and property types. 
These funds have a much higher minimum investment usually between $150,000 and $250,000.
Tailored Portfolios
If you are looking for a more personalized experience, then a custom-built portfolio might be best. These portfolios are designed by a CrowdStreet advisor specifically with your goals in mind. 
These advisors will take your goals and bring them to life by investing in properties that line up with your objectives. This obviously comes with a fee, which varies depending on the size of the investment. It also comes with a hefty minimum balance of $250,000.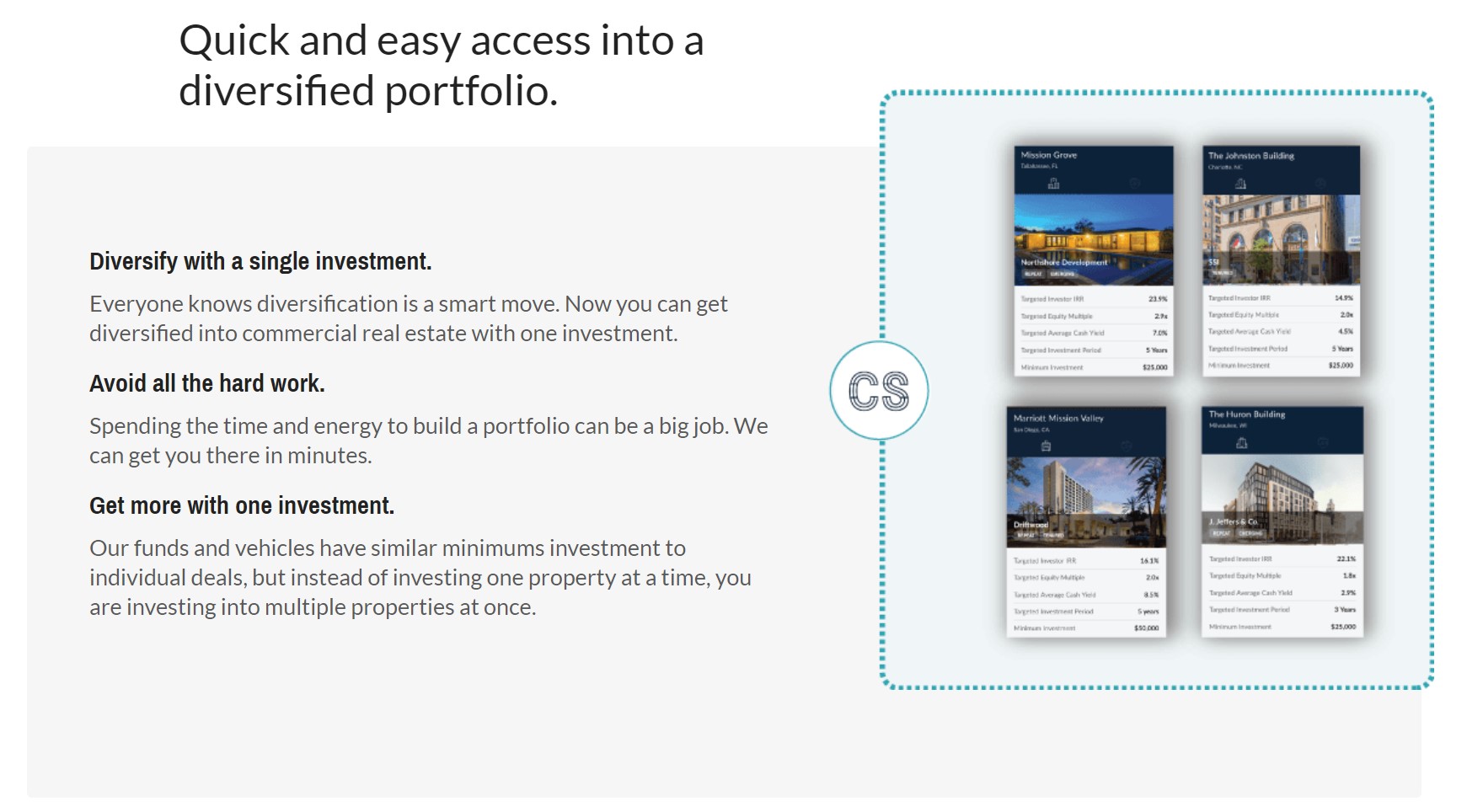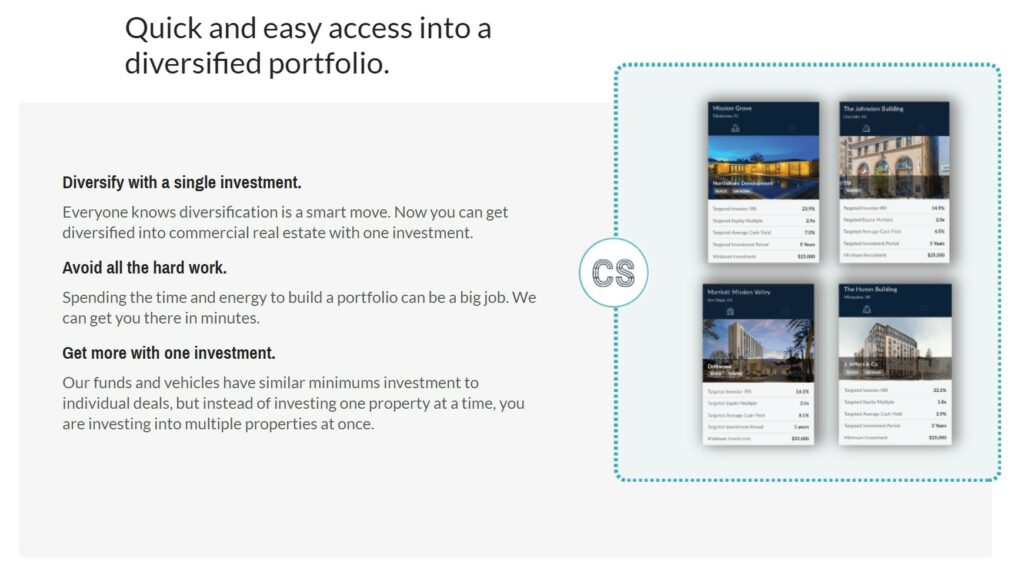 CrowdStreet Returns
Since its inception, CrowdStreet has demonstrated a strong track record with an average return of 17.1% IRR and a 1.39 equity multiple. These are the results from 56 fully realized deals that had an average holding period of 2.3 years.
Each deal listed on the site features a different targeted IRR and equity multiple. It is important to note that a target is just that, a target. So a deal may have a targeted IRR of 20% but actually realize a return of 17% or 23%.
CrowdStreet Fees
Crowdstreet fees really depend on the deals that you choose; however, they generally range from 0.50% to 2.5%. There is no fee to sign up, meaning investors can create an account and start browsing potential deals before ever committing funds.
CrowdStreet Holding Period
When investing with CrowdStreet, investors should be prepared to leave their money with the company. The holding period varies by deal but typically ranges from 2-10 years.
Since the company does not offer any early redemption or early liquidation, you will have to leave your money in the investment until the maturity date.
CrowdStreet Pros
CrowdStreet Cons
Best Real Estate Platforms
What Is DiversyFund?
DiversyFund is a real estate investment platform that utilizes crowdfunding. The company focuses on commercial real estate, specifically apartment buildings with 100 units or more.
The company was created in order to offer everyone access to commercial real estate. In the past, these types of deals were limited to high-net-worth individuals. With DiversyFund, any US resident can get started with as little as $500. What's highly unique about this platform is that there are no fees for investors.
Craig Cecilio, DiversyFund's co-creator and CEO, launched the platform in 2014. Since its launch, the platform has gained popularity for its low minimum and no fees.

What is a REIT?
DiversyFund's investment opportunity is a REIT or a real estate investment trust. An REIT is a company that owns and operates income producing real estate. Investors are able to buy shares of the company and receive distributions from the profit of the properties.
There are 3 kinds of REITs: Private, Public Traded, and Public Non-Traded. 
Private REITs are limited to accredited investors and feature high minimums, low liquidity, and low correlation to the stock market.
Public Traded REITs are traded on an exchange and thus have no minimums, high liquidity, and higher correlation to the stock market.
DiversyFund offers investors access to a Public Non-Traded REIT. This type of REIT is not traded on an exchange and thus offers low correlation to the stock market. Public Non-Traded REITs often feature medium to high minimum investments and low liquidity.
Growth REIT
DiversyFund offers investors access to their Growth REIT. This fund targets apartment buildings with 100 units or more. This fund has a 5 year value add process that includes a $500 minimum investment.
Their process includes 5 steps:
Capital Raise: In the beginning of the 5 years, investors can commit funds. DiversyFund uses this money to find deals that meet their specific criteria developed by real estate experts.
Acquisition: Properties are then acquired that have high potential for appreciation.
Renovation: As part of the value-add investing strategy, existing cash-flowing properties are acquired and then renovated to allow for increased rents and property value appreciation.
Appreciation: Rather than sell immediately, the properties are held to allow time for the property's value to increase.
Disposition: Properties are sold and any profits are distributed to investors.
DiversyFund Returns
DiversyFund automatically reinvests dividends on your behalf, so investors will not receive direct deposits or other payments to their bank. By reinvesting the dividends, DiversyFund has the opportunity to increase property value and acquire more properties. In 2019, investors received a 5% annual dividend paid monthly that was automatically reinvested.
Once the investment term is complete, DiversyFund sells the properties and distributes profits to investors. Before DiversyFund makes any money, they return the investor's principal and an additional 7%. Afterwards, profits above the 7% will be split with 65% going to the investors until they reach a 12% return. Any additional profits will be split 50/50 between the investors and the company.
DiversyFund Fees
Unlike most crowdfunded real estate platforms, DiversyFund does not charge a management or annual fee.
DiversyFund is vertically integrated, meaning they own the entire process. For example, rather than use a third party to find deals, they do this work on their own. While this means extra employees, it also provides DiversyFund with another revenue stream. The company makes money on the properties they sell, but they also make money with development fees as they are the developer for each property.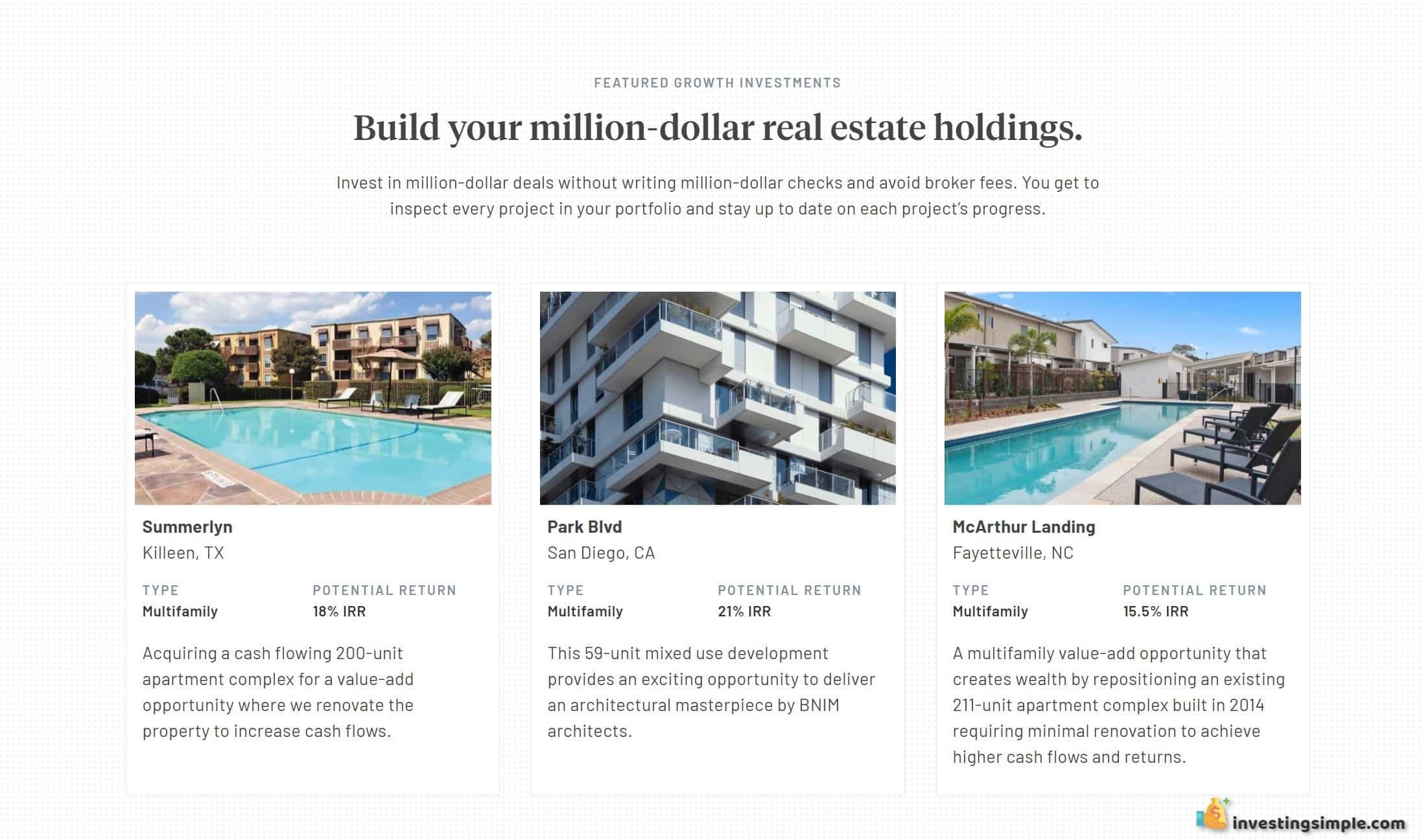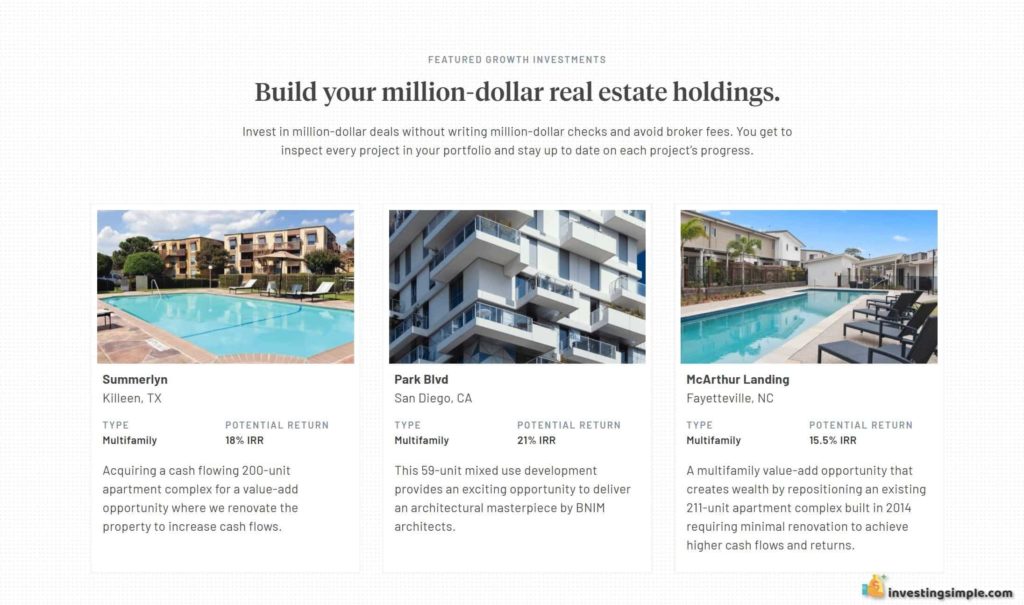 DiversyFund Holding Period
Investing with DiversyFund does require a 5 year holding period, and there is no early redemption. Therefore, investors should be prepared to keep their money with DiversyFund for the entire investment term.
DiversyFund Pros
Open to non-accredited investors
Low minimum of $500
No management fees
DiversyFund Cons
No early redemption, investors must be prepared to hold the investment for the full 5 years
Limited to investing through a fund; investors can't choose their own investments
Dividends are automatically reinvested, meaning no cashflow
CrowdStreet vs DiversyFund: Final Thoughts
Both of these platforms utilize crowdfunding to invest in commercial real estate, but they have very different approaches.
First off, CrowdStreet is limited to accredited investors and features a minimum investment of $25,000. DiversyFund is open to anyone and has a low $500 minimum investment.
Second, CrowdStreet allows investors to either invest through funds or individual deals that they get to choose. DiversyFund only offers investors access to their Growth REIT.
Third, DiversyFund does not charge investors any fees, while CrowdStreet charges between 0.50% and 2.50% depending on the deal.
Both platforms do not offer early redemption, thus investors must be ready to invest through the maturity date.
Both of these platforms have demonstrated an ability to provide an investor with a strong return. For those looking to get started, DiversyFund may be better suited for you, while CrowdStreet may be better suited for advanced investors looking to choose their own deals.
You can open a free account with either platform so be sure to check them both out today!