Purchasing cryptocurrency is growing in popularity every single day. With the increased demand for crypto, there is a growing number of platforms dedicated to cryptocurrency. Additionally, many existing trading platforms are working tirelessly to add various cryptocurrencies and other capabilities to entice investors.
With so many platforms to choose from, and so many varying benefits, which cryptocurrency platform is best? In this Crypto.com review, we highlight the pros and cons of the platform as well as a number of the features offered to account holders.
Crypto.com: Highlights
100+ cryptocurrencies available on platform
Available in over 90 countries
Tracking available for over 200 cryptocurrencies
Crypto Visa rewards card with up to 8% cash back (crypto back)
Account holders can borrow up to 50% of their crypto account balance. Interest starts at 12% per year
Users can earn up to 8.5% interest per year on crypto holdings
Ability to send crypto to other users without any fees
Trading and depositing crypto is available with low fees
Crypto.com offers their own native coin, CRO. Holding a higher amount of CRO in Crypto.com offers users extra benefits
Features and Benefits

Ease of Use

Fees

Customer Service

Cryptocurrencies Offered
Summary
Crypto.com is a true one stop platform for cryptocurrency. Account holders have access to a host of features outside of buying and selling crypto. Users have the ability to earn interest on holdings, receive loans, and earn cash back with a crypto Visa card.
Pros
Many Features and Benefits
Vast number of cryptos available
Pay interest out weekly
No deadline or late fees with Loan
Visa rewards card offering ability to transact with crypto
Cons
No customer service phone number
In order to unlock some benefits, CRO coin or other cryptocurrencies must be "staked" or locked in the account
Interface can be overly complex for many users
What is Crypto.com?
Crypto.com is a cryptocurrency platform that allows account holders to buy, sell, spend, and store cryptocurrency. In addition to being able to trade cryptos, account holders can also receive loans, enjoy cash back with a crypto Visa card, and earn interest on their holdings.
Crypto.com was created in June 2016 in Hong Kong. Since launch, the platform has attracted over 10 million users worldwide. What has caused so many to flock to the platform?
With over 100 cryptocurrencies available and a secure wallet, Crypto.com has proven itself as a top platform for cryptocurrency trading. Behind Crypto.com is an extensive team of experts in the industry.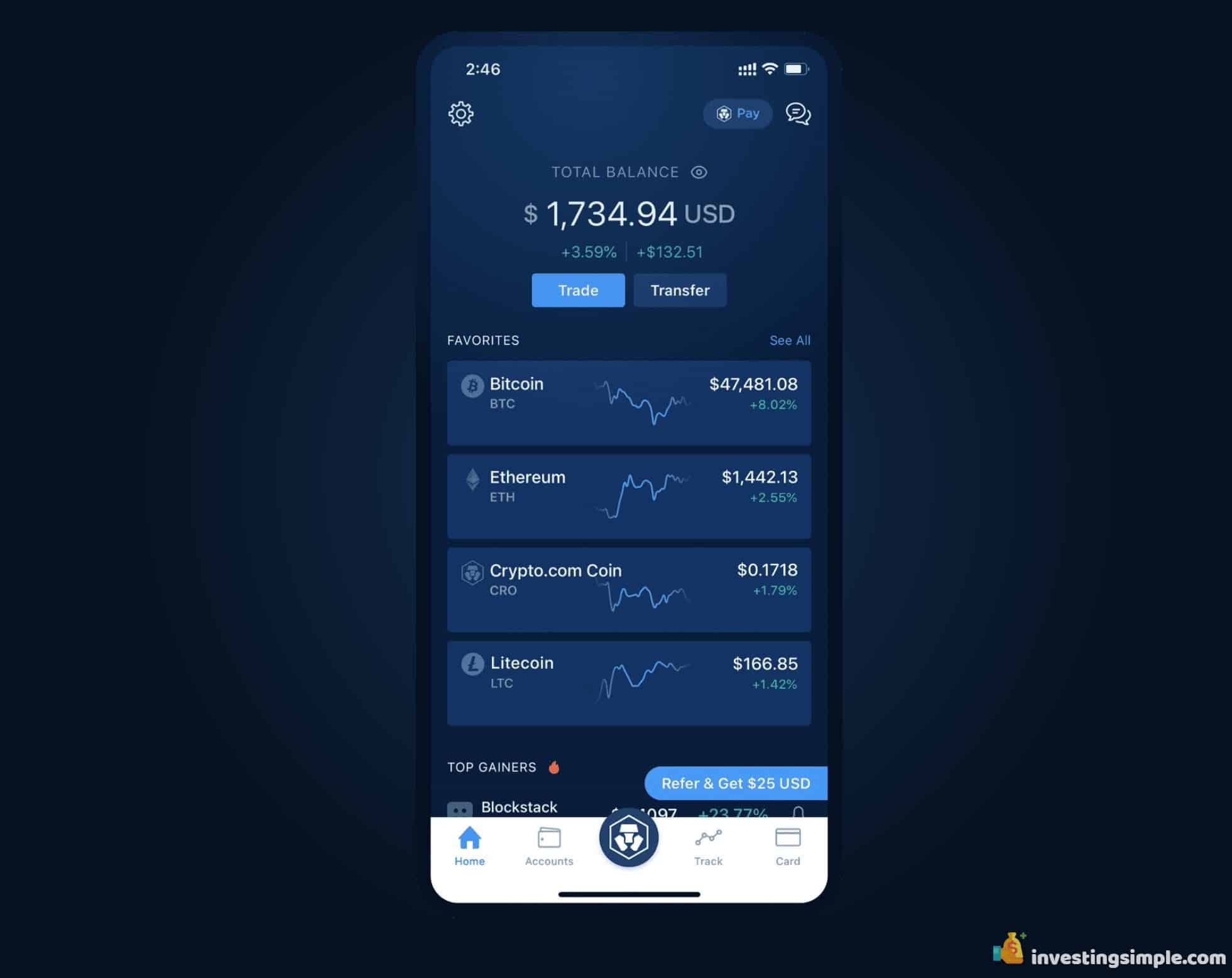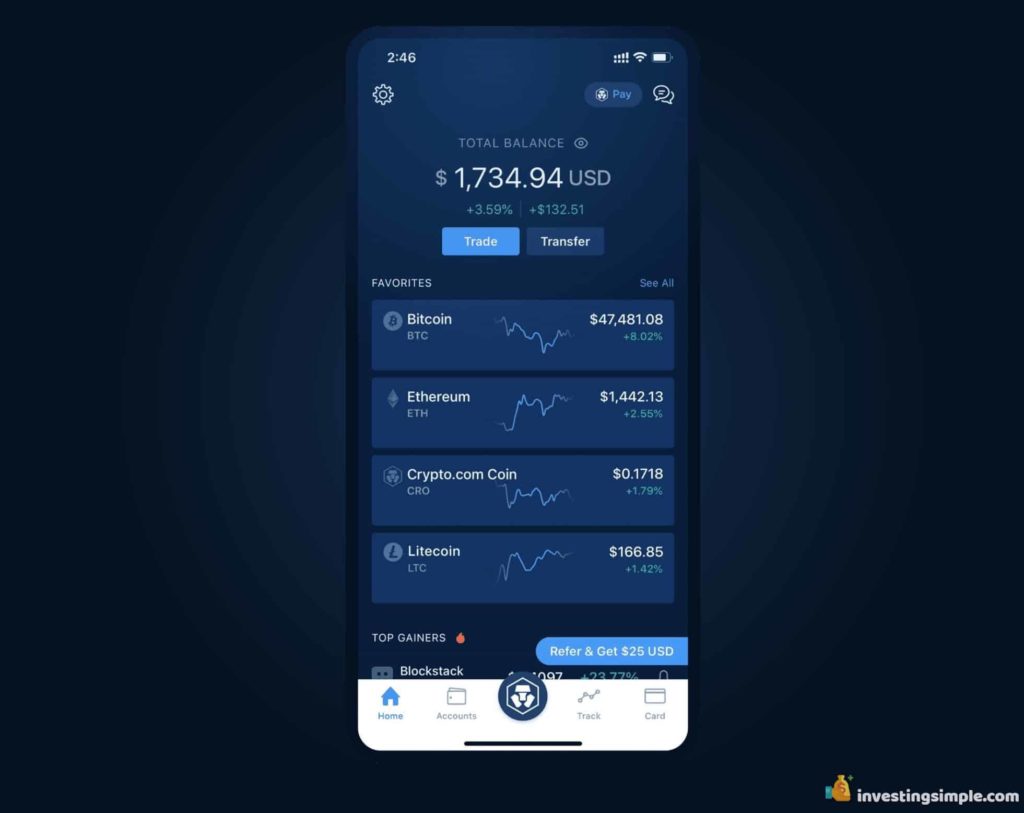 What is Cryptocurrency?
Cryptocurrency, also known as crypto, is a digital currency that can be used for various transactions. Some companies, such as Microsoft and AT&T, currently allow individuals to make payments using Bitcoin.
Rather than being issued and secured by a central authority, cryptocurrency is secured by cryptography and is managed on a decentralized network which uses blockchain technology. This appeals to many as this technology makes crypto nearly impossible to counterfeit. Cryptocurrency is secured through an online ledger, which is managed across a host of computers.
What is the CRO Coin?
In addition to a vast number of cryptocurrencies, Crypto.com also offers its own cryptocurrency called the CRO. Like other cryptos, CRO can be traded and used to make transactions.
Within the Crypto.com platform, users can choose to stake their CRO, or lock it in the Crypto.com App wallet for 6 months to enjoy increased interest, better interest rates on loans, and other benefits. This will be described in further detail in their respective sections below.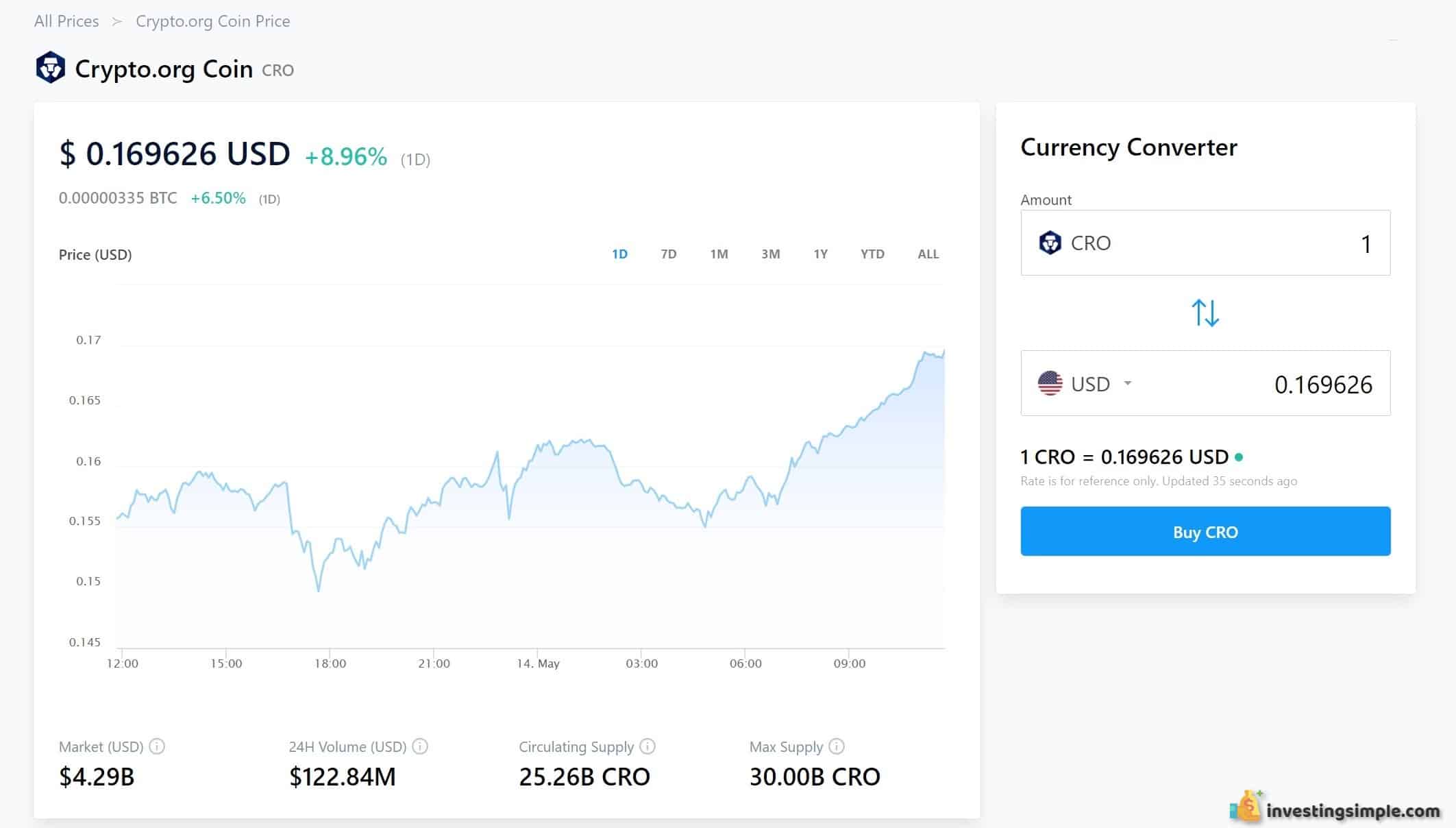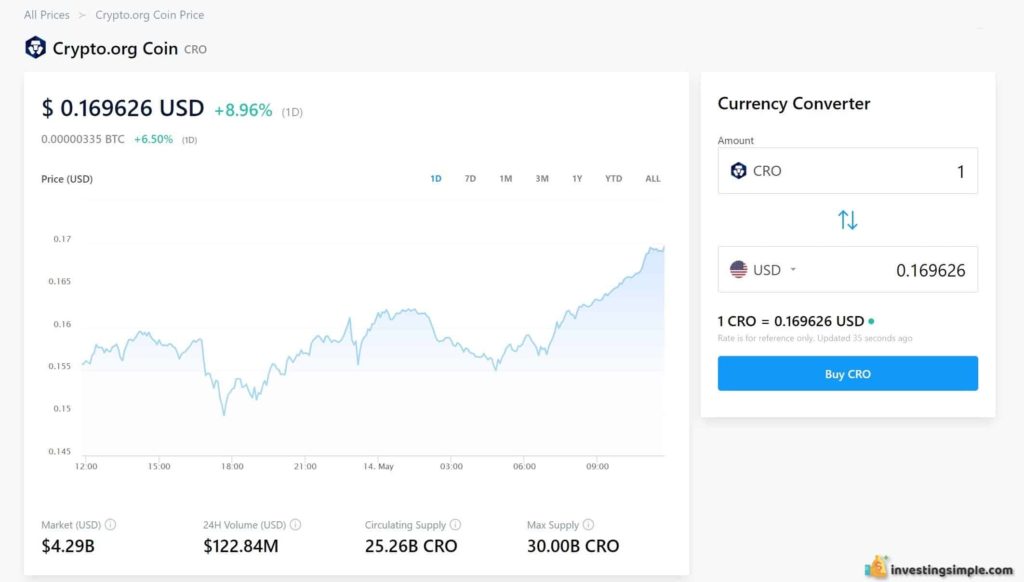 Crypto.com Features
Simply buying and selling cryptocurrencies wasn't enough for Crypto.com. They currently offer a wide number of features for account users. Depending on your account size, you can also qualify for additional benefits.
Cryptocurrencies Available
Crypto.com is a top platform in terms of the number of cryptos available on the platform. They currently offer over 100 cryptos that can be traded and over 200 that can be monitored and tracked.
The availability of these cryptos depends on your location. Of the 100 available cryptos, about 60 can be traded within the United States. One great feature of Crypto.com is that individuals can actually explore their exchange on their desktop version before creating an account. On the exchange, you can browse the available cryptocurrencies.
Crypto.com Crypto Visa Cards
Cryptocurrency platforms allow users to trade cryptocurrency, but Crypto.com also offers individuals the ability to transact with their crypto. This is made possible with their crypto Visa cards.
The platform currently has 5 Visa rewards cards that users can apply for. Each of the cards varies in the rewards offered. Users qualify for specific cards depending on the amount of CRO they have staked in the platform. (Remember, staking CRO, the Crypto.com native coin, is done by locking your CRO for 6 months in the app's wallet. This means that you cannot sell your CRO that is locked.)
Depending on the card you have, you will earn a percent back in CRO with every purchase made with the card.
Staking CRO, or other cryptocurrency, can be good or bad. The good is the fact that individuals will earn greater rewards within the platform as well as avoid panic buying. On the other hand, if the value of the crypto were to fall dramatically, you would be unable to sell off your position. 
In addition to earning CRO back with every purchase, crypto Visa card holders can also enjoy other benefits. Every card except for the basic Midnight Blue, offers card holders a free Spotify account. Upgrade an additional level up, and you can also get a free Netflix account. To see more of the benefits broken out by card, take a look at Crypto.com's Visa card page.
Crypto.com Earn
Like a bank, account holders can earn interest with Crypto.com. Though unlike a bank, users can earn a much higher percentage: up to 8.5%, though it comes with a caveat. In order to earn the interest, users will have to stake their cryptocurrency.
Similar to staking CRO to qualify for a better Visa card, users can stake various cryptocurrencies in the platform's wallet to earn interest on their holdings. They have 3 periods of time available for staking: 3 Months, 1 Month, and Flexible. Interest rates increase the longer a crypto is locked in the platform. The interest rate that a user can earn also varies by the cryptocurrency staked. For example, Bitcoin earns more interest than Cardano or Polkadot.
If a Crypto.com member also has CRO coin staked, the interest rate earned increases even further. The interest a user earns is paid out in weekly installments in the coin that is staked.
You can actually calculate your earnings on their Earn page. Let's look at an example.
Using their earnings calculator, if you were to stake $5,000 worth of Bitcoin for 1 month with less than $4,000 worth of CRO staked in the wallet, you would receive 3% interest or $150 worth of Bitcoin paid out in weekly installments of $2.88. With $40,000 worth of CRO staked, the interest rate increases to 4.5%. Or if you chose to stake your Bitcoin for 3 Months instead of 1, the interest rate also increases to 4.5%.
Crypto.com's earn page details the interest rate by coin with varying levels of CRO staked and the period of time an individual chose to stake their crypto for.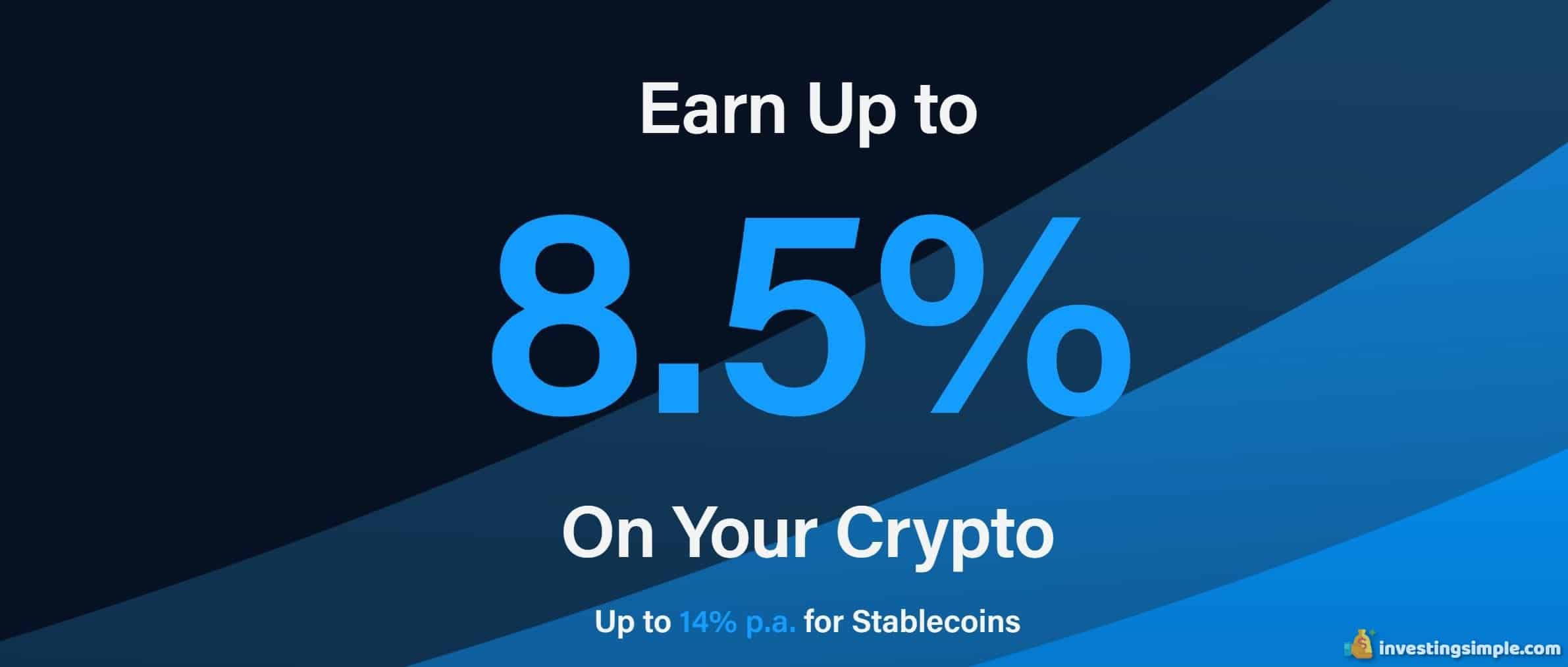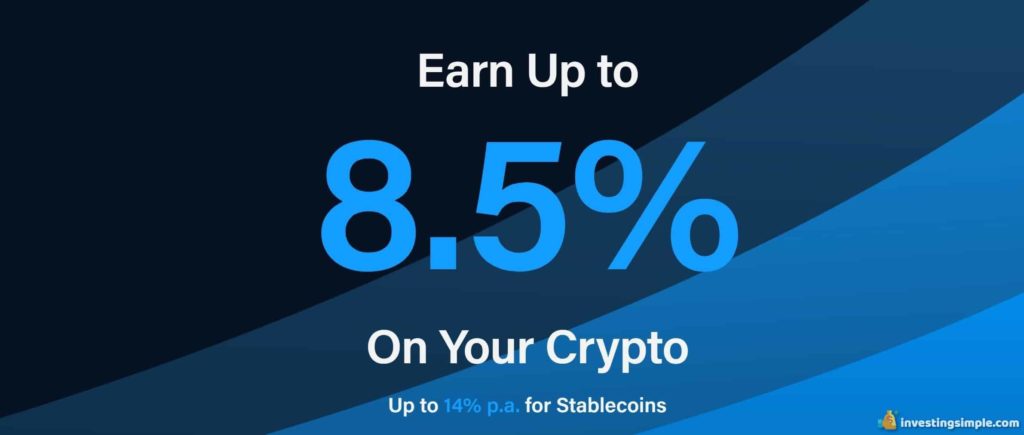 Crypto.com Loans
For some crypto traders, in the event of an emergency, they would typically have to sell their cryptocurrency in order to pay for a need like a car or home repair. With Crypto.com, users can actually receive an instant loan using their crypto as collateral.
Crypto.com offers competitive rates for their loans. Account holders can receive an instant loan for up to 50% of the value of their crypto. For example, a $2,000 deposit of Bitcoin would qualify a user for a loan up to $1,000.
This loan can be received instantly and requires no credit check. Account holders can pay the loan principal back whenever they want without a deadline or late fees. Those who receive a loan will be required to pay interest monthly.
Like other features of Crypto.com, the interest rate depends on the CRO staked in the Crypto.com wallet. The interest rate for a loan starts at 12%. However, with $40,000 worth of staked CRO, the interest rate falls to 8%.
Crypto.com Margin Trading
For advanced traders, Crypto.com offers margin trading. In order to qualify, users will have to accept an additional agreement and provide additional verification.
In order to trade on margin, users will log into their account and go to wallets. From there, they will select the margin wallet, which will prompt the new agreement that states the user accepts the potential for greater losses. After accepting the agreement, individuals will need to transfer assets into their margin wallet.
Trading margin on Crypto.com allows users to leverage their current holdings to purchase up to 3x the amount of crypto. While this provides the opportunity for augmented gains, it can also be risky leading to augmented losses.
What is Margin Trading?
Margin trading is a type of loan from a broker to an individual investor. It is a way for investors to purchase assets using funds from a broker.
Each brokerage will have varying rules regarding margin trading such as the initial margin requirement. Suppose for example that a brokerage offers margin trading with a 70% requirement. This means that the investor would have to pay 70% of the desired purchase while the broker would supply the other 30%. (If the investor wanted to purchase $10,000 of a certain asset using margin, they would need to pay $7,000, and the broker would provide $3,000.)


Crypto.com Security
Like any crypto platform, it is important to remember that cryptocurrency is not traded on regulated exchanges such as the stock market. Thus, holdings are not FDIC or SIPC insured. This is why many cryptocurrency traders use a cold wallet, or a storage device that is not connected to the internet. With Crypto.com, users can hold their assets in a DeFi wallet, which is a wallet that is controlled by the owner.
Users will also find that the app has a number of safety protocols such as multi-factor authentication and anti phishing measures. It is important to note here that Crypto.com does not have a customer support phone number.
Crypto.com Review: Final Thoughts
Crypto.com is a full cryptocurrency platform with a number of impressive features and offerings. This could be the platform for you if you are looking to diversify your portfolio with cryptocurrencies that may be less common on other trading apps like Robinhood or Webull. Crypto.com boasts over 100 cryptos available for trading and another 200 to track and monitor.
In addition to a large variety of cryptos available, users can also benefit from instant loans, a Visa rewards card, and an opportunity to earn interest on their holdings.
Crypto.com could be especially beneficial to investors who are interested in CRO coin as there are many added benefits in the platforms to those who hold their native coin.
With so many features, it is common for an interface to feel overwhelming to some. New crypto traders may find this platform overly complex. Though for others, it may be exactly what you are looking for. You can actually explore the desktop exchange before ever opening an account.
Best Free Stock Promotions