Cryptocurrency has taken the world by storm. Just a few short years ago, digital tokens were almost exclusively thought of as a horrible investment, but today, they are a hot topic on Wall Street.
With so much increased demand for crypto, we have seen a proliferation of new cryptocurrency exchanges, hot and cold wallets, and mining services. This has led to many new and experienced investors coming into the world of crypto.
But one there's one thing that continues to be unclear: how do taxes work with cryptocurrency? In this article, we are going to review cryptocurrency taxes and provide a brief review on a stellar resource, CryptoTrader.tax, which you can use to automate your taxes relating to crypto.

What is Cryptocurrency?
Cryptocurrency, or crypto, is a type of currency. Like the US dollar or Chinese Yuan, crypto is a currency that can be used to buy goods and services. However, there is one key difference: crypto is not backed or regulated by a central bank. Cryptocurrency is made possible through blockchain technology, which utilizes cryptography to secure the network.
The first crypto was Bitcoin, which was launched in 2009. Today, there are thousands of different cryptos to choose from.
Cryptocurrency is managed across many computers in an online ledger. This appeals to many as it makes it nearly impossible to counterfeit.
Some think of crypto like an arcade token. You can exchange other money for coins or tokens and use them for a variety of games. Today, companies are starting to accept various forms of cryptocurrency as payment for their goods and services.
The value of a crypto moves up and down due to spectator beliefs and scarcity of the currency. Unlike a company that produces a product or offers a service, there is no inherent value of a cryptocurrency, which adheres to the Greater Fool Theory.
The Greater Fool Theory is an economic principle that states money can be made when buying overpriced assets. This is possible as there is typically someone else who would be willing to pay more for that same asset.
How Do Taxes Work with Crypto?
While we watch cryptocurrency develop and reach new highs, someone else is watching too: The IRS. Trading various digital coins can be lucrative, but it is important to understand the tax implications that lurk behind every trade.
In 2014, the IRS decided that cryptocurrency would be treated as a capital asset, like stocks and bonds.
A capital asset is taxed when it is sold for a profit. This is a bit easier with stocks as they aren't typically used for transactions. With crypto, you can use it to purchase a good or service.
When you purchase goods or services with cryptocurrency, and the amount of crypto you spend has gained in value over what you paid for it, your spending incurs capital gains taxes. Likewise, if you decide to sell your crypto to swap it for another or withdraw the funds, you will incur capital gains taxes.
Imagine you purchase Ethereum (ETH) for $50, and it soon rises to $100. If you spend that $100 worth of ETH on some good or service, you will be responsible to pay taxes on the $50 gain. Whether you sell a crypto for a profit or use it to buy a good or service, the IRS still wants its share.
How Much Do I Owe in Taxes?
The amount of taxes you will pay on crypto gains is determined by your annual income and the length of time you held the asset. Capital assets that are held for under a year are taxed higher than those held for longer than a year. This is what is called short term and long term capital gains.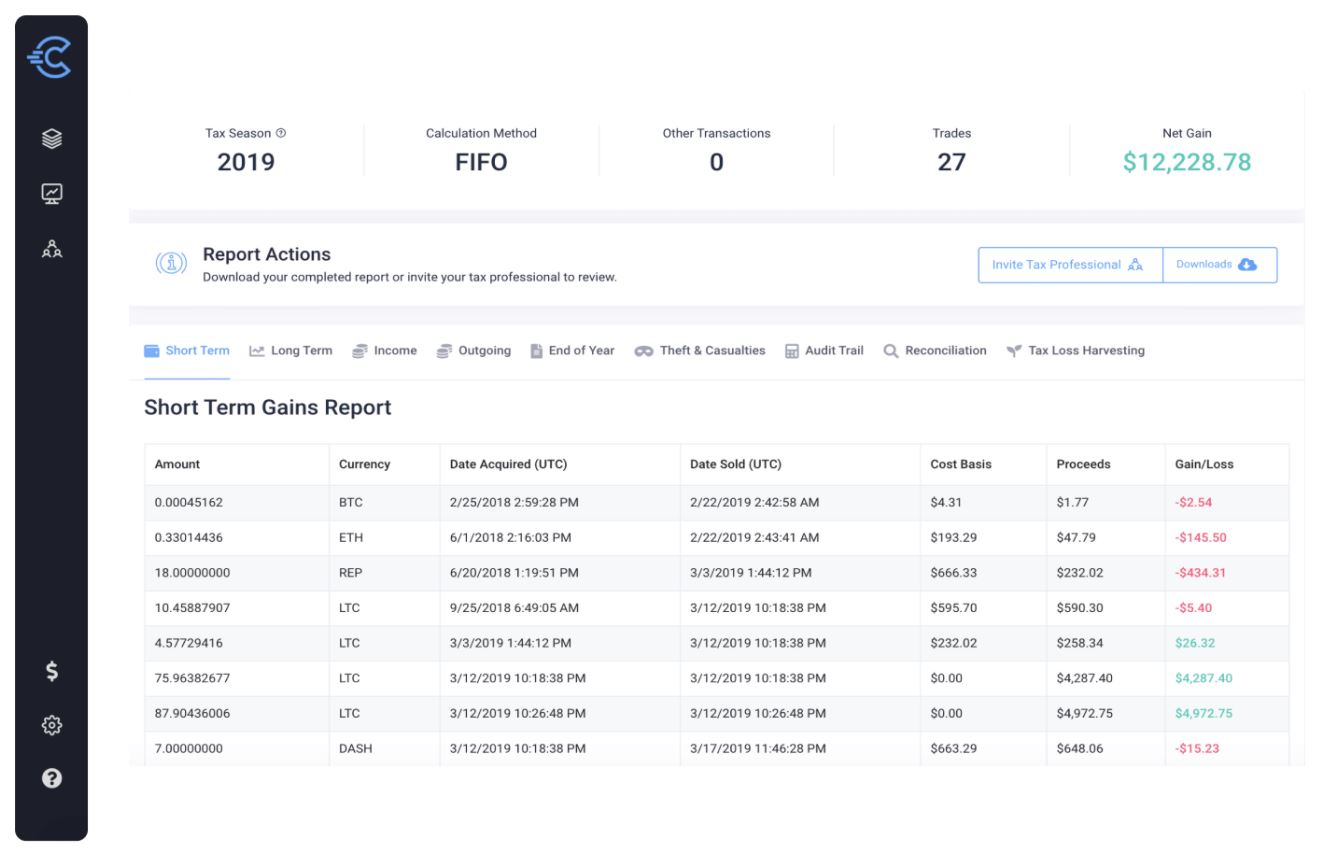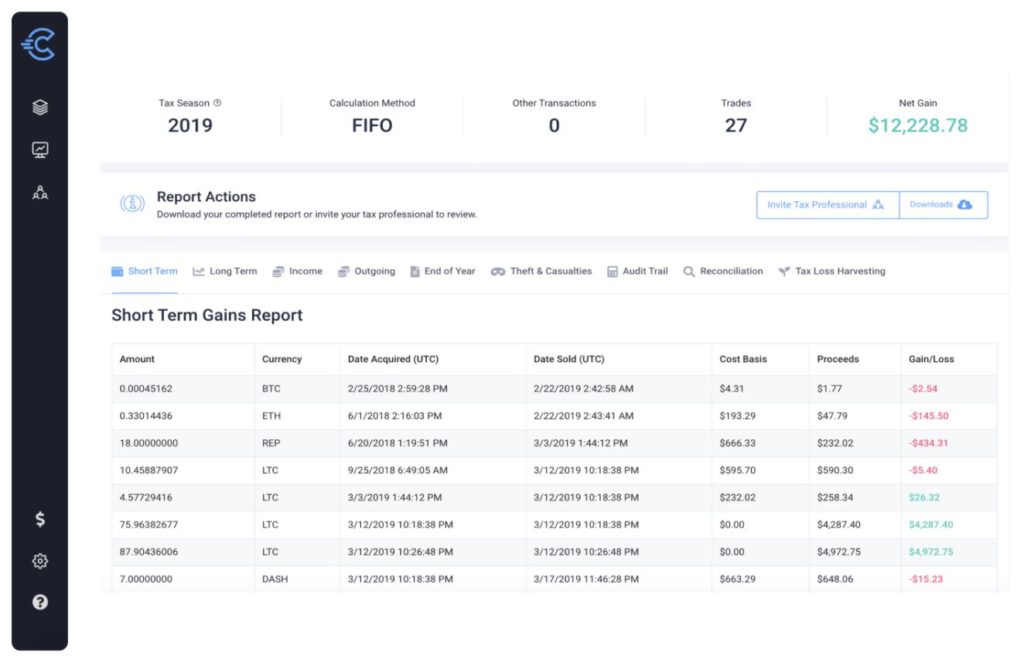 How Do I Keep Track of All Crypto Transactions?
Taxes with crypto can be confusing. Tracking all transactions, incentives from staking, gifts, transfers, and trades can be a lot. Luckily, there is a solution.
In 2017, Coin Ledger was founded in Kansas City, Missouri. Soon after, they launched CrytpoTrader.tax, which is an online platform that aims to simplify taxes relating to cryptocurrency.
What is CryptoTrader.tax?
CryptoTrader.tax is tax software built to save you time and maximize your refund. The platform features an ability to easily import all of your transaction history from an exchange and then automatically creates all the reports you will need come tax season.
"Since inception, CryptoTrader.Tax has become the go-to resource for all things crypto taxes. Tens of thousands of crypto users all over the world rely on the platform to handle their tax reporting, billions of dollars of cryptocurrency transactions are reported on every year, and partnerships with industry leaders such as Intuit TurboTax have brought seamless crypto tax reporting to the mainstream."
They have amassed over 100,000 clients since launch and have received excellent reviews. Taxes incurred from cryptocurrency don't have to be a nuisance with CryptoTrader.tax.
CryptoTrader.Tax: Highlights
Simple import process compatible with 47 crypto exchanges
Official partner of Turbo Tax
Free Report Preview
Variable pricing depending on the number of trades
Tax Loss Harvesting Aids
10,000+ Cryptocurrencies supported
Live Chat Support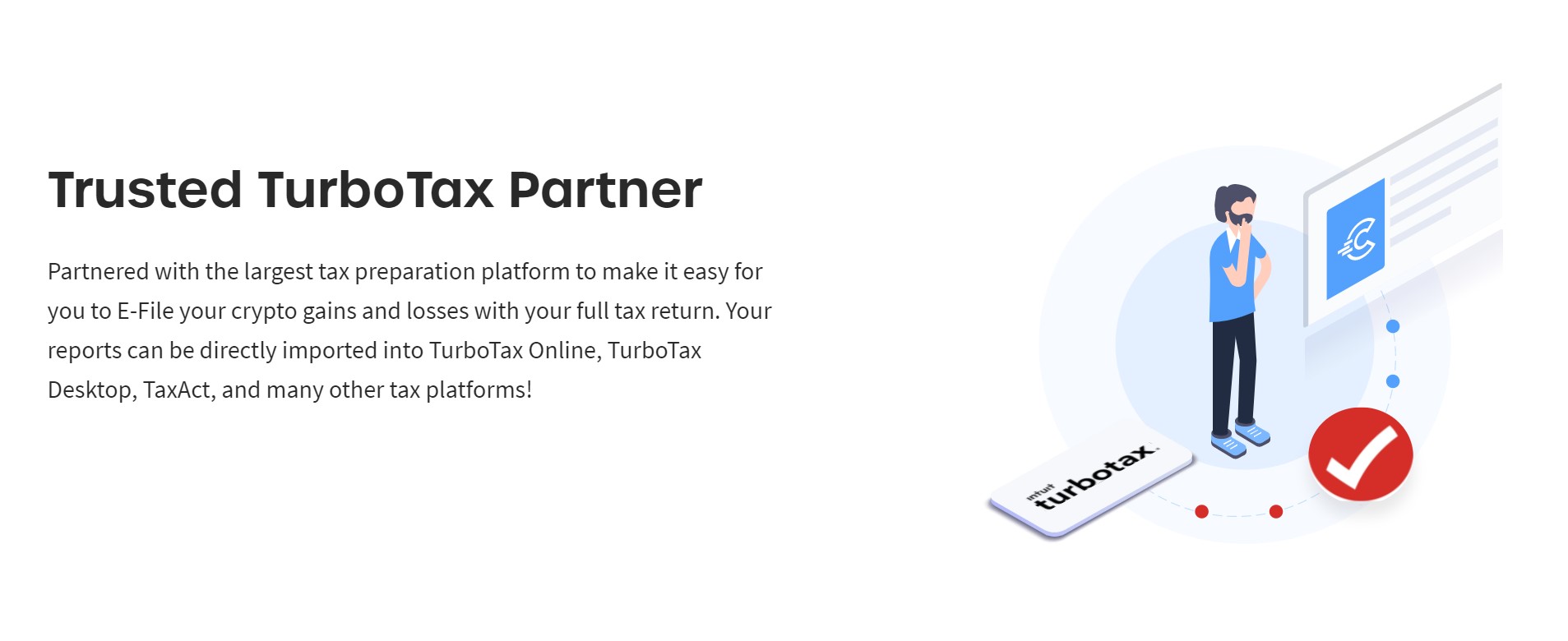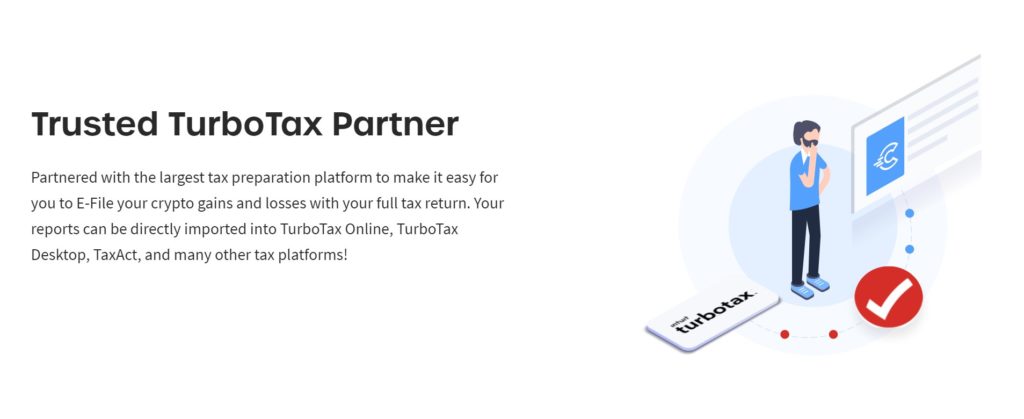 How Does CryptoTrader.tax Work?
CryptoTrader.tax makes taxes with cryptocurrencies easy. They have 5 simple steps that you can follow:
Select Exchanges: They currently have 47 exchanges that they support with simple import abilities. Click here for a full list of the exchanges they work with. If you trade with an exchange not listed here, you can simply import the transaction history manually.
Import Trades: After selecting the exchanges you use, you will then import your trades. This is done simply by entering in the API keys from your account or through uploading the form the exchange gives you. Most people upload the form. With CryptoTrader.tax, you do not need to do anything with the forms that the exchange sends you. Simply upload and watch CrytpoTrader.tax go to work.
Other Transactions: Here you will need to record any other transactions not listed on your forms. This can include cryptocurrency you have due to mining, gifts, and incentives received from staking.
Review: Here you will review all your entries for accuracy. If any errors occur, they will be pointed out on this screen. They also come with troubleshooting guides should you need help. Additionally, CryptoTrader.tax has a live chat support you can utilize.
Create Report: Once finished, you will be able to create your reports. They have a number of reports that you can view, download, and send to your tax professional or upload directly to Turbo Tax. The reports they offer with their services are below:

Short & Long Term Sales Report
IRS Form 8949
Audit Trail Report
TurboTax & TaxAct Direct Import
Cryptocurrency Income Report
Tax Loss Harvesting Report
International Gain/Loss Report
How Much Does it Cost?
Using the service and receiving a preview of the reports is completely free. It is worth taking the time to estimate the taxes you will need to set aside. If you decide to move forward for CryptoTrader.tax, they have 4 different pricing tiers.
View full CryptoTrader.tax pricing table.
Each of the plans differs only by the number of trades you have executed. They all come with a 14 day money back guarantee and a free preview. Additionally, they all feature the same reports and compatibility with exchanges. As you import your history into the software, it will keep a tally of the trades you have made. This way, you can quickly see how much you will need to spend before ever moving forward.
Crypto Taxes Explained: Final Thoughts
Cryptocurrency has certainly become more popular in the last few years. With the increased demand, there have been new platforms for trading and storage. Exchanges like Coinbase and BlockFi have attracted millions of users.
Every single transaction with cryptocurrency carries tax implications with it. For some, the taxes incurred from trading crypto can be highly confusing. Reporting every transaction can become a nightmare! Understanding the taxes associated with cryptocurrency is highly important in order to minimize the amount owed or to simply avoid an audit from the IRS.
Services, like the one offered by CryptoTrader.tax, make taxes with crypto so much easier. With a simple ability to import all transaction history, users can quickly watch their reports made automatically. When you are ready to file your taxes, these reports could certainly make your life easier. To learn more, be sure to visit their help page or browse their website to get started.
Best Crypto Promotions