I'm gonna prove to you why the dog poop scoop business is the ultimate high profit side hustle to start right now.
I'll even be giving you a step by step tutorial on how you can get started with this side hustle in your local area today.
Keep on reading to learn more, or check out my YouTube video on the Dog Poop Scoop side hustle below.
Don't forget to grab your free stock worth up to $200 from Robinhood today!
About the Author
Ryan Scribner is the author of From Side Hustle To Main Hustle To Millionaire - a practical guidebook on launching your own side hustle. He is recognized as a Top 100 Money Expert by GoBankingRates.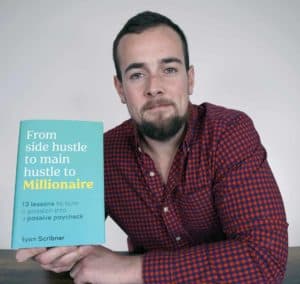 Ryan runs a successful YouTube channel focused on money and investing, which he started in 2016. He also owns a portfolio of digital business, all earning passive recurring revenues.
Now, Ryan teaches others how to create additional income streams.
My Research
Now look, I don't want you to simply believe me when I say there's massive demand for this side hustle.
Instead, let's validate this using Google Trends.
If we look at the data surrounding the search term Dogs from 2004 to present, we can see an irrefutable growth trend that started back in 2010.
Out of a scale of 0 to 100, dogs have grown in popularity from 31 to 85.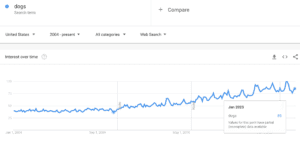 And if you ask me why this is, my best guess is people had a huge chunk of their wealth wiped out in 2008.
So the idea of having kids went out the window for millions of couples.
Instead, cats and dogs have become the new children for many.
What Makes Dog Poop Scooping So Profitable?
Aside from the fact that nobody wants to do it, there's more to it than that.
Let's dive into the recurring revenue model of the dog poop scooping business.
Maybe you've noticed how everything has become a subscription over the last decade or so.
Adobe for example charges monthly for software instead of selling individual licenses.
Well, that's because it's the holy grail of business models.
How Much Can You Charge?
I did some snooping and got the prices for dog poop removal from a real business.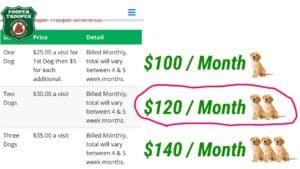 This company offers a weekly dog poop removal service, billed monthly, and the pricing varies based on the number of dogs you have.
At 10 households, you're in side hustle territory, earning a steady $1,200 in monthly revenue.
And once you get your 39th client, you'll be bringing in the equivalent of the average US Salary in annual revenue.
Now your initial goal is 100 clients - or $12,000 in Monthly Recurring Revenue.
And I'm gonna show you a simple grass roots referral marketing strategy later on that's gonna take care of all that.
Dog Poop Scoop Business Tutorial
We're gonna break this up into 4 steps.
Number one, equipment and startup costs.
Two, all important business insurance and legal formation.
Third, we'll cover how to accept payments and monthly subscriptions.
Lastly, we'll cover how to market your business and grow your client base.
1. Equipment Needed
So for starters, what equipment is needed for the dog poop scoop business?
Since you're gonna bag the poop and toss it in your customer's trash can, you don't need a truck.
Any car will do.
Beyond that, you'll need:
heavy duty dog poop scoop
5 gallon bucket
small trash bags
boots
I recommend boots with ankle support, as yards can be a little uneven. The last thing I'd recommend is disinfectant wipes and a spray cleaner.
And look, not to get into too much detail here, but you can spray down your poop scoop in between each visit and rinse it off with your customer's hose or water spigot.
Then, simply keep a bag in your trunk that you use for transportation. I'll put it this way, if you do this business correctly, you're never gonna have poo of any kind in your vehicle.
You can also switch between boots and shoes to be extra careful about your personal vehicle.
So what's the total startup cost then? Assuming you have a car already, the rest of the equipment is gonna cost you about $100 or less.
But we're forgetting about one very important detail, which leads us into the next step - insurance.
2. Business Insurance & Legal Formation
Since you're going to be on other people's property and around their animals, you'll need to have insurance.
Well I did some digging, and it turns out that Pooper Scooper Insurance is a thing.
Through Pet Care Insurance, you can get a policy including general liability insurance for this exact business at a starting cost of $139 a year.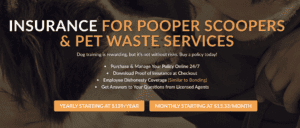 The only other thing you'll need to go legit is a LLC. That's gonna cost you as little as $40 but up to $500 or more depending on what state you live in and what service you use.
I personally use and recommend IncFile.
At that point, you get your free EIN from the IRS and then simply open a business bank account.
3. Payments & Monthly Subscriptions
Ok, so you got your equipment and you set up your insurance and LLC. This is all possible at a cost of under $300 - depending on what state you live in.
But how do you go about setting up recurring monthly payments?
That's simple; you need a payment processor.
This is a company you pay a small percentage or monthly fee to in order to facilitate your business transactions - including recurring monthly billing and invoicing.
For example, one of the most popular options is Square - which offers Square Recurring Invoices:
You'll end up paying a fee of 3.5% plus $0.15 each time the card on file is billed.
So on that $120 billed monthly, you'd be looking at $115.65 coming your way after Square fees.
And if that bothers you, you can accept checks or good ol' cash. You just lose the convenience of the recurring subscription component.
So finally, that leaves us with marketing the business.
4. Marketing The Business & Growing Client Base
Through VistaPrint, you can get 1,000 flyers starting at $45.40.
And then you're gonna plaster the town with those. I'd recommend looking for upper middle class neighborhoods, just watch out for HOA's as they often have clear signs that say No Soliciting.
Don't touch people's cars or mailboxes. Instead, I'd recommend walking on foot and looking for households that have dogs. Maybe it's a sticker on the rear window or the fence that gives it away.
You could then leave a flyer in the door-handle, or maybe consider knocking and introducing yourself with the service.
And as far as the grassroots referral marketing strategy for growing your client base, simply tell your clients they get 1 free month of service for each customer they refer to you.
It may cost you $120 in terms of the lost revenue, but you're making it up elsewhere, and gaining another recurring monthly customer.
So, the only cost is your fuel and your time.
That's all you do.
Rinse and repeat in different neighborhoods across your town, and witness the power of referral marketing as your business grows.
Eventually, you could even hire a team of poop scoopers and solely focus on growing the business.
Final Thoughts
For the 1% who are ready to take their side hustle journey a bit more seriously, I wrote a book about side hustles that just came out a few weeks ago.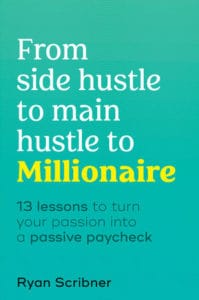 It covers all phases of the side hustle journey, and you get access to a members only discord where you can ask me questions along the way.
And you can grab a copy in person at most Barnes and Noble stores across the United states, or it's right on Amazon.
So grab a copy today and let's get started on your side hustle journey together!