EquityMultiple Review 2020
Investing Simple is affiliated with EquityMultiple and other platforms mentioned in this review. This relationship does not influence our opinion of these platforms.

Thanks to changes in legislation, there are now countless crowdfunded real estate platforms out there to choose from. Gone are the days of actively managing properties and dealing with the headaches of owning physical real estate. Now, you can pool your money with investors from all over to invest in private real estate deals! In this review, we will be going over the pros and cons of the EquityMultiple crowdfunded real estate investing platform.
What Is EquityMultiple?
EquityMultiple is a crowdfunded real estate investing platform that provides the savvy investor with a way to invest in private placement real estate projects. They provide investments in debt, equity and preferred equity. EquityMultiple is a platform for investors who are willing to commit a sizable amount of capital to an investment, as the minimum is $10,000. Right off the bat, it is important to understand that EquityMultiple is available to accredited investors only.
Click here to learn more about EquityMultiple!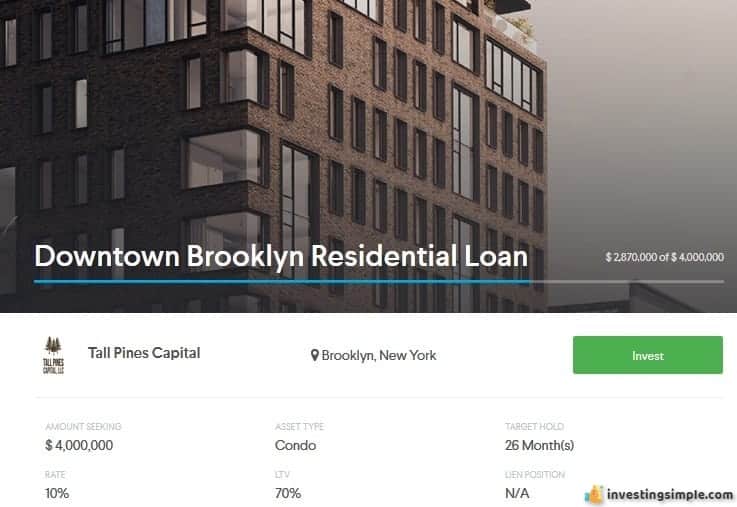 EquityMultiple was created by two real estate professionals after long careers in the institutional real estate space. 
They founded EquityMultiple on the premise that individuals should be able to gain access to institutional level real estate deals.
EquityMultiple is backed by the real estate investment company Mission Capital Advisors. This relationship gives EquityMultiple exclusive access to institutional level deals. With strict investment guidelines, many of the deals EquityMultiple creates are of institutional quality.
The name EquityMultiple stems from the real estate term multiple, which is your return on investment. For example, an equity multiple of 1.2 would translate to a 20% return on your initial investment.
How Does EquityMultiple Work?
First, EquityMultiple begins by finding sponsors and lenders with strong track records. Using a national network of real estate companies, EquityMultiple has a consistent stream of potential properties and deals. EquityMultiple works with national and regional experienced lenders, real estate companies operating in thriving markets and sponsors with a proven track record of meeting and exceeding return projections.
For projects that survive initial due diligence, we stress test underwriting assumptions, review key legal documents, and third-party reports and consider transaction structure. A select few are on our platform. - EquityMultiple Website
EquityMultiple allows you to invest directly in individual real estate projects. Investors can build their own real estate portfolios from scratch. They follow a four step process when assessing potential investments:
First, they start out with a list of proven sponsors and lenders with an established track record.
Next, the EquityMultiple team evaluates specific real estate markets or potential investments.
If a project meets initial criteria, EquityMultiple will then analyze the project even further. EquityMultiple approves less than 10% of project submissions.
Investors then select projects to invest in and build portfolios.
Click here to invest with EquityMultiple!
EquityMultiple Investment Options
This crowdfunded real estate investing platform is for active accredited investors. It is up to you to select individual real estate projects to invest in. All the projects on the platform are private placements under Regulation D of the Securities Act. This means the securities are non-registered and only available to accredited investors.
EquityMultiple offers screening tools and has a growing list of live offerings you can invest in. The minimum to invest in each project is $10,000 but can be greater depending on the project. You can build your own portfolio of real estate investments on EquityMultiple by investing in multiple deals on the platform. Potential investments fall into one of three categories; equity, preferred equity, or debt deals.
When you invest in an EquityMultiple equity investment, you are purchasing a share of an LLC which owns the underlying real estate project.
When you invest in an EquityMultiple senior debt investment, you are purchasing a project payment note. Some, but not all, debt investments are backed by underlying real estate.
Once you invest in EquityMultiple, you will have the ability to track your investment, receive distributions through ACH transfer and receive investment updates directly on the platform. After you select the properties to invest in, it is a relatively passive investment.
Who Is Equity Growth Partners?
You may have seen Equity Growth Partners mentioned on their site. Equity Growth Partners is the broker dealer for EquityMultiple. Equity Growth Partners is a member of FINRA and regulated by the SEC. They provide regulatory oversight and compliance for EquityMultiple investments. They offer all investments through Equity Growth Partners.
NEW! EquityMultiple Opportunity Funds
The EquityMultiple platform has recently released new funds called Opportunity Funds. These investments are in tax-advantaged areas in recognized opportunity zones throughout the United States. In 2017, Congress passed the Investing in Opportunity Act which designated certain cities and zones throughout the US that need economic aid. EquityMultiple has created funds specifically for these tax-advantaged opportunity zones.
Tax Advantages:
Investors can defer capital gains until Dec 31, 2026.
Reduce your tax payment by 15%.
Pay as little as zero taxes if held for 10+ years.
EquityMultiple Investment Strategy
Since you pick and choose your investments on EquityMultiple, the investment strategy you follow is ultimately up to you! These are the general strategies EquityMultiple follows when analyzing potential deals.
They look for commercial properties in hot markets that have positive cash flow.
EquityMultiple favors short term senior loans that have strong annual percentage rates for investors.
They try to find projects with construction requirements where value-add opportunities exist.
Debt and preferred equity offerings on EquityMultiple will always have senior positions to the entire project equity. This means that in the case of default, EquityMultiple investors will be one of the first to receive payment. They structure equity investments as an EquityMultiple LLC. Investors will purchase a share of the LLC which in turn owns the underlying property.
Investment Time Horizon
Common Equity: 2 to 5 years
Preferred Equity: 1 to 3 years
Syndicated Debt: 6 to 24 months
EquityMultiple Returns
According to the site, EquityMultiple aims for a net APR of 7 to 12% for debt deals. For equity deals, they aim for a cash on cash return of 6 to 12% for investors. In certain major real estate markets, they will accept equity deals with lower projected cash on cash returns.
EquityMultiple Fees
The fee structure for EquityMultiple differs based on the structure of the deal. All deals include a 2% placement fee, paid by the sponsor. Investors do not pay this fee.
For preferred equity and debt deals, EquityMultiple will receive a fee from the spread between the interest rate paid by the original lender and that being paid to investors.
Equity deals carry a 0.5% to 1% asset management fee paid by the investors. EquityMultiple also collects a 10% carry on the profit of the deal. Preferred equity and debt deals have different fee structures based on the preferred return and interest rate on the debt. However, they will waive the fees for some deals if you refer a friend.
Click here to learn more about EquityMultiple!
Who Is EquityMultiple For?
EquityMultiple is a platform for accredited investors who are willing to commit a sizable initial investment (a minimum of $10,000). These more advanced investors have an accredited status because of their level of income and/or net worth. For this reason, the SEC gives them the advantage of investing in a wider variety of investments that may or may not be riskier than traditional registered securities. EquityMultiple gives these investors the opportunity to invest in individual real estate projects, rather than a portfolio of projects. This more personalized approach allows more flexibility to investors.
Who Is EquityMultiple Not For?
Investors who are not considered accredited will not be able to invest in the EquityMultiple platform, as well as those who do not meet the $10,000 minimum investment. For these investors, there are many other alternative crowdfunded real estate investing platforms. Fundrise and Realty Mogul offer eREITs and you do not have to meet the accredited investor status. Beginner or novice real estate investors should steer clear of EquityMultiple, as it is for investors with prior real estate investing experience.
EquityMultiple Pros
Mission Capital, a well established real estate investing company, backs them.
Allows access to Institutional real estate deals.
EquityMultiple offers detailed analysis of their investment offerings and screening tools.
The upside potential may be higher since you are investing in individual real estate projects.
They are transparent with expected returns.
EquityMultiple doesn't get paid until the investors recapture their initial investment.
EquityMultiple Cons
Must be an accredited investor to participate in EquityMultiple investments.
The minimum investment is $10,000.
There is no secondary market where you can resell your securities, giving investors limited liquidity.
Currently, EquityMultiple does not offer many projects but more are in the pipeline.
EquityMultiple: The Verdict
EquityMultiple is a unique platform for crowdfunded real estate investing. You have the ability to gain access to institutional level real estate deals. When compared to traditional REITs, EquityMultiple gives you more flexibility to choose the individual real estate projects within your real estate portfolio. You are no longer subject to an investment manager who chooses the properties in a traditional REIT. If you have the accredited status then EquityMultiple may be a great option for real estate investments.
Click here to invest with EquityMultiple!
We believe EquityMultiple has a very competitive platform and may be one of the top services for accredited investors. However, other platforms such as Fundrise have a lower minimum investment and is not limited to accredited investors. Check out Fundrise here.
If you are looking for other crowdfunded real estate investing platforms check out our article here on the Top Real Estate Crowdfunding Platforms.