Fundrise eREIT Review: Better Than a Traditional REIT?
Fundrise is a new investing platform that allows everyday investors to invest in private real estate deals. Investors have been investing in real estate for thousands of years, but now it has never been easier.
Today, over 70 million people in the US alone invest in REITs. Fundrise has taken a new approach to the traditional REIT structure with the introduction of the eREIT.
In this article, we will be outlining the differences between the Fundrise eREITs and the traditional public and non traded REITs.
Read our full review of Fundrise here.
What Is A Fundrise eREIT?
Fundrise has created a new investment called the eREIT, which is a non traded REIT offered on the platform. eREITs are unique to Fundrise and offer a number of benefits that are not typically offered by a traditional non traded REIT or publicly traded REIT.
Fundrise released many of its eREITs over the last few years under a new provision of Regulation A. This new provision in the Securities Act allows unaccredited investors to purchase up to $5 million worth of a security over a 12 month period.
This new provision has allowed platforms like Fundrise to emerge, creating more investment opportunities and a new concept to the non traded REIT structure.
What Is A REIT?
A Real Estate Investment Trust (REIT) is a group of investors who purchase real estate assets and issues shares of the trust to investors based on their investment.
This gives retail investors the ability to invest in private real estate investments they may not have been able to before often due to high costs or exclusivity of the investment.
REITs can give you exposure to real estate that you would not typically be able to buy directly. For example, consider American Tower Corporation. This is a REIT that owns cell towers. Your average investor would not be able to go out and buy a cell tower, but it is possible through a REIT.
REIT Dividends
REITs are attractive investments because of the relatively high dividend yields along with the ability to provide passive exposure to real estate.
To be classified as a REIT at least 90% of the taxable income needs to be passed along to shareholders in the form of dividends.
REITs allow investors to gain diversified exposure to thousands of real estate assets throughout the world. Before the invention of the REIT, investors would have to purchase real estate themselves or in syndicates, which were limited to wealthy and accredited investors. REITs have opened up real estate markets to common everyday investors, providing more liquidity and an explosion of investment into real estate.
There are two core types of real estate investment trusts, publicly-traded REITs and non-traded REITs. Most of us are familiar with publicly-traded REITs, these are investments that trade on public security exchanges and offered to everyday investors.
Non-Traded REITs
Non traded REITs are real estate investments that are bought and sold in private transactions. This means you must have a buyer or seller willing to conduct a transaction to provide liquidity as there is no secondary market.
Non traded REITs are less common because of their exclusivity, liquidity, and often high front end load fees. Front end load fees are commissions paid to brokers on the purchase of your investment.
Another advantage is that non traded REITs are less sensitive to the overall stock market. Non-traded REITs are not traded on public exchanges.
Publicly traded REITs also hold liquidity premiums, making them slightly more expensive compared to non traded REITs.
Fundrise eREIT VS Publicly Traded REIT
Publicly traded REITs trade on a major exchange like the NYSE or the NASDAQ. Many of these publicly traded REITs change hands just like stocks.
Publicly traded REITs are very liquid meaning the ability to buy and sell is extremely easy. However, this increased liquidity can also mean an increase in volatility.
Fundrise vs Vanguard REIT
If you have done your research, you have come across the Vanguard Real Estate Index Fund (VGSIX). VGSIX is a publicly-traded REIT that gives you exposure to a diversified collection of real estate. The Vanguard REIT has an expense ratio of 0.26% compared to the 1% fee associated with Fundrise.
Is this Vanguard REIT a better investment? Let's take a look at the performance of these investments over the last four years.
Fundrise Historical Returns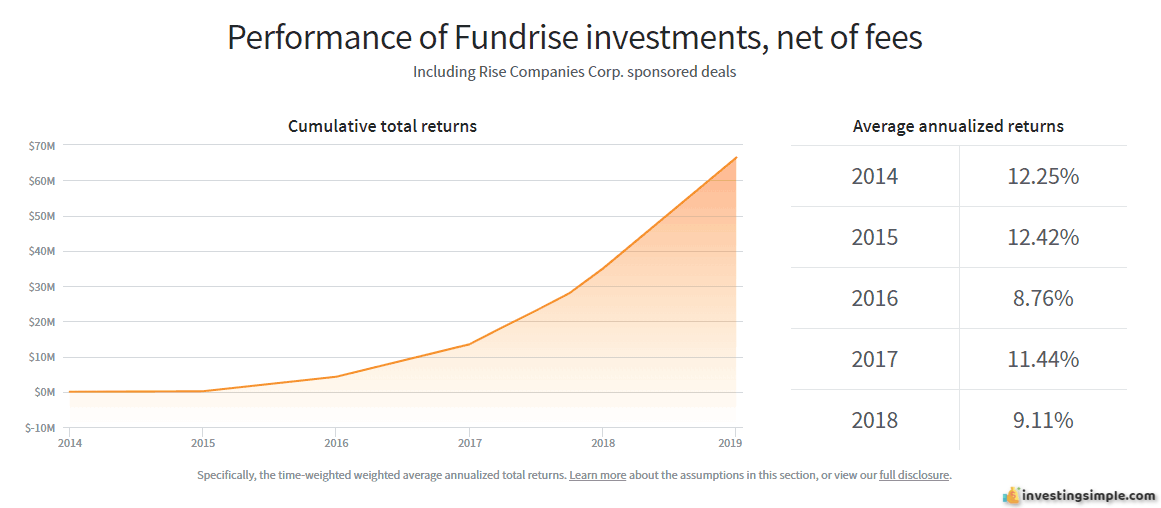 Vanguard (VGSIX) Historical Returns

In 2014, the Vanguard REIT significantly outperformed Fundrise. However, each year thereafter Fundrise has had better performance than the Vanguard REIT.
Something to note when investing with Fundrise mentioned in our full review is the limited operating history. Fundrise has been around since 2010 and does not have a long track record. For example, there is no track record to understand how Fundrise might perform during a real estate downturn.
It is important to understand the difference between Fundrise and other publicly traded real estate investments like this Vanguard REIT.
Fundrise takes more of a real estate partnership approach and shoots for a minimum 5 year time horizon. If you would like to redeem your Fundrise shares before the 5 year period, then you may have to pay early redemption fees. 
While Vanguard is more of a traditional REIT approach and allows for more liquidity or buying and selling of their REITs.
Fundrise eREIT VS Traditional Non-Traded REIT
Fundrise eREITs offer a variety of features not typically seen in traditional non traded REITs. These features are:
Quarterly Liquidity - Fundrise does not guarantee liquidity, but they do offer quarterly redemption periods following a 60-day notice for withdrawing funds. Be cautious because there can be redemption fees. If you are looking for a highly liquid investment, you may be better off with a publicly-traded REIT.
Direct Distribution - Fundrise offers eREITs directly to investors, without going through an investment bank or middle man. This saves a considerable amount of money for the investor as you are not paying any fees or markups.
Low Investment Minimums - The starter portfolio has a minimum investment of $500 and the advanced plans have a minimum investment of $1,000. Some non traded REITs can have minimum investment requirements of $10,000 or more.
Low Fee Structure - One of the greatest strengths of the eREITs offered on the Fundrise platform is the low fee structure. Fundrise charges a 1% annual fee to manage your investment. However, this fee is considerably lower than most traditional REITs.
Click here to Invest with Fundrise!
What Are The Different Fundrise eREITs?
East Coast eREIT - This eREIT focuses on purchasing commercial real estate equity and debt along the East Coast of the US. Primarily in Massachusetts, New York, New Jersey, North Carolina, South Carolina, Georgia, Florida, as well as Washington D.C. and Philadelphia, PA.
Investments in this eREIT focus on fixed rates of return and assets that have a high potential for value creation. This includes assets that have a high potential for redevelopment, brand new ground-up projects, and income-producing debt.
Heartland eREIT - This eREIT focuses on the acquisition of real estate in the Midwest of the US. Geographies include the Houston, Dallas, Chicago, and Denver metro areas. This eREIT invests primarily in real estate debt and equity investments. With the goal to provide a fixed rate of return as well as aiming for long term value creation.
West Coast eREIT - This eREIT focuses on debt and equity commercial real estate investments in the West Coast region of the US with a focus on certain cities and metro areas. Specific cities include Los Angeles, San Francisco, San Diego, Seattle, and Portland. This strategy focuses on renovation and value-adding opportunities for redevelopment, as well as investing in completely new development projects.
Income eREITs
Income eREIT - The primary objective of this eREIT is cash flow generation from purchasing real estate debt on commercial properties. This eREIT focuses on real estate in urban areas where there is a limited supply and high demand. The income eREIT follows the strategy of acquiring smaller assets that fall out of the scope of larger investment banks.
Income eREIT II - The objective of this eREIT is cash flow generation. Most of the investments in this eREIT are commercial real estate assets along with commercial real estate debt. This eREIT aims to purchase senior to mezzanine level debt, which can be converted into equity in the asset or company at a later date.
Growth eREITs
Growth eREIT - This eREIT focuses on the acquisition of commercial real estate assets with a goal of value appreciation over time. The growth eREIT looks for opportunities in affordable housing complexes. This eREIT also aims to buy properties below their replacement cost. The growth eREIT is also taking advantage of historically low interest rates. They do this by financing it's acquisitions using long term fixed-rate loans.
Growth eREIT II - This eREIT is geared toward asset appreciation and long term growth primarily by investing in commercial real estate properties. This growth eREIT attempts to purchase assets that fall outside the scope of larger institutional investors. Growth eREITs look for long term asset growth over time.
Fundrise eREITs in Summary
Fundrise offers investors a way to gain diversified exposure to different types of private real estate.
By leveraging technology, Fundrise has taken a new approach to the non traded REIT.
Fundrise gives people an opportunity to participate in private real estate at a fraction of the historic cost. Along with providing investment portfolios that fit the specific time horizon and investment objectives of the investor.
Click here to Invest with Fundrise!