Fundrise... Are There Hidden Fees?
Investing Simple is affiliated with Fundrise. This relationship does not influence our opinion of this platform.

Fundrise is an online real estate investing platform that gives investors the opportunity to invest in private real estate with as little as $500. One of the reasons why Fundrise has become so popular is because of the low fee structure.
In case you missed it, here is our full review of Fundrise.
Compared to traditional real estate investments, fees are significantly lower on the Fundrise platform. Fundrise charges an annual fee of 1% of your investment. In this article, we will be explaining what this fee is and whether or not there are any hidden fees that you should know about.
Fundrise Fees Explained
Fundrise charges a fee of 1% per year. However, there are other fees to keep in mind such as asset origination fees and early redemption fees.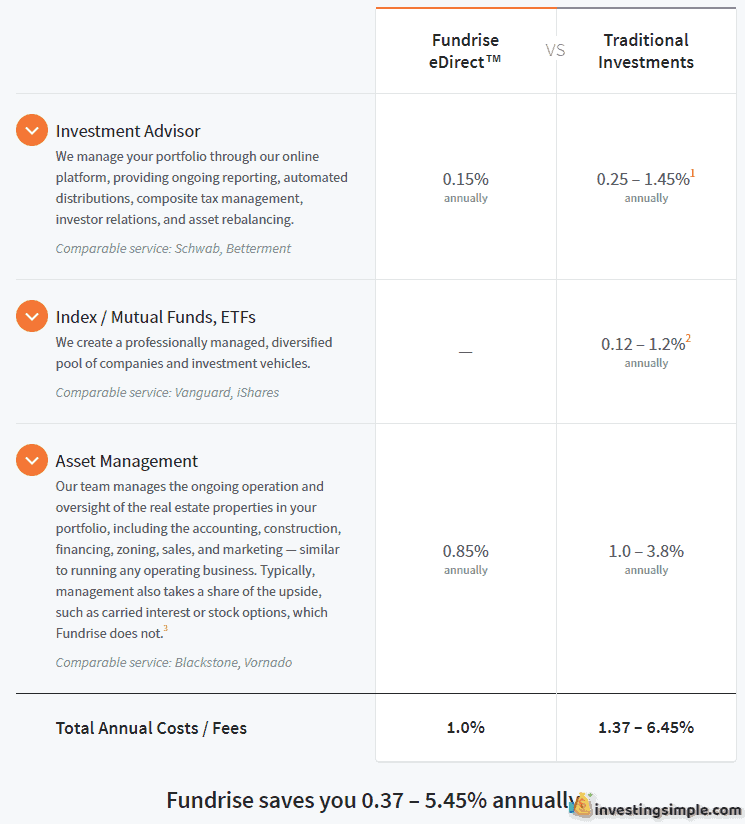 This 1% all in fee is broken up into two individual fees.
The first is the asset management fee. This fee goes toward the management and oversight of real estate investments as well as the normal business expenses incurred. The asset management fee is 0.85% annually.
The second is the investment advisor fee. This fee pays for the online investing platform, reporting and other administrative fees related to investing in Fundrise. The investment advisor fee is 0.15% annually.
There are also early redemption fees that range from 1 to 3% of your investment. Investors who withdraw their investment within the first 90 days will not pay an early redemption fee. If you hold your investment for the full 5 year period, you will not pay an early redemption fee. 
Fundrise also has asset origination fees that range from 0 to 2% of the investment. This is for finding, identifying, and originating the underlying real estate assets.
The Fundrise eREITs and eFunds do not carry any fees. Traditionally, when you invest in a publicly traded REIT you pay management fees indicated by the expense ratio. For example, the Vanguard Real Estate Index Fund has an expense ratio of 0.26% to cover management of the fund. Fundrise does not charge any additional expense ratio.
Click here to invest with Fundrise!
Fundrise vs Traditional REIT Investment
Fundrise allows you to invest through two financial instruments that they invented; the eREIT and the eFund. The short explanation of these investments is that they are non traded, meaning they are not available on a public exchange like a traditional publicly traded REIT. The eREIT and eFund are also investments you purchase directly from Fundrise. This cuts out the middleman and reduces the overall fees.
How does the 1% Fundrise fee compare to a traditional REIT?
Many traditional REITs charge a front end load fee. This is a fee paid to the investment institution before a penny is invested. It is not uncommon to pay a front end load fee of 5% or more, meaning only 95% of what you invest ends up in your account. While that may seem insignificant, consider the following example:
$100,000 invested in a REIT
Front end load fee of 5%
Fee = $5,000
There are no front end load fees or large commissions paid to Fundrise to purchase your investment. The only fee is the all in 1% annual fee.
Most investors do not pay attention to commissions and fees. Unfortunately, this can be a detrimental mistake! While these numbers sound small, the compounded fees paid over time can have a huge impact on your overall returns. Traditional brokers often charge significant commissions, sometimes as high as 8% depending on the investment institution. As mentioned, with Fundrise there are no commissions or hidden fees. This allows you to keep more of your money invested and earn greater returns.
Fundrise vs Vanguard REIT
If you have done your research, you have come across the Vanguard Real Estate Index Fund. This is a low fee REIT that gives you exposure to a diversified collection of real estate. This REIT has an expense ratio of 0.26% compared to the 1% fee associated with Fundrise. Is this Vanguard REIT a better investment? Let's take a look at the performance of these investments over the last four years.
Click here to invest with Fundrise!


In 2014, the Vanguard REIT significantly outperformed Fundrise. However, each year thereafter Fundrise has had significantly better performance than the Vanguard REIT.
One con with investing with Fundrise mentioned in our full review is the limited operating history. We only have four years of returns to go off of, and that is not a large sample size. It is certainly possible that Fundrise will continue to outperform the Vanguard REIT, but returns are never guaranteed.
It is important to understand the difference between Fundrise and other publicly traded real estate investments like this Vanguard REIT. Fundrise is a unique real estate investment, where most traditional REITs contain real estate that has already been purchased. Fundrise takes a venture capital approach where they are constantly purchasing and selling real estate assets and debt. This unique approach could give Fundrise an edge.
The Verdict
Fees flat out lose investors money. Why start your investment already down 5% because you paid a broker a fat commission?
Traditional Wall Street fees have been sky high for a number of years. It wasn't until recently that new online investing platforms have taken a foothold, and are competing against giants in the long established brokerage industry.
With Fundrise, the fees are transparent and minimized to save the investor money. You have the ability to earn higher returns because your initial investment is larger due to the fact that there is no front end load fee. There are no other hidden fees with Fundrise aside from the 1% annual fee.
Click here to invest with Fundrise!
There are countless ways to invest in real estate. Fundrise is just one of the many options. These may not be the best fit for you based on what you are looking for out of the investment. Check out our comprehensive guide on real estate investing to learn more and explore other avenues!