Fundrise is an online crowdfunded real estate investing platform that gives investors the opportunity to invest in private real estate with as little as $500. One of the reasons why Fundrise has become so popular is because of the low fee structure. They are very transparent about what fees investors pay. 
In case you missed it, here is our full review of Fundrise.
Compared to traditional private real estate investments, fees are significantly lower on the Fundrise platform. In this article, we will be explaining what this fee is and whether or not there are any hidden fees that you should know about.
I started out with a $5,000 Fundrise investment and since then I have scaled it up to $25,000. I will be sharing screenshots from my account to show you the fees down below.
Fundrise Fees
There are basically three different fees associated with investing in Fundrise:
1% Annual Fee
Origination Fees
Early Redemption Fees
1% Annual Fee
Fundrise charges a fee of 1% per year. However, there are other fees to keep in mind such as asset origination fees and early redemption fees.
This 1% all in fee is broken up into two individual fees.
The first is the asset management fee. This fee goes toward the management and oversight of real estate investments as well as the normal business expenses incurred. The asset management fee is 0.85% annually.
The second is the investment advisor fee. This fee pays for the online investing platform, reporting and other administrative fees related to investing in Fundrise. The investment advisor fee is 0.15% annually.
Origination Fees (0% To 2%)
There are some upfront costs associated with a real estate investment. When Fundrise takes on a new project, there are some fees incurred with the process of originating a loan. This fee is passed on to the investors and ranges from 0 to 2% per investment. It is only paid once at the inception of the investment.
Early Redemption Fees (1% To 3%)
There are also early redemption fees that range from 1 to 3% of your investment. Investors who withdraw their investment within the first 90 days will not pay an early redemption fee. If you hold your investment for the full 5 year period, you will not pay an early redemption fee.
| Time Period | Penalty |
| --- | --- |
| First 90 Days | None |
| Less Than 3 Years | 3% |
| 3 To 4 Years | 2% |
| 4 To 5 Years | 1% |
| 5+ Years | None |
Fundrise Returns
It is important to understand that these annualized Fundrise returns are "net of" or after fees. This is the actual return investors earned after paying all of the fees mentioned, excluding the early redemption fee.
| Year | Average Annualized Return |
| --- | --- |
| 2014 | 12.25% |
| 2015 | 12.42% |
| 2016 | 8.76% |
| 2017 | 11.44% |
| 2018 | 9.11% |
| 2019 | 9.47% |
Click here to invest with Fundrise!
My Fundrise Fees
When you log on to Fundrise, one of the first things they show you is an overview of your earnings and fees. They do not try to hide this from investors. So far in 2020, I have paid $4 in advisory fees and all time I have paid $7.98 in fees.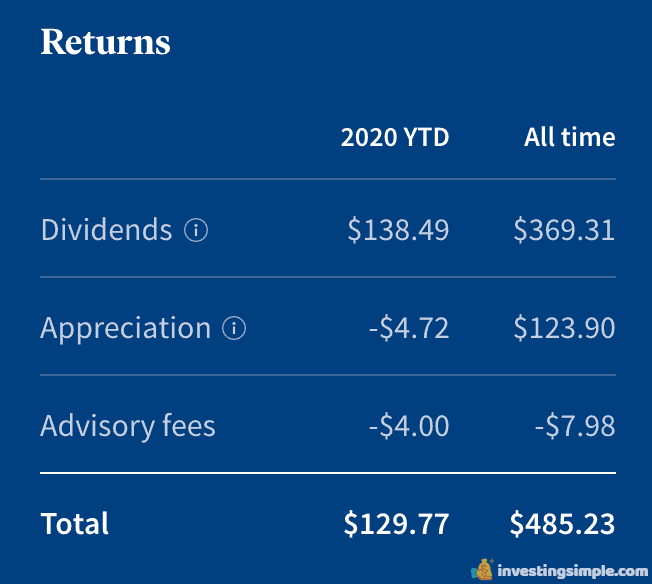 The Verdict
Fees flat out lose investors money. Why start your investment already down 5% because you paid a broker a fat commission?
Traditional Wall Street fees have been sky high for a number of years. It wasn't until recently that new online investing platforms have taken a foothold, and are competing against giants in the long established brokerage industry.
With Fundrise, the fees are transparent and minimized to save the investor money. They are not trying to use smoke and mirrors to hide their fees. They are straightforward and honest about it.
Click here to invest with Fundrise!