What is the Fundrise Starter Portfolio?
The Fundrise real estate investing platform offers a variety of investment options. In this article, we are going to review the Fundrise Starter portfolio and outline the pros and cons of this investment. 
The Fundrise Starter Portfolio is split between 50% growth assets and 50% income-oriented assets. The minimum investment for the Starter Portfolio is lower at $500, compared to the rest of Fundrise funds which require $1,000 to start out. 
Investors can also upgrade to another Fundrise Portfolio as soon as they have an account balance of $1,000 for no charge.
Click Here to Invest in Fundrise
Fundrise Starter Portfolio Investments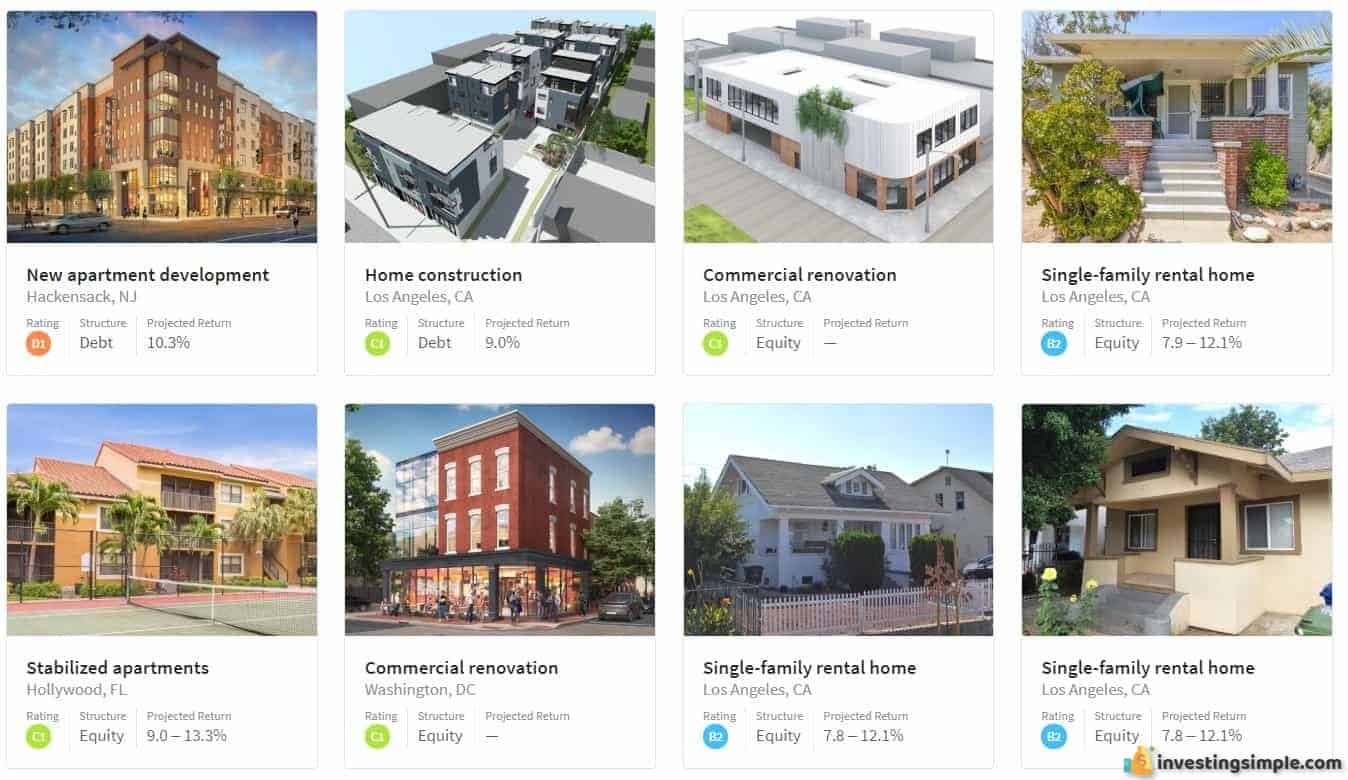 Fundrise investments are located throughout the United States. The Fundrise investment team locates, acquires, and manages the investments offered on the platform. 
As mentioned above, the Fundrise Starter Portfolio investment strategy is an allocation of 50% growth assets and 50% income assets. These investments are diversified into 4 different Fundrise eREITs. 
eREIT - A real estate investment trust, similar to other non-traded REITs, which buys, sells, and manages real estate. eREITs are unique to Fundrise.
The Fundrise starter portfolio consists of 4 eREITs built and managed by the Fundrise investment team. Each eREIT consists of 25% of the Starter Portfolio. 
The current allocation for the Fundrise Starter Portfolio is:
Growth eREIT V  -  25%
Income eREIT V  -  25%
Growth eREIT II  -  25%
Income eREIT II  -  25%
During tax season, Starter Portfolio investors can expect to receive a 1099-DIV for the dividends paid out by each underlying eREIT.
Click Here to Invest in Fundrise
Fundrise Starter Portfolio Investment Philosophy
The investment philosophy for Fundrise investments varies based on the eREIT or eFUND. The Fundrise Starter Portfolio consists of income and growth eREITs.
Fundrise Income eREITs focus on debt investments in commercial properties. Fundrise funds will lend investors money for real estate projects, and in turn, Fundrise investors will typically hold a lien on the real estate for the term of the investment. Debt investments can be risky, and Fundrise aims for properties that can afford debt payments through the cash flow of the property.
Fundrise Growth eREITs focus on multi-family commercial properties that have the potential to appreciate over time. Fundrise looks for properties in underdeveloped or growing areas within cities throughout the U.S. The goal is to purchase property, renovate if needed, and years later sell the property for a gain.
Starter Portfolio Returns & Performance
Returns in the Fundrise Starter Portfolio will come from two primary sources
Dividends from rental and interest income 
Capital appreciation from underlying growth in real estate assets
Investors who earn dividends in the Starter Portfolio will earn quarterly dividend payouts, paid the month after quarter-end. 
Below are the Fundrise returns for all Fundrise investments from 2014 to 2018.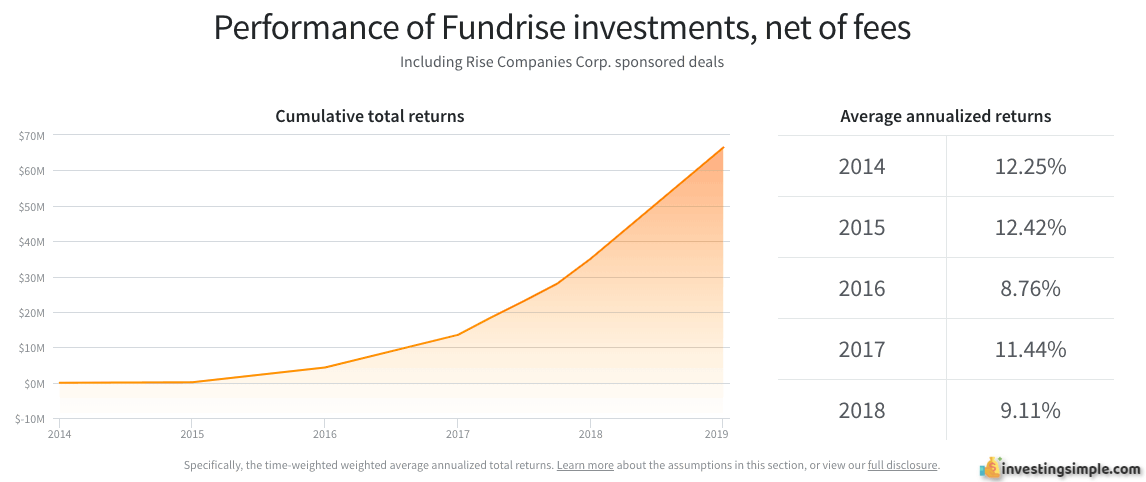 Click Here to Invest in Fundrise
Starter Portfolio Fees
Similar to the other Fundrise investments, the fees within the Starter Portfolio are as follows:
1% Annual Management Fee -This fee is for the ongoing management of the Fundrise investments and platform. This fee is broken down into a 0.85% asset management fee for managing the underlying real estate investments. And a 0.15% portfolio management fee for the management of your individual Fundrise portfolio. 
0% - 2% Origination Fee - This is a fee paid to Fundrise for finding, researching, and acquiring real estate assets.
Starter Portfolio Liquidity
The Fundrise investment platform is not considered a very liquid investment. Most real estate investments are not liquid due to the involved transaction process. 
All Fundrise investments have a minimum 5-year time horizon. For this reason, investors must understand what type of investment they are purchasing before they commit. 
Fundrise also has early redemption fees for selling your investment before the investment period is complete. 
Investors who sell within the first 90 days or after the 5 year period will not have to pay early redemption fees. 
Starter Portfolio Early Redemption Fees
The redemption fee if you hold your investment for at least 90 days, but less than 3 years = 3%
If held 3 years, but less than 4 years = 2%
If held 4 years, but less than 5 years = 1%
Fundrise Starter Portfolio Taxes
Investors who purchase shares of the Fundrise Starter portfolio may have tax consequences at year-end. Any dividends earned from the Starter portfolio will be reported on tax document 1099-DIV. This is a form stating all the dividends paid out to you during the year. It will be required to be reported on your U.S. income tax return.
Check out our Guide to Fundrise Taxes Article Here
Starter Portfolio Dividend Reinvestment Plan (DRIP)
The Fundrise platform allows you to use an automated dividend reinvestment feature. This feature is available for any of the eREITs or eFUNDs you invest in. Investors choose the specific offering they would like to reinvest their dividends, and Fundrise will automatically reinvest the dividends into that eREIT or eFUND.
Using a dividend reinvestment plan (DRIP) Fundrise investors can take advantage of compounding their returns. Compounding allows investors to exponentially grow their investment, by reinvesting their earnings. Check out our article on compound interest here.
Starter Portfolio Pros
The Start Portfolio is an easy way to start investing with Fundrise and give the platform a shot for only $500.
You get exposure to different types of Fundrise eREITs, both growth and income eREITs are included in the Starter Portfolio allocation.
You can gain access to a different type of real estate investment when compared to most traditional REITs.
90-Day money-back promise. If you decide the Fundrise Starter Portfolio isn't for you, then you can withdraw your funds at no redemption fee if within 90 days.
Starter Portfolio Cons
The Starter Portfolio is a relatively illiquid investment. There is no marketplace where Fundrise investors can exchange their shares. They can only buy them from Fundrise and redeem their shares when they want to sell.
Investors must look long term. The minimum time horizon is 5 years with most Fundrise investments.
If you withdraw your funds after 90 days and before 5 years you will be subject to early redemption fees.
Just like any investment, returns are not guaranteed. Investors could lose money on Fundrise investments.
Limited track record. Fundrise has only been around since 2010, so it has a limited history as far as performance.
Things to Consider Before You Invest in the Fundrise Starter Portfolio
Before you begin investing, it is important to consider a few things about Fundrise. Non-traded REIT investments are relatively common in the investment community, but Fundrise is taking a somewhat different approach offering an online platform to investors.
Fundrise investments can only be bought and sold on the Fundrise platform. That being said, the Fundrise Starter Portfolio may be a good investment as long as you are willing to hold it long term. As mentioned above you will be subject to early redemption fees if you sell your shares after 90 days but before 5 years.
Click Here to Invest in Fundrise