There's an avalanche of info, advice, and opinions out there about where we should invest our hard-earned cash. 
Across the internet, countless articles tout the advantages of pouring money into stocks and bonds to reach financial freedom. Meanwhile, there's tons of info out there that real estate investing is the way to go. 
Both strategies certainly have bits of the truth! However, the whole truth is a lot more complex than just real estate versus stocks and bonds.
Here's the lowdown: diversifying between the two may be the fastest way to ensure your wealth will live on past 'quick wins' and explosive growth. Not to mention, in most cases, it makes sense to have both real estate and stocks & bonds in your investment portfolio.
The Basics: Fundrise vs Betterment
For this review, we will take a look at two investment platforms that deal with real estate or stocks & bonds; Fundrise vs Betterment. 
Fundrise
Fundrise is a novel crowdfunded real estate investing platform that lets you get in on private deals with as little as $10.

The Fundrise platform, a FinTech company founded in 2010, is a pioneer in real estate crowdfunding.
The idea of real estate crowdfunding took the industry by storm in recent years. Real estate is known as a way to get rich and make it last for generations ahead. However, in order to dabble in real estate, you historically needed deep pockets full of cash.
The average investor, who didn't have gobs of money, was usually out of luck. That is until the REIT came along. This allowed investors to purchase shares of real estate, just like a stock. Fundrise is simply a private REIT offering, meaning shares do not trade on a major exchange like a public REIT. 
What Is a REIT?
A REIT (Real Estate Investment Trust) is a company that invests in sites expected to flourish and churn out income. Investors buy shares of the REIT, and the REIT uses that money to make investments. The REIT then grows by earning income from rent payments or interest on real estate debt. REITs can also grow over time by selling some of their properties and purchasing more expensive properties.
These vehicles for real estate investments have opened the doors for investors everywhere to buy into real estate without large sums of money upfront. They also take the challenges of managing property out of the picture entirely. As a REIT investor, you are just responsible for putting up the money and the REIT takes care of the management and day-to-day expenses.
Fundrise has masterfully taken this concept and turned it into a full-blown real estate investment platform. Fundrise lets the average joe own pieces of different properties all around the country. What's more, they don't have to shoulder the time-consuming tasks that plague traditional real estate investors.
Rather than buying shares of a publicly traded REIT that is available to everyone, Fundrise offers private REIT shares that are only offered to Fundrise investors. Historically, these private real estate investments often outperform the public ones.
Betterment
Betterment is a no minimum robo-advisor that tailors a portfolio of stocks and bonds to your specific needs for just 0.25% to 0.40% asset management fee. 

The Betterment platform is an online investment management and financial planning tool. Users can access investment management and financial planning tools all within the Betterment platform. Investors in the higher tier known as Betterment Premium can reach a top-notch team of financial planners at a moment's notice.
Like Fundrise and its niche in the real estate world, Betterment is involved in the world of stocks and bonds.
Betterment is known for its portfolio strategy that's based on Nobel Prize-winning research. It also bills itself as the best choice for people who want a truly hands-off experience. 
As you can tell, these apps share a goal for their investors; to help build wealth.
However, they take very different approaches to achieve this goal. Here, we will highlight for you each platform's strengths and compare what they offer. Then, you can find the best fit for who you are today, and who you want to be in the future.
What Is a Robo-advisor?
Betterment is building a name for itself in the increasingly crowded space of robo-advisors.
These robo-advisors give advice based on mathematical rules, also known as algorithms. However, they are surprisingly void of nearly all human intervention. This lets them operate at low costs. As a result, these robo-advisors are often significantly less expensive than an in-person financial advisor. In the past, it was commonplace to pay a financial advisor 1% or more of your assets, but Betterment comes in at a fraction of this cost.
Additionly, since almost all human interaction is taken out of the equation, the minimum investment to get started is often as low as $0. This is the case with Betterment.
Betterment is one of the most well-known robo-advisors out there in the world of finance. With over $22 billion invested on the platform, it has established itself as a company to be reckoned with.
Summary: Fundrise vs Betterment
Fundrise is a crowdfunded real estate investing platform that specializes in making private real estate deals available to the common person
The minimum to invest with Fundrise is just $10 for the Starter Portfolio
Betterment, on the other hand, is a robo-advisor that offers custom portfolios of stocks and bonds based on your goals and risk tolerance
Betterment has a $0 minimum to invest with them
Fundrise collects an annual fee of 1%
Betterment charges an asset management fee of 0.25% or 0.40% for Betterment Premium
You need to have a minimum of $100,000 invested with Betterment to access the Premium feature which includes access to financial professionals
Betterment solely invests your money in stocks and bonds through index funds, no real estate
Fundrise only invests your money in private real estate debt and equity investments, not in stocks or bonds
For most investors, both real estate and stocks & bonds belong in your portfolio
You should have a minimum time horizon of 5 years to invest with Fundrise
Betterment offers other valuable products like online savings and checking accounts
Both are a good option for passive, hands-off investors
What Is Fundrise? 
Fundrise lets people invest in low-cost diversified portfolios of high-quality real estate. When people sign up with Fundrise, they list their investing goals. Then, Fundrise will recommend a path to follow.
By choosing the suggested path, users will be investing in a set portfolio of debt and equity real estate investments.  Investors are paid back in dividends from rental income or interest on real estate debt. Investors receive dividends and invest in either a taxable account or an IRA (Individual Retirement Account).
Of course, these dividends can be reinvested in order to earn compound interest and potentially magnify your returns over time.
Fundrise Investment Strategy
The Fundrise investment team firmly believes that investors make money when they buy undervalued property. Money is made by repositioning or rehabilitating that property and increasing rents, or selling it down the road. 
Fundrise managers then connect with developers, contractors, and inspectors so the property is in pristine condition and ready for tenants. 
There are a number of portfolios following more specific strategies or investing in specific areas that investors can choose from as well.
Fundrise Portfolios
When you create your account with Fundrise, you'll take a quick questionnaire to highlight your goals.  Then, Fundrise will package up the best investment portfolio to reach these goals. These accounts range from minimum investments of $500 to $100,000, each with its own unique perks.
Starter Portfolio
Access to Dividend Reinvestment and Auto-Invest
Minimum investment $10
Basic Portfolio
Access to Dividend Reinvestment, Auto-Invest, IRAs, and Investment Goals
Minimum investment $1,000
Core Portfolio
Choose from 3 investment plans

Minimum investment $5,000
Access to 40+ projects

Dividend reinvestment + auto-invest

IRA account support

3 months of advisory fee waived for each friend you refer to Fundrise
Balanced Investing
With this investment plan, you will have exposure to a wide variety of properties that will optimize for both income and growth. You'll see reasonable dividends from this portfolio, as well as the ability for the value to appreciate over time.
The portfolio is roughly split 50/50 between debt and equity investments, making it overall a very well-rounded portfolio.
Supplemental Income
Choosing this investment plan will result in an increased level of dividend income and generally lower appreciation potential over time. Many of these properties are cash flowing nicely, occupied, and do not require significant renovations.
Investors will have much greater exposure to debt in this portfolio with about 80% of the portfolio being debt and the remaining 20% being equity investments.
Long-Term Growth
This investment plan focuses on purchasing properties with the potential for significant appreciation and then remodeling these properties to increase the value. As a result, the income potential is generally lower, but the portfolio instead aims to appreciate significantly over time.
Virtually all of the portfolio consists of equity investments, and in general, investors will want to have a longer time horizon when investing in this plan.
Advanced Portfolio
Everything from Core plus the ability to diversify into specialized funds

Minimum investment $10,000
Access to 80+ projects

More sophisticated real estate strategies 

6 months of advisory fees are waived for each friend invited
Premium Portfolio
Access to private funds (specialized, truly illiquid private equity funds with even longer time horizons — but carry the potential for outsized performance)
Minimum investment $100,000

Includes all advanced features

Priority access to investment teams

12 months of advisory fees waived for each friend invited
Fundrise offers different investment types so that you can feel confident that you've invested at your own skill level. You can get your feet wet with just $10 or go big with $100,000 or more. 
After you've chosen the account that's right for you, Fundrise's team will keep looking for other properties that meet your goals. Once found, those properties will be automatically added to your account portfolio. You will receive email updates and notifications when new properties are added, or when projects are paid back successfully.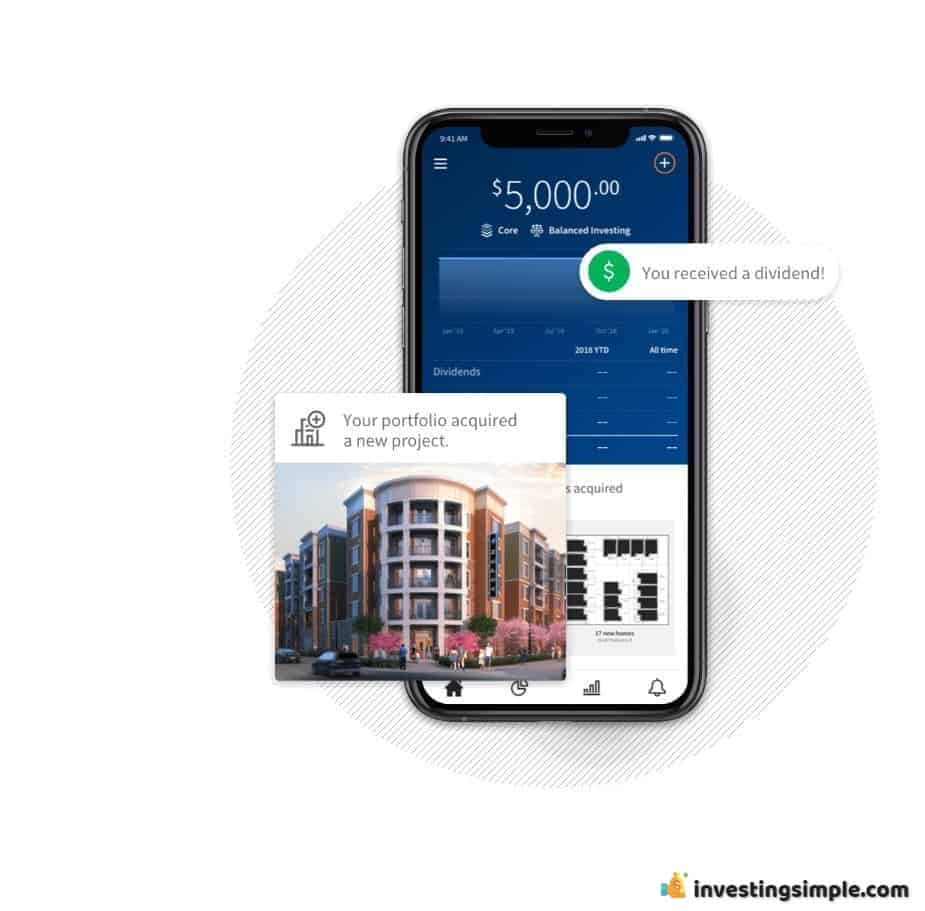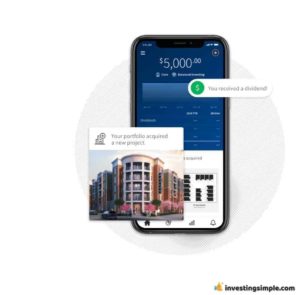 Fundrise Dashboard
One of the strongest features of Fundrise is being able to see each individual property in your portfolio. Unlike stocks or bonds, owning a piece of real estate is investing in something tangible. These buildings can be renovated, expanded, updated, and even gutted. 
Because of all these variables, Fundrise updates investors when changes happen to each of the properties. From the dashboard investors can learn about new rehab projects, building permit approvals, and sales that affect the properties.
Customers can also see where their money is in each project, and make any changes they prefer. The dashboard is a truly comprehensive view of an investor's portfolio. It gives them a complete picture of their position. 
Although this is a passive investment, the dashboard provides investors with an increased sense of control and information about their investment.
Best Real Estate Platforms
Fundrise Fees/Costs
The short answer is Fundrise collects an annual fee of 1%.
Fundrise touts its in-house, unique technology as the main driver of lower costs. Like many asset management companies (including Betterment) Fundrise carries a management fee. This fee is broken up into two parts, each spent on different tasks needed to keep the company alive. 
When compared to many other real estate crowdfunding platforms on the market, this 1% fee is very reasonable. It's also fairly uncommon for crowdfunding platforms to have such a simple and transparent fee structure so this is a big plus for Fundrise.
Advisory Fees
This is an annual 0.15% fee used to cover the costs associated with keeping the investment platform in good working condition. Examples of what this fee is used for are as follows: 
Project-level performance reporting

Automated dividend distribution system

Composite tax management

Customer support and investor relations

Asset rebalancing and fund administration
Asset Management Fee
In addition to the advisory fees, Fundrise also charges an annual management fee of 0.85%. This is to cover the ongoing expenses of maintaining physical real estate. These expenses include project-specific accounting, zoning, and construction.
Yes, fees add up to 1% on an annual basis. But remember, there are no performance fees, transaction fees, or sales commissions. Also note that there may be additional non-recurring fees, for instance, development and liquidation fees charged to the portfolio.
You will never be charged these fees directly, but they could impact your earnings, so keep this in mind!  
Fundrise Early Redemption Fees
It's generally recommended to not invest with Fundrise unless you have a 5+ year time horizon.
Don't overlook the fact that with Fundrise, money invested in these portfolios are tangible assets. These come with obligations to meet. With this in mind, remember you may not be able to cash out whenever you please, as you can with investments in stocks or bonds. 
During times of economic uncertainty, Fundrise has stated they retain the right to deny requests for liquidation. This is especially done when investors try to redeem their shares prematurely. For example, in March 2020, Fundrise published a notice that they had "... suspended redemptions for our mature eREITs and eFunds in order to maximize cash reserves." 
When investors do look to redeem their shares, fees are associated depending on the length of the holding period:
0% if in the first 90 days

3% if the shares were held at least 90 days but less than three years

2% if shares held at least three years but less than four years

1% if shares held at least four years but less than five years
There's no share-price reduction to redeem shares held five or more years.
In addition, because Fundrise's REITs are not publicly traded, there is no guarantee that when you go to sell your shares there will be a buyer for them! This is unlike publicly-traded REITs, which act more like stocks. 
This is one of the reasons it is particularly important to invest knowing that you'll likely be holding for the long term.
Fundrise Returns
Historical performance of Fundrise, net of (after) fees:
Fundrise Pros
Fundrise Cons
What Is Betterment?
Betterment is a robo-adviser that allows automated and goal-inspired investments for everyday people. It opens doors to invest in portfolios of passive index-tracking equity and fixed-income ETFs. You will also have access to tax-advantaged savings accounts. Examples of this are traditional and Roth IRAs. 
Betterment Investment Strategy
The Betterment platform puts the power of investing back into your hands, letting you in on funds created by experts. When you set up an account with Betterment, your goals will navigate where your money will go. These portfolios are made up of combinations of bonds and stocks. 
In addition, you also can invest in funds set up by financial powerhouses Goldman Sachs and BlackRock. Using these features puts average investors in the same driving lane as professional investors. Not to mention, the costs are low and the minimum investment of $0 makes this available to every investor, large or small. 
Betterment Portfolios
Betterment prides itself on goal-based investing. Thus, when you set up your Betterment account, you should write down the goals you are shooting for beforehand. It could be a short-term goal (for example, a tropical vacation) or the long-term dream of happy retirement life. Either way, Betterment can create the right portfolio for you. 
You'll also be able to create separate sub-accounts for each of your goals to easily track your progress and stay motivated. Seeing your vacation fund growing every month can be a great way to make sure you keep adding to it.
Betterment utilizes ETFs which represent ~12 asset classes set up to match the varying levels of risk tolerance for your specific goals. Some examples of ETFs that customers can choose from are listed here below:
U.S Total Stock Market

International Developed Market Stocks

International Emerging Market Stocks

U.S. High-Quality Bonds

U.S. Municipal Bonds

U.S. Inflation-Protected Bonds
As you have probably noticed, this is a very different approach to investing than Fundrise. Betterment is strictly stocks and bonds while Fundrise is strictly private real estate. 
Users can also be more hands-on with the 'flexible portfolios' approach that lets them modify the exact amount that is allocated to particular ETFs. In addition to ETFs dedicated to the investment classes listed above, Betterment also has options for those seeking to invest in funds built by experts. 
Goldman Sachs Smart Beta Funds
Built by the Goldman Sachs asset management team, this portfolio is made to outperform conventional strategies.
This is based on market cap alone and yields exposure to different drivers of investment returns. In addition, similar to a traditional market cap-weighted strategy, this portfolio is low-cost and tax-efficient due to tax-loss harvesting.
BlackRock Target Income Funds
This is an all-bond approach meant to shield your investments from downward plunges in the stock market.
However, since these are all bonds, this portfolio is targeted to grow returns from coupon payments as opposed to asset appreciation. 
Socially Responsible Investing
Investing in this portfolio shows your support for companies that meet certain social, environmental, and governance criteria. 
For many investors, it is important that their investment dollars are only going towards companies that they support. Having this option with Betterment sets them apart from many of the other robo-advisors out there that don't make it quite as easy to align your values with your investing.
Retirement Savings
Betterment recognizes that no two individuals are alike, and therefore no two retirement strategies are alike. You will take a short questionnaire about your age, goals, income and risk tolerance.
This helps Betterment can create a personalized plan for you. Betterment lets you open retirement accounts such as traditional IRA, Roth IRA, or SEP IRA.
Users can also roll over their 401k into the Betterment platform.
One of the best features within long-term savings through Betterment is the ability to project how much you expect to spend in retirement and set up automatic withdrawals at your desired frequency. This is a great way to reverse-engineer exactly how much you'll need to be putting away today.

Betterment Fees
The Betterment platform fees are based on two different pricing models depending on account balances and whether or not you want advice from real people.
Betterment Digital comes at a 0.25% fee with no account minimum and no human advice.
Alternatively, Betterment Premium is available to those with $100,000 in investable assets and who are willing to pay a fee of 0.40%. In return, Betterment Premium customers get advice from professionals on managing their funds. These professionals can also give you advice about investments outside of Betterment. 
As with other robo-advisers, your account will rebalance each time your portfolio strays from its original goal. In other words, they want to make sure your financial hopes and dreams are always on track.
What's more, when your portfolios are rebalanced, the company will also purchase fractional shares, so you rest assured that every dollar is invested. 
Best Robo-Advisors
No-Fee Checking
Betterment goes above and beyond investing by offering a mobile-first checking account.
This simply means there are no brick-and-mortar locations. Because of that, there is no reason to charge any account fees. Therefore, Betterment's checking account is free of charge.
In addition, every ATM or foreign transaction fee will be reimbursed and each account is insured by the FDIC up to $250,000. 
High-Yield Savings
Betterment Cash Reserve is a place for users to store cash that pays an astonishing 6 times the interest of the national average. With Betterment Cash Reserve, you can earn money on your idle cash.
This is a great option if you want to hold on to some cash but also want to be earning while you wait to spend or invest your money.
With Betterment, you can transfer and withdraw your money whenever you want without any fees. In addition, you will get spending tips and insights so you can see exactly where your money is going. Then, you can adjust your lifestyle to stick with your budget! 

Betterment Pros
Betterment Cons
Conclusion: Fundrise vs Betterment
The Fundrise and Betterment platforms are two very different animals created to get you closer to your goal of becoming wealthy.
Fundrise does this by letting everyone invest in tangible private real estate deals and track the progress of what's in their portfolio. However, Betterment takes the traditional stocks and bonds approach to investing. It also gives people a truly automated experience. While both are great tools for investors, they serve very different purposes. 
If real estate is your goal but you don't have the cash or the patience to deal with actual properties, then Fundrise is a good start. But be wary of its policies on liquidity. If you lean towards investing in specific goals and want traditional investing without the high management fees, then Betterment will suit you best.
The Fundrise platform lets you invest in both commercial and residential real estate. With a minimum balance of $10 to open an account, Fundrise gives the average investor a way to invest in assets typically limited to people with deep pockets. Betterment does have a lower minimum at $0, which is hard to beat.
By using technology and offering a user-friendly experience, Fundrise remains very transparent about any project updates to their portfolios.
Betterment, on the other hand, offers a robo-advised investing experience aimed at creating broad portfolios of stocks and bonds.
The Betterment platform offers some of the most valuable investment features available today, including tax-loss harvesting.
The Verdict
When comparing the two platforms, first write down your goals as an investor. For instance, if you would like to own growth or income-producing real estate on a dynamic user-friendly platform, then Fundrise may be a good option for you.
Fundrise gives you the ability to invest in real estate projects without having to expend a huge amount of capital.
However, if you are an investor with the goal of building a broad portfolio of stocks or bonds, then Betterment may be for you. Betterment is one of the most dynamic robo-advisors available today.
You can begin investing in crowdfunded real estate using Fundrise.
In most cases, it makes sense to own both stocks & bonds and real estate within your portfolio. The idea is to be diversified across many different asset classes, that way you don't have all of your eggs in one basket. Both platforms offer a cost-effective and hands-off way to invest.
Keep Reading: