With investing, diversification is key. We have all heard the saying, "don't put all your eggs in one basket."
The logic behind this is simple: if all your eggs are in one basket and that basket breaks, causing your eggs to crash to the ground, your eggs are now worthless.
When it comes to the stock market, people often follow this strategy by investing in various stocks and industries. It is not wise to put all of your money in one particular stock or one industry. This is the financial equivalent of putting all your eggs in one basket.
Many investors take this diversification a step further. Instead of investing all of their money in the stock market, they also invest in other asset classes. Common asset classes outside of publicly-traded stocks include bonds, precious metals, real estate, and even peer-to-peer lending.
The idea behind this is that these assets do not directly correlate with each other. In layman's terms, they are not necessarily impacted by the same things. Just because oil prices are on the rise does not necessarily mean that the cost of real estate will be affected.
Two popular stock market alternatives are LendingClub and Fundrise.
LendingClub vs Fundrise: The Basics
Fundrise is a crowdfunded real estate investing platform that lets you passively invest in real estate projects and debt.
LendingClub is a former peer-to-peer lending platform now turned bank. This platform used to allow its users to act as a lender and loan money to people searching for cash. While this is no longer the case, this article will be dedicated to how LendingClub worked in the past and how it works now.
Both of these stock market alternatives allow you to diversify outside of just the stock market. Here are the key differences between LendingClub vs Fundrise.
Summary
Fundrise allows you to invest in private real estate with a $10 minimum.
LendingClub lets users invest in personal loans with a $1,000 minimum. 
Fundrise only offers passive investing options (1 of 4 portfolios).
LendingClub offered both passive portfolio investing as well as manual investing where you would pick your own loans.
Both are platforms where diversifying to other asset classes outside of the stock market is key.
LendingClub's prior platform was an unsecured investment, meaning there was no collateral.
Fundrise has an asset backing it, the physical real estate.
Unsecured debt is a higher risk.
Average returns on Fundrise range from 8% to 12% per year.
On the other hand, returns from LendingClub ranged from 6% to 8% per year.
What Is Fundrise?
Fundrise is an investing platform that allows everyday investors to invest in private real estate projects traditionally limited to high net worth individuals or accredited investors. Using the Fundrise real estate investing platform, you have the ability to have investment exposure to both commercial and residential real estate.
It also offer both debt and equity investments within its investment portfolios.
Here is our full review of the Fundrise investment platform.
How Does Fundrise Work?
Similar to real estate investment trusts or partnerships, all the investors pool their money together to purchase real estate assets. These assets then produce income and/or growth based on the principal investment. Historically Fundrise has provided investors with a positive return on their portion of the investment over time.
Real estate is traditionally a high barrier to entry investment, but crowdfunded platforms allow average retail investors to get exposure to this asset class. The Fundrise Starter Portfolio has a minimum account balance of $10.
This is significantly less than the cost of a direct real estate investment, which often requires tens of thousands of dollars. The other issue with owning an individual property is that you are not diversified. Fundrise is diversified across many different property types and geographical locations.
The Fundrise platform offers a variety of benefits such as low account minimums and quarterly redemption periods. However, investors should understand the liquidity and time horizon of an investment in the Fundrise platform. We will discuss this in further detail throughout the article.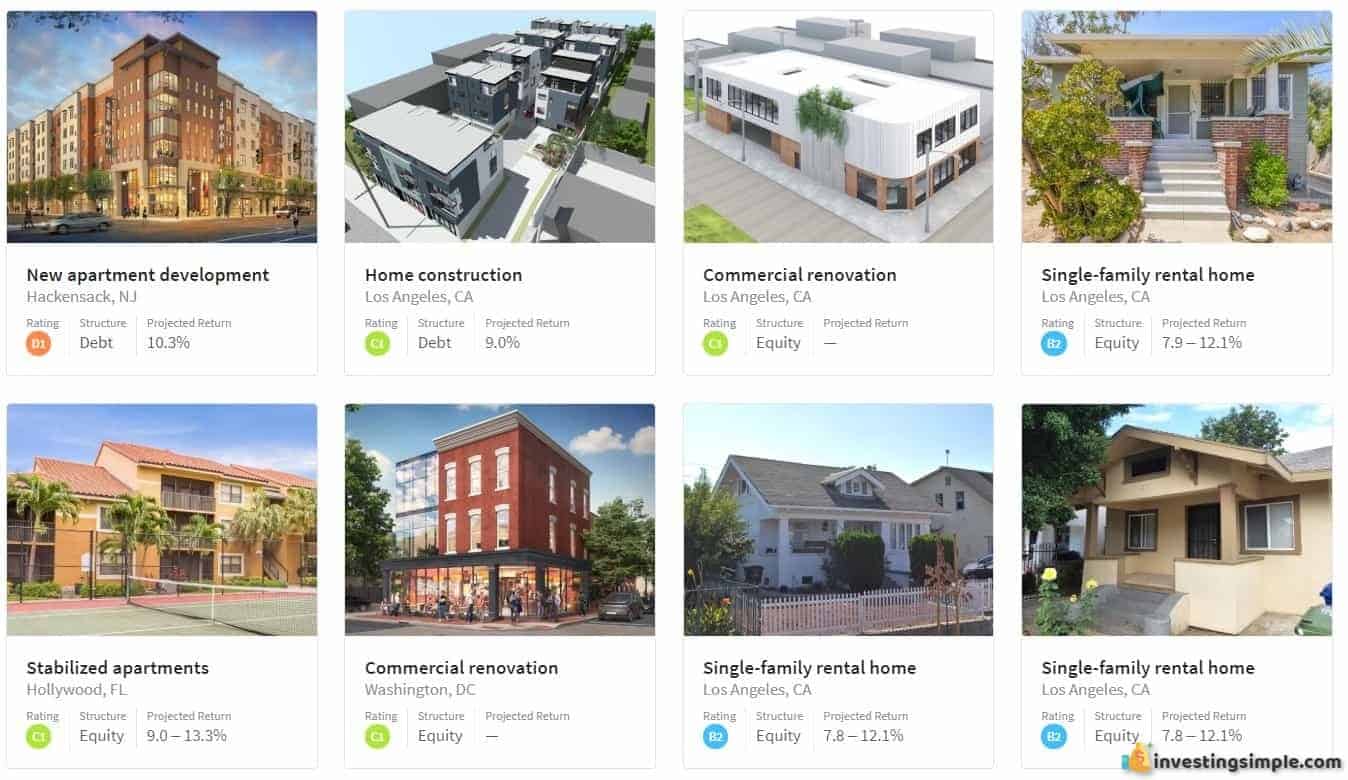 Fundrise Real Estate Projects
The Fundrise platform offers plans to invest in different types of real estate such as income-producing rental properties or growth-oriented real estate developments.
Fundrise offers different investment plans based on your investment objectives. You can keep track of Fundrise real estate projects within your account. Fundrise will also notify you about major developments with your projects.
For example, here is an email I got from one of my Fundrise investments. This is an apartment renovation project in Florida. Investors collectively backed this project.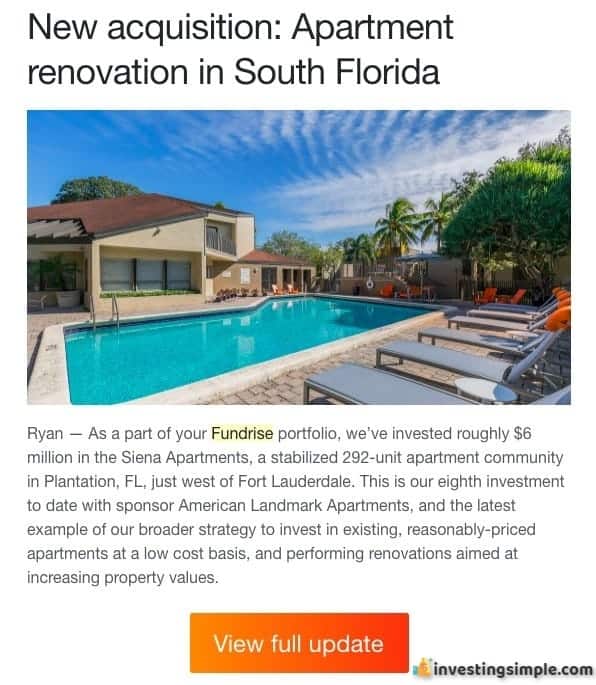 How To Make Money
There are two ways to make money with Fundrise:
Dividends or quarterly distributions (reinvest to earn compound interest!)
Asset appreciation, or buying a property and selling it for more down the line
The main investment objectives are to generate revenue from income-producing properties as well as buying and selling real estate in thriving markets. As a Fundrise investor, you can choose whether you want to be in a growth-oriented portfolio or income-oriented portfolio.
Fundrise investors receive income from rental payments and proceeds from flips in the form of dividend payments or distributions. In exchange, Fundrise collects a 1% fee as the investment manager.
It is important to understand that Fundrise is a private real estate investment. The Fundrise eREITs and eFunds can only be bought and sold through this platform. They are not publicly traded on a stock exchange like a publicly-traded REIT.
For that reason, investors should understand and be comfortable with the illiquidity of this investment. Fundrise does not recommend investing in this platform unless you have a minimum time horizon of 5 years.
Investment Portfolios
Fundrise allows you to choose from four real estate portfolios based on your risk and investment preferences.
Some portfolios are geared toward cash flow and others are focused on the growth of the underlying assets.
When you create your account with Fundrise, you'll take a quick questionnaire to highlight your goals. Then, Fundrise will package up the best investment portfolio to reach these goals. These accounts range from minimum investments of $10 to $100,000, each with its own unique perks.
Starter Portfolio
Basic Portfolio
Core Portfolio
Choose from 3 investment plans (see below)

Minimum investment $5,000
Access to 40+ projects

Dividend reinvestment + auto-invest

IRA account support

3 months of advisory fee waived for each friend you refer to Fundrise
Supplemental Income
The first of the three investment plans is the Fundrise Supplemental Income Portfolio.
This portfolio holds income-producing real estate. Investors will earn returns primarily through dividends from cash flow producing real estate. Dividends are generated through rental and interest payments in proportion to your share of the fund.
Balanced Investing
The Fundrise Balanced Investing Portfolio offers a blend of 50% growth and 50% income-oriented investments.
The balanced investing portfolio invests in a blend of eREITs and eFunds offered by Fundrise. The goal for this portfolio is for a balance of income-generating real estate, as well as real estate that is appreciating in value.
Long Term Growth
Finally, we have the Fundrise Long-Term Growth Portfolio. The goal of this portfolio is to generate returns primarily from asset appreciation.
This portfolio aims to purchase high growth potential real estate and generate returns mostly from the sale of the underlying properties. This includes buying property and performing renovations in order to sell the asset for a gain later.
Advanced Portfolio
Everything from Core plus the ability to diversify into specialized funds

Minimum investment $10,000
Access to 80+ projects

More sophisticated real estate strategies 

6 months of advisory fees waived for each friend invited
Premium Portfolio
Access to private funds (specialized, truly illiquid private equity funds with even longer time horizons — but carry the potential for outsized performance)
Minimum investment $100,000

Includes all Advanced features

Priority access to investment teams

12 months of advisory fees waived for each friend invited
Best Real Estate Platforms
New Technology: eREIT & eFUND
Each portfolio consists of eREITs and eFunds designed by Fundrise. These investments are set up as real estate investment trusts or partnerships and they are managed by Fundrise.
An eREIT will produce income for your portfolio in the form of dividends.
Dividends are earned from the rent payments from the underlying apartment and commercial leases owned within the eREIT as well as interest payments from underlying real estate debt investments owned by Fundrise.
An eFund is a partnership created by Fundrise to be treated differently for tax reasons and to provide greater investment flexibility.
Partnerships have the advantage of avoiding the double taxation of normal C-Corps. eFunds are designed in a similar way to eREITs where there is a pool of real estate investments split into shares and sold to investors. Where eREITs are designed to generate income, eFunds are geared toward growth.
Investment Liquidity
Fundrise uses the funds you invest to purchase real estate. For this reason, there is a 60-day waiting period for withdrawing funds. There are also quarterly redemption periods.
This is why it is important to understand what you are investing in when you invest with Fundrise. Investors should aim for a long-term investment of at least a 5-year time horizon when investing with Fundrise. This Real estate investment is not highly liquid and may not be for everyone!
It is important that investors understand that Fundrise cannot guarantee distributions or liquidity.
When investors do look to redeem their shares, fees are associated depending on the length of the holding period:
0% if in the first 90 days

3% if the shares were held at least 90 days but less than three years

2% if shares held at least three years but less than four years

1% if shares held at least four years but less than five years
Historical Returns
Here are the returns from Fundrise "net of" or after fees. While returns have been solid, they don't have a very long track record. Returns have ranged from 8 to 12%.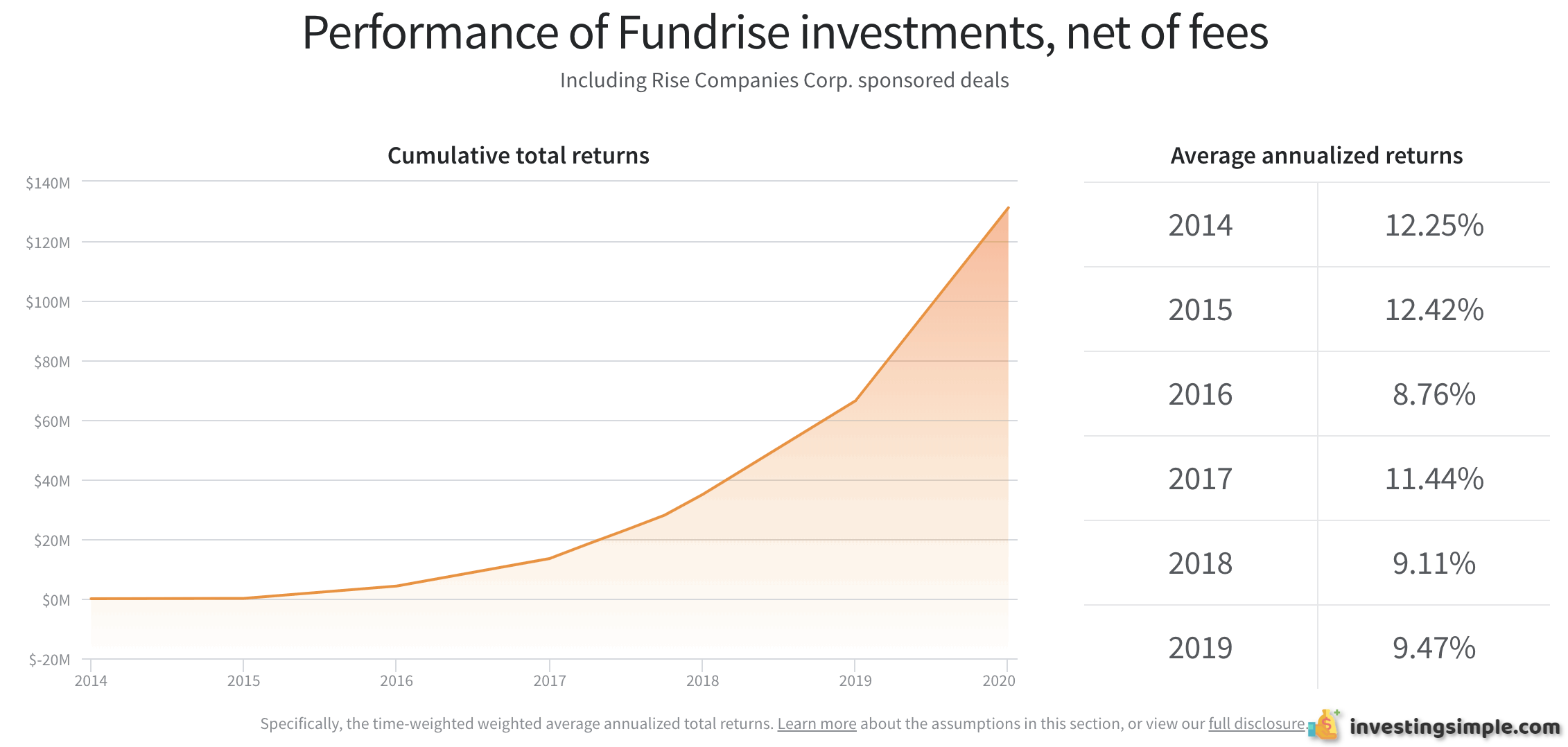 Click here to see updated Fundrise returns.
Fundrise Fees
To invest with the Fundrise platform you pay a fee of 1% per year. They do not charge any other hidden fees and there is no front load fee with Fundrise. This platform is very transparent about its fee structure.
There are also in some cases loan origination fees that range from 0 to 2% at the beginning of each project.
Fundrise Pros
The minimum to start investing with the Starter Portfolio is $10.
Small retail investors are able to access private real estate investments.
Since this is a non-traded REIT, it may not directly correlate with the stock market.
Fundrise has a transparent fee of 1% per year.
This investment allows you to earn compound interest, with the option of automatically reinvesting quarterly dividends using a drip (Dividend Reinvestment Plan).
Fundrise does not have a minimum net worth or income requirement like most private investment funds do.
This is a 100% passive real estate investment.
Fundrise gives you diversified exposure to real estate.
Fundrise supports retirement accounts.
Monthly redemption periods eliminate the temptation for panic selling.
Fundrise Cons
Fundrise cannot guarantee liquidity.
Distributions (dividends) are not guaranteed.
Distributions (dividends) are taxed as ordinary income rather than capital gain rates.
The platform has a limited track record of four years and not a long investment history.
Fundrise: Final Thoughts
Fundrise may be a great platform for passive investors who are looking to gain access to private real estate markets.
The Fundrise platform may also a good option for investors who are looking to diversify asset classes and have less correlation to the overall stock market.
In addition, you can automate your dividend reinvestment plan, allowing compound interest to build up in your account.
In most cases, Fundrise is best for investors with a minimum 5-year time horizon. Real estate is not a highly liquid investment and inexperienced investors need to take this into consideration. While Fundrise does offer a 90-day satisfaction guarantee, you should not invest if you have a short-term investing mentality.
What Is LendingClub?
LendingClub is a former peer-to-peer lending platform that allowed investors to earn interest in return for lending money to borrowers on the platform. As of December 31, 2020, this is no longer the case and LendingClub is exclusively acting as an online loan marketplace.
Users are still able to find less expensive ways to borrow money, but this does not come in the form of peer-to-peer lending.
In the former LendingClub, users would essentially act as the bank in a lending transaction. Instead of going to a bank for a loan, borrowers could go to this platform looking for financing.
These loans would then be split up into notes, and investors could invest in portfolios of these notes or pick and choose them.
What Is Peer-to-Peer Lending?
Peer-to-peer lending takes a modern approach to the traditional bank loan.
Traditional lending has been reserved for the banks for hundreds of years. With this platform, investors could get rid of the middleman and lend directly to borrowers. This allowed investors to fund loans and earn principle and interest in return.
It also allowed borrowers to take out loans and make monthly payments on those loans.
LendingClub acted as the exchange; its' purpose was to connect lenders and borrowers. By enabling this mutually beneficial relationship and creating the note structure, LendingClub collected a 1% investment management fee on any interest payment received by an investor.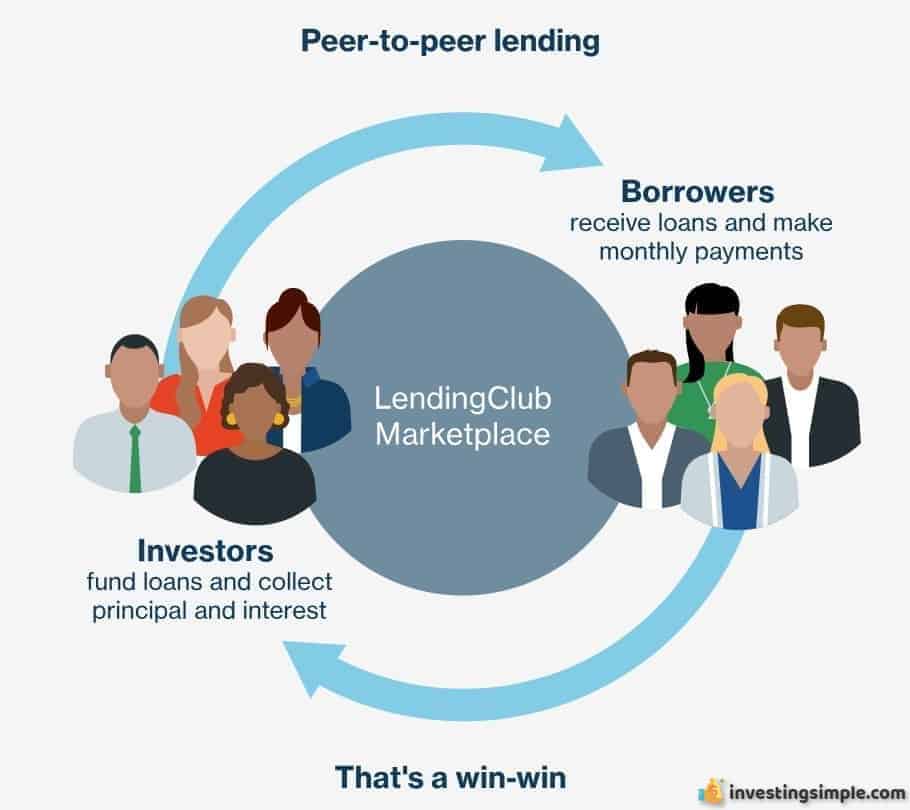 Note Structure
The LendingClub platform offered a wide variety of notes ranging in grade and quality.
LendingClub ranked each note based on its relative risk to the investor and rates them from A to E.
Notes rated A are of the highest quality and E being the lowest quality.
LendingClub identified a note's risk using a set of criteria such as credit score, debt to income ratios, credit history, and activity of the borrower. The higher the risk, the higher the interest rate on the note. Therefore investors who took higher risk and invested in E grade notes would have received the highest interest rates.
Notes graded E also have the highest risk of losing part, if not all, of their investment.

It was recommended by LendingClub to invest in a number of different notes in order to diversify your exposure to a variety of different borrowers and lower your risk. We all have heard the saying, "don't put all your eggs in one basket."
Investors may have chosen to invest in a variety of different notes with different risk aiming to lower the volatility and overall risk of their portfolio.
Investing Strategies
LendingClub offered both manual and automated investments on its platform. You had the ability to manually select specific notes and perform any due diligence before investing in a single note. This was a good option for investors that are more hands on and would like to implement their own unique investment style.
This manual investment strategy allowed you to handpick each note.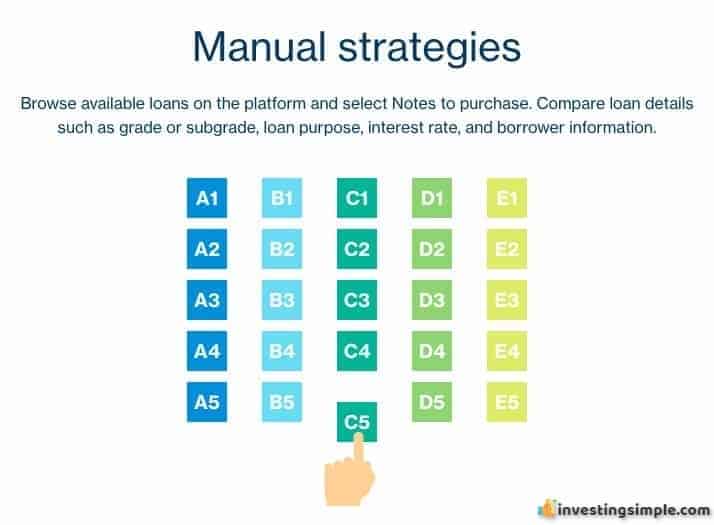 LendingClub also offered automated investing on their platform. Users were able to select investment criteria and risk tolerance and LendingClub would automatically purchase notes on your behalf. This saved the investor time and applies a consistent investment approach across your portfolio.
This approach was geared toward the passive investor.
Investment Time Horizon
LendingClub recommended investors plan on holding their investments until maturity which was typically 36 to 60 months.
Because there is greater risk in notes that have longer maturities, the interest rates were slightly higher for 60-month notes compared to 36-month notes.
You had the option to sell your notes before maturity on a secondary market, but liquidity was never guaranteed. That being said, you could buy and sell LendingClub notes to other investors on the Folio investing platform. This provided liquidity to investors and allowed more flexible investing.
LendingClub Today
Today, the once-popular option to assist others by lending them money is no longer available on the platform. Instead, LendingClub now acts as a marketplace for businesses or individuals to price out loans and compare rates.
Through the platform, members can find loan options for purchasing a home, refinancing a car, debt consolidation, and a myriad of other things. Through this, members will be able to compare across banks to see what the best rates and terms could be.
For personal loans, users can borrow up to $40,000 whereas a business can borrow up to $500,000.
High-Yield Savings
As a way to say thank you to the investors who were once on the LendingClub platform, LendingClub has opened a high-yield savings account just for them! This is not available to all users, only those who used the platform for its original purpose: peer-to-peer lending.
To see an updated rate on the high-yield savings account, called the Founder Savings, click on this link.
LendingClub Pros
LendingClub allows users to compare loans across various offerings

Users can get approved for a loan in minutes and have the money within days

High-yield savings account with no minimums or fees

FDIC-insured accounts up to $250K
LendingClub Cons
Loan origination fees vary from 3%-6%

No peer-to-peer lending available
LendingClub: The Bottom Line
LendingClub allowed investors to diversify by investing in an asset class traditionally reserved for banks. It is now an online loan marketplace for users to find the best rates available for personal or business loans. 
There is also a high-yield savings account on the platform called Founders Savings reserved exclusively for former peer-to-peer investors.
This is no longer an investing platform. It is used exclusively for borrowing.
Fundrise vs LendingClub: Final Thoughts
Alternative investments to the traditional stock and bond portfolio may be a good option for an investor trying to diversify their holdings.
Before LendingClub's switch, both LendingClub and Fundrise were good alternatives and provided investment exposure to different types of assets.
In the end, you should be conscious of the risks and opportunities with each investment option.
Fundrise is a good option to gain exposure to the commercial and residential real estate markets with a small initial investment.
LendingClub allows you to shop around for loans that meet your personal needs.
There are countless ways to invest in real estate. Fundrise is just one of the many options. This may not be the best fit for you based on what you are looking for out of the investment. Check out our comprehensive guide on real estate investing to learn more and explore other avenues!