Thanks to recent changes in legislation, average everyday investors can now participate in private real estate deals through a number of crowdfunded real estate platforms. While many are reserved for accredited investors only, there are a few that do not require this. In this post, we would like to review and compare two very popular real estate investing platforms known as Fundrise vs Modiv. Both of these platforms have options for non-accredited investors.
*Modiv was formerly known as Rich Uncles.
Modiv vs Fundrise: Summary
Fundrise allows investors to purchase debt and real estate investments with a minimum of $10 to get started. Modiv has a larger minimum investment of $1,000. Fundrise has a 1% annual fee, while Modiv fees vary based on the success of the investment.
Modiv only offers one investment portfolio while Fundrise offers 10+.

The minimum investment for Fundrise is $10 for the Starter Portfolio.

Both platforms are open to any investors, meaning you do not need to be an accredited investor.

Modiv pays dividends monthly while Fundrise pays them quarterly.

Fundrise invests in a mix of residential and commercial real estate while Modiv is strictly commercial.
How Does Fundrise Work?
Fundrise is one of the most popular crowdfunded real estate investing platforms. Similar to real estate investment trusts or partnerships, all the investors pool their money together to purchase real estate. The blend of both debt and equity investments provides investors with both growth and income potential.
You start by opening an account with Fundrise with a minimum of just $10 for the starter portfolio. Beyond the starter portfolio, there are also four other account levels: basic, core, advanced, and premium with a minimum investment of $1,000, $5,000, $10,000, and $100,000 respectively.
You will be glad to know that you can upgrade from the starter portfolio to one of the other account levels at any time!
By upgrading to the other levels, you'll gain access to more control over your investments and the ability to pursue specific strategies that match your objectives. For example, with an advanced account, you're even able to target your investments to a particular market like Washington DC or Los Angeles.
This is a 100% passive investment. There is not active property selection or ongoing management. The only decision you need to make is whether or not you want to reinvest the dividends you will earn quarterly. Some investors choose to reinvest them to earn compound interest while others want them deposited into their bank account.
With higher tier accounts there are more choices you can make regarding your investments but these are optional.
Real Estate Projects
Your money is pooled with other investors to purchase real estate or finance real estate development projects. Fundrise will update you on the projects within your portfolio via email. You will also receive emails when projects are completed or fully repaid.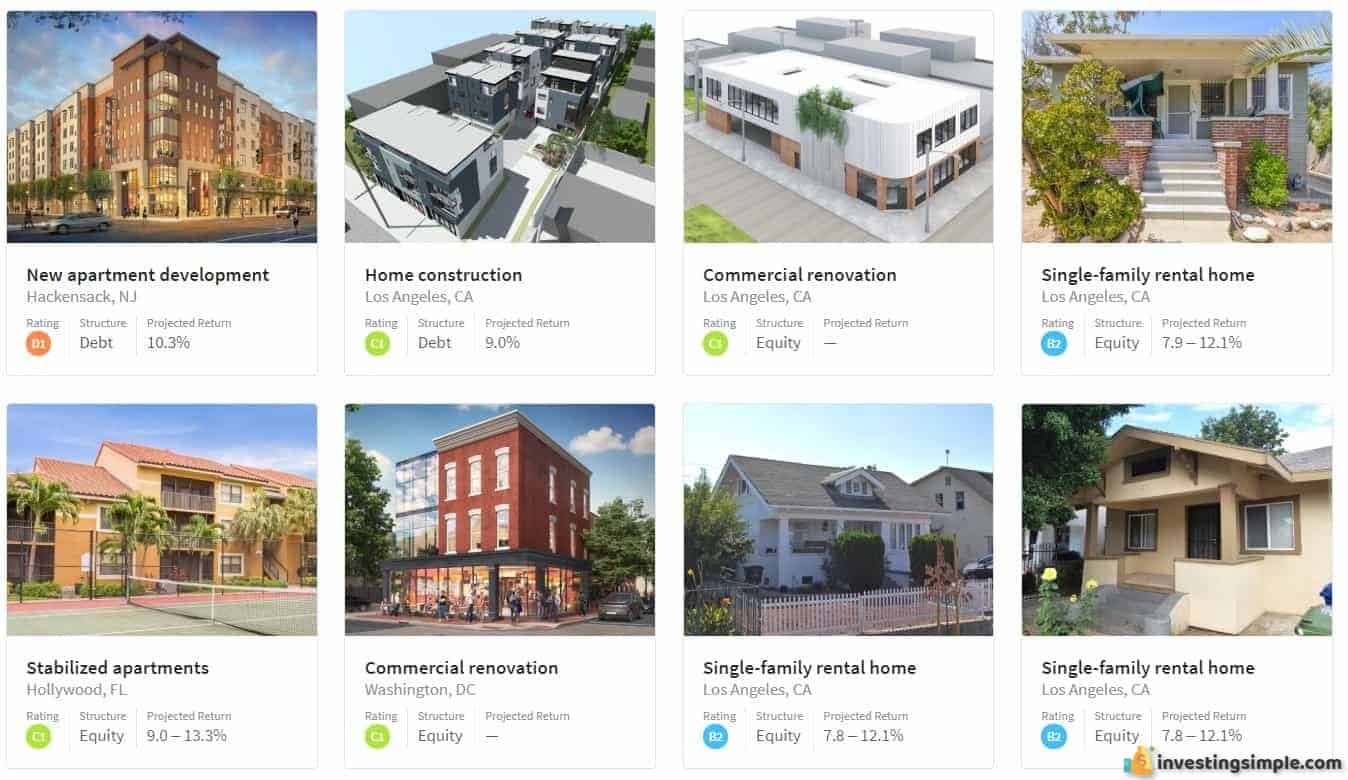 Investors should understand that any real estate investment is a long-term investment. According to the Fundrise site, investors should have a minimum time horizon of 5 years. While there are quarterly redemption periods, liquidity is never guaranteed. Before you invest with any crowdfunded real estate platform, consider how long you plan on investing.
Fundrise Account Levels
There are four account levels available with Fundrise: starter, core, advanced, and premium. The level of your account depends on the total value of your account. The more you invest, the higher level your account becomes.
With a higher-level account, you'll have the ability to take advantage of more features and customization within your investments.
Fundrise Starter Portfolio
The Fundrise Starter Portfolio has the lowest opening balance of just $10. You can upgrade to one of the advanced plans at any time. Your money will be invested in a blend of 50% growth and 50% income-oriented properties.
Fundrise Basic Portfolio
With the Fundrise Basic Portfolio you will need $1,000 to get started. Like the Starter portfolio, you will have access to Auto-Invest and Dividend. But you will also be able to invest via IRAs and create your own personal investment goals.
Fundrise Core Account Level
To access the three portfolios offered to the core account level, you'll need at least $5,000 invested with Fundrise.
Supplemental Income Portfolio
First, we have the Fundrise Supplemental Income Portfolio. The aim of this portfolio is to produce income for investors through interest payments from debt investments as well as cash flow from equity investments. There is higher dividend potential but lower growth potential from the projects in this portfolio.
Balanced Investing Portfolio
The Fundrise Balanced Investing Portfolio is, well, self-explanatory! It is a blend of both income-producing properties and growth-oriented properties. This is a very middle-of-the-road portfolio that resembles the Starter Portfolio.
Long Term Growth Portfolio
Finally, we have the Fundrise Long Term Growth Portfolio. The goal of this portfolio is to generate returns primarily from asset appreciation. They aim to purchase real estate in hot markets, force appreciation through improvements, and sell it for a higher price down the road.
As the name suggests, investors in this portfolio should have a longer time horizon than the other two Core portfolios.
Fundrise Advanced Account Level
To reach the advanced account level, investors will need to invest $10,000 on the Fundrise platform.
An advanced account will allow investors much greater flexibility in their investment than the core or starter levels. At this stage, you'll have access to a collection of niche portfolios like the Washington DC eFund or the Los Angeles eFund in addition to the Plus versions of the core portfolios.
The Plus class of core portfolios allows investors to pursue more advanced investing strategies such as tax-advantaged real estate projects. These can include implementing 1031 Exchanges or taking advantage of opportunity zones to defer or eliminate capital gains taxes.
Los Angeles eFund
The Los Angeles eFund focuses on single-family properties in Los Angeles. The fund currently holds 31 active projects consisting mostly of houses that are being constructed or renovated.
By building from scratch or buying and fixing distressed properties, the fund delivers the majority of its returns through appreciation and currently does not pay a dividend.
This is a portfolio for investors with a long-term time horizon and who believe that LA and the surrounding areas will continue to grow and remain a desirable place to live.
Washington DC eFund
As the name suggests, this fund invests exclusively in the DC Metro area. Similar to the LA eFund, the portfolio is structured around appreciation. By purchasing properties in need of repair or updates, renting them out, and selling them at a higher price, the fund aims to provide investors with consistent capital gains over time.
The fund currently contains 25 active projects in close proximity to Amazon's HQ2. Investors are optimistic that upon completion of these projects, their value will be significantly higher as a result of increased demand from the influx of highly compensated Amazon employees.
Fundrise Premium Account Level
Investors will need to invest $100,000 with Fundrise to reach the premium account level.
Currently, the only additional benefit offered to those with a premium account is the ability to book a call with Fundrise's investments team. This priority access is useful for investors who want to talk to a real person and get support in structuring their investment.
In the future, it is likely that more perks will be added to premium accounts, but for now, the benefits are minimal.
Fundrise Technology: eREIT & eFUND
When you invest with Fundrise, you will receive shares of both eREITs and eFunds. These are private investments, meaning they do not trade on a major exchange like a traditional REIT. The only way to sell them is on the Fundrise platform.
An eREIT will produce income for your portfolio in the form of dividends. Dividends are earned from the rent payments from the underlying apartment and commercial leases owned within the eREIT as well as interest payments from underlying real estate debt investments.
An eFund is a partnership created to be treated differently for tax reasons and to provide greater investment flexibility. Partnerships have the advantage of avoiding the double taxation of normal C-Corps. Where eREITs are designed to generate income, eFunds are geared towards growth.
Best Real Estate Platforms
Fundrise Investment Liquidity
It is important to understand that Fundrise cannot guarantee liquidity. Just like with the stock market, they cannot guarantee dividends or distributions either. Your money is being used to fund real estate deals or purchase real estate. Unlike stocks, real estate is not a highly liquid investment. It does not change hands overnight.
They do offer quarterly redemption periods if you want to sell, but if there is a rush of investors looking to liquidate they may not have the cash on hand. This is why it is important that investors are comfortable with the characteristics and time horizons associated with private real estate investments.
Fundrise Historical Returns
Past performance does not guarantee future returns. All investing involves risk, including the potential loss of principal.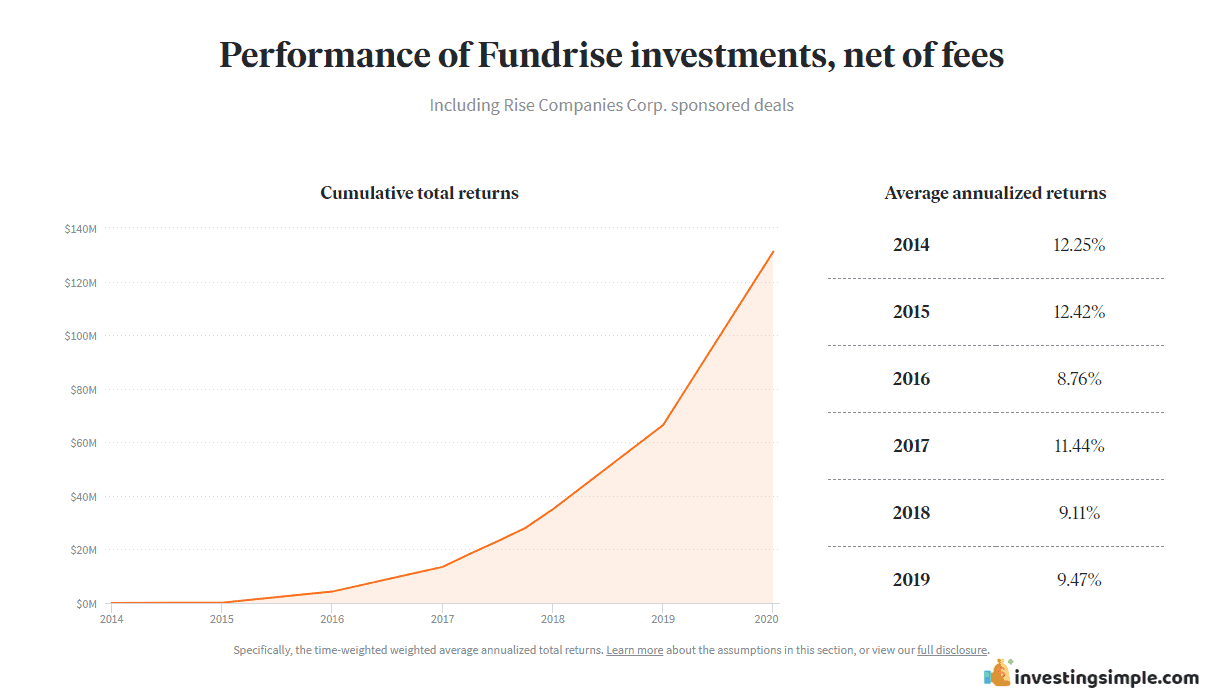 Click here to see updated Fundrise returns.
Fundrise Fees
Fundrise charges a fee of 1% per year. They do not charge any other hidden fees and there is no front load fee with Fundrise. The returns shown above are the returns after Fundrise collects the 1% fee.
Pros Of Investing With Fundrise
The Starter Portfolio has a $10 minimum.
Small investors are able to access private real estate investments.
As a private investment, it may be less correlated with the overall stock market.
Straightforward 1% fee structure.
This investment allows you to earn compound interest through the DRIP.
You do not need to be an accredited investor.
Retirement accounts are available.
Cons Of Investing With Fundrise
Limited operating history, since this is a relatively new investment.
They cannot guarantee distributions or liquidity.
Distributions are taxed as ordinary income.


What Is Modiv?
Modiv is very similar to Fundrise. It gives you the opportunity to invest in a variety of commercial real estate projects. Originally, only accredited investors were able to invest with Modiv. Now, their REIT is open to all investors with an investment minimum of $1,000. 
Investment Liquidity
Modiv is a non-traded REIT. This means you cannot sell shares on a major exchange like a stock. Modiv does provide a share redemption service where investors can sell their stake back to the company. However, there is no guarantee that you will be able to redeem your shares.  While Modiv provides greater liquidity than a traditional real estate investment, it lacks the liquidity of publicly-traded REITs.
Fees & Minimum Investment
Modiv has an investment minimum of $1,000 for their flagship REIT. This is consistent with other similar real estate investing platforms.
Modiv takes a unique approach to its fee structure. Most traditional REITs charge significant maintenance and investment management fees. Modiv, on the other hand, takes a share of the gross proceeds to use for organizational and offering costs.
97% of gross proceeds are used for investment. Then, Modiv takes 3% to cover operational expenses. 
Time Horizon
Modiv is a long-term investment. Their investment team looks for projects with a 4-to-7 year timeline. Once the fund has reached capacity, the Modiv investment team may decide to liquidate and disburse the earnings to investors. Modiv is an open-end fund, meaning new shares are constantly being issued so new investors can purchase shares in the fund. When a fund is liquidated, the investors will receive their portion of their principal investment as well as any earnings from the sale of the underlying real estate assets.
Dividends
You will receive dividends on a monthly basis from Modiv. Investors have the option of reinvesting these dividends through the Modiv dividend reinvestment program.
Modiv Portfolio
The Modiv platform currently offers one investment options; the Modiv REIT. Modiv holds strict investment standards in its acquisition strategy. The platform reports that only 0.3% of the deals they review meet their acquisition standards.
As a result, the selection is a little bit limited. From restaurants, to convenience stores, to fitness centers, Modiv provides a broad option of investments across commercial real estate. 
Pros Of Investing With Modiv
Modiv offers a low-barrier way to invest in commercial real estate.

Modiv issues dividends on a monthly basis.

They do not require a minimum net worth or income requirement to invest.
Cons Of Investing With Modiv
Modiv cannot guarantee liquidity or distributions.

Some investors might not be comfortable with the 4-to-7 year time horizon.

Portfolio selection is lacking with just two choices.

Modiv was founded in 2012, so there is a limited track record.
Fundrise vs Modiv: The Bottom Line
The first key difference between the two platforms is the minimum investment requirement. Fundrise has a $10 minimum and Modiv has a $1,000 minimum.
Another main difference is the types of investments they offer. Fundrise offers both debt and equity investments in both commercial and residential real estate. Modiv, on the other hand, invests in commercial real estate only.  
You do not need to be an accredited investor to invest with either platform. This significantly lowers the barriers to entry and makes this a feasible option for the average retail investor.
We believe Fundrise has an edge over Modiv mostly due to the wider variety of investment options and fee transparency.
Fundrise gives you more options when choosing your investment. You can invest with the goal of capital appreciation or generating income, for example. Modiv only offers limited commercial real estate investments.
Keep Reading: