In today's digital age, the concept of side hustles has gained tremendous popularity.
With the rapid advancement of technology, the rise of the gig economy, and the widespread use of the internet, there has never been a better time to explore new opportunities.
Among the many options available, becoming a freelancer stands out as an excellent choice for those seeking a good side hustle to start out with.
Don't forget to grab your free stock worth up to $200 from Robinhood today!
About the Author
Ryan Scribner is the author of From Side Hustle To Main Hustle To Millionaire - a practical guidebook on launching your own side hustle. He is recognized as a Top 100 Money Expert by GoBankingRates.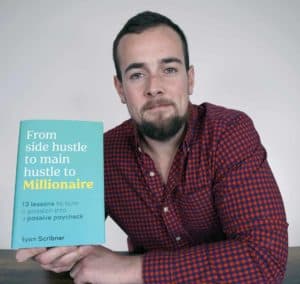 Ryan runs a successful YouTube channel focused on money and investing, which he started in 2016. He also owns a portfolio of digital business, all earning passive recurring revenues.
Now, Ryan teaches others how to create additional income streams.
Flexibility and Remote Work
One of the most appealing aspects of freelancing is the unparalleled flexibility it offers.
As a freelancer, you have the power to set your own schedule, choose the projects you want to work on, and determine your rates. This flexibility allows you to strike a balance between your side hustle and your primary job or other commitments.
Moreover, freelancing provides the opportunity to work remotely. With the internet connecting people across the globe, geographical boundaries no longer limit your potential client base.
You can work with clients from different countries and time zones, breaking free from the constraints of a traditional office environment.
Online Platforms
These platforms, such as Upwork, Freelancer, and Fiverr, act as marketplaces where clients can post projects and freelancers can bid or offer their services.
By leveraging these online platforms, you gain access to a vast pool of potential clients actively seeking freelancers like yourself.
AI Tools
Freelancers can leverage AI tools to enhance their productivity and efficiency. AI-powered tools and applications can help automate repetitive tasks, streamline workflows, and improve the overall quality of work delivered.
AI-based grammar and spell-checking tools like Grammarly ensure that your written content is error-free and polished.
AI algorithms can assist with data analysis, market research, and lead generation, allowing you to make informed decisions and target your services to the right audience.
With the help of AI, you can complete tasks that would normally take hours in a fraction of the time, allowing you to take on more projects and increase your earning potential.
Conclusion
Freelancing has emerged as an ideal side hustle for individuals looking to harness the power of the internet, remote work, and AI tools.
With the flexibility it offers, you can balance your freelance work with other commitments and design your own schedule.