If you're looking to change fields right now or are just seeing what's out there, we're gonna be covering 8 of the highest paying jobs that don't require a college degree.
Now I cherry picked this list after looking at over 50 potential jobs. These are the most practical ones with the lowest barriers to entry.
So be sure to stick around until the end for the highest paying opportunities.
Keep in mind, as we go through this list, a good job isn't just about high pay.
Benefits such as health insurance and a 401(k) are extremely valuable too, so all of that should be factored in during your search.
Keep on reading, or watch my video on this topic below.
Don't forget to grab your free stock worth up to $200 from Robinhood today!
About the Author
Ryan Scribner is the author of From Side Hustle To Main Hustle To Millionaire - a practical guidebook on launching your own side hustle. He is recognized as a Top 100 Money Expert by GoBankingRates.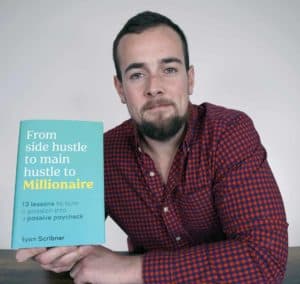 Ryan runs a successful YouTube channel focused on money and investing, which he started in 2016. He also owns a portfolio of digital business, all earning passive recurring revenues.
Now, Ryan teaches others how to create additional income streams.
8. Insurance Sales Agent - $50,940
The first job on the list is becoming an Insurance Sales Agent. This is someone who helps businesses and individuals find the right policies.
This job will involve a lot of talking on the phone, so good people skills are highly recommended.
You'll also be managing a growing portfolio of clients, so organizational skills are a must too.
A lot of these jobs have a commission structure on top of a base salary, so this can be an incentive for many to get paid based on their output.
State Farm for example has a Paid Training Program for becoming an Insurance Agent, so all you have to do is pick an agency and reach out to a recruiter.
7. Plumber - $59,880
If you're willing to do a little dirty work, the next two jobs are great high-paying options.
Plumbers earn just under $60,000 on average - but the benefits are often phenomenal as many of these are Union jobs.
The Plumbers & Steamfitters union offers in-house training that they spend over $100M a year on.
There's over 400 local unions, so all you have to do is reach out and inquire about an apprenticeship.
6. Electrician - $60,040
In the same realm is our next high paying job which is becoming an electrician.
The IBEW is the biggest electrical union, and they too offer in-house training for apprentices.
You typically don't make as much as an apprentice, but it's still as high as $24 an hour in some areas.
Once you are a Journeyman Electrician, which takes about 4 years, you can then work anywhere in the United States across the various IBEW unions.
5. Flight Attendant - $61,640
If you like being on the move, becoming a Flight Attendant is another surprisingly high paying job with no college requirement.
With this line of work, you may end up spending a lot of nights away from home in hotels during stopovers. However, this can come with a benefit.
Since you aren't home often, a lot of flight attendants have really cheap apartments as their housing isn't used much. And you might not even need a car depending on how often you're traveling.
Southwest for example offers a Careers website where you can apply as well as learn about what the job of a Flight Attendant entails.
4. Police Officer - $64,610
The next high paying job is becoming a police officer.
Becoming a cop is a physically demanding job, so you will want to make sure you're in good physical shape.
Each State has its own Police Academy, which is where you learn the skills required to become a police officer.
The training can be extensive, in NY it's over 1,000 hours.
However, in most cases, Recruits get paid a starting salary while they are in the Academy for about 6 months.
3. Insurance Appraiser - $65,080
The next high paying job is in the insurance realm again.
But instead of selling insurance, appraisers investigate, evaluate and settle insurance claims - which is when damage has occurred.
Let's say someone has a homeowner's insurance policy and a tree falls on their house. An Insurance Appraiser would go out and take photos and work up an estimate for repairs.
2. Agricultural Manager - $71,160
Second to last, we have Agricultural Managers, who make just over $71,000.
Agricultural or Farm managers oversee the operations at a farm, which can be a combination of hands-on work as well as computer work.
You'll likely need to start out with an entry-level Agriculture position, but you can aim to work your way up to this with time.
1. Postmaster - $80,250
Lastly on the list, we have the highest paying job on our list with no college which is a Postmaster.
The Postmaster - as the name suggests, is essentially the manager of the post office. This person oversees all of the day to day operations, ensuring everything runs smoothly.
Postmasters can earn over $80,000 - making this a highly lucrative opportunity. However, you will have to start off as an entry level postal worker and then climb the ranks.
However, becoming a Mail Carrier is actually a pretty high paying job that starts out at over $20 per hour.
Final Thoughts
So there you have it, these are some of the highest paying jobs you can get without a college education.
Now if you are looking to make money outside of having a job, a side hustle is one of the best opportunities you have.
For the 1% who are ready to take their side hustle journey a bit more seriously, I wrote a book about side hustles.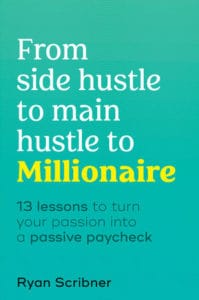 It covers all phases of the side hustle journey, and you get access to a members only discord where you can ask me questions along the way.
And you can grab a copy in person at most Barnes and Noble stores across the United states, or it's right on Amazon.
So grab a copy today and let's get started on your side hustle journey together!