Acorns is a robo-advising, micro-investing platform that does the saving and investing for you. It is very popular: currently, there are more than 9.75 million people using the Acorns platform, and that number of users is growing at a fast-paced rate. They have also acquired over 700k 5-star ratings in the app store. It is a good starting point for new investors.
Acorns is basically micro-investing with micro-pricing. There are no deposit or account minimums to maintain, no commission fees and no penalties when withdrawing funds. What's more, Acorns charges just $1 per month for its basic service.
You must meet these three requirements to sign up with Acorns:
At least 18 years old
Be a resident of the USA
Have an active checking account
You will also need to link your credit and debit cards to Acorns if you want to participate in the round-ups program (see below). If not, you can still add to your account on a regular basis with pre-scheduled deposits.
Acorns Features
Automatic Round-ups
All of us have loose change collecting dust in a container on our dresser, or simply rolling around in our car. Acorns gives you a way to effortlessly take that spare change and put it into your investment portfolio. This is done through automatic round-ups. You simply link a credit or debit card, then buy groceries, gas, Saturday night drinks, grooming for your pup, you name it!
Acorns will round-up the amount you've spent to the nearest dollar. No, it doesn't matter if it's pennies. If you spend $20.99, it will round it up to $21 and save that penny. Remember, spare change adds up quickly! The Acorns app will take that change, regardless how small an amount, and funnel it into your investment portfolio.
Once your round-ups reach a small amount of just $5, Acorns withdraws the money from your linked checking account and invests it for you. This way, it will continue to grow in your investment portfolio.
Acorns has a team of over 150 experts selecting carefully researched investments based on your short and longer-term goals.
Acorns transfers those spare coins into investments diversified across more than 7,000 stocks and bonds that are automatically rebalanced with market fluctuations up and down.
You can also opt to use the round-up multiplier to increase the amount funneled into your portfolio by two, three or ten times for each total purchase. You can try this out and if it doesn't work well for you or if you're feeling the pinch, you can turn the multiplier off.
All of this is done automatically. You set it and forget it. Not only will that spare change be bringing you closer to your short and longer-term goals, it will also get rid of those coins getting dusty on your nightstand for months or even years!


Additional One-Time Deposits To Your Account
You can add to your wealth by making one-time deposits to your portfolio at any time you have extra cash. Maybe you made a smart move and started making coffee at home, saving you around $35 per week. You can send that money right into your Acorns investment account.
You can help your investments grow faster by setting up additional deposits in set amounts on a daily, weekly or even monthly basis.
Another option is to set-up one-time investments to fund your account during a high-earning time, like getting a bonus at work, or even getting a refund on your income taxes.
Levels Of Acorns Membership
You can sign up for Acorns in three levels of membership:
Lite: $1 a month. Includes a taxable investment account.
This level lets you:
Invest spare change
Earn bonus investments from more than 350 found money partners
Grow your knowledge through hundreds of articles from finance pros
Personal: $3 a month. This level tacks on an Individual Retirement Account and a checking account.
This level gives you:
All-in-one investment, retirement, and checking account
Certain tax advantages
Bonus investments of up to 10%
Ability to save money with no account fees
55,000+ fee-free ATMs across the nation and around the world
Advice on how to save money and more
A unique metal debit card
Family: $5 a month. This includes everything in the lower tiers, plus Acorns Early, which lets you open investment accounts for kids.
Investment accounts for kids with no extra charge when you add children to the plan
Potential tax savings as they grow
Personal investment, retirement, and checking accounts
Automatic recurring investments
Family financial advice specific to your needs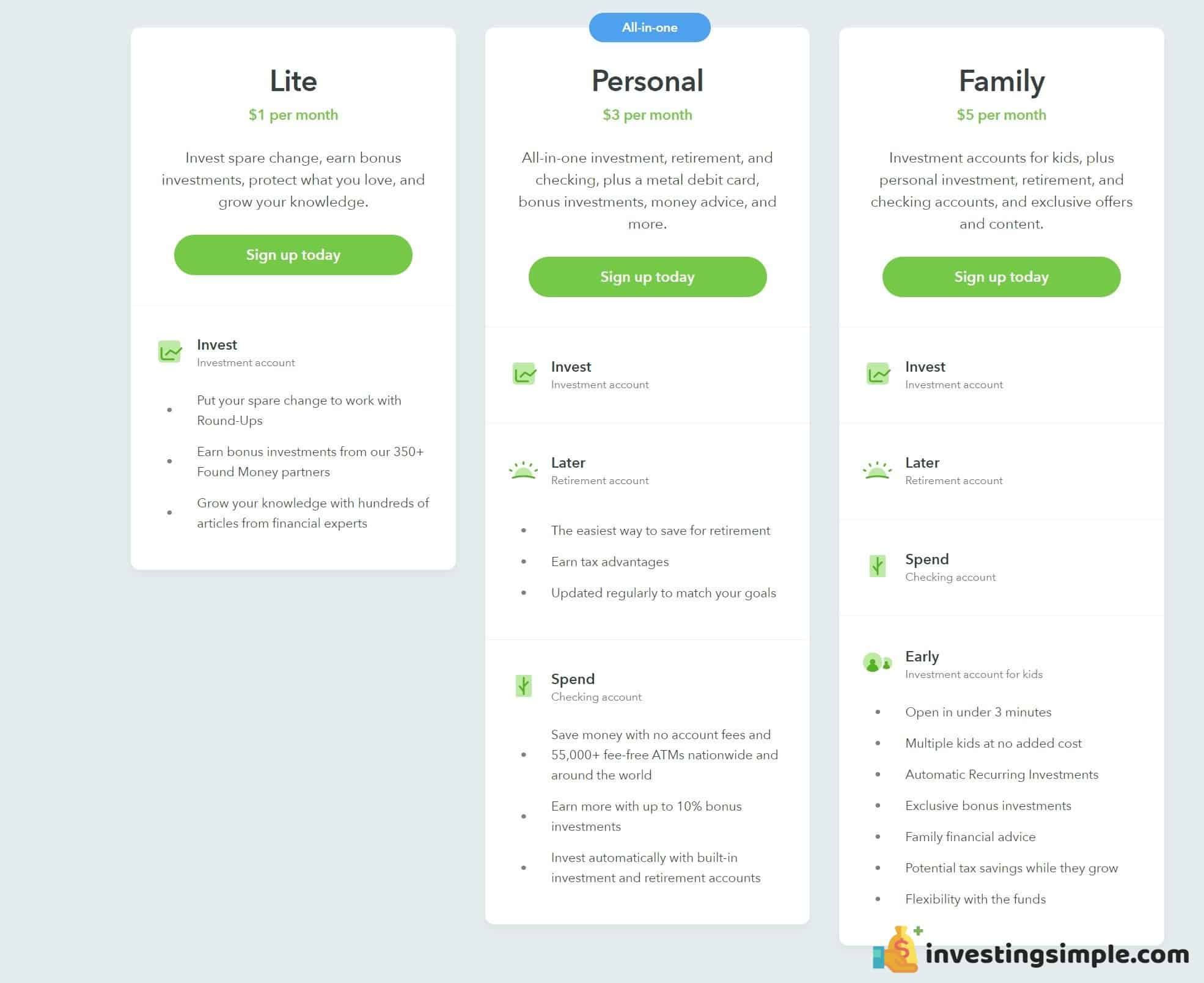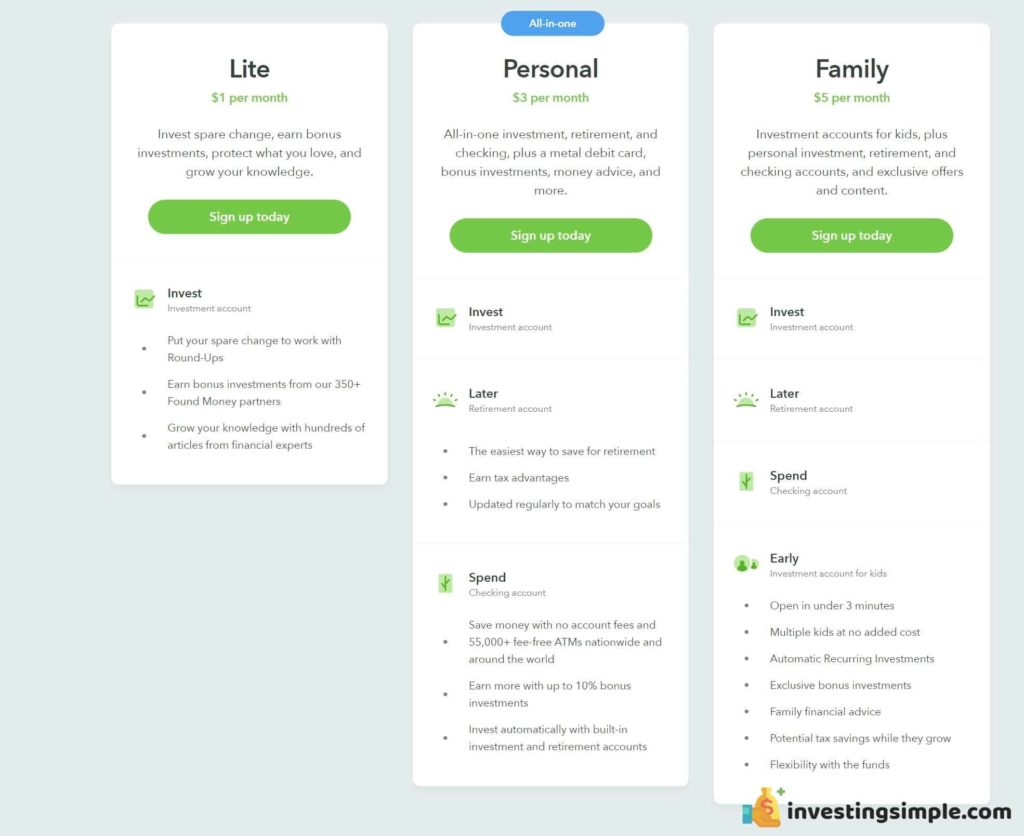 Acorns Earn
Acorns Earn is a good-sized list of retail partners that will send an extra 5 to 10 percent of your transaction in cash back to your Acorns brokerage account. The cash backs you earn are called Found Money
Acorns Earn is a cashback program that earns you rewards when shopping from Acorns partners. Right now, there are more than 12,000 partners. To be part of Acorns Earn, you will need to link your credit card or debit card to your Acorns account.
Acorns also offers a Chrome Browser extension that makes finding and redeeming offers much easier. The average Acorns customer is currently earning $12 per month by making everyday purchases! The vast number of partners and simple Chrome extension make the ability to find offers seamless!
Acorns Spend
Acorns Spend is a debit card that saves, invests, and earns for you. It is a checking account with Acorns built in. The account has no minimum balance requirement, no overdraft fees, and unlimited free or fee-reimbursed ATMs nationwide.
One unique feature of Acorns spend is its ability to help you save money! You can connect your direct deposits from your job and automatically set aside money into another account, such as a savings account, investment account, or retirement account, with each paycheck. This is a great feature for those that need saving and investing.
Acorns Grow
This gives you access to an online library of videos, articles, a variety of tutorials and other educational content to help you learn more about the fundamental knowledge about everything from writing a budget to saving for college.
Recent topics have included:
The credit score you need to buy a house
$1,400 stimulus check calculator: Find out how much money you could get
The recession is over: Experts give 3 economic predictions for the rest of 2021
3 in-demand skills that can help you stand out to employers in 2021
Acorns Early
If you invest just $5 a day in a child from birth, at an 8% average annual return, they could be a millionaire by 50. It makes far more sense to invest money for a child's future than to let it sit idly, gaining low interest in a traditional bank account.
Acorns Early is a UTMA / UGMA account. This means that, unlike a 529 that can only be used for education, you can use the funds for anything that benefits the child.
Your Acorns Early account can be transferred easily to the child at a specified age when they enter adulthood.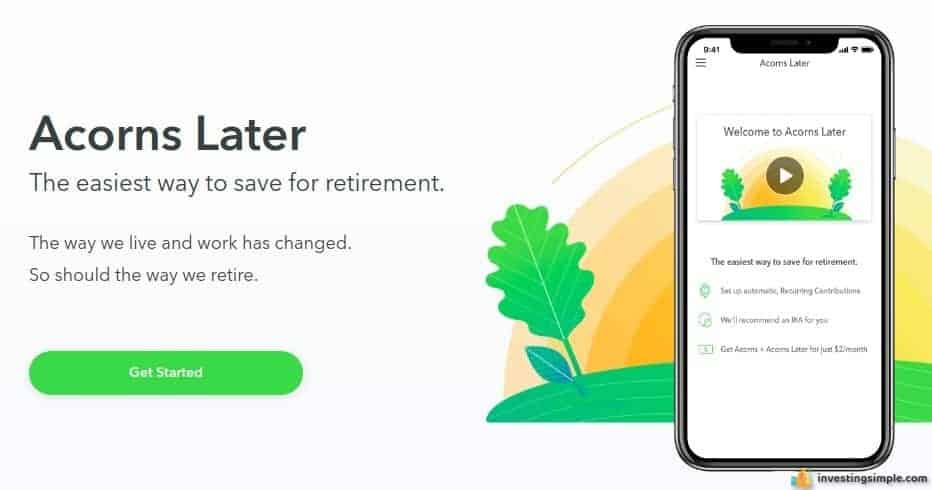 Acorns Later
These are Individual Retirement Accounts (IRAs) both traditional and Roth. IRAs allow you to save money without all the tax implications of other investments.
Acorns investment experts will recommend an IRA for you based on your longer term goals, employment and income. Regular reports will show you how much progress you are making.
If you already have an IRA or 401k, Acorns professionals will help you roll it over into Acorns Later. As you approach retirement, your investments will begin to shift to line up with your goals.
Conclusion
Acorns is micro-investing, which means even pennies can be used to build your investment portfolio. Acorns is also automated, so you can set and forget recurring deposits, such as $50 out of each weekly paycheck. Its additional offerings make it a full-service investing, saving and banking app. Whether you are just venturing into investing or looking ahead to save for retirement, Acorns makes it easy and automatic. This will save you from losing sleep at night wondering what's happening with your hard-earned money.
Best Free Stock Promotions