Diversification is one pillar to success when it comes to building long term wealth. As the old saying goes, don't put all your eggs in one basket!
It doesn't require a college degree to understand, or boat loads of cash to funnel into your investment account, or even studying the stock market around the clock.
All it takes is a little planning.
A diversified investment portfolio is made of an array of assets earning the highest return with minimal risk.
Assets may include stocks, bonds, ETFs, commodities or the real heavy hitter... real estate.
The vast majority of today's investors reaping high returns have wisely included real estate in their mix.
Fundrise is one of the leading investing platforms out there today to get you into real estate without a lot of cash. You won't need to borrow money. Or sell all your stuff on eBay. Or even deliver food at night after your regular day job. You get the idea.
Here's how Fundrise works for complete beginners.
Why Invest In Real Estate?
Before we talk specifically about Fundrise, let's look at the reasons why diversifying by adding real estate to the mix is such a win-win.
Investing in real estate is an ideal way to generate passive income.
What is passive income? It is money that rolls in without too much effort on your part!
When you put money into real estate like a house, high-rise or new commercial site, you are not required to get out there with your shovel and start digging for the new construction. You put money in the pot and the actual planners and builders take care of the rest!
You will supply the money, not the manpower! So when you're asleep or mowing your lawn or eating dinner, your real estate investment continues to grow in value or earn rental income, unattended by you.
But wait, there's more. You will also get tax breaks when you invest in real estate, such as depreciation and write-offs for money you spend fixing up the site.
What Is Fundrise?
Back in the day, Grandpa John or Uncle Harold had to pony up heaps of cash to buy into private real estate ventures.
Now there's an option out there in play called crowdfunding. This gives anyone and everyone a chance to buy into real estate projects with basically whatever amount they can afford.
In the case of Fundrise, the minimum investment is $500.
If you have more money on hand, how much should you invest in order to diversify? The experts at Fundrise recommend you allocate about 30 percent of your investable assets to alternatives like private real estate ventures.
How Fundrise Invests Your Money
Fundrise takes your cash, adds it into the pot, and directs it into heavily researched projects ranging from new housing developments to rehabbing unused office space.
They will frequently make major improvements to the property to increase the sale price. Fundrise puts your investment to work on across-the-board improvements.
These include building new urban housing, renovating run-down apartments, and renting out viable vacant buildings.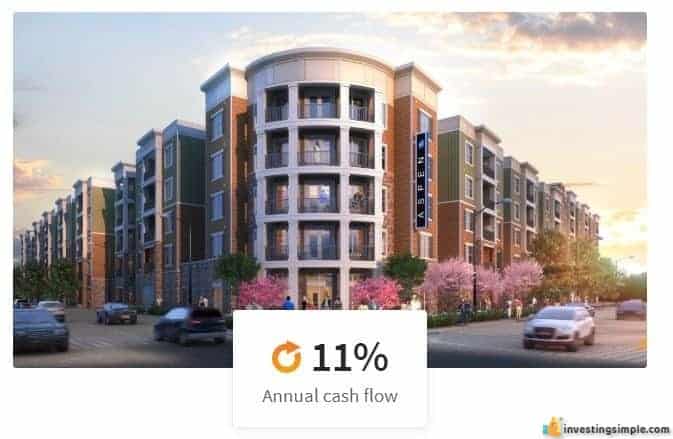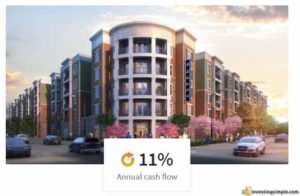 How You Make Money With Fundrise
When the refurbished properties are sold, you will ideally see sizeable returns. 
However, this does not happen overnight. Properties are often held for many years!
There is far greater demand for complete real estate developments. There are many more potential home-buyers for a fully renovated house than a rundown fixer-upper, and more renters for new luxury apartments near a metro area than for the previously vacant land.
The head honchos behind Fundrise scout out assets with a high potential to grow in value. The key here is to buy ahead of major demographic or cultural spurts, understand emerging neighborhood growth, or recognize untapped property potential. That's where the experts come in.
Money is made with Fundrise in a few different ways...
Interest payments from debt investment
Rent payments from active rental properties
Capital gains from selling properties
Choosing A Fundrise Portfolio
When you open the Core Fundrise investing plan, you can choose from one of three options, based on your money-making goals:
Supplemental income to create a consistent income stream through high dividends.
Balanced investing which has a blend of both growth and income investments.
Long-term growth which has the highest potential returns over the long run.
Fundrise does have more advanced investment options, but these are for investors with $10,000+ invested.
Best Real Estate Platforms
Final Thoughts
Fundrise offers a relatively easy way to buy into real estate with a starting point of $500.
How successful has the Fundrise platform been so far? To date, they have acquired more than 200 assets, collectively worth more than $4.7 billion, all shared by its investors.
Fundrise will pool your money in with thousands of other's and put towards new construction building projects or rehabbing places with potential. This will be completely passive investing requiring no time or energy on your part.