How Does M1 Finance Make Money?
In decades gone by, investing in the stock market was an activity left to people with both significant wealth and a ton of experience. Day traders were on a roller coaster of ups and downs, tracking their stocks minute by minute, often in a flat-out panic. But people began to realize the most significant way to make money – and put away your blood pressure meds – was by long-term investments. This is an excellent way to earn passive income as your portfolio grows over time.
Things have also changed for those of us wanting to get into the stock market with a smaller pot of money. The good news: you no longer need tens of thousands – or even thousands – to set up a portfolio and start earning money.
More good news, you don't need sophisticated knowledge of the very complicated process of figuring out where to invest, based on your personal tolerance for risk. Maybe you're a middle-of-the-roader. Or you might like to rock the boat.
To the rescue are a plethora of robo advisors that ease the stress and take much of the guess work out of setting up your portfolio. There are so many advantages to using these algorithm-based trading platforms, not the least of which is a tiny minimum investment.
M1 Finance is a relatively new investment platform launched in 2015 by experts in Chicago. How successful is it today? The financial tool has more than 25,000 accounts and holds more than $100 million in client assets. The average user has nearly $4,000 in assets in their account.
The first and most important aspect of M1 Finance we need to trumpet is that setting up an account is FREE. That's right. You don't need to pay to use it.
Founders of M1 Finance had the foresight to see that free investing services are the wave of the future of personal finance. So they've jumped on that bandwagon with their own free platform.
From Low Fee To No Fee
When M1 Finance first started, they charged a fee to investors. It has been over a year now since they have opted for a 100 percent free approach instead. M1 Finance decided it made more sense for them to make money in different, more creative ways instead of just charging investors a fee or placing commissions on trades.
M1 Finance has clearly taken the industry by a storm, and the question that's commonly asked is fundamental: How do they make any money?
Even though their investing platform is free, that doesn't mean they aren't looking for other ways more sophisticated ways to generate revenue than by charging people out of pocket, which could turn off investors.
You may think charging commissions is the key to a successful brokerage, but actually that's only a small piece of the pie. They typically make 10 to 30 percent of their revenue through direct charges to clients.
M1 Finance has an offer that seems to be a dream come true for newbies in the game. But you don't have to waste any time second-guessing, because it truly is commission-free trading.
You also don't need a hefty account balance: the minimum is just $100.
Is M1 Finance operating as a charity, or doing this out of goodness of their heart? Not exactly. M1 Finance has been set-up to profit in a variety of different ways.
Keep in mind that M1 Finance operates a very lean business. They don't have the many fancy locations and huge array of well-paid advisors like you might see with Charles Schwab or some of the other brokerages out there. They also handle all communications electronically, which significantly cuts down on costs. This business model lets them pass along savings to investors like us.
So, here is how they make money:
First, M1 Borrow.
M1 Finance makes money in a couple of different ways. The first way that M1 Finance makes money is by offering a feature known as M1 Borrow.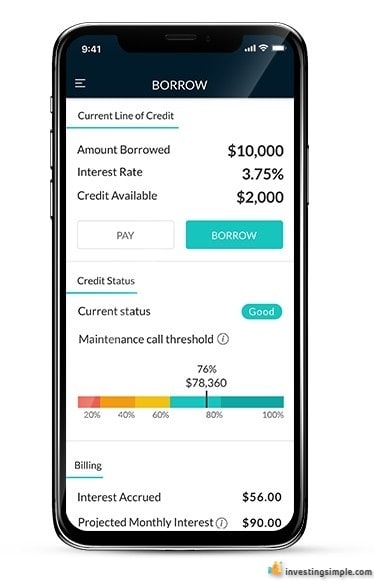 M1 Borrow allows investors to take out a portfolio line of credit. Your investments in your M1 Finance account serve as the collateral. M1 Borrow allows you to borrow up to 35 percent of your M1 Finance account balance at an interest rate that varies.
Basically, M1 Finance extends a loan to you, and in return, if you don't pay it back, they can go right out and sell your investments to cover the loan. The risk for M1 Finance loaning you money is relatively low, so this is easy money for them.
Second, lending shares to short sellers.
Short sellers are borrowing shares to bet against them. Short selling is a relatively complicated subject that's a topic for another article. However, M1 Finance can loan shares held by investors to short sellers and profit from doing this.
According to their site, M1 Finance lends out less than 5 percent of the total securities held within the platform to mitigate risk. When shares are loaned to short sellers, interest is paid to the lender who is, in this case, M1 Finance.
Third, uninvested cash in your account.
You know that cash sitting in your investment account? Depending on what brokerage you are using, you may or may not be earning interest on it. Free investing platforms like M1 Finance don't offer interest on the cash in your account.
Instead of charging investors fees, they loan out the cash balance to banks and collect interest in the process. They're essentially making your money work, which is a benefit to them.
Fourth, directing order flow
Brokerage accounts like M1 Finance can receive commission or compensation for directing orders to different parties for execution. The brokerage receives a small payment for funneling orders to various parties. This isn't to say they encourage investors to head in any specific direction!
Fifth, M1 Spend.
Recently, M1 Finance rolled out a new feature called M1 Spend. It is a checking account and debit card that integrates directly with your M1 Finance account. They offer a free version of this as well as a paid version called M1 Plus. There are three ways that M1 Finance can stimulate profits through M1 Spend:
M1 Finance earns interest on the cash balance held within the M1 Spend checking account, similar to cash held in the brokerage account.
For those interested in a longer list of benefits, M1 Plus comes at a cost of just $125 per year.
M1 Finance receives some fees from merchants when you use your M1 Spend or M1 Plus debit card.
In sum, these creative methods allow M1 Finance to make money and offer a brilliant investing platform completely free. Overall, we believe M1 Finance is a great platform, and the fact that they are free makes them even better. Instead of charging commissions and fees like other brokerages out there, M1 Finance found smart ways to make money, and they pass on those savings to you!
Should You Invest With M1 Finance?
M1 Finance is best for people looking to earn passive income by letting their pool of money take root and grow over time. In other words, not for super complex strategies.
M1 Finance is a good fit for anyone who:
Is a buy-and-hold investor.
Wants to be able to control what they invest in while leaving day-to-day management to someone else.
Wants to invest without paying broker fees or commissions.
Believes in Modern Portfolio Theory but still wants to mix in individual stocks.
Wants to invest in a retirement account fee free.
M1 Finance offers a number of account options, including traditional and Roth, SEP and rollover IRAs, as well as trusts and joint account.