Moomoo is a technologically advanced trading platform that offers commission-free trading on stocks, options and ETFs.
Designers had a mission to give investors an intuitive and powerful investing platform with the most up-to-date technology. At the same time, Moomoo offers plenty of venues for new users to learn more about investing terms and strategies.
They aim to improve their customers' experiences with continuous upgrades. Their key focus is on driving industrial innovation that's backed by independent techie research and development. These features are in place to give you maximum info before you trade.
It has plenty of bells and whistles, and although the app offers educational resources for beginning traders, the wide and meticulous scope of data that's available may be overwhelming to newcomers to investing.
Many platforms out there today let you buy and trade stocks, options, and ETFs without having to pay commissions. However, Moomoo makes it easy for you to get free real-time quotes, graphical financial analysis and pertinent news on the go.
Stock Card Special Incentive
Sign up for Moomoo by 4/28/21, and you can take advantage of a free stock promotion and earn up to 4 free stocks.
This is an exclusive offer for Investing Simple readers, and you must use our link.
Simply open an account and deposit a minimum of $100 for 1 free stock valued at between $4 and $200.
Even better, deposit $1,500 or more and get a free stock worth $10 to $1,000.
Or, deposit $5,000 and up and receive 2 more free stocks valued at $10 to $1,000.
In sum, that's 4 free stocks worth at least $34 and up to $3,200, all for funding your Moomoo account.
How Was Moomoo Designed?
Moomoo was built by experts to be a competitive next-generation broker/dealer. Like other mobile investing platforms, Moomoo cuts out the costs of running traditional physical branches, getting rid of  all the overhead costs of running a brokerage firm. Then, their goal was to offer an enhanced overall trading experience by blending the latest technology with the ability to trade via a mobile app.
The downside of this innovation is that because of its extensive menu of options, it may be too sophisticated for beginners. However, more advanced traders may find these capabilities to be just what they are looking for.
You can open an account with the following steps:
Open Account in the App
1) Install and Sign up with moomoo.
2) Choose Open Account.
3) Verify your Email.
4) Submit your application form within moomoo app.
Open Account in the Official Website
1) Go to Futu Inc.'s Official Website http://www.fututrade.com
2) Click Account on the navigation bar, log in.
3) Click Account on the navigation bar, then click Open Account.
4) Verify your Email.
5) Submit your application.
Typically, your application will be processed on the same day. In some cases, they might reach out to you for more information.
Moomoo Offers Level 2 Data
Moomoo works by giving traders perks they may not find on competing apps, such as Level 2 market data.
Once you've signed on with Moomoo, you will have access to one of its highly-touted perks: enhanced market data, free of charge. Many competing trading apps will charge clients for real-time market quotes.
Moomoo displays the real-time bids and asks at a certain price for any stock, with the trades taking place as you watch.
These are the actual price of a security at that very instant in time. Real-time quotes will give you the price you will pay when your order is filled. Some platforms offer only delayed quotes, which lag behind the real trading market by about 15 to 20 minutes.
If you base your trading cost on a delayed quote, you may find you overpaid for the shares you are adding to your portfolio.
In addition to real-time information prices, you can also view ticker data and Nasdaq best bid and ask data.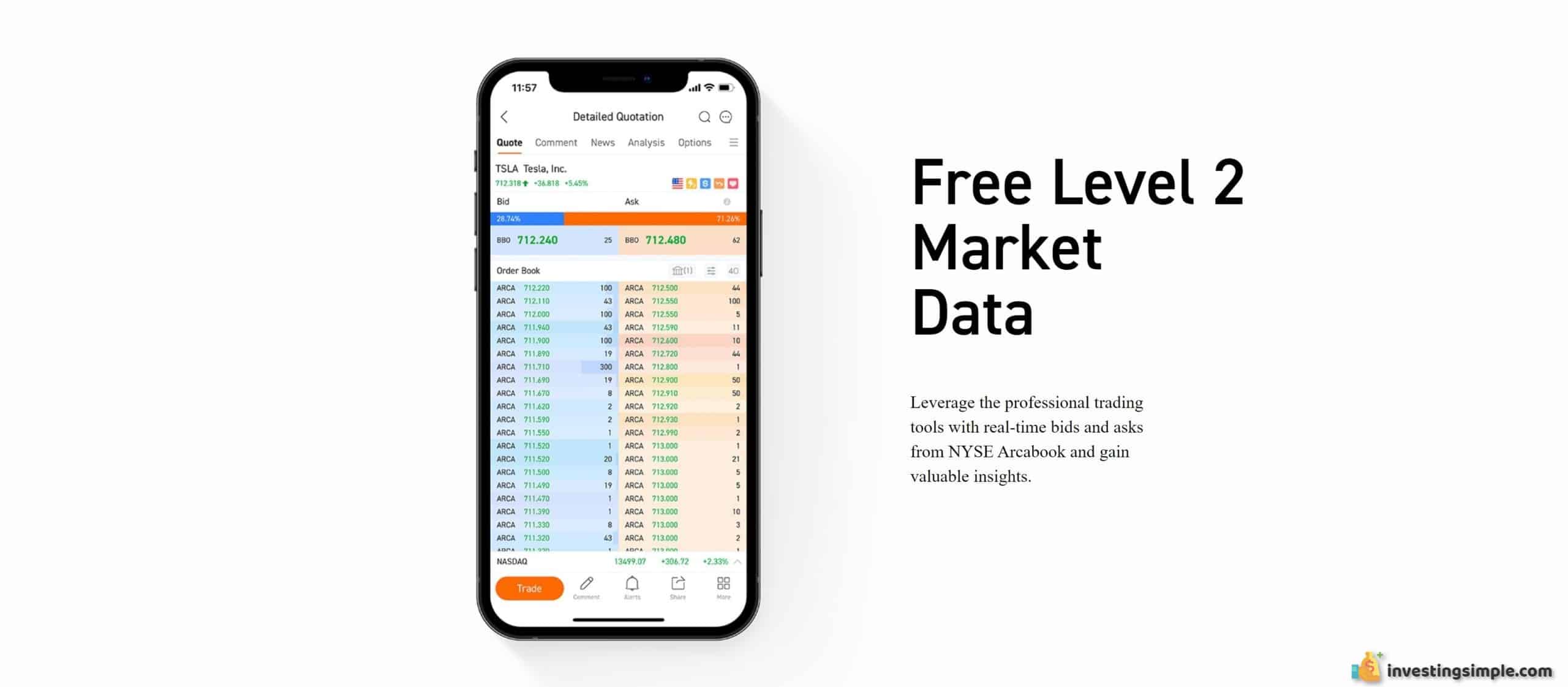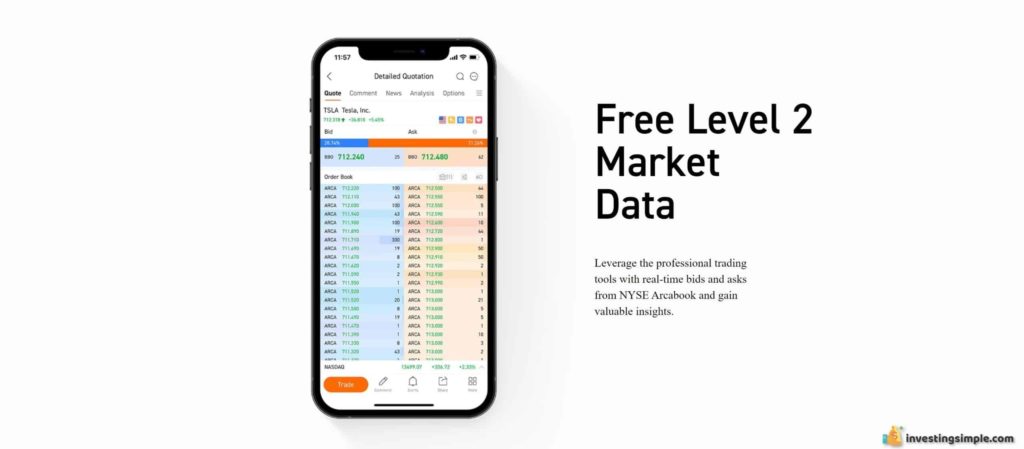 Day Trading on Moomoo
On Moomoo, you can use this real-time data to day trade.
Day trading is a strategy among active investors who buy and sell stocks and ETFs within the same day, or even repeated times over the course of a single day.
This is a short-term strategy that investors use with a goal of making profits from small fluctuations in market prices on specific stocks and ETFs. Basically, it is the polar opposite of a longer-term trading strategy that's based on:
Historical movement of the market
How a particular stock has fared
Whether certain companies are growing (or decreasing) in stock value
Moomoo also allows short selling. This is an investment or trading strategy that speculates on the decline in a stock or other security's price. Keep in mind, this is also an advanced strategy that might apply to experienced traders and investors.
Moomoo Allows Paper Trading
Moomoo has a free paper trading application that's not offered by all of its competing online investing platforms. It's a great learning tool for beginning investors.
The term "paper trading" comes from the stock exchange, where investors would write their picks down on paper and track the market movements. Paper trading uses simulated, or fake money. This means you are just practicing buying and selling stocks and ETFs and building a diversified portfolio without worrying about losing money. You chart progress and market fluctuations up and down and tally your results at the end.
Paper trading is an excellent way for you to:
Learn to manage the stress that may come with investing maneuvers. Trading is best done when emotions are kept out of the equation. Instead, it may be better to rely on the real-time data Moomoo offers you.
Find out your tolerance for risk. Some people naturally feel comfortable taking risks, while others prefer to take smaller steps towards the finish line.
Set long and short-term goals. When you are working towards a specific goal, whether it's a down payment on a new home or starting to fund an IRA, you may want to track your progress over a longer period of time than counting your gains (and losses) in shorter time periods.
How To Create A Moomoo Paper Trading Account:
Types of paper trading accounts: Paper trading accounts include practice accounts and game accounts.
How to create a practice account: Enter the homepage of paper trading and click 'Get it right now' to create practice accounts.
How to create a game account: Enter the homepage of paper trading and click 'Game' at the bottom to enter the game landing page. After successfully signing up for the game, the corresponding game account will be generated.
About Moomoo
The platform has deep pockets when it comes to financial backing. Based in California's Silicon Valley, Moomoo Inc. is a wholly owned subsidiary of Futu Holdings Ltd. Futu is Asia's top-ranked online broker. Futu Holdings Ltd. is financed with venture capital from Tencent, Sequoia Capital and Matrix Partners.
With money in hand, Futu's overseas affiliates created unique trading systems, developed in-house. Its designers emphasize these systems have been tested at an international level. They say their innovative trading system solves challenges to traders and leads the industry in innovation.
Another major plus the app offers is full extended hours trading:
Full pre-market 4:00 a.m. – 9:30 a.m. ET
After hours 4:00 p.m. – 8:00 p.m. ET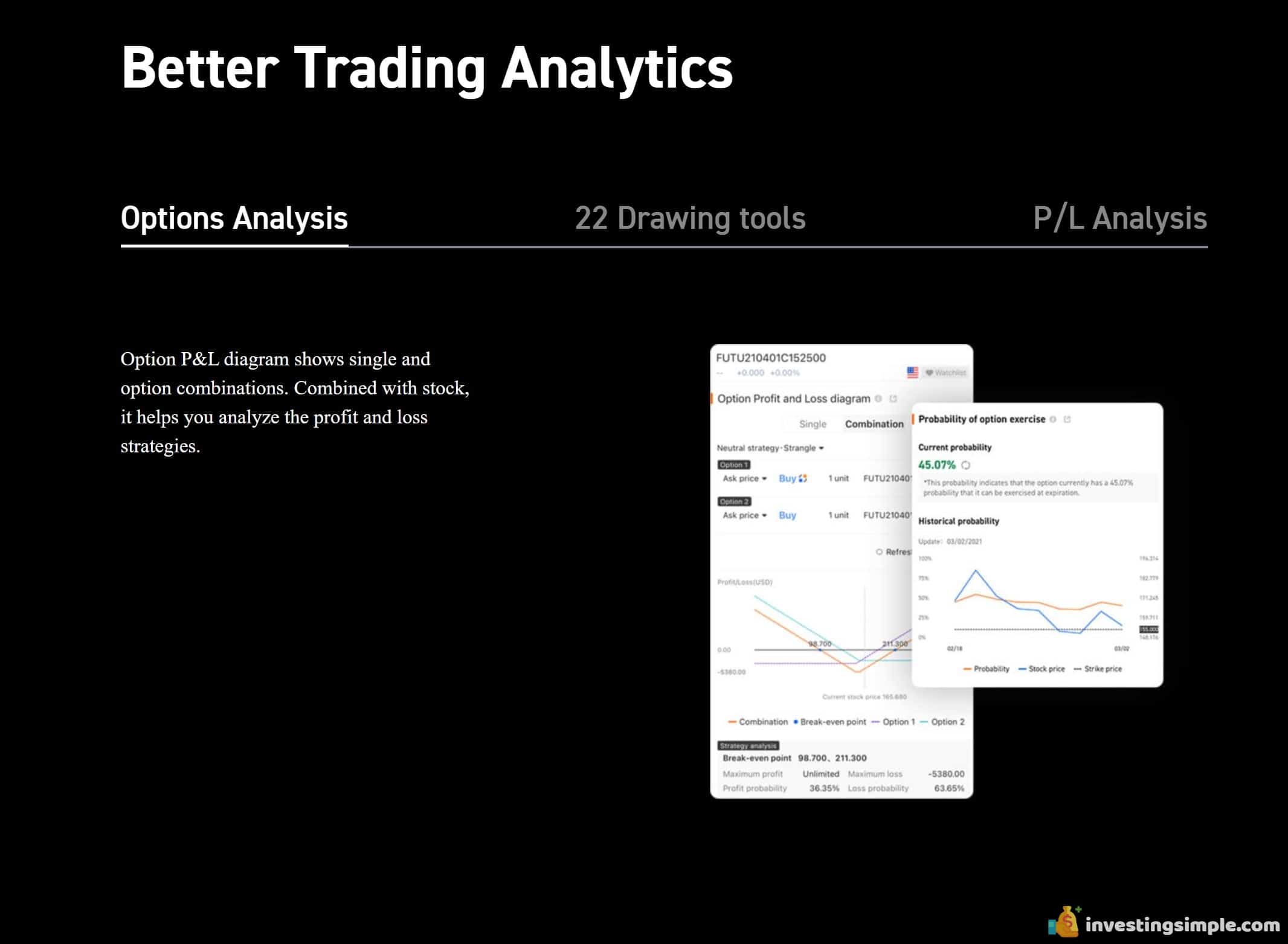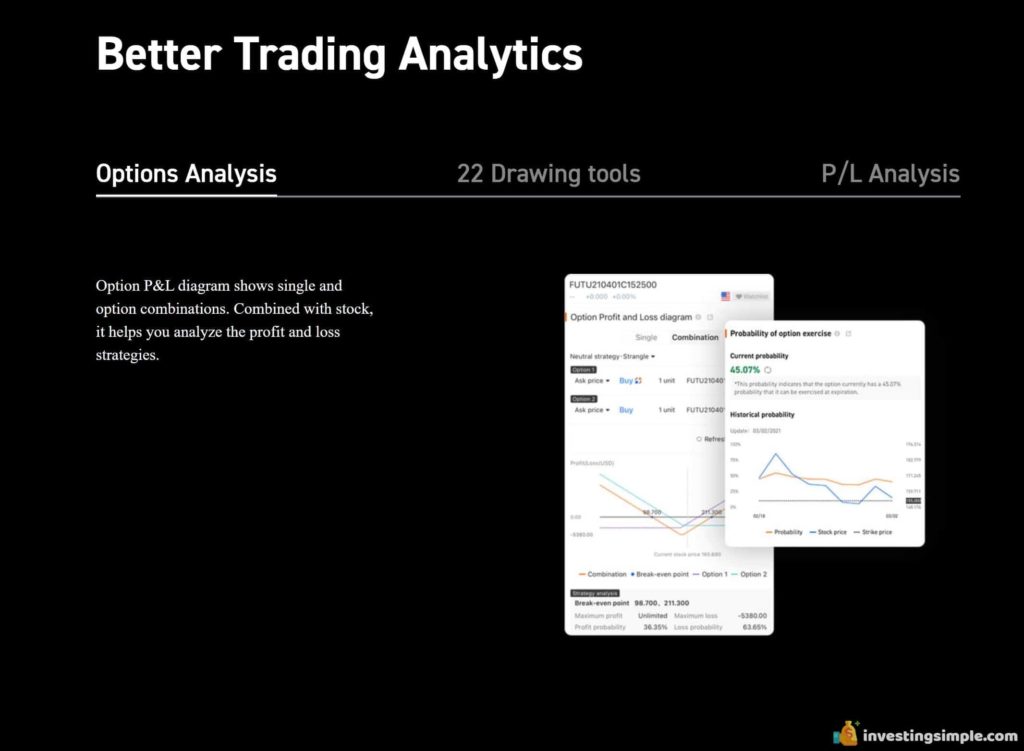 Moomoo Margin Trading
Moomoo gives investors margin accounts that let them borrow money against the value of the securities in their accounts.
Keep in mind, you will be given an individual margin account when you sign up.
If the order amount exceeds your cash purchasing power, Moomoo will automatically use margin to purchase. If the order amount does not exceed the cash on hand, it will only use this cash to purchase.
Trading on margin gives you access to increased funds without having to sell off all the assets in your current portfolio.
When you use a margin account, you open the door for both major profits or huge losses. This is because it's possible to lose not only the borrowed money, but also the value of the securities in your cash account.
If you start to show losses that are greater than the limit set by the broker, this can lead to a margin call. When this happens, the brokerage platform can force the sale of securities or other assets in your account. The firm can also sell your securities or other assets without contacting you. You are not entitled to a time extension while in a margin call.
You will pay an interest rate of 6% on your Moomoo margin account.
Moomoo Stock Academy
Moomoo has an easily accessible library of basic concepts for beginners, including:
Stock market terminology
Basic concepts of a stock
Stock abbreviations
Principles and processes of stock listing
How is a stock issued?
How is a stock priced when issued?
Stock listing and trading fees
What are dividends?
Moomoo News Updates
Moomoo has a very comprehensive, up-to-the-minute news section to keep you in the know about important current events that will affect the market.
Recent topics have included:
Hong Kong Stock Basics: What's the difference between trading in Hong Kong and US stock markets?
Morning briefing: Top things you need to know before the bell rings
80,000 retail stores expected to close in the next 5 years, leaving space to reinvent those that remain
Elon Musk's brother sold $8 million of Tesla stock in a single day in March 2021
Moomoo sets up live seminars, videos on everything from the how-to's of trading to analyzing stocks, and ways to track your progress. You will also receive Investor Magazine after you open an account.
Conclusion
Moomoo is an innovative investing platform offering what may be an information overload for new investors, but also provides a user-friendly stock academy covering the very basics.
It offers individual margin accounts when you sign up, real-time trading, level 2 data and paper trading.
Moomoo was designed to give investors powerful tools to practice, study, and work towards successful investing.
Best Free Stock Promotions