Public is an online investing platform that allows users to buy and sell financial instruments like stocks, bonds, mutual funds, and ETFs. Started in 2019, the Public trading app charges no commissions, and users can invest as little as $5 at a time.
The feature that makes Public unique is their emphasis on community and social interaction between investors. Similar to Twitter, you can 'follow' other users, post your own ideas and interact with the posts of other people.
Public brands itself as "the social network of investing" and provides new investors with an interactive way to learn as they go from more experienced individuals. People on the platform can go back and forth about trades they are making and forecast long-term trends. Users even have the option to make their portfolio public for their followers to see.
So how exactly does the Public app work and how can you start using it to invest your money in the market?
In this article, we'll be covering the ins and outs of Public, explaining exactly how the app works. Even if you're a first-time user, you can be up and running in no time.
Opening an Account
Like any platform, the first step to get started with Public is to set up an account. After downloading the app, enter the information requested. This will include your name, birthdate and social security number.
Why does Public need your SSN? Well the IRS wants to know about any investment gains so that they can make sure you pay taxes on them. As a result, they require investing apps like Public to ask for this information.
Once you've been approved, you can fund your account by transferring an amount of your choice from a bank account.
Public has no account minimums and it's relatively straightforward to get your account set up. The online brokerage doesn't currently accept retirement accounts like IRAs, so a standard brokerage account is your only option.
Public App Navigation
Home Screen
The Public App has an easy-to-use interface with a simple layout. On the main screen, you can see a concise update on how your portfolio is doing for the day. You can also see the day change for each of your current positions. From this view, you can click on each position to see more information.
Once you have clicked on a security, you're presented with the historical performance of the asset as well as an option to place a trade. This is where you can buy and sell shares or fractional shares of a position that you already own.
Back on the home screen, you can scroll down further to see posts from people you follow and find recommended users Public suggests you follow. This can be a helpful way to find out what experienced investors are thinking and doing with their own portfolios.
Keep in mind, you can select whether you wish to make your portfolio public or keep it to yourself. If you make it public, your friends can see what you own and what trades you are placing.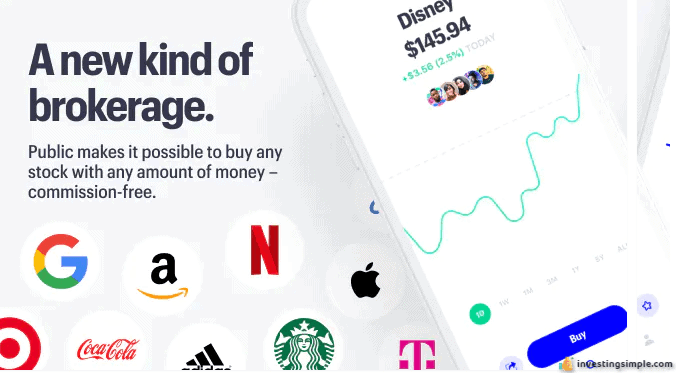 Search Tab
The search feature is used to discover new investments or people to follow. You can search for specific companies, people to follow, or current investment trends to explore. We find the investment trends section to be especially useful. It can help users identify good opportunities based on an industry they may be interested in participating in.
A few examples of trends that are currently featured are Virtual Reality, Cannabis, and Blockchain. Investors can simply select a trend and find a variety of relevant companies. The analyses are simply laid out and beginner-friendly.
Account Tab
On the bottom right, you can access settings and preferences pertaining to your account. This is where you can set up your bank account, transfer funds, and change your app settings.
If you have further questions on using the app or are having issues, be sure to check out the company's support page.
Public Features
One feature that hasn't been mentioned yet is the ability to send group messages. On Public, you can create a group chat with friends or peers to discuss your investments. You can even tag a stock ticker to pull a real-time chart into your message.
Outside of social features, Public allows you to organize your portfolio by investment horizon. This way, you can keep your long-term plays away from other investments that you are only trying out temporarily or intend to sell soon. This is especially helpful for those that dabble in stock picking but also invest more passively in index funds.
Furthermore, the platform will push news stories into your feed that pertain to the companies you own. To stay up to date on your investments, you can just scroll through the headlines of the day. There's no need to search for what's happening with each company individually. The top stories that you need to be aware of are all nicely aggregated in one place.
Offer valid for U.S. residents 18+ and subject to account approval. See Public.com/disclosures/.
Final Thoughts
While it lacks more sophisticated research tools, Public is a unique offering that will be intriguing to many. The social aspect of the app is an engaging way for investors to learn and grow with time. Even experienced investors will enjoy the ability to share opinions and bounce ideas off peers.
This app appeals to beginners through its intuitive design and wealth of resources aimed at education and mentorship.
Ultimately, Public gets the job done as a free online brokerage and stands out from the crowd by incorporating social networking. It will be interesting to see how this platform grows and whether the concept will be adopted on a larger scale by the masses.
For a deeper dive into the Public trading app, check out our full Public Review.
Best Free Stock Promotions