A lot of people think becoming a millionaire is complicated.
But I'm gonna be showing you how anyone can do this with $10 a day.
So we're gonna be looking at two scenarios here.
The first is going to be someone who routinely spends $10 a day on breakfast, 7 days a week.
The second is going to be someone who eats at home and instead invests that $300 or so a month.
It doesn't seem like a small decision like this should have a huge impact, but just wait until the end.
Keep on reading, or watch my YouTube video on this topic below.
Don't forget to grab your free stock worth up to $200 from Robinhood today!
About the Author
Ryan Scribner is the author of From Side Hustle To Main Hustle To Millionaire - a practical guidebook on launching your own side hustle. He is recognized as a Top 100 Money Expert by GoBankingRates.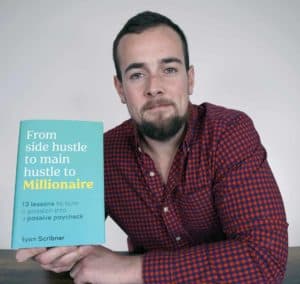 Ryan runs a successful YouTube channel focused on money and investing, which he started in 2016. He also owns a portfolio of digital business, all earning passive recurring revenues.
Now, Ryan teaches others how to create additional income streams.
Scenario 1 - $10 A Day Spent
So first of all, it's pretty easy to figure out what's gonna happen when you spend $10 a day on fast food.
But let's consider this. If it takes you 10 minutes to procure your $10 breakfast, how much time and money is that in a year?
Well you'd be looking at spending $3,650 a year and just under 61 hours of your time on this.
Now that's not to say there's no value in things like human interaction, there definitely is.
But for now, let's jump into the other scenario of investing that money instead.
Scenario 2 - $10 A Day Invested
Most people who are looking to grow their money will invest it in the stock market.
So let's say you took that $10 a day, set it aside, and invested it into the S&P 500 weekly.
This would be accomplished using an ETF like VOO and a fractional share brokerage.
You would then be automatically buying a small piece of the 500 biggest publicly traded companies in the US.
Now the stock market has ups and downs, but over the long run it does not lose value.
According to Investopedia, The average annualized return of the S&P 500 since its inception in 1928 is 9.82%.
Time for the fun part. Let's watch how your $10 daily investment would grow at this average rate of return over time.
Compound Interest
Now here's what you need to understand about earning compound interest.
Let's say you dropped $1,000 into the stock market and earned a 10% return.
You'd have your original $1,000 - plus the $100 you generated in returns.
If you earned a 10% return the following year, you'd earn 10% on your original $1,000 and 10% on the $100 from last year.
So compound interest is basically your returns generating future returns for you.
The longer you give it, the more your money grows - exponentially.
5Y
Let's start by looking at the 5 year time horizon.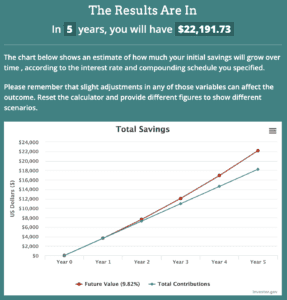 Your account value would be right around $22,000 - with about $18,000 being your contributions and $4,000 being investment returns.
Nothing too crazy, but still a pretty wild sum of money.
10Y
Now if you asked most people how much this account would be worth at the 10Y mark, they would roughly double the last number.
While you might think the account would be worth around $44,000 - here's where the magic of compound interest starts to show.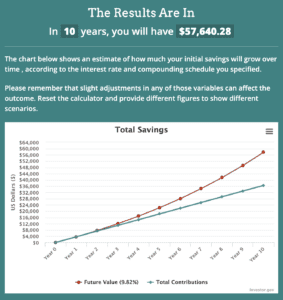 You'd actually be looking at over $57,000.
At this point, you've contributed a little over $36,000, and generated about $21,000 in returns.
36Y
So let's say you were ambitious and started doing this right out of high school at 18.
Maybe you didn't get a crazy high paying job, but you diligently put aside $10 a day to invest.
Well, you could pretty much retire at age 54 because you'd be a millionaire based on our numbers.
So investing the average fast food breakfast into the stock market could make you a millionaire in 36 years.
Your total contributions would be just over $130,000 - meaning you made about $870,000 from investment gains.
Taxes
Now that, of course, begs the question of what about taxes.
Well depending on your time horizon for your investments, you could potentially use something called a Roth IRA to avoid all of the taxes.
A Roth IRA is a type of retirement account offered here in the US where you invest post-tax income and enjoy tax free gains.
There are a few requirements and limitations, but the main stipulation is that you can't touch the earnings until 59-½.
You can take out the contributions, or the money you put in, tax and penalty free though.
Tax Free Millionaire
So if you wanted to follow this strategy and become a tax free millionaire, you could simply invest that $10 a day into a self directed Roth IRA.
You could allocate the account however you want, such as the S&P 500.
Final Considerations
Now guys I do want to make a few final points here as some of this may be generalized for the sake of simplicity.
First of all, you don't need to remove something from your life in order to do this. Coffee is an easy one to pick on, but you could easily just budget for both.
Second of all, you would want to make sure to diversify your portfolio into stocks, bonds and possibly other assets as you get older.
But overall, I hope this lesson showed you up to the power of compound interest, and how small sums of money can make you rich.
For the 1% who are ready to take their side hustle journey a bit more seriously, I wrote a book about side hustles.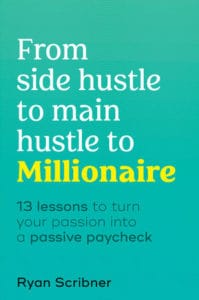 It covers all phases of the side hustle journey, and you get access to a members only discord where you can ask me questions along the way.
And you can grab a copy in person at most Barnes and Noble stores across the United states, or it's right on Amazon.
So grab a copy today and let's get started on your side hustle journey together!