Here's a no-brainer... All of us could use more money.
We need money for necessities like groceries, gas for our vehicle, insurance and to pay our utility bills. We need to sock away some money for an emergency fund – experts say this should be enough to cover 3 to 6 months of your total expenses.
Beyond that, we need money for long term goals such as buying a home or your first car.
For short term goals, say a few months off, it makes sense to just stash your money away into a savings account.
However, for long term goals, it often makes sense to invest your money. The idea here is to generate returns, grow your dough. But what does that actually mean? How are you really making money?
M1 Finance is a popular brokerage among young investors, and we want to explain exactly how you can potentially make money with M1 Finance.
How M1 Finance Works
M1 Finance is an online brokerage platform offering commission-free trades. They have a low $100 minimum and zero portfolio management fees.
The best part? You don't have to buy whole shares. M1 Finance allows you to buy fractional shares of your favorite companies.
Right off the bat, this will help you start earning money because you can open an account with whatever money you have on hand, assuming it is $100 or more. The sooner you start investing, the greater the rewards. So take that $100 you were going to spend on Nikes and open a M1 Finance portfolio.
Then, since you can buy fractional shares, you can remain fully invested at all times. You won't have idle cash sitting on the sidelines waiting to be able to afford a whole share of Amazon. Good luck!
With M1 Finance, you can choose from more than 6,000 stocks and funds to create your own custom portfolio. You can create portfolios containing low-cost ETFs or individual stocks, or both.
Or, perhaps you are brand new to investing and aren't sure how to start. M1 gives you the option to select from 30+ pre-made accounts, designed by experts who know their way around the financial field.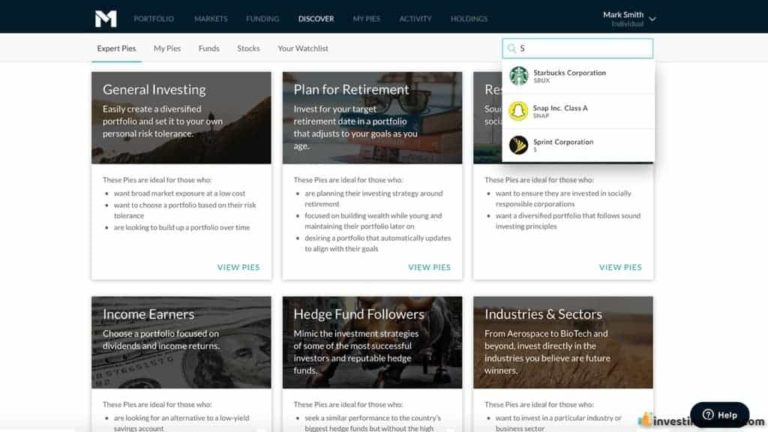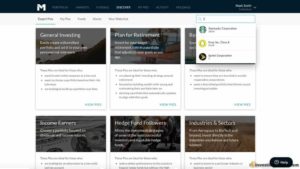 How To Make Money With M1 Finance
The main way to make money with M1 Finance is through asset appreciation and dividends. If you buy growth stocks, the share price should ideally go up over time. You would make money by buying low and selling high. For dividend stocks, you make money from the cash payments to shareholders, typically on a quarterly basis. Or, you can find stocks that offer both growth and income potential!
1. Buy Pieces Of The Pie
Once your account is opened with M1, start earning money through buying fractional shares.
These are portions of whole stocks that may come with too high a price tag for you to purchase.
Not every investing platform offers fractional shares, so we encourage you to jump on this option. You can put every penny to work when you invest with fractional shares. This helps diversify your portfolio easily and avoid idle cash waiting to be invested.
2. Open An M1 Spend Checking Account
Another way to make money on M1 is to put your own money to work for you by using M1 Spend. The M1 account carries a 1% APY, which is 25 times the national average APY for a checking account. That means you will earn the same in 2 weeks as you would in an entire year with a commercial bank.
Just knowing you are earning this super-sized interest may motivate you to keep a higher balance in your checking account.
3. Don't Cash In Your Dividends
Once you get the ball rolling, you will start to see dividends, which are paid out to you when the company in which you are invested earns a profit.
Sure, you could take your dividend checks and buy more stuff, or go with the better choice; have that money reinvested in more shares (or fractions of shares).
This allows you to take advantage of a powerful phenomenon known as compound interest!
4. Invest For Growth
Investing for dividends is pretty straightforward. You buy stocks like Warren Buffett such as Coca Cola that pay dividends on a quarterly basis. Then, you reinvest those dividends (which M1 Finance does automatically across your entire portfolio).
But what about the share price? You can also make money from buying low and selling high.
Let's say you buy a stock for $50 and then a year later it is trading for $65. 
If you sell, that is a capital gain of $15 per share, money in your pocket!
With dividends, you can get paid for holding onto the stocks. If you want to make money from asset appreciation, you will have to sell.
Conclusion
The most profitable investments are those you hold onto and let them grow in value over time. M1's target customers have longer-term goals for their investments. They can be saving up for their child's college education, for a down payment on a house, or even to start building up a retirement account.
Right on the M1 Finance dashboard, you will be able to see exactly how much money you have earned. It will break it down between money earned from dividends and your capital gains from changes in the share price.
Best Free Stock Promotions