If only there was a magic secret to increase our profits when we invest. All of us have a goal to make money, because investing is more than just a hobby. It's putting our hard-earned cash into stocks in companies we hope will flourish.
Decades ago, brokers featured commissions for every trade, which costed investors money even before they were out of the gate.
Today, we are fortunate to have many commission-free online investing apps that are so convenient, we can use them on the go.
The Acorns micro-investing platform was designed to help you invest without feeling the pinch on your monthly budget.
Start Investing Today
The first way to make money with Acorns is to sign up and start using the investing app now. Regardless of your age or stage in life, the sooner you start, the better.
It won't cost you a penny to sign up. There are no deposit or account minimums to maintain, no commission fees and no penalties when withdrawing funds. What's more, Acorns charges just $1 per month for its first-tier service. And, it's designed for beginners and easy to use. Acorns has a team of over 150 experts selecting carefully researched investments based on your short and longer-term goals.
So, stop procrastinating and thinking you need tons of discretionary money to start investing.
Put That Loose Change To Good Use
Believe it or not, you can start to invest with as little as one cent.
We all have loose change collecting dust in a container on our dresser, or simply rattling around in our cars. Acorns gives you a way to take that spare change and deposit it into your investment portfolio. Acorns calls this automatic round-ups.
All you have to do is link a credit or debit card, then use it like you would any other debit card. You don't have to change your buying habits, buy only items on sale, or clip coupons. Pick up groceries, fill your vehicle with gas, spring for Saturday night dinner, you name it!
Acorns will round-up the amount you've spent to the nearest dollar. No, it doesn't matter if it's pennies. If you spend $20.99, it will round it up to $21 and save that penny. Remember, spare change adds up quickly! The Acorns app will take that change, regardless how small an amount, and funnel it into your investment portfolio.
Once your round-ups reach just $5, Acorns will then withdraw the money from your linked checking account and invest it for you. This way, it will continue to grow in your investment portfolio.
Acorns transfers those spare coins into investments diversified across more than 7,000 stocks and bonds that are automatically rebalanced with market fluctuations up and down.
Use The Round-up Multiplier
The next way to make money with Acorns is to set an automatic round-up multiplier on your account.
You can use the round-up multiplier to increase the amount deposited into your portfolio by two, three or ten times for each total purchase. You're not signed up for the multiplier forever (you can turn it off anytime), but why not try three or ten times rounded up? Chances are good you won't even notice the difference.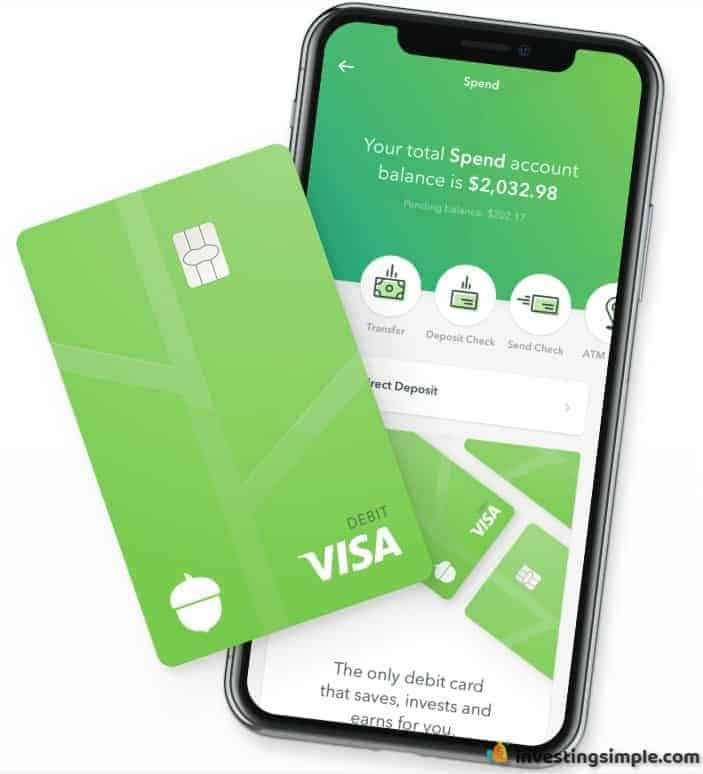 Make Additional One-Time Deposits To Your Account
The next way to make money on Acorns is to continuously put one-time deposits into your portfolio at any time you have extra cash. Again, it does not  have to be big bucks. Throw in a few bucks at a time, or more if you can manage it. Consider depositing your bonus at work, or your income tax refund.
Even better, set up additional deposits on a daily, weekly or even monthly basis.
Do Your Shopping At Acorns Found Money Partners
This is one of the easiest ways to make money on Acorns. They have a good-sized list of retail partners that will send an extra 5 to 10 percent of your transaction in cash back to your portfolio. The cash back rewards you earn are called Found Money.
To date, there are over 350 partners. All you need to do is link your credit card or debit card to your Acorns account.
These retail partners include (but are not limited to):
Home Depot
Nike
Old Navy
Wal-Mart
Kohl's
Airbnb
Macy's
Barnes & Noble
Groupon
Warby Parker
Expedia
Sephora
Walgreen's
Levels Of Acorns Membership
You can sign up for Acorns in three levels of membership:
Lite: $1 a month. Includes a taxable investment account.
This level lets you:
invest spare change
earn bonus investments from more than 350 found money partners
grow your knowledge through hundreds of articles from finance pros
Personal: $3 a month. This level tacks on an Individual Retirement Account and a checking account.
This level gives you:
All-in-one investment, retirement, and checking account
Certain tax advantages
Bonus investments of up to 10%
Ability to save money with no account fees
55,000+ fee-free ATMs across the nation and around the world
Advice on how to save money and more
A unique metal debit card
Family: $5 a month. This includes everything in the lower tiers, plus Acorns Early, which lets you open investment accounts for kids.
This level includes:
Investment accounts for kids with no extra charge when you add children to the plan
Potential tax savings as they grow
Personal investment, retirement, and checking accounts
Automatic recurring investments
Family financial advice specific to your needs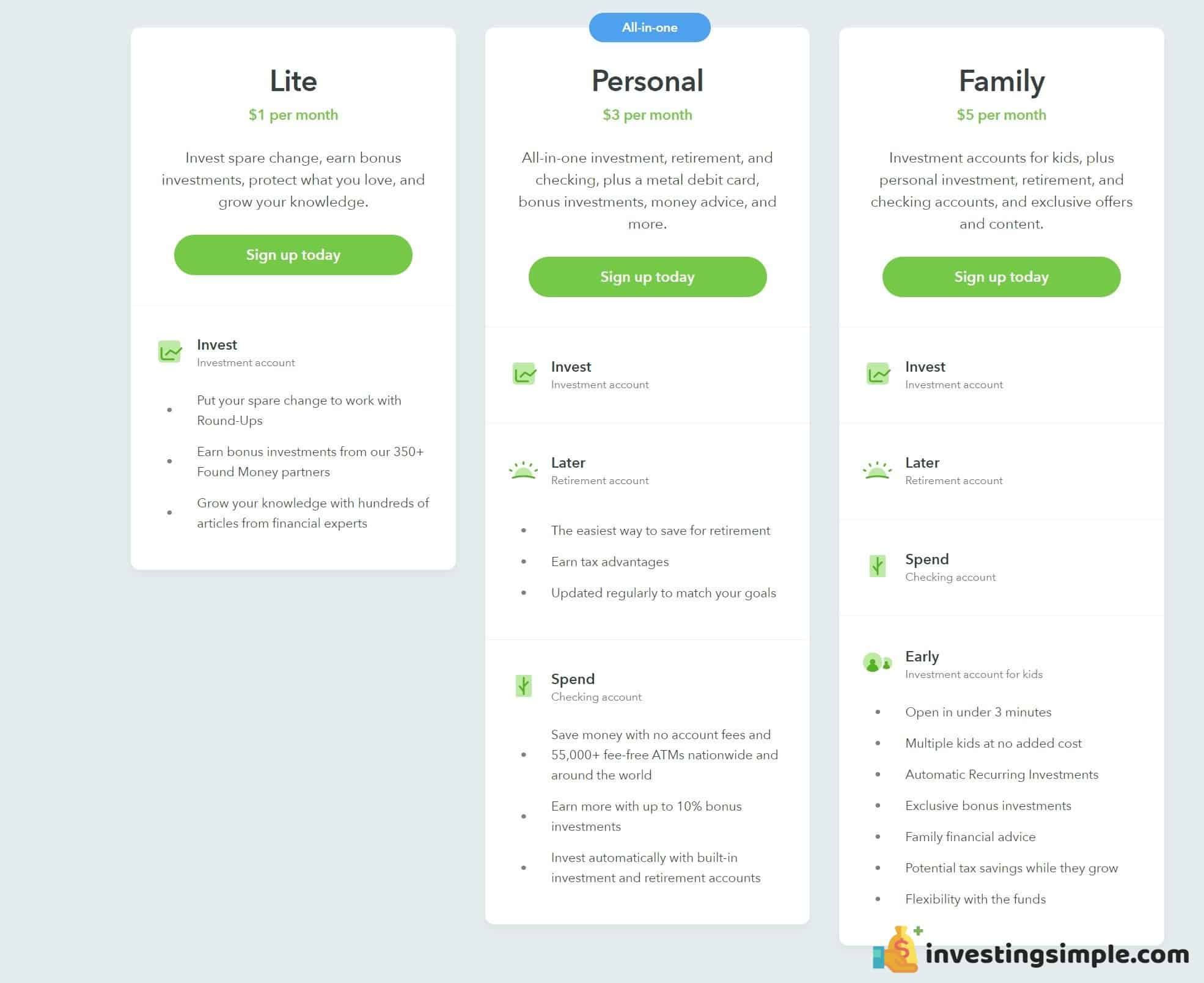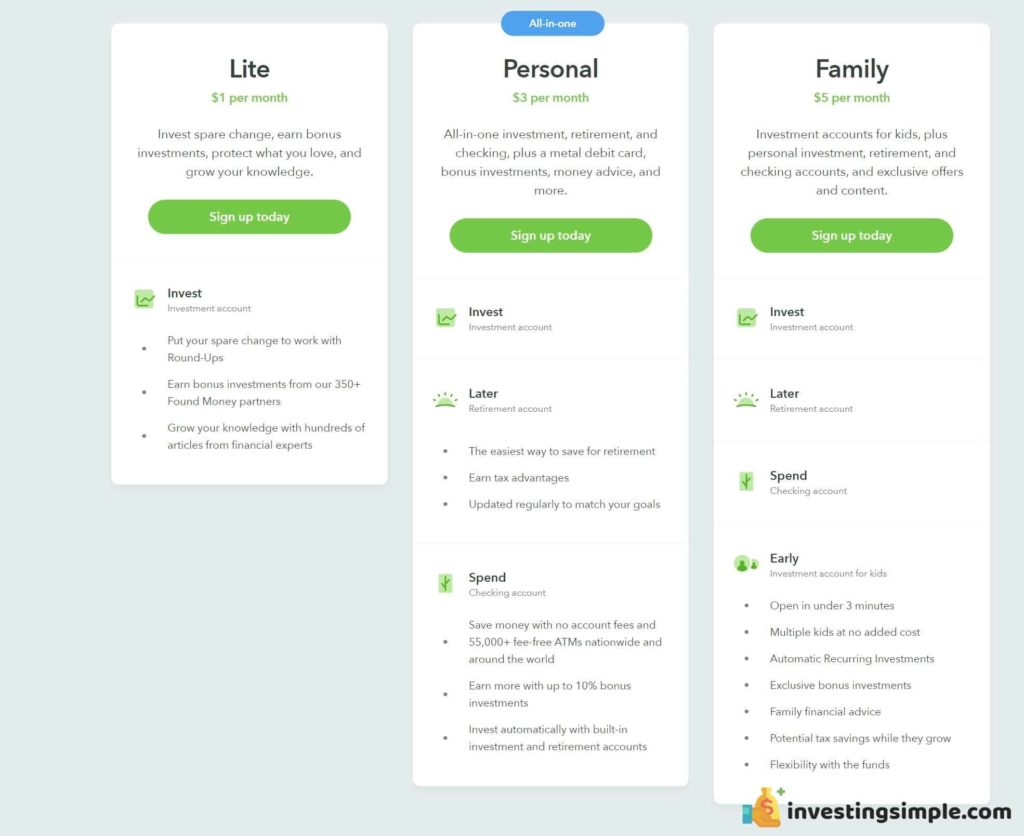 Increase Your Investing Knowledge
The last way to make money on Acorns is to take advantage of the large number of resources they offer to teach you more about investing. Acorns Grow gives you access to an online library of videos, articles, a variety of tutorials and other educational content to help you learn more helpful financial info about everything from writing a budget to saving for college.
The more you know, the better investing decisions you will make.
Conclusion
It is surprisingly simple to build your investment account with the Acorns micro-investing platform. The best way to make money is by starting today! It has been shown over and over that investing is most successful over the long term.
To get started you will simply link your debit card and enable automatic round-ups. Every purchase will then be rounded up to the nearest dollar. A few pennies here and there may not sound like much, but over the long term, it certainly adds up. Acorns also has the capability to set your round-ups with a multiplier. So, if a purchase was $5.75, then the round-up would be worth $0.25. With a multiplier of 2, the round-up would be worth $0.50.
The platform also allows members to make additional deposits as they see fit.
A great feature of Acorns is their offering to account holders to earn even more with Acorns' Found Money partners. By making purchases with their extensive list of partners, members can earn rewards like cash back into stocks.
The platform also has a focus on learning. Investing can be a complex topic. No matter how experienced an investor may be, learning something new is always possible. Acorns offers users access to Acorns Grow, which is an online resource of educational videos and articles.
Check out Acorns today to get started!
Best Free Stock Promotion