Headquartered in Hong-Kong, Binance is now one of the largest cryptocurrency exchanges in the industry. According to industry reports, Binance now has 7.9 million registered users.
Binance allows you to buy, sell and trade digital currencies like Bitcoin and Ethereum, Litecoin and EOS. However, it also has an extensive menu of much smaller, lower-cap tokens, including small-to-micro cap cryptocurrencies.
Trading fees are miniscule at Binance. While standard trading fees average a competitive 0.1%, this can be reduced even further for investors holding the platform's proprietary digital asset – the Binance Coin.


Can I Transfer Robinhood Cryptocurrency To Binance?
Your cryptocurrencies with the online investing platform Robinhood are held in your Crypto account, and Robinhood does not allow them to be transferred to other brokerages.
Therefore, you must liquidate your Robinhood crypto and use that cash on hand to open your new Binance crypto account.
What Is Cryptocurrency?
Cryptocurrency is a virtual currency that utilizes cryptography as a means for protection and security.
It is used as a medium of exchange to buy and sell, but unlike coins or dollar bills, it exists solely digitally. There is no tangible version of it.
One of the greatest appeals of cryptocurrencies is that they are not regulated by any government agencies. The most popular digital asset is Bitcoin, followed by Ethereum.
Here Are Some Advantages of Buying And Trading Cryptocurrency:
Investors don't have to worry about day trading restrictions because it isn't subject to SEC regulations like stocks. Unlike stock markets that close, you can trade cryptos on Robinhood 24/7, 365 days a year
Crypto is worldwide. You can send it around the globe as easily as you pay with cash or a debit/credit card in the physical world
It is not a government-issued currency, which means it can be transferred quickly through the global internet
It's secure. Because it is cryptographic, payments are more secure than conventional debit/credit card transactions. For example, when you buy crypto, you don't add any personal information to be sent over the internet. The result? A very low risk of identity theft or a security breach of your financial data
Crypto is completely legal to buy, use and trade. It's accepted at most places where you would normally use cash or a card
The whole system is safe. Since its launch more than 10 years ago, the Bitcoin network has never been successfully hacked.
Robinhood Crypto Accounts
There are several advantages of opening a Robinhood crypto account.
 Robinhood doesn't charge crypto fees. Similar to stocks, trading cryptos on Robinhood is commission-free
 The platform allows investors to purchase fractions of crypto assets if they can't afford to buy a whole coin. That works well for investors with small amounts of money to start trading blue-chip cryptocurrencies like Bitcoin, which can cost up to $45,000 for a single coin.
Robinhood gives you access to profits from your crypto sales immediately, which you can use to purchase more cryptos or invest in stocks and other securities offered on Robinhood.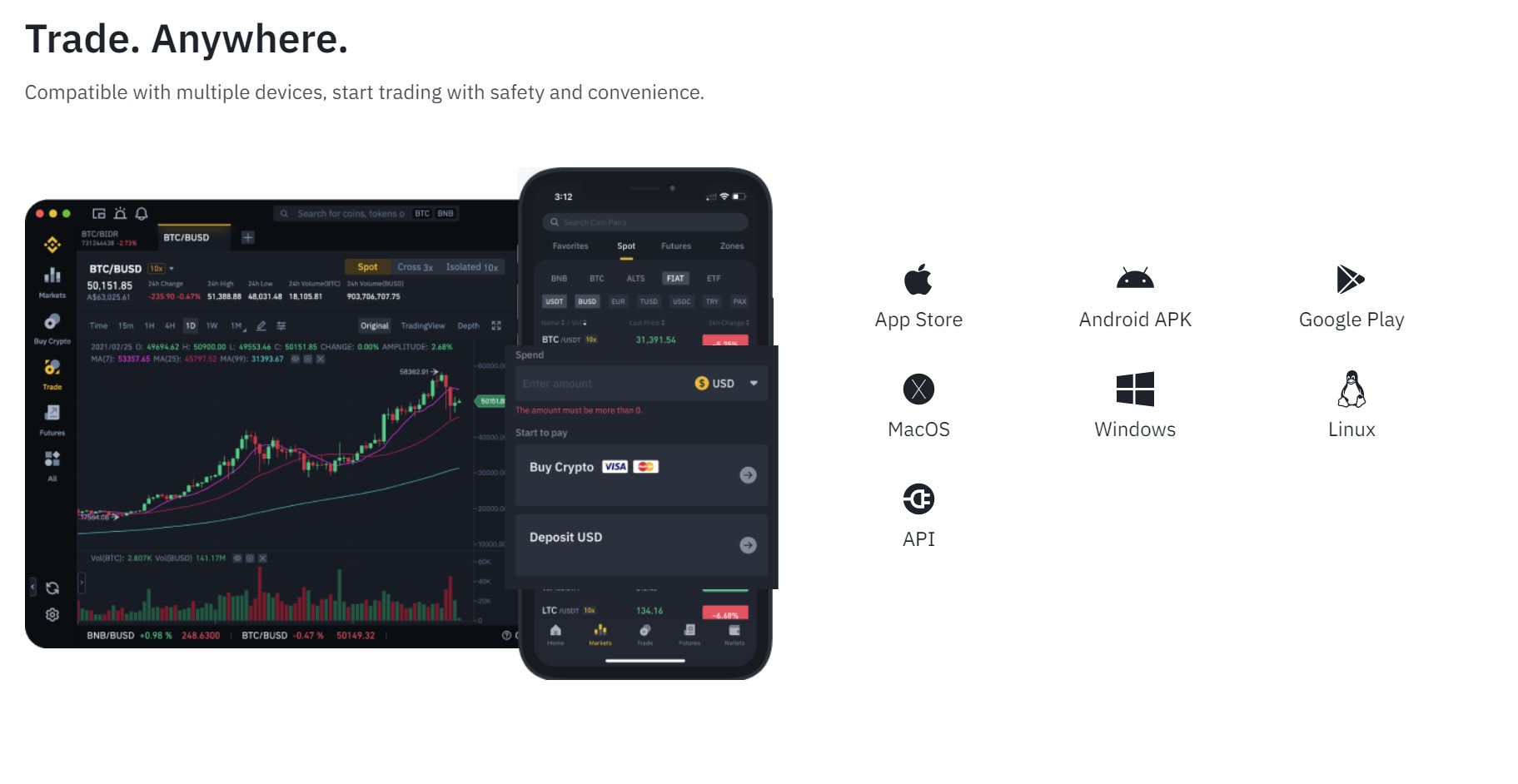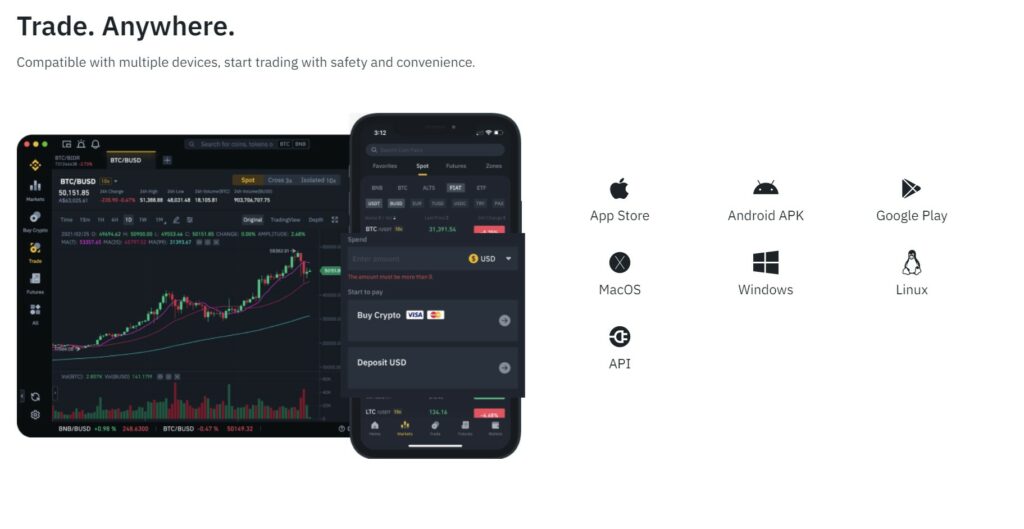 How To Transfer From Robinhood To Binance
First, you will need to liquidate your cryptocurrency, depositing the profits into your Robinhood Cash Account.
If you want to keep part of your Robinhood account, you can initiate a partial transfer. Otherwise, you can initiate a full transfer, and Robinhood will close your account once the process is completed.
Are There Any Fees To Transfer My Funds Out Of Robinhood?
If you're transferring stocks or cash from Robinhood to another outside brokerage, Robinhood will charge a $75 transfer fee, which will be debited from your Robinhood account's available cash balance.
How Do I Start The Transfer?
You will need to resolve any account restrictions or negative balances in your Robinhood account prior to requesting a transfer.
Next, you need to open a Binance account.
Register your account using your email and a password of your choice. Your password must have a minimum of eight characters, including at least one uppercase letter and one number. If you have been referred by somebody, please enter their Referral ID in the Referral ID field. Confirm your age and click Create Account.
Verify your email address. You will receive an email with a verification code. Enter this verification code in the Code field.
Secure your account. You will be prompted to secure your account. After clicking Secure Account, you will be asked to enable SMS Authentication. Here, you will enter your cell phone number and click Send Code.
Enter the authentication code. Enter the code that was sent to you via SMS. Click Done after you confirm you have entered the code correctly.
Verify your identity. To utilize the platform, you will need to verify your identity. If you are registering on behalf of an institution, select Verification for Institutions. If you are an individual, select Verify Identity.
Enter your information. Enter the relevant information into the fields. Once you have entered your information, click Next.
Confirm your address. Enter your address. Once you have entered it and confirmed its accuracy, click Confirm.
Read the Account Agreement. Ensure that you read the Account Agreement carefully. Once you have and you are confident you understand them, click Accept Agreement.
Follow the onscreen directions. Submit the relevant information that is requested onscreen.
Go to your dashboard. Click Go to Dashboard while you wait for your documents to be reviewed.
Get verified. Once your documents are accepted, you may add a payment method and begin using the platform.


Using An Automated Clearing House To Transfer Funds From Robinhood To Binance
You need to make your deposit into Binance using an Automated Clearing House (ACH). This is a computerized e-network for processing transactions between participating financial institutions. Both Robinhood and Binance utilize this system.
How to Deposit Into Binance Using ACH:
Log in to your new Binance account.
Under the Wallet tab, click Deposit.
At the dropdown menu, make sure to select USD as the deposit coin.
Enter the USD amount that you want to deposit and choose the ACH account that you wish to deposit from, then click Continue.
Note: You must make sure that the deposit does not leave your ACH account with a balance of less than 10% of the deposit amount. This is a requirement from ACH to deter overdrafts. Failure to meet this requirement could result in having the deposit denied.
Example: If you deposit $100.00, your ACH account must have a balance of at least $110.00 or higher.
Verify the details from the popup dialog and click Confirm to complete the transaction.
Note:  You cannot withdraw the equivalent amount in Crypto of your ACH deposit for 10 days.
Transfer From Robinhood To Binance: Conclusion
Cryptocurrency is an entirely unique means of buying and selling, and is rocketing in popularity.
The online commission-free investing platform Robinhood offers crypto accounts, but they do not allow transfers to another crypto broker like Binance.
Therefore, you need to open a Binance account, liquidate your Robinhood crypto and use that money to buy crypto for your new account.
Best Free Crypto Promotions